If takeaway chefs are cooking less rice at the moment, they need look no further than the supermarkets ' rice & noodles aisles for the reason why. Takeaway-style rice trays and pouches for in-home consumption are increasingly big business.
Indeed, while the wider rice market has been struggling in the wake of record price peaks brought on by crop shortages and restrictions on exports, takeaway-style formats have helped Tilda and Veetee become the category's fastest-growing brands.
With volume sales of noodles - last year's standout performer of the rice & noodles category - also dipping, what is it about microwaveable rice that so appeals to the nation's appetite? And with shoppers switching to own label in many subcategories, how can brands persuade them to trade back up?
"Ready-to-heat rice is the star performer and is certainly the success story in the category"
There's little doubt that ready-to-heat formats are the star of the rice & noodles market. They have driven much of the category's growth over the past 12 months, with pouch rice growing in value by 8.1% year on year to £157.2m on volumes up 14.9%, and trays and packet rice up 16.2% to £6.4m on volumes up 8.1%. Over the same period, total rice & noodle category value increased by just 2.9% to £482.9m, while volumes dipped 0.8% [Kantar 52 w/e 25 May 2014].
More shoppers are buying into the ready-to-heat category "and penetration is now at a record 44% with still a lot of headroom," says Anna Beheshti, marketing manager at Tilda.
Tilda joined microwave rice tray pioneer Veetee to become the second brand to offer microwaveable rice in a tray with the April 2013 launch of Tilda Takeaway, a move that has helped the brand achieve value growth of 6% to £64.1m over the past year, on volumes up 3.3% [IRI 52 w/e 24 May 2014]. "Tilda Takeaway is already worth nearly £750,000," says Beheshti.
Veetee has been quick to respond. As interest and competition in the category heat up, the brand - which is the fastest-growing rice brand, with value sales up 13.4% to £20m on volumes up 9.3% [IRI] - has responded by ditching the large on-pack window for its Dine-In range in favour of black packaging with a smaller window in May in a bid to stand out more on shelf.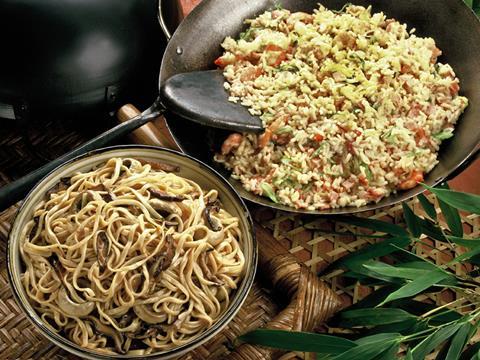 Category value in rice and noodles has grown less than last year, due to the substantial decline in the value of bulk plain rice as well as dried and chilled savoury. The latter two also saw the biggest increases in price.
Pouch rice, now a third of the market, has shown particularly strong growth in value and volume, with Tilda and Uncle Ben's dominating. New players such as John West and Blue Dragon are also showing very strong growth thanks to the convenience appeal of a format that's most popular with more affluent and younger shoppers.
Sales of branded plain noodles have declined, but own-label products have posted strong growth of 27.6%. Likewise, branded bulk plain rice has declined by 24%, but own-label equivalents have grown. This shows shoppers are choosing to trade down in sectors in which it is harder for brands to add value.
Lauren Szumski, Kantar Worldpanel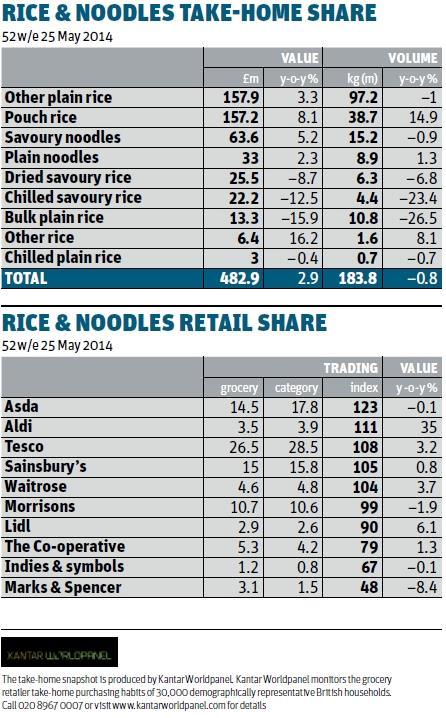 "The tray has added benefits in that it doesn't fall over in the microwave and can be eaten direct from the tray," says CEO Vikas Magoon. Veetee also added egg fried rice and wholegrain brown rice variants to the range in May. "In the past year we have gained incremental new listings in major multiples including Waitrose and Tesco , which has delivered an increase in our household penetration from 3% to 9%," says Magoon.
Crucially, ready-to-heat formats like those offered by Tilda and Veetee are not just gaining traction with convenience-focused home cooks. "We're attracting a foodie shopper to a category that's always been about convenience - that's where the growth is coming from," says Beheshti. "Historically there's a fear about cooking rice and these formats offer recipes you won't always be able to cook from scratch."
Foodie credentials
Riso Gallo also has its eye firmly on the foodie brigade. The brand is going after upmarket shoppers in a big way in a bid to reverse sliding sales: value sales for the brand are down 9.8% on volumes down 7.9% [IRI]. In April the brand launched Venere Expresso rice, pouches of black wholegrain rice ready to eat in two minutes, and in January it will add to the range with a 3 Cereali flavour, blending rice, spelt and barley.
"We're attracting a foodie shopper to a category that's always been about convenience"
"There has been huge growth in the 'new foodie' who knows what they want in terms of health and variety, but doesn't have the time to wholly cook from scratch," says Riso Gallo UK MD Jason Morrison.
Uncle Ben's, meanwhile, is targeting health-conscious foodies with the launch of four new pouches of microwaveable wholegrain rice, in flavours such as pilau and spicy Mexican. Tilda is also tapping the healthy foodie trend with its latest launches, adding wholegrain basmati and quinoa rice mixes in pouches to its range (p54).
The pouch format is also becoming increasingly important in the meal kit arena. Kohinoor won Morrisons listings for its scratch-cooking-made-easy range of Our Little Secret meal kits in February, and brand owner Indo European Foods says value sales are growing 28% month-on-month.
"The dine-in kit is the first complete meal solution that comes with a pouch of microwave basmati rice with spices, paste and base sauce, aiming to bring home the restaurant experience and make cooking enjoyable," says Kaushik Dutta, marketing manager at Indo European Foods.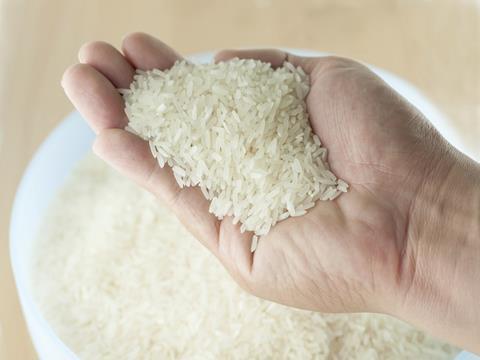 Ready to eat rice is hot stuff
The growing popularity of ready-to-heat rice - combined with packaging innovations - has helped Tilda and Veetee to be the fastest-growing rice brands, with value sales up £3.7m and £2.4m respectively. Despite both brands pushing through price increases, Tilda and Veetee also managed to grow volume sales.
In a bid to reverse sliding sales, Riso Gallo is targeting the foodie shopper. Its innovations include a black wholegrain rice, launched in April 2014 and a blend of rice, spelt and barley to be launched in January (p54).
Uncle Ben's has held its position as market leader, although its value growth slowed to 1.5% compared with last year's 5%.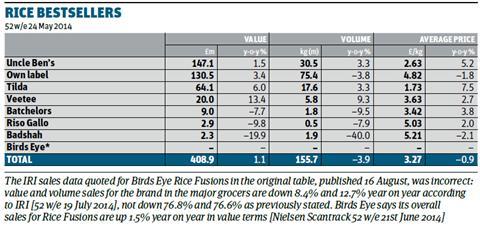 It's not just shoppers who lack the time or experience to cook dry rice properly who are turning to microwaveable pouched options. Tilda says its five-strong Humara range of pouched rice aimed at young Asians seeking a taste of their mums' cooking has delivered £500,000 in value sales since launch in June 2013. "Tilda Humara is specifically created for the world foods shopper and those with an adventurous taste palate," says Beheshti. "It is the biggest ready-to-heat brand in the world foods aisle already."
The zeal with which such NPD has been embraced by ethnic shoppers won new-to-market Varo Foods a Tesco listing for its jollof rice, a West African dish blending rice, tomatoes, peppers and spices, in June.
"Seeing jollof rice in a pouch and ready-to-eat format is a brand new concept," says founder Omamo Binitie. "Initially we thought our challenge would be around the tradition of cooking and the pride one takes in cooking from scratch for their family, but we've found shoppers readily embracing the convenience idea."
"There is also a growing desire for shoppers to cook from scratch with dry rice"
That's not to say ethnic shoppers are turning their backs on traditional bulk buying. Far from it. Despite bulk plain rice being the worst-performing rice subcategory, with value sales down 15.9% to £13.3m on volumes down 26.5% [Kantar], ethnic shoppers' nostalgic love of the taste of 'home' has won Surya Foods, whose brands include Laila basmati rice, listings for 20kg bags of its Laila broken basmati and Shahi basmati rice in 50 Asdas. The listing marks the first time a UK supermarket has offered 20kg bags of rice as a permanent fixture.
"Up until now, buying rice in bulk has only been possible at independent retailers or to those with cash & carry cards," says Helen Yates, customer planning manager at Asda . "We believe giving our ethnic customers the option to purchase 20kg bags of rice at their convenience from Asda, where they can easily park, will be gratefully received."
Meanwhile, basmati rice brand Amira, which entered the UK in May 2013, secured Tesco listings for its 4kg and 8kg bags of pure and banquet rice in June and is planning "significant investment" in the dry rice category in 2014 (p52).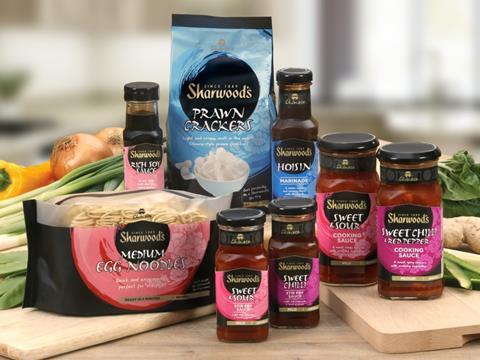 Sharwoods suffers sales slump
Premier Foods ' power brand Sharwood's appears to have lost some of its ability to pull in the punters, despite the food group splashing out on a colourful pack revamp in July 2013 and a £1.8m TV campaign. In the past 12 months, volume sales fell by 18.6%, with value sales down 15.5% in the face of stiff competition [IRI].
Fans of world food sucked up enough Blue Dragon noodles to push the oriental food brand's value and volume sales into significant double-digit growth of 31.7% and 30.7% respectively.
Amoy aims to sustain its recent sales surge by tapping the scratch cooking trend via its four Asian meal kits, launched in March this year.

"Despite the rising popularity of convenient pouched rice, we know there is also a growing desire for shoppers to cook from scratch with dry rice," says Tony O'Connor, CEO of Amira Foods in the UK and Europe.
It all comes down to trust, suggests Harry Dulai, MD of Surya Foods. "Consumers need to trust brands, their origin and their ethnicity, and ethnic consumers trust ethnic brands," he says.
Some brands are clearly managing to capitalise on this, but across the bulk rice sector brands are having an increasingly hard time holding their own against own label.
Value sales of branded bulk rice are down 24% on volumes down 35.2%, while value sales of own-label bulk rice are up 6.2% on volumes up 2.8% [Kantar]. "Shoppers are choosing to trade down in sectors in which it is harder for the brands to add value," says Kantar Worldpanel analyst Lauren Szumski.
"We've seen basmati prices substantially increase, with an all-time peak in 2014"
The sector faces further hurdles in the coming year. "The growing ranks of one and two person households present a challenge," says Dutta at Indo European Foods. "Families are important to the bulk market, with this format providing good value for money for those with most mouths to feed. The dwindling share of large households of four or more people is set to hinder the bulk market."
Across the rice & noodles market more generally, the continued rise of the hard discounters is also changing category dynamics. Aldi has boosted its retail value share of the market by 35% in the past year, while Lidl 's value share is up 6.1% [Kantar]. "The discount and bargain retail channel is experiencing exceptional growth as consumers continue to feel financial pressures and these retailers continue to invest in driving footfall," says Magoon at Veetee, which this year secured listings in Makro for its Indian, oriental and Moroccan dinner kits.
Indo European Foods says Lidl has become one of its "key" retail partners after the company secured a listing with the German discounter for its Trophy basmati rice in January 2010. "Value and volume sales for our Trophy basmati rice in Lidl are up 20% and 22% respectively thanks to consumers' budget-conscious mindsets," claims Dutta.
With much of the rice sector experiencing significant spikes in retail prices over the past year, it's perhaps not surprising shoppers are flocking to the discounters. "Poor weather conditions at the start of the growing season led to a delay in harvesting in 2013 by up to six weeks, which meant dramatically reduced yields for Arborio, carnaroli and Vialone Nano rice," says Morrison. "Sadly the only way to manage this was to increase the price of our products in the UK."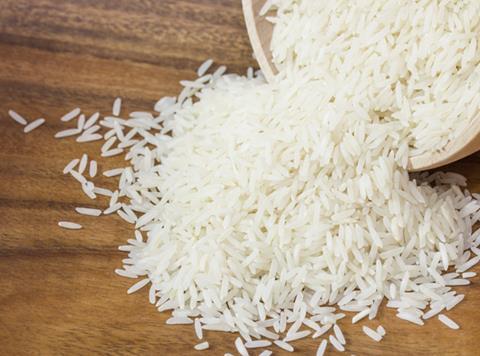 Basmati rice fraud sparks introduction of DNA tests
Although consumers might more commonly associate food fraud with the horsemeat scandal, it's also a major issue in the basmati rice category. In February this year, 22 tonnes of long-grain rice masquerading as basmati were among a haul of fake foods seized in the UK in an international crackdown on fraudsters by Interpol and Europol.
"When raw material prices are increasing, there will always be suppliers who start blending inferior grains to bring costs down," says Tilda marketing manager Anna Beheshti.
The industry faces two main types of fraud: the practice of blending long-grain rice with basmati and passing it off as pure basmati - a term that must only be used for rice grown in specific areas of India and Pakistan; and suppliers declaring white long-grain rice as brown basmati to avoid import duty. There is no duty for brown basmati, whereas duty on other grains can be as much as €150 a tonne.
In response, the industry has been stepping up anti-fraud measures.
To crack down on rice blending, The Rice Association (TRA) launched a voluntary code of practice in 2006. The code stipulates the non-basmati content in a product labelled 'basmati rice' must not exceed 7%. It has been adopted by the FSA and the BRC for defining the conditions around the use of the term basmati across the EU.
But suppliers are going further. Major rice companies, such as Amira and Tilda, have started DNA testing grains to prove their origin. Prior to shipping, Tilda tests every single batch of rice in its own lab - the only DNA testing facility dedicated to rice - to ensure its purity.
Meanwhile, Veetee's safeguards involve a three-step approach in which the grain is examined at point of purchase, DNA tested prior to shipment and surveyed internally on receipt of every batch.
Further support should come via a €12m five-year food fraud project, which launched in February to standardise testing in the EU and explore new testing methods.
The situation isn't much better for basmati rice, which also suffered crop shortages in 2012 and 2013 due to floods in India and Pakistan. "We've seen basmati prices substantially increase across all varieties, and traditional basmati saw an all-time price peak in 2014," says Magoon. "Additionally, in Thailand the government suspension on rice exports whilst they conduct rice quality inspections in storage warehouses has also impacted prices."
Such problems have prompted farmers in key rice growing regions to switch to new varieties of rice that offer higher yields per acre. As a result, Surya Foods will this year add six new lines to its Laila range, including Turkish varieties of baldo and tosya rice and South Indian varieties such as sona masoori, ponni, matta and idli.
Pouched rice a £1 market
While there have been peaks in the average retail price of rice in general, the average price of pouched rice has fallen over the past year. "Pouched rice has become virtually a £1 market, which brings a lot of challenges in NPD," says Riso Gallo's Morrison.
"Pouched rice has become virtually a £1 market, which brings a lot of NPD challenges"
This may seem counterintuitive given brands' recent efforts to attract more upmarket, foodie shoppers to pouches and trays, but is down to increasing pressure from own label across the sector. "The average price of the own-label proposition has dropped from 98p per pack to 91p per pack, which has therefore reduced the overall average price," says Beheshti at Tilda. "Also, Uncle Ben's Express has dropped in average price from £1.26 per pack to £1.22 in the last year."
With value sales up 1.5%, on volumes up 3.3% [IRI], Uncle Ben's renewed its product placement partnership with Channel 4 and Jamie Oliver's 'money saving meals' TV show last August, resulting in Uncle Ben's rice featuring in various recipes in the six-episode series. Shoppers were also offered the chance to win copies of the recipe book accompanying the show. The Mars-owned brand is now preparing to launch a campaign encouraging kids and families to cook together with its budget-busting offering next month.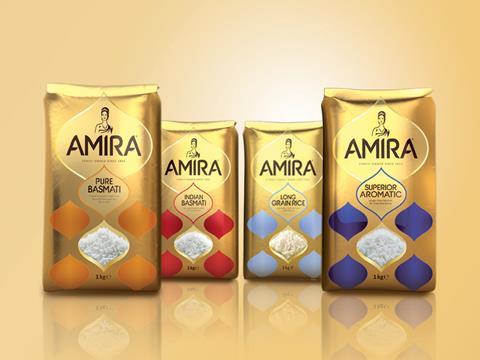 Premium dry rice potential driven by Amira
It was only a matter of time before global rice supplier Amira set its sights on the UK. The Indian company, which turned over nearly $550m in its latest financial year and supplies 40 markets worldwide, wants to become the leading speciality rice brand in Britain with two flagship grains aged for between 18 and 24 months.
Amira made its UK debut in Morrisons in May 2013 with a first for the mainstream British shopper: Superior Aromatic 1121 white basmati, a variety popular in the Middle East where it is known as 'XXL' because it expands two and a half times in length when cooked.
"Consumers now know how to spot a premium product, so the pressure is on retailers and suppliers to ensure the world foods aisle lives up to this demand for great quality," says Tony O'Connor, CEO of Amira Foods in the UK and Europe.
So while the rest of the category is focusing on easy-to-cook microwavable formats, Amira is turning its attention to the premium dry rice category.
After launching its 1121 variety alongside Amira Pure basmati, Indian basmati and long-grain rice in 1kg bags in Morrisons, the company won listings for its Superior Aromatic and Pure basmati in larger 4kg and 8kg bags in Tesco in June, alongside 8kg bags of 'banquet' basmati.
Amira's Super Aromatic variant is now Tesco's exclusive rice offering in the Arabic range of its world food aisle, and value sales of Amira's lines in both Morrisons and Tesco have reached just over £2m to date - the brand says it's secured listings with two more major retailers from September.
Investment by Amira in the dry rice category includes £1m in TV advertising on ethnic and mainstream TV, plus an outdoor campaign. "There is a growing desire for shoppers to cook from scratch and this trend has taken the UK by storm in recent years," says O'Connor.
"We'll be using the power of the brand and the goodness of rice to bring families together around the dinner table," says brand manager John Artley. "Only one in four parents ever cook with their children, so this campaign will encourage people to get involved through social media, TV, on-pack and in store."
As sales of microwaveable rice continue to rise, brands such as Uncle Ben's are tapping shoppers' desire for fast and convenient meals with promotions. Uncle Ben's offered 30 more promotions with an average total cost saving of 56p in the past year - significantly more promotions than any other brand [Assosia 52 w/e 30 June 2014].
The most popular promotional mechanic in the category - perfect for pouches and trays - was x-for-y, which saw a 6.1% increase in the number of offers, while bogof, half price and 'save' offers were all used less [Assosia].
Sharwood's noodles struggle
While enticing shoppers with promotions has worked for the likes of Uncle Ben's in the rice category, the tactic hasn't quite paid off for noddles giant Sharwood's - despite it being one of only three brands to increase the number of promotions it offered in the past year [Assosia].
Value sales of the noodle brand are down 15.5%, on volumes down 18.6% [IRI], as overall value sales of savoury noodles grew 5.2% as volumes slipped 0.9%. Meanwhile value sales of plain noodles rose just 2.3%, on volumes up 1.3%, compared with a value surge of 11.6% in 2013 [Kantar].
"Pot snacks are in huge growth, worth over £150m and growing 10.9% in the last year"
"The growth of stir fries over recent years has seen consumers adding wet noodles to their repertoire, resulting in volume decline of the Chinese dry noodles segment," explains Pat Thomas, head of insight at Premier Foods, which owns Sharwood's. "However Sharwood's £6m medium egg noodle is still the number one SKU by value, not only in dry noodles but in the whole Chinese category."
When it comes to plain noodles, Sharwood's needs look no further than own label to see where its challenges lie. Like branded bulk rice, value sales of branded plain noodles are down 2.5% on volumes down 3.4%, whereas value sales of own-label plain noodles are up 27.6% on volumes up 20.8%, as brands find it harder to add value [Kantar].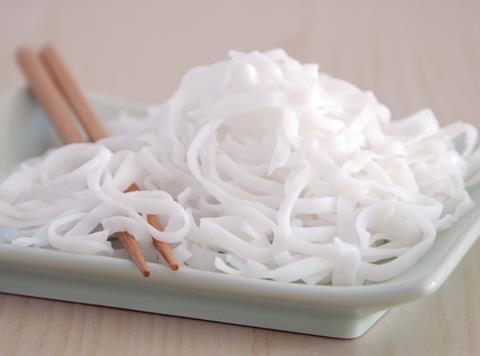 Amoy is hoping to add that value by tapping the scratch cooking trend with the March launch of four Asian meal kits. With flavours such as Thai red curry and Malaysian laksa, the kits contain all the ingredients needed to make quick Asian meals at home.
The Heinz-owned brand is supporting the launch with a £1.5m two-year campaign including a collaboration with leading Asian chef Ching He Huang, who has created recipes using Amoy products and the meal kits. "The meal kits will revitalise our brand identity," says John Alderman, marketing manager at Amoy.
Adding value to noodles
Other players are adding value by entering the free-from market for the first time. Instant noodle brand Kabuto Noodles added two gluten-free noodle pots using rice noodles instead of wheat noodles to its range in May (p56), and the NPD rolls out to 500 Sainsbury 's nationwide this month.
"While instant noodles have been a great recession story, providing a good, quick, cheap option for people on a budget, there are going to be challenges for the category as we come out of recession and people go back to eating lunch out of the office rather than at their desks," says Crispin Busk, founder of Kabuto Noodles.
"While noodles have been a great recession story, there will be challenges as we leave recession"
Despite these challenges, the company has managed to increase turnover from £700,000 to £1.5m in the past year and won listings in 300 Tescos for four lines and 200 Sainsbury's c-stores for two lines in February. It also launched in El Corte Inglés in Spain and is in talks with retailers in Ireland and Holland.
Playing the functionality card could be a wise move for noodle players looking to differentiate themselves from own label in the coming year.
Two weeks after appearing on Dragons' Den and winning backing from Peter Jones in August 2013, gluten-free noodle brand Bare Naked Noodles secured listings with Holland & Barrett and this month will enter 400 Morrisons stores nationwide.

"We've gone from selling 18,000 packets of noodles a year in 2012 to 150,000 packets in the past 12 months," says Ross Mendham, MD at Bare Naked Foods, which added protein noodles to its range in January and made its first foray into rice in June (p56).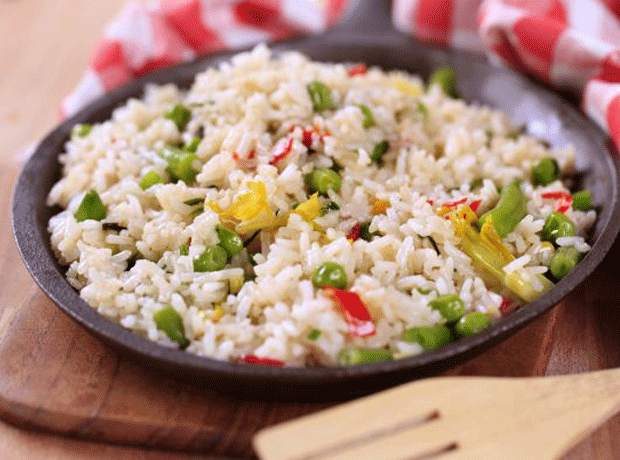 "Supermarkets are fast realising that 'functional noodles' are becoming a more essential part of the mainstream food choice, so these will become more integrated into mainstream aisles and not relegated to a small shelf for 'special diets,'" says Mendham.
Organic Japanese rice brand Clearspring is also going down the gluten-free route with the launch of two brown rice noodles in September (see box, left). "The health and free-from messaging continues to be an important element considered in product innovation," says Christopher Dawson, chairman of Clearspring.
"The growth of stir fries has seen consumers adding wet noodles to their repertoire"
Other players are sticking to what they know best. Having bounced back from a high-profile brush with advertising watchdog the ASA over one of its ads, Unilever reckons it can add an incremental £211m to the pot snacks category with the rollout of its Pot Noodle Piri Piri flavour, launched in April 2013, to all retailers*. "Pot snacks in particular are seeing huge growth, worth over £150m and growing 10.9% in the last 12 months," says brand manager Monique Rossi.
Indo European Foods, meanwhile, is hoping that the addition of rice will help persuade more shoppers to buy noodle products in 2015. The company is preparing to launch a range of Indo-Chinese Fusion products including Singapore Rice & Noodles, a combination of microwave rice and noodles all in one pack.
"Indo-Chinese is inspired by the Indian street food scene where Chinese is served every day with its own twists and flavours," says Dutta. "Brits are becoming more adventurous, which has paved the way for NPD that will appeal to the growing cross-cultural demographic in the UK."
Such fusion products will add to the growing variety of convenience products on offer in the UK's rice and noodles sector - and suppliers believe there's scope for plenty more.
"We are already seeing an increasing demand for niche, speciality rice types like red rice and wild rice within the dry rice market that are easily transferable to the microwaveable rice category," says Veetee's Magoon. "There exist huge opportunities for future growth and innovation as the UK's palate diversifies, paving the way for additional new and exciting flavour profiles."
Takeaway chefs should not expect retail competition for rice and noodle dishes to cool down any time soon.
*The original version of this feature, published 16 August, incorrectly suggested Unilever is looking to add an incremental £211m to the pot noodle category with its Piri Piri flavour. £211m was the value of the total hot snacks category, not the incremental value Unilever is looking to add.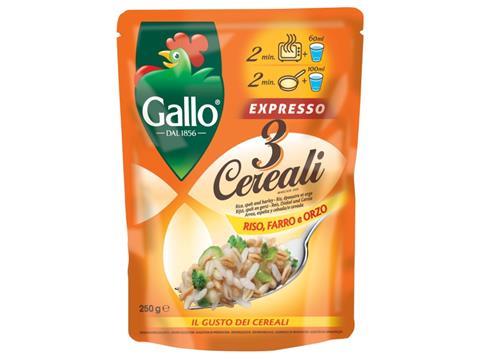 Riso Gallo 3 Cereali Expresso Rice
Launching: January 2015 
Manufacturer: Riso Gallo
Italy's brand leader in rice, Riso Gallo, is targeting 'new foodies' who don't have time to cook from scratch with 3 Cereali Expresso rice (rsp: £1.99/250g). With UK value and volume sales tumbling (see main story), the brand is hoping the superfood blend of rice, spelt and barley in a two-minute microwaveable pouch will appeal to time-pressed shoppers. High in fibre, the rice can be used as a risotto, in soup or salads or simply as a rice replacement.
Tilda Brown Basmati & Quinoa Rice
Launched: August 2014
Manufacturer: Tilda
The growing demand for brown rice and superfoods has prompted Tilda to mix wholegrain basmati with quinoa for the first time. Tilda brown basmati & quinoa rice (rsp: £1.59/250g) is gluten free; it is joined by a garden veg & quinoa variant combining nutty brown basmati, onion, carrot, butternut squash, ginger and herbs.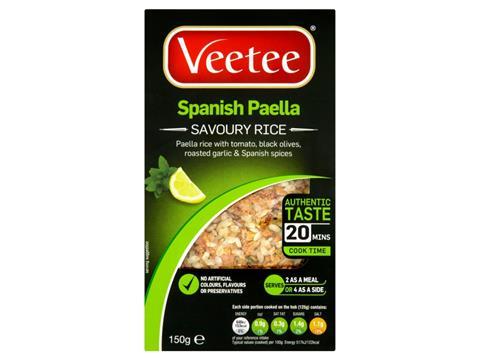 Veetee Savoury Rice
Launched: August 2014
Manufacturer: Veetee
With sales of microwaveable rice booming, Veetee is going after 'confident cooks' with a six-strong range of flavoured rice that shoppers can cook on the hob. The variants in the Veetee Savoury Rice range are Indian biryani, Spanish paella, Italian risotto, Portugese Peri Peri, Mexican Spicy and Thai Green Currry (rsp: £1.59/150g)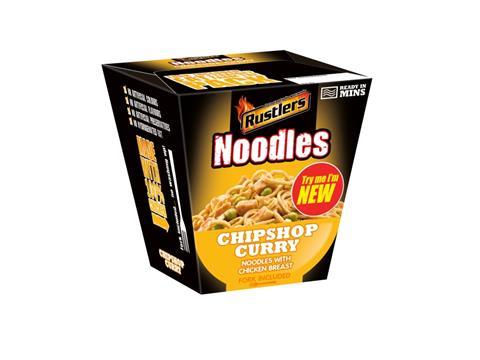 Rustlers Chipshop Curry Noodles
Launched: April 2014
Manufacturer: Kepak Convenience Foods
The rest of the market might be embracing free from and superfoods, but Rustlers is sticking to what it knows best. The micro-snacking brand has added a Chipshop Curry flavour to its range of chilled noodle pots (rsp: £1.99/300g) combining 100% chicken breast pieces with onions, noodles, peas and chip shop curry sauce.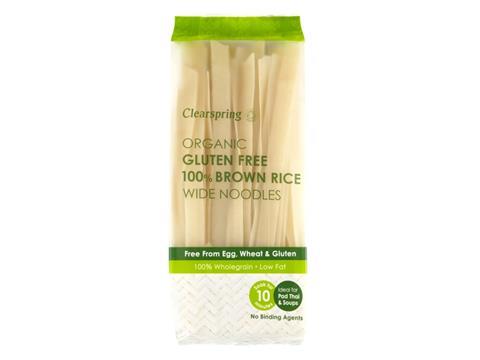 Clearspring Brown Rice Wide Noodles
Launched: September 2014 
Manufacturer: Clearspring
Organic Japanese food brand Clearspring is bringing two brown noodle variants to the UK in the form of 100% Brown Rice Noodles (rsp: £2.69/200g). The organic wholegrain noodles, in wide and regular variants, are free from egg, wheat and gluten, and are ready to eat after a 10-minute soak. The brand, which won listings with M&S last September, is also poised to launch a two-strong ramen range of noodle soups.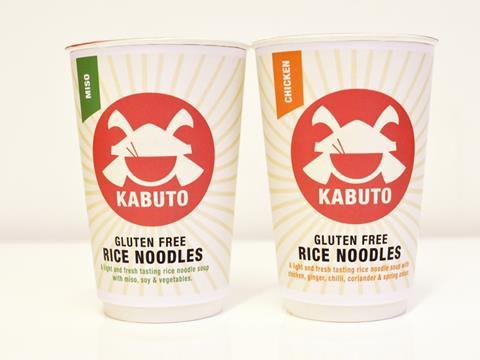 Kabuto Gluten Free Rice Noodles
Launched: May 2014
Manufacturer: Kabuto Noodles
These gluten-free rice noodle soup pots (rsp: £1.99-£2.50/85g) come in two variants - chicken, ginger, chilli, coriander & spring onion; and miso, soy & vegetables. At 275 calories per 'just-add-water' pot, the noodles launched in Ocado and Whole Foods Market to coincide with Coeliac Awareness Week, and go into Sainsbury's this month.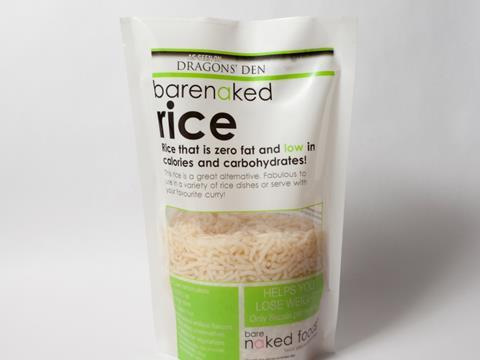 Bare Naked Rice
Launched: June 2014
Manufacturer: Bare Naked Foods
Bare Naked Rice (rsp: £2.99/380g) promises shoppers zero fat, high fibre, low carbs and no gluten, with just eight calories per serving. Like the brand's protein noodles, the rice is made using the Asian-grown Konjac plant, which is low in carbohydrates, sugar and calories. The brand hit shelves after appearing on Dragons' Den.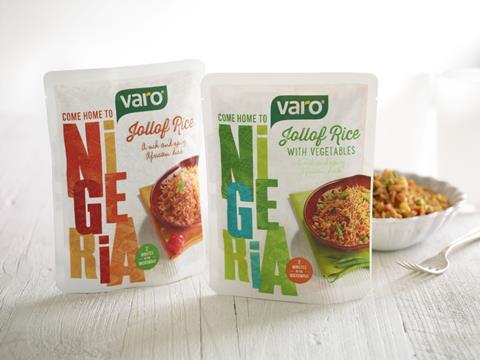 Varo Jollof Rice
Launched: June 2014
Manufacturer: Varo Foods
Varo Foods was the first UK company to sell ready-to-eat Nigerian food and now it has launched a microwaveable Jollof rice (rsp: £1.60/250g). The traditional Nigerian dish features a blend of rice, tomatoes, peppers and spices -Varo sells a plain and with vegetables variant. The packs feature the strapline 'Come home to Nigeria.'