What's that sound? It might just be the Caledonian lion's roar, as Alex Salmond would put it, still echoing after the question of Scottish independence was raised again by the Scottish National Party's landslide victory north of the border on 7 May.

What might seem a yawning chasm between Scotland and the rest of Britain politically is reflected to a certain degree by the different shopping habits of consumers either side of the border.

Most significant is the difference in Scots' spend on alcohol versus the rest of the UK. Brits have spent £11.8bn on alcohol to be drunk at home in the past year, or 13.3% of total grocery spend [Kantar Worldpanel 52 w/e 1 March 2015]; £1.3bn of that came from Scotland, or 15.3% of Scottish total spend.

And there are other differences. Brands account for a greater share of Scottish spend: 47.5% versus 43.5% for Britain; confectionery, savoury snacks, frozen meats, soft drinks and slimming products also significantly overtrade in Scotland (see p46). Frozen poultry and fish, and fresh fruit & veg undertrade.

What do these differences tell us about Scottish consumers? What other significant variations are there? And to what extent do domestic shopping habits reflect what's going on with Scottish food & drink exports?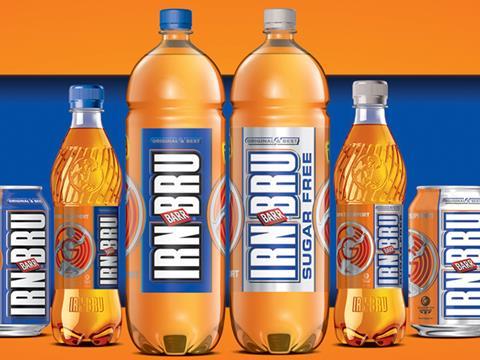 You might think Kantar Worldpanel's data confirms certain stereotypes (Buckfast Tonic Wine, deep-fried Mars bars, etc). You would be wrong. Scotland is not necessarily more of a nation of yo-yo dieting, salad-dodging boozers than other UK regions. The variations are more likely to be a reflection of its culture and economy.

Take alcohol. Our own research suggests there are as many teetotallers in Scotland as in Britain as a whole (see p49). The greater proportion of spend on alcohol in Scotland partly reflects the popularity of the national drink, Scotch whisky, and the premium it commands over other alcoholic drinks.

Similarly, some say higher spend on brands in Scotland is a sign of the strength of many food & drink brands that trumpet their Scottish provenance in their marketing. Examples abound, with the country's unofficial other national drink, Irn-Bru, Tunnock's caramel wafers and Mackie's of Scotland ice cream among them.

Thanks to the efforts of various brands, retailers and trade bodies, Scottish food & drink's reputation for quality has been enhanced in recent years. For example, Asda - Scotland's second-biggest grocer with 21.9% share of the market versus 17% of the UK [Kantar] - will be running three Great Taste of Scotland events during 2015 featuring seasonal Scottish produce.

In Scotland more than anywhere else mainstream grocers need to do more to stand up to the advances of the discounters. Aldi and Lidl have a significantly greater share of the Scottish market versus the British market overall, says Mark Thomson, business unit director at Kantar Worldpanel. "Their current share in Scotland is 9.8%, which is ahead of their GB combined share of 8.5%," says Thomson. "Aldi and Lidl will account for £1 in every £10 spent within grocery retailers in Scotland in 2015."

Premium cues

Asda is certainly following a well trodden path in promoting Scottish food & drink on its quality cues.

Look no further than the global Scotch whisky market for proof of how Scotland has become a byword for quality. Indeed, for many years, Scotland has had a pretty good excuse to raise a toast: the remarkable success of Scotch whisky exports.

"Total value is up 74% since 2004 and single malt has grown even more - up 159% to £917m last year," says Rosemary Gallagher, head of communications at the Scotch Whisky Association.

"This is a sign that discerning consumers are seeking out Scotch whisky for its quality, and many people, particularly young professionals, in emerging markets regard it as an aspirational product with clear provenance."

These trends are not limited to single malt, either. Diageo last year launched the David Beckham-backed single grain whisky Haig Club, which is intended to offer sophistication to aspirational drinkers not used to the complex flavours of malt whisky.

There's a blot on the copybook, however. The SWA announced in April that overall export sales of Scotch had fallen 7% to £3.95bn over the past year on volumes down 3%. Contributing to the drop were exports to the United States, the single-biggest Scotch market, falling 9% to £748m, and plummeting sales to Singapore (down 39% to £200m) and China (down 23% to £39m). But the industry isn't fazed.

"We believe the long-term outlook remains strong," says Gallagher, who adds the decline was down to factors including stock adjustments in the US as high inventory levels of Scotch were drawn down to meet consumer demand, rather than buying new stock, and austerity in China, the final destination of many of the sales through Singapore. Nevertheless, she's upbeat: "There are still vastly populated cities in China that are an untapped market for Scotch."
Exports

Not just in China. Exports to India are in growth and the more established markets of Japan and Taiwan have increased Scotch imports in the past year, according to the SWA, with the latter up 36% to £200m. James Withers, chief executive of government-backed trade body Scotland Food & Drink, agrees the omens are good.

"2014 was the first drop in value in a decade, but the industry's overwhelming view is that it is a blip on an otherwise upward trend," he says. "Whisky's continued rise in global popularity is important for the whole food & drink sector. It's forging a path for other Scottish food & drink products, which are tapping into the same desire in international markets for world-class, premium products with a strong provenance story."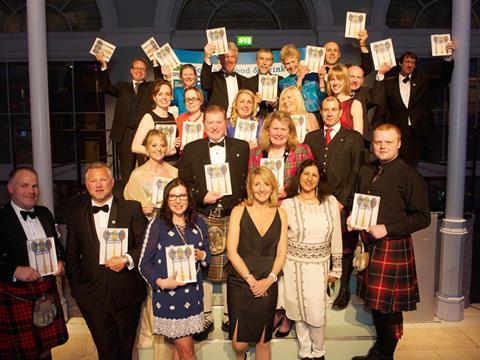 Such credentials are central to SFD's plans for increasing the total value of the Scottish food & drink industry to £16.5bn by 2017, after the body announced last year it had smashed its previous target of hitting £12.5bn by that year. Crucial to this are food exports, which surpassed the £1.1bn mark for the first time last year, according to a Scottish government announcement this week.

Proving Scotch isn't the be all and end all for Scotland, overall food & drink exports grew 3.5% to £5.1bn in 2014, in spite of the downturn in whisky shipments. Fish and seafood have played a big part in this, with exports up 6.6% to £613m. "These figures are extremely encouraging, particularly long-term, and reflective of the fantastic produce we have to offer here in Scotland," said Scotland's Food Secretary Richard Lochhead at Wednesday night's Scotland Food & Drink Excellence Awards (see left). "We're now seeing a rise in the popularity of Scottish produce in emerging markets. In China, for example, we've witnessed a massive increase of 82% in food exports, with overall value now up to £46m, evidence that the Chinese appreciate great Scottish seafood and meat."

At the forefront is Scottish salmon. Exports grew £50m last year, surpassing £500m for the first time and becoming the UK's top food export [Scottish Salmon Producers' Organisation]. While the US is the top market for Scottish salmon, at £215m, the second-largest, France, grew volumes 55% to reach £110m of sales. China, which barely registered five years ago, is now worth £65m to the industry. To Rory Conn, UK sales & commercial manager at Scottish Sea Farms, which exports to more than 20 countries, there are two aspects to the success of Scottish salmon.

"Firstly the 'emotional' element of Scottish, which relates to the natural environment, culture and history of Scotland, and secondly the 'practical' element of Scottish food produced under a robust regulation regime, with very sophisticated retailers and consumers who demand high standards," he explains. "Scottish salmon is produced under the highest production standards in the world."

Many are capitalising on this reputation. The Scottish Salmon Company - which says it is the largest producer of Scottish salmon - now exports to 23 countries, making up 43% of its revenue, and is increasing its focus on the Far East. And the Scottish Seafood Collaborative Group has carried out a number of initiatives in the past year to grow the profile of Scottish seafood in that region.

These have included participation in major trade shows such as the China Fisheries & Seafood Expo; a deal for Scottish produce to be used by 100 of the world's top chefs as they compete in professional contest the Global Chefs Challenge; and the development of two bespoke mackerel products for Japanese supermarket Aeon Group, which were unveiled with a bagpipe-accompanied launch event last October.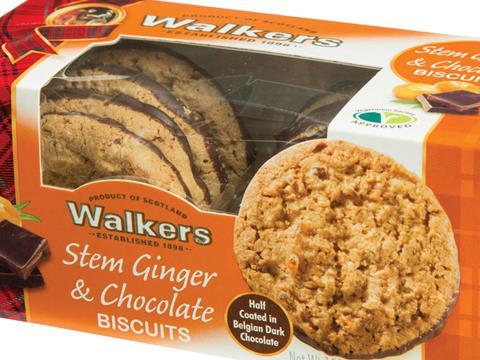 Seaweed

The Scottish coastline holds other treasures. Edinburgh's Mara produces a range of seasonings from seaweeds. It recently secured a listing in 173 M&S stores for its Dulse flakes (rsp: £5.49/30g) and plans to begin exporting to Asia, where the seaweed market is worth $16bn a year, by the end of 2015 . "We have the potential to develop a new sustainable industry for the UK, developing a natural resource into a healthy, highly nutritious food, not only improving public health, but bringing sustainable employment," says Mara co-founder Xa Milne.

Indeed, Harry Hussain, a director at marketing agency Weber Shandwick, which worked on the Scottish government's Eat Better Feel Better campaign, says such cues are important. "It's no longer just well-heeled shoppers with money to burn who care about provenance," he says. "Consumers from all demographics recognise that eating in-season produce from a local-ish source is as good for your wallet as it is for your taste-buds."

Producers also need to be seen to be moving with the times. Many Scottish producers are trying to do just that, with examples ranging from Walkers Shortbread's new range with flavours including pineapple and coconut (see right) to Macsween's introduction of wild boar, venison, three bird and Moroccan spiced Haggises. In 2014 Macsween launched a chocolate & chilli black pudding and this year it unveiled a Beef & Haggis Burger.

Craft beer

A burger, of course, goes great with a beer. Fortunately, Scottish breweries now number more than 80, double the number five years ago. At the front of the pack is craft beer pioneer BrewDog, but there is a host of other players looking to carve out markets for themselves at home and abroad, 19 of which are part of export initiative Craft Beer Clan of Scotland, set up last year with a focus on Asia.

"Our strategy has been to identify an opportunity to target consumers who already love and buy Scotch whisky but want to try something new with a great story behind it," says Chris Miller, head of export & commercial operations at JW Filshill, the wholesaler behind the scheme. "That's what these breweries and their brands have."

Craft gin is another rising force. Seventy per cent of Britain's gin is now Scottish made, thanks to market leader Gordon's plant in Fife, but newcomers are pushing the boundaries of the drink. Caithness' Rock Rose Gin uses rose root harvested from the cliffs near the distillery, Perthshire's Strathearn Distillery produces an oaked gin, and Speyside's Caorunn Gin claims to use wild botanicals hand-picked by its distillery manager.

It's with claims like that, and quality products that stand them up, that Scotland Food & Drink hopes to achieve its aim of adding another £2bn to the industry in the next two years. And all without a deep-fried Mars bar in sight…
Does the infamous deep-fried Mars bar really typify the Scots' attitude to food?
Over the past year, we have examined the attitudes of thousands of Brits in conjunction with pollster Harris Interactive for our 10 Things… series of digital features, and the results have been revealing.
Scots are more likely to endorse the idea of making existing confectionery products more healthy (43% against 37%), and less likely to gobble down a whole sharing bag on their own (10% versus 12%) - with similar results for 500ml tubs of ice cream, and sharing bags of crisps, according to polls in July, August and January.
And while Scottish consumers spend more on alcohol than those south of the border, a poll last September revealed Scots were just as likely to say they didn't drink (24%) and less likely to say they usually exceed the recommended limit (12% against 14% in the UK as a whole). They are also less likely to drink alcohol at home on their own (27% against 34%).
But woe betide anyone who gets between a Scot and their Irn-Bru - only 39% support the idea of taxing sugary soft drinks, compared with 45% across the UK. Despite this, Kantar data suggests Scots do not consume more sugar than the rest of the UK, although they do get more of it from cakes and biscuits.
Some Scottish suppliers are taking impressive steps to make their products healthier. Falkirk butcher Malcolm Allan, for example, has worked with Asda to develop a range of products health-checked by weight management company Scottish Slimmers. These include a low-fat steak lorne sausage that contains just 1.8% fat compared with about 15% in standard lorne sausage.
"With the weight of industry support behind the Scottish government's health agenda, the chances of changing the nation's diet will be that much greater," says Weber Shandwick director Harry Hussain.
Source: Harris Interactive UK
Scottish NPD
Scotty Brand Haggis Soup
Launched: April 2015 Manufacturer: Scotty Brand
Claiming to be the first producer to turn Scotland's beloved national dish into a soup, Scotty Brand has combined the offal concoction with its traditional partners of neeps and tatties - that's swede and potato to the Sassenachs out there. The soup (rsp: £1.70/550g) is available from Asda stores in Scotland. Scotty Brand offers a range of other soups, along with fresh produce including bacon, smoked salmon, fresh fruit & veg, and prepared salad pots.
Apex: Peak 1
Launched: May 2015
Manufacturer: Drygate Brewery
This 7.3% saison hybrid (rsp: £10/750ml) is made with malted wheat, barley and rye, 'experimental' hops, strawberries, raspberries and Indian long pepper. Bottles come wrapped in a signed art print by a Glasgow School of Art graduate after Drygate Brewery invited alumni of the school to create beer-inspired work.
Scottish Biscuit Range
Launched: April 2015
Manufacturer: Walkers Shortbread
Walkers' new range of biscuits comes in 150g windowed cartons (rsp from £2) and is available in Oatflake & Honey, All-Butter Sultana, Treacle Toffee, Tropical Cookies, Hazelnut & Chocolate Chunk, Extremely Chocolatey Cookies, Extremely Gingery Cookies, Crispy Toffee & Chocolate and Stem Ginger & Chocolate.
Scottish Raspberry Lemonade
Launched: January 2015
Manufacturer: Summerhouse Drinks
This soft drink from Aberdeenshire's Summerhouse Drinks has a deep red colour and tart flavour. It is available in 750ml (rsp: £4.20) and 250ml (rsp: £1.50) bottles from independent shops throughout the UK. Along with Summerhouse's Lavender Lemonade, this was shortlisted for the Scotland Food & Drink Excellence Awards.
Spend on take-home food and drink in Scotland is now predominantly flat with growth of just 0.2%. Great Britain overall is only marginally ahead with growth of 0.3%.
Spend decline has been most evident in Scotland across dairy along with fresh fruit & veg. On the other hand, there is evidence of spend growth in alcohol, chilled convenience and take-home confectionery.
Convenience accounts for 14.5% of grocery spend in Scotland versus 12% across Great Britain. It's the opposite for online shopping - at 3.9% of grocery spend versus 5.9% across Great Britain in the latest quarter.
Brands now account for 48% of food and drink spend in Scotland this year compared with 44% across GB. However, retailers' own-label products are growing at a faster pace, up 0.9% compared with brands, collectively growing at 0.3%.
Mark Thompson, Kantar Worldpanel