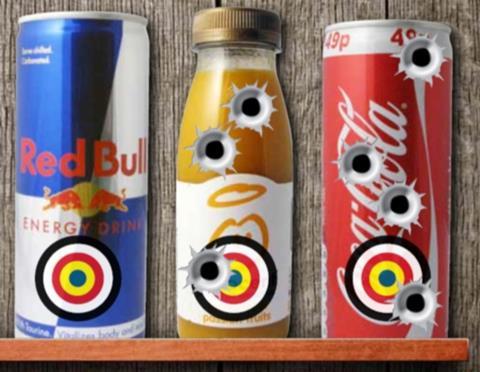 Sugar is public enemy number one. And, as calls for a fizzy drinks tax and sales of low-sugar pop grow, soft drinks are changing. Just look at last week's news of Coca-Cola's plans to launch Coke Life, a stevia-based cola with two thirds the calories of regular Coke, for proof.
Yet energy drinks continue to grow in sales. Despite being loaded with significantly more sugar than regular pop in some cases, sales of sports & energy drinks have surged 8% in value and volume [IRI 52 w/e 29 March].
Indeed growth is accelerating. Energy drink take-home sales have surged 8.1% by value and 7.4% by volume [Kantar Worldpanel 52 w/e 29 March]. Last year volume was up 4.9%.
So are energy drinks manufacturers bothered by the anti-sugar lobby? How sustainable is their growth? And what can sports drinks, which despite a slight improvement on the previous year are still underperforming, learn from their more energetic counterparts?
"In the wider soft drinks market, sugar-free is growing and we expect this to translate into the energy drinks category"
The truth is all soft drinks are coming under fire from the anti-sugar brigade. And energy drinks are taking steps to address the situation. In 2013 Lucozade Ribena Suntory committed to reducing the calorie and sugars content of 65% of the Lucozade Energy range sold in the UK & Ireland by 9% and 8% respectively (based on 2011 levels), equivalent to removing 583 tonnes of sugars and 2.2 billion calories. This followed the launch of its lower calorie Lucozade Revive in 2012.
In 2014 rivals have followed suit. In January, AG Barr launched Rockstar Pure Zero, the brand's first sugar-free drink; weeks later Red Bull Zero Calories was unveiled; and Coca-Cola Enterprises (CCE) has relaunched sugar-free versions of both Monster and Relentless in the past year.
"Looking at trends in the wider soft drinks market, sugar-free is growing and we would expect this trend to translate into the energy drinks category," says AG Barr head of marketing Adrian Troy. The recent flurry of NPD has driven 32% volume growth of low-calorie energy drinks in the past year, he adds, quoting Nielsen figures [52 w/e 26 April 2014].
To be fair, this is from a low base: low-calorie variants account for 4% of the wider energy drinks market at present. And there are limits as to how much share sugar free could steal. You don't need to be a Nobel Prize-winning chemist to know sugar delivers energy; if brands strip it from their recipes, consumers may start to question whether they can rightly be called energy drinks.
"Strip sugar from the recipe and consumers start to question whether they can rightly be called energy drinks"
It's a question that's exercised more than one major player in the market lately. For example, in February CCE relaunched Relentless Sugar Free under the new name Original Ultra after research showed that drinkers were put off by the product's explicit sugar-free credentials.
"Feedback indicated a consumer preference for a less prominent call-out of the product's low-calorie proposition on the can," a CCE spokeswoman explains.
Lower-calorie drinks have the added benefit of attracting new consumers to the category, which is dominated by teenagers and young adults, who may have been put off by high sugar levels, say industry figures. For example, Lucozade Revive, which contains 50 calories per serving (compared with the 236 in a 380ml bottle of Lucozade Energy) was targeted at the 25 to 35-year-old age group.
Again, Lucozade Ribena Suntory has been careful not to be too explicit about marketing its energy products as low-calorie. Lucozade Revive is marketed as a "light energizing drink" and looks to appeal to health-conscious consumers with a focus on functionality, claiming the vitamin B helps fight fatigue.
After reformulating its drinks last year as part of its commitment to the Responsibility Deal in January 2013, Lucozade has promised to set more reduction targets later this year.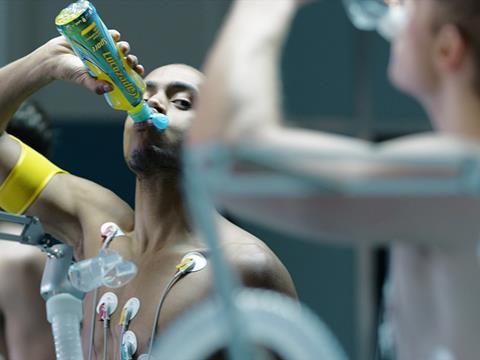 After a fall the previous year, volumes in the sports & energy drinks category are now in growth. There has been a 2.3% fall in the number of people buying, but those still in the category are buying 0.7% more per trip.
Energy drinks now make up more than 80% of category value. After a slowdown in the strong performance of energy drinks in the previous year, growth increased this year.
Sports drinks, on the other hand, have seen further declines, although the rate of decline is less than the previous year, offering some encouragement to suppliers.
Perhaps surprisingly, The Co-operative Group has had a stellar year in the sports & energy drinks market, posting near-50% growth in value compared with the previous year.
Phil Jones, Kantar Worldpanel
Taste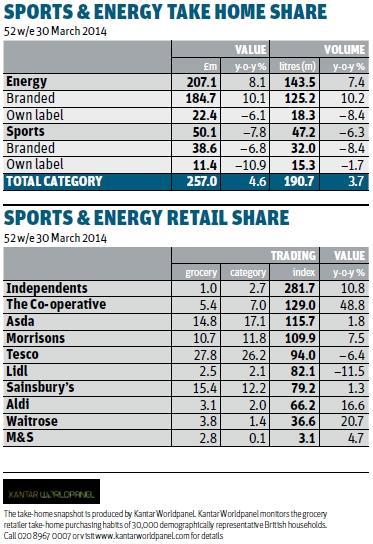 But as the continuing growth of standard energy drinks suggests, the number of calories in a can doesn't bother drinkers nearly as much as it does the anti-sugar brigade. What these drinks taste like is perhaps more important, suggests Georgina Thomas, category director for Lucozade Ribena Suntory, which has launched a host of new flavour variants over the past year: "The popularity of our brands can be attributed to our focus on developing great-tasting products and driving belief in their efficacy."
New flavours have also paid off for Red Bull. The brand had just one energy flavour until early 2013, when it launched its Editions range of fruit-flavoured drinks (in blueberry, raspberry and lime). After flat sales in 2012/2013, the launch helped Red Bull rebound with growth of 9.3% on volumes up an impressive 14.2% [IRI]. Red Bull sales director Jon Hughes says Editions delivered retail sales of £24m in 2013 and, importantly, this was with little cannibalisation of the existing range.
Functional claims
Hughes believes the functional claims of energy drinks - whether implied or explicit - continue to attract drinkers away from traditional pop. "There's still a lot of growth coming through regular energy drinks," he says. "People are moving out of carbonates and into water if they're looking for hydration and into energy drinks if they want a functionality."
Red Bull's promise of a free set of (metaphoric) wings with every can aside, however, most energy drink brands tend not to make explicit claims about functionality - even though EFSA has approved a number of vitamin B energy and alertness claims (Lucozade Revive is one of the few to have capitalised on this in its marketing).
" People are moving from carbonates to water for hydration and energy drinks if they want functionality"
Instead, brands tend to highlight the ingredients they use to imply that they offer some functional benefit. And this now goes far beyond just caffeine and taurine: for example, B vitamins and guarana are prominent on cans of Rockstar Endurance, and other brands make much of their use of such exotic ingredients as rojo tea, goji berries, ginseng and guarana. The implication - that by using such ingredients, these products provide a natural source of energy - is clear.
Sports drinks cannot afford to be quite so subtle, especially as sporty types increasingly turn to (bottled) water or the new breed of dairy-based sports drinks and coconut waters as a functional aid while exercising. In the past year Lucozade has tackled this head on, and claims to have returned Lucozade Sport to growth for the first time in four years with a new campaign last year focusing on functional benefits.
In a move that angered the bottled water industry and caught the attention of the Advertising Standards Authority, it claimed Lucozade Sport "hydrates you better than water." The ASA gave the claim the all clear, but banned another that said the drinks "fuel you better than water."
Lucozade's investment shows: total combined sales grew 9.5% on volumes up 8.6%, with little movement in price during the year. That is a big improvement on last year, when sales growth flatlined [IRI]. Meanwhile, sales of CCE's Powerade - Lucozade's biggest rival in the sports sector - have plummeted and the overall sports sector is still in trouble: Kantar says take-home sales are down 7.8% on volumes down 6.3%.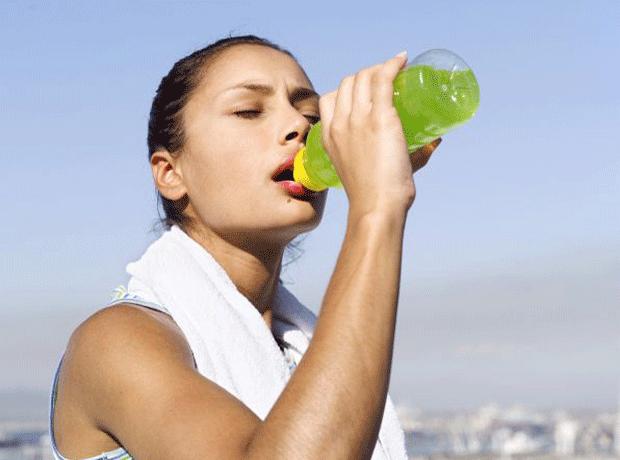 Energy price cuts fuel big brand surge
Energy drinks are becoming increasingly price sensitive. The three biggest pure energy brands (Red Bull, Monster and Relentless) all lowered their prices in the past year.
Relentless, which made the deepest cuts, also pushed into multiples and invested in NPD to reverse the previous year's decline.
Again, in sports drinks, the importance of price cannot be underestimated. Powerade has suffered as a result of a sharp price spike whereas Lucozade has benefited from keeping a tighter lid on price.
Of course price stability doesn't guarantee growth as bargain brand Boost's performance testifies. Lucozade has also grown off the back of a huge ad push to emphasise the functional benefits of its Sport brand.
Sports innovation
Aside from Lucozade Sport's return to growth, perhaps the greatest source of optimism comes from the number of new brands and products entering the sub-category. For example, sports nutrition brand IPro Sport is launching an isotonic drink in the next few months containing the natural sweetener stevia.
And Pro Athlete Supplementation, co-founded by the Welsh rugby team's nutritionist Jon Williams, has developed a new sports drink called Pro Iso. It contains less sodium than traditional sports drinks and responding to research suggesting a dual source of carbohydrate is more effective in delaying fatigue, it contains powdered fructose and glucose separately instead of combined glucose fructose syrup.
The World Cup is another opportunity. To cash in, Lucozade has launched two Brazilian flavour variants and has been running a TV campaign and on-pack promotion giving drinkers the chance to win football boots designed by Steven Gerrard.
"We're confident that by working with retailers we can replicate 2010 World Cup levels of category demand"
The brand has also built a five-a-side football venue in Canary Wharf that recreates the heat and humidity the players will face in Brazil while also working with retailers to create better standout in store. "We're confident that by working in partnership with retailers to execute our exciting brand plans, we can replicate the 2010 World Cup levels of category demand," says Lucozade's Thomas.
Lucozade is clearly looking to steal some of Powerade's thunder as the official sports drink of Brazil 2014. But Powerade isn't particularly focused on the footie. It's looking to turn around its rather dismal performance by focusing on price, an increasingly important factor in this market. CCE has launched a new 85p price-marked pack for Powerade in a bid to win back drinkers in the impulse channel.
Budget brand Boost is also lowering its prices. In March, it redesigned the 500ml and one-litre bottles in its sports range, price-marked at 59p and 89p respectively, compared with 69p and £1.29 previously. "Research with the trade told us that the opportunity in the sports category is with 'value'," claims a Boost spokeswoman.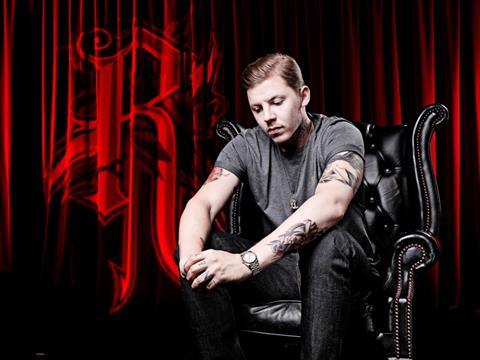 Red Bull and Lucozade boost spend
Red Bull increased its already substantial ad budget in 2013 as it got behind the launch of its first range of flavoured drinks. At the start of this year it focused on the launch of Red Bull Zero. Head of sales Jon Hughes says: "The message will be 'Wings for All.' Whether you want original, flavours or low calorie, there is a variant for you."
Lucozade spent less on Revive and Sport in 2013, and moved its focus for Sport to functional benefits. This year's World Cup-based campaign is more "emotive".
Sister brand Lucozade Energy's new humorous approach, featuring a day in the life of 'Dan' variously tackling crocodiles, chopping down trees and using a flamethrower on a barbecue was supported by a big increase in spend.
After its first-ever TV ad in 2012, Relentless scaled back TV advertising somewhat and focused on music rather than sport and gaming, with documentary-style ads that followed Professor Green, Zane Lewis and Pure Love through the process of creating music. The new approach appears to paying off.

Price
But as we've seen with Powerade, price is an increasingly important factor. And no wonder when you consider the growing popularity of cheaper alternatives that sell for a fraction of the price. Take Euroshopper Energy, which costs just 39p for a 250ml can compared with £1.19 for an equivalent can of Red Bull. In our 2013 Top Products Survey, Euroshopper was valued at £53.7m, making it the UK's fifth biggest energy brand [Nielsen 52 w/e 12 Oct].
" Research with the trade told us that the opportunity in the sports drinks category is with value"
Clearly rattled, big brands have been forced to lower their prices: strong growth has been helped by significant falls in average price - CCE's Relentless and Monster by 9.8% and 8% respectively; Red Bull's by 4.3% [IRI]. Red Bull puts the volume boosting fall in price down to the introduction of price-marked packs and lower prices in forecourts and motorway services.
Fierce promotions, particularly in impulse, have been key for Relentless, says a spokeswoman: "A dedicated Relentless field sales force has helped drive distribution in impulse, while grocery mechanics have been adjusted to encourage trial and bring new shoppers to the brand."
The pressure to keep prices attractive in energy drinks will remain over the coming year, especially in light of the market leading growth of Rockstar and its comparatively low price. In the past year the brand has sold for an average of £2.01 a litre, down slightly on the previous year. In comparison, Monster and Relentless fetch £2.41 and £2.37; Red Bull remains the priciest at £4.63 a litre.
And if mounting price competition isn't enough to worry sports and energy brands, the wider attack on soft drinks - with the possibility of a 20% sugar tax and tobacco-style health warnings on pack - is sure to be keeping suppliers awake at night. Luckily there's no shortage of caffeine to keep them working through the night to sustain the growth in the wake of such pressures.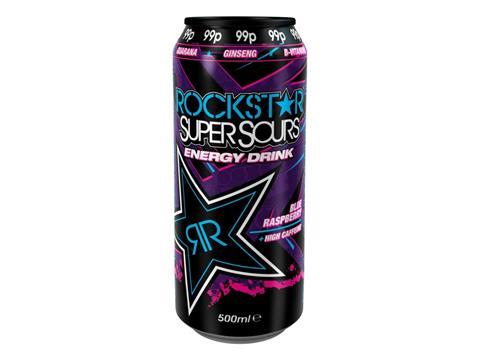 Rockstar SuperSours Blue Raspberry
Launch date: June 2014 
Manufacturer: AG Barr
No one's growing more quickly in energy drinks than Rockstar at the moment. And AG Barr wants to make sure it keeps on rocking with this, the latest addition to the brand's long line up of energy drinks. Blue Raspberry (rsp: 99p/500ml) joins the Bubble Burst and Green Apple variants launched under the SuperSours banner in December 2012. Barr says drinkers are sweet on sour flavours, claiming the SuperSours sub brand has racked up more than £11m in sales so far.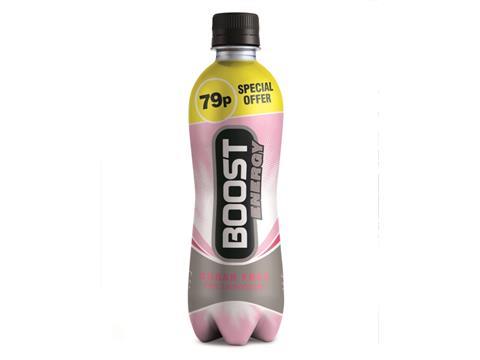 Sugar-Free Pink Lemonade
Launch: April 2014
Manufacturer: Boost
Growing demand for sugar-free energy inspired Boost to launch a Pink Lemonade (rsp: 49p/250ml; 79p/500ml), with just two calories per 100ml. Available only to indies, it's the second sugar-free Boost Energy, following the 2006 launch of Original. Boost has also launched Exotic Fruits and Citrus Zing variants of its regular energy drink.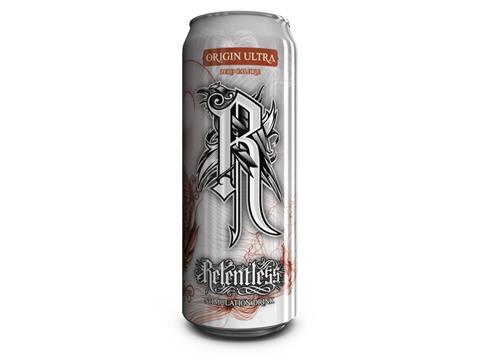 Relentless Ultra Origin
Launch: February 2014
Manufacturer: CCE
Relentless Sugar Free was re-launched as Ultra Origin (rsp: £1.38/500ml) in February after research showed drinkers in the core 18 to 30 target group prefer the low calorie message to be more discreet. It was also repackaged in silver and white. A month later, CCE launched a cherry-flavoured drink to replace Relentless Berry Juiced.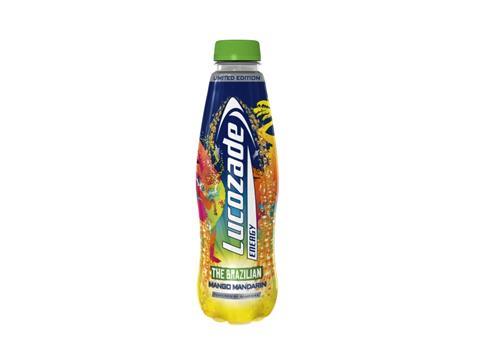 Lucozade 'The Brazilian'
Launch: January 2014
Manufacturer: Lucozade Ribena Suntory
Lucozade has launched two flavours to tie in with the World Cup - Lucozade Sport Brazilian Guava and Lucozade Energy "The Brazilian" Mango & Mandarin. Lucozade says the energy variant has delivered £1.4m in its first eight weeks on sale. The real test will be how the products perform over the summer months (£1.15/500ml).