Tobacco companies must, at times, feel like King Canute, desperately trying to hold back the relentless tide of taxation, marketing regulation and opprobrium levelled against them.
This year the tide will reach a new high, with the next phase of the display ban kicking in from April and the Tories promising MPs a vote on the introduction of plain packaging before the May election - no doubt prompted by Labour's pledge to follow Australia in banning all branding from packs if it gains power.
Today, the age of cigarette endorsements from doctors and the glitterati (Hollywood legend Barbara Stanwyck once proclaimed L&M Filters to be 'just what the doctor ordered') couldn't seem more distant, given the graphic images of the effects of smoking now carried by law on Australian packs.
"If a cigarette brand is not in stock, customers will simply go elsewhere and may not return…"
Of course, 'plain' packs are anything but. The images Labour proposes using are as gruesome as those used Down Under (see the example above). Tobacco giants will be lobbying hard to convince MPs such a step would be unnecessary and damaging here.
What else are they doing in anticipation of the new regulation? Given volumes are down 3.4%, or almost 1.2 billion cigarettes [Nielsen 52 w/e 1 December 2014], as smoking falls out of fashion, how effective will they be?
Manufacturers' efforts to keep smokers, and retailers, loyal to their brands range from pack redesigns and NPD to stark warnings to convenience retailers about the impact on footfall of reducing ranges in anticipation of the c-store display ban.
Stock levels are a major concern in light of April's c-store display ban, with some fearing as gantries are covered, the space dedicated to cigarettes will be reduced. The risk, says Scandinavian Tobacco's head of marketing & public affairs, James Higgs, is that brands could be delisted, forcing loyal smokers to go elsewhere for their preferred smoke.
"Consumers tend to default to well-known brands, the cheapest products or niche products, so retailers need to stock their range accordingly," says Higgs. "If it's not in stock, customers will simply go elsewhere and may not return, so it's essential to maintain 100% availability of all products at all times."
Some suggest retailers should consider placing reminder cards on autofeeds so staff are aware of what product goes in each space and keep a customer request book for new products so they don't get forgotten on the next order or trip to the cash & carry.
Analysis from Nielsen suggests heritage brands such as Woodbines and Players Navy Cut, while in decline, still play a key role in driving footfall into stores. Similarly, high-priced brands, which sell for about 44p a cig versus a market average of 38p [Nielsen 52 w/e 1 December 2014], such as Camel, Park Drive and St Moritz, also serve as a means of attracting brand-loyal smokers into a store.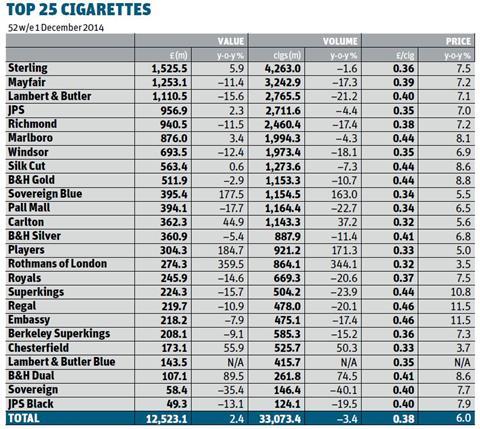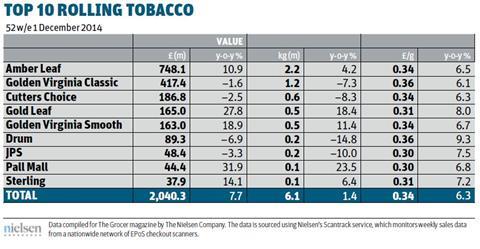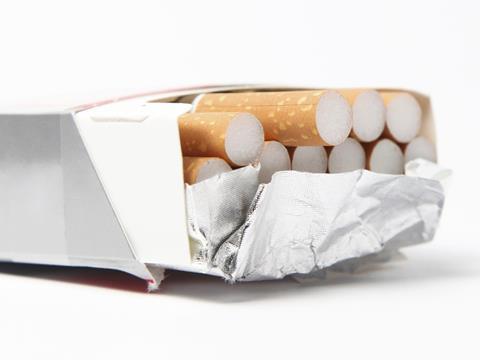 Polarisation
That the latter two are in volume growth reflects the market's ongoing polarisation. At one end of the spectrum, smokers are stubbing out mid-priced cigs and opting for budget options or roll your own. Just look, left, at the £143.5m Lambert & Butler Blue has racked up so far for proof (the new variant is 5p a cig less than standard L&B). Others are cashing in with premium smokes, which still account for 25% of the UK market [ITUK Estimates 2014].
"We know when smokers are trading down they go straight to the lowest price…"
Image is paramount for these higher-priced players. BAT's St Moritz gets away with charging an average of 45p a smoke thanks in part to its dual compartment metallic green packs containing gold foil-wrapped cigs bearing a gold band around the filter. Fellow BAT brand Vogue, superslim cigs that come in a distinctive pack designed to appeal to female smokers, are also in strong volume growth.
The Santa Fe Natural Tobacco Co, a division of US giant Reynolds, is taking a different tack in justifying the high price (43p/cig) of its Natural American Spirit additive-free cigarettes. It has ambitious plans for the brand, up 9% in volume in the past year [Nielsen], targeting independents and forecourts in its core market of London and Southern England and beginning to move further afield.
The brand has also updated its packaging in a bid to catch smokers' eyes prior to the April display ban. It's not alone. Marlboro has a new, pared-down design in anticipation of the display ban, and owner Philip Morris claims limited-edition pack designs for Chesterfield and Marlboro for last summer's music festival season, a key sales opportunity for brands, paid off, with Chesterfield enjoying a 55% uplift during the season.
Chesterfield's low price (33p/cig) will have helped too. With George Osborne continuing to ramp up the duty, price is of growing concern to both smokers and tobacco companies. The fact Sterling, priced at 36p a cig, overtook 39p-a-cig rival Mayfair to become Britain's bestselling brand last year is proof of how important price has become.
L&B Blue is another case in point, says Andrew Miller, Imperial Tobacco head of independent retail. "It's helped reinvigorate the economy price sector," he says. "Since launch, one in five consumers of L&B Blue have traded up from cheaper brands. Following this success, Imperial Tobacco has launched a new L&B Blue Superkings range."
The data suggests smokers could also be trading down from standard L&B, down 21.2% in volume. And some are lighting up even cheaper offerings than L&B Blue, with BAT's Rothmans of London and Imperial's Carlton (both 32p/cig) in strong growth.
It's not all about price per cig, of course. Brands have long been tinkering with pack size in order to hit specific price points to appeal to different demographics, with different brands now available in packs of 20, 19, 18 and 17. Even in the RYO category, smokers are feeling the pinch, so brands have responded with smaller packs.
"Sales of sub 12.5g pack sizes of RYO tobacco have more than doubled over the past year as increasing numbers of tobacco shoppers seek quality products with a low out-of-pocket spend," says Imperial Tobacco communications manager Rachael Geake. "To enable retailers to capitalise on their growing popularity, we launched JPS 9g last summer."
Even if RYO smokers are watching the pennies, there's still room for pricier brands, as reflected by last September's launch of Marlboro RYO, which sells for an average of 35p a gram versus a market average of 34p [Nielsen]. "We know when smokers are trading down, they go straight to the lowest price," says Gerald Margolis, sales director for Philip Morris in the UK and Ireland."We wanted to give smokers that love the Marlboro brand, but don't have the disposable cash, the option of staying within the Marlboro family."
The launch has so far racked up £1.8m and other pricier RYO brands, such as Natural American Spirit, are also showing strong growth. The inspiration, no doubt, for Japan Tobacco's launch of organic extension of bestseller Amber Leaf, Amber Leaf Signature. The launch comes in 10g and 20g packs in order to keep price points affordable.
Expect a flurry of pack reformatting as brands try to attract price-conscious smokers before the EU Tobacco Products Directive bans smaller packs in 2016. And with MPs to vote on plain packs in coming months, expect a similar flurry in branding exercises.
L&B Blue Superkings Menthol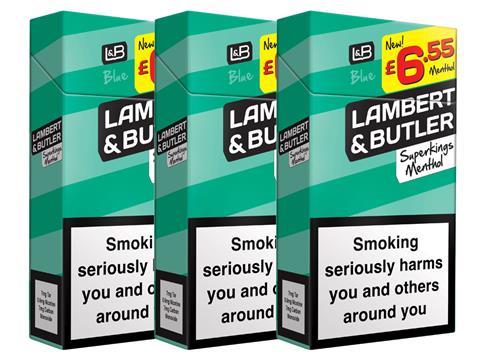 Launched: October 2014 
Manufacturer: Imperial Tobacco
The Lambert & Butler Blue range has been the brand's saving grace, and in October it entered the highly competitive menthol market, which accounts for almost 10% of the factory-made cigarette category. The 19 value pack has an rsp of £6.79, but price-marked packs were also available at £6.55 for a limited time following the launch. Imperial Tobacco claims smokers are looking for value for money, but also like the heritage of big brand names, such as Lambert & Butler.
Amber Leaf Signature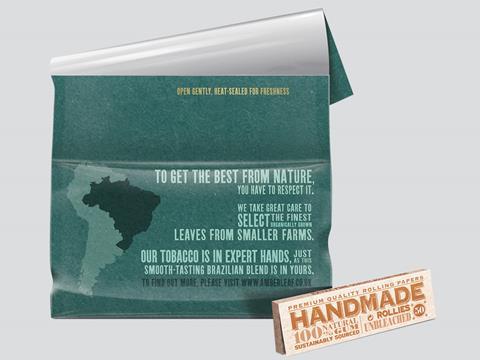 Launched: August 2014
Manufacturer: Japan Tobacco International
For smokers who really care about the quality of what they put into their bodies, last summer JTI launched Amber Leaf Signature, a Brazilian blend containing organically grown tobacco leaf. It comes in a 10g 3-in-1 crush-proof box, as well as a 20g pouch, at £3.65 and £6.99 respectively.
Break Filter Cigarillos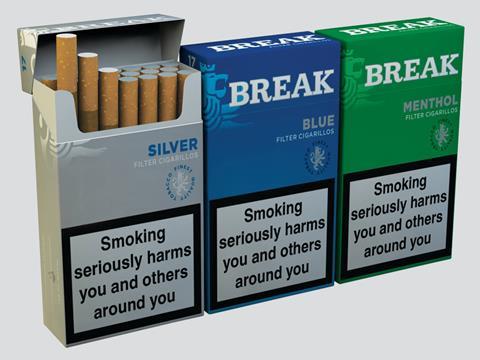 Launched: June 2014
Manufacturer: Scandinavian Tobacco Group
According to STG, mini cigars are now the fastest-growing tobacco subcategory in Europe with 3.45 billion sold in 2013. On the back of this trend it launched the Break range, which comes in Silver, Blue and Menthol at £4.59 for 17. STG claims to have secured more than 4,000 listings for Break and to have sold 2.5 million cigars.
Marlboro redesign
Launched: February 2015
Manufacturer: Philip Morris
In the run up to c-store displays going dark, the brand claims to have upgraded its entire FMC range to give a better smoking experience. The range includes Marlboro Red, Gold, Silver Blue, Ice Blast and White Menthol with new packaging that keeps the chevron but will feature a soft touch finish and a cleaner, more contemporary design.