Revolution is coming to Britain's freezers. Bogstandard frozen lines are against the wall; fish fingers, turkey bites and diced veg are increasingly sharing shelf space with luxury fare like lobster, wagyu beef and soufflé.

And this isn't only for the privileged. "Sales of lobster are as high in Wythenshaw as they are in Fulham," says Neil Nugent, head of product development at Iceland, whose 2015 Christmas range included a whole Canadian lobster for just £5. "The exceptional value of frozen makes these once luxury foods accessible to everyone."

But what's driving this change? With more retailers bringing frozen luxury products to the masses under the banner of own label, how are the sector's biggest brands performing? And what does the coming year have in store for frozen food?

Granted, the headline figures hardly suggest frozen food is becoming a revolutionary hotbed. Sales have slipped 0.5% to just over £5.6bn [Kantar Worldpanel 52 w/e 28 February 2016]; volumes are down 0.8%. But drill beneath the surface and you'll find pockets of strong growth. Brits have spent an extra £11m on frozen ready meals in the past year, for example; meat-free and desserts are also in strong growth.

Similarly, the 0.2% decline in frozen fish on volumes down 3.1% belies a significant shift in many of the major retailers' strategies: branded frozen fish products have suffered a 7.5% fall in volumes with value down 4.8%, or £19.6m; own label is up by nearly the same amount with growth of £18m (4.2%) on volumes up 1.2%. Note that in both cases, average prices have risen as a result of the introduction of higher-value product lines.
FROZEN BESTSELLERS
IRI: 52w/e 27 February 2016
VALUE
VOLUME
£m
y-o-y%
kgs (m)
y-o-y%
Birds Eye
£473.4
-4.9
110.1
-2.4
Walls
£366.2
-2.9
94.3
-3
Mccain
£323.2
1.3
154.2
2.9
Youngs
£149.0
-4.6
23.5
-8.2
Aunt Bessies
£148.0
-17.1
55.1
-16.4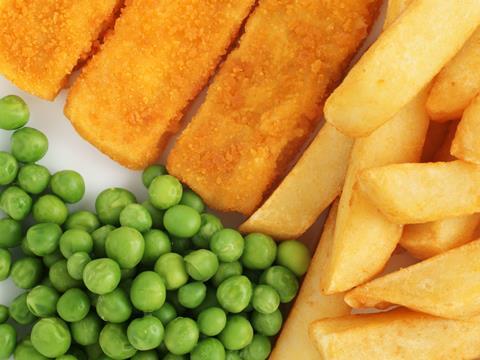 Frozen's 0.8% decline in value is not too out of line with an overall market struggling to overcome deflation. Compared with other areas of grocery, frozen food overall has not seen as sharp a fall in prices. Decline is, rather, driven by shoppers making smaller frozen trips year on year. Frozen's relative value offer may be less convincing than during the recession.
Sales on promotion fell from 37% to 36%, with fewer deals particularly in own label, where retailers have been moving more to EDLP strategies.
Own label has gained share in Tesco, and Aldi and Lidl have continued to gain share overall.
By far the biggest NPD success story in the latest year for frozen, and the total grocery market, is the Iceland Slimming World range with its aspirational healthier lifestyle branding and affluent, primarily female target group.
Young's Gastro has continued to see massive growth in the last year (an additional £19m to bring the range to £52m in total).
Increasingly, premium style offerings and the expansion into new on-trend areas suggest a category capable of tapping what consumers want.
Adam Gilham, Kantar Worldpanel
TAKE HOME SHARE
Frozen food: 52w/e 28 February 2016
TOTAL
VALUE
VOLUME
£m
y-o-y%
kgs (m)
y-o-y%
Ice Cream
344.0
0.4
884.7
0.8
Desserts
67.0
-1.3
255.5
2.5
Fish
131.6
-3.1
836.5
-0.2
Ready Meals
135.8
-3.1
479.2
2.3
Pizza
111.4
0.6
426.5
-0.8
Potatoes
486.7
-2.0
701.5
-3.0
Poultry
92.1
-5.1
416.5
-7.5
Red Meat
25.4
1.1
115.8
5.2
Sav Bakery
111.3
3.5
287.6
2.5
Snacks
13.0
-0.9
60.5
-4.4
Veg Protein
15.9
12.5
87.1
13.4
Vegetables
303.2
-2.0
494.2
-4.4
Other Non Processed Meat
182.3
2.8
635.1
0.2
Total Frozen
2,022.8
-0.8
5,693.3
-0.6
BRANDED VS OWN LABEL
Frozen food: 52w/e 28 February 2016
VALUE
VOLUME
£m
y-o-y%
kgs (m)
y-o-y%
Branded
2,665.0
-0.2
786.7
0.1
Own Label
3,028.3
-0.9
1,236.1
-1.4
RETAIL SHARE
Frozen food: 52w/e 28 February 2016
TRADING
retailers
grocery
category
index
Iceland
1.5
16.2
1,080.0
Farm Foods
0.4
4.2
1,050.0
Aldi
4.3
5.6
130.2
Lidl
3.1
3.8
122.6
Tesco
21.5
23.9
111.2
Asda
12.5
13.8
110.4
Morrisons
8.2
8.7
106.1
Sainsbury's
12.5
12
96.0
Waitrose
3.9
3.2
82.1
Co-Op
4.7
3.8
80.9
M&S
4.5
1
22.2
Frozen fish
Iceland says its fish sales are growing 20% week on week since it expanded its range. Scallops, sea bass, Dover sole, red mullet, monkfish, Cornish sardines and red snapper can now be found alongside Iceland's standard white fish. The retailer says it's now shifting two million whitebait a week. "What we are doing is not about premiumisation but about giving people a depth of choice," says Nugent. "We can give our customers access to an outstanding range of food that is also great value - because it's frozen."
Young's Seafood says its Gastro brand has grown 42% in the past year and is now worth more than £54m, helping to offset the decline of the wider brand. Birds Eye, meanwhile, is busy putting new twists on its frozen classics. The brand claims to have improved the crumb on its fish fingers as part of a move to breathe new life into sales, which are down 4.9% to £473.3m overall on volumes down 2.4% [IRI 52 w/e 27 February 2016].
Birds Eye has relaunched 57 lines across four categories, rolling out bigger chicken chargrills and 'tastier' chicken dippers in a bid to raise value; Captain Birdseye also returned to TV screens for the first time in a decade in April. "With the right brand equity, positioning and high level of quality, consumers are happy to pay that little bit more for what they get in return," says Birds Eye marketing director Steve Chantry. "We know that consumers remember our products from their childhood with fondness and our focus is all about reigniting their latent love for the brand."

The brand has also played a big part in the rebirth of frozen ready meals following the horsemeat scandal of 2013, driven by the development of more premium products such as the Stir Your Senses range, which Birds Eye says has achieved value sales of £9.7m since launch in 2015.

Boasting such exotic dishes as Spanish Paella and Pappardelle Bolognaise, the Stir Your Senses range (rsp: £2.99/350g) seems a world away from the Birds Eye beef ready meals that were found to contain horse back in 2013. Of course, that's no coincidence; the development of more premium products that can demonstrate quality and provenance has been crucial in restoring consumer trust and distancing the category from the scandal.
Frozen food TV ads push posher fare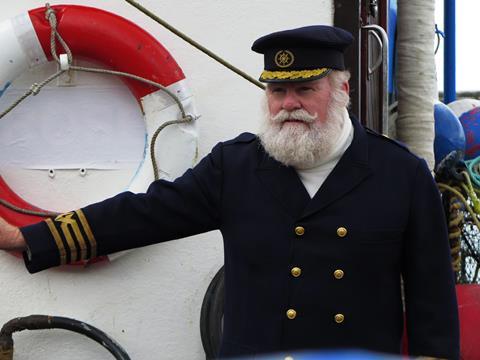 The Captain is back. After a decade's absence, Birds Eye's mascot is returning to TV later this year to push four of the brand's biggest hitters: fish fingers, peas, waffles and chicken grills.
His return, which will reverse last year's 30% cut in traditional ad space spend, comes as Young's plans a £1m TV campaign for Gastro Whole Tail Scampi and Lemon & Herb Tempura Basa, building on the £900k spent on space alone in the past year.
Further evidence of how frozen food players are pushing to the posher end of the market can be seen in the £2.3m Dr Oetker has shelled out on convincing shoppers that Ristorante Pizza can recreate the pizzeria feeling at home.
FROZEN'S BIGGEST ADVERTISERS
Ebiquity: 1st February 2015 - 31st January 2016
Media
TOTAL
Cinema
Outdoor
Press
Radio
TV
Brands
Spend (£)
y-o-y%
%
%
%
%
%
Birds Eye
£9.8
-30.8%
-
1.4%
1.6%
-
97.0%
McCain
£9.0
-5.2%
-
34.1%
6.5%
2.7%
56.7%
Dr. Oetker Ristorante
£2.4
90.5%
-
0.4%
4.5%
-
95.0%
Chicago Town
£1.9
133.7%
-
-
1.1%
-
98.9%
Goodfella's
£1.3
279.5%
-
-
4.9%
-
95.1%
Young's Gastro
£0.9
65.9%
-
-
11.9%
-
88.1%
Aunt Bessie's
£0.7
-56.5%
-
19.4%
15.0%
-
65.6%
Green Giant
£0.3
499.7%
-
35.0%
-
-
65.0%
Albert Bartlett
£0.3
-
-
-
-
-
100.0%
Pukka Pies
£0.1
-70.8%
-
-
100.0%
-
-
TOTAL (Top 10)
£26.7
-6.4%
0.0%
13.0%
4.6%
0.9%
81.5%
Ready meals

The opportunities for purveyors of more premium frozen food, large and small, are growing, contend many. "Our customers simply do not find what they are looking for in the chilled aisle, so they have stopped looking," says John Bancroft, director of Brighton-based start up Decent Food, which launched a four-strong range of premium ready meals in February. "The perception of frozen is changing, but it is taking time."

Decent is clearly on to something with its low-carb, minimally processed meals. Indeed, Kerry Foods, one of the market's biggest players, is gunning for the same active, health-conscious consumer group with its nine-strong Men's Health ready meal range, which includes dishes such as king prawns & pomegranate with Persian rice and pulled chilli beef.

"The need for healthy eating continues to grow above and beyond the traditional focus on dieting," says Kerry Foods category controller Andy Bolton. "Men's Health frozen ready meals, which launched into Asda in April, is a great example of a targeted health proposition that is high in protein and aimed at consumers who break from the norm from a frozen ready meal perspective."

That's not to say traditional diet brands can't prosper, of course. Indeed, the biggest success in ready meals - and indeed the category as a whole - of the past year comes from the February 2015 launch of a 10-strong range of Iceland-only Slimming World ready meals, sales of which now stand at £61m [Kantar]. Based on Slimming World's Food Optimising eating plan, the range gave Iceland access to 700,000 more potential customers in Slimming World members.

The launch has played a key role in helping the retailer's frozen food value sales surge 5.5% in the past year, a rate of growth bettered only by the discounters. "At £2.59 our meals would be over £1 cheaper and contain more meat and better quality ingredients in a significant number of cases in comparison with any other retailer's chilled offering," says Iceland's joint MD Nigel Broadhurst.

Even though the price of frozen ready meals is being driven up by the development of more premium offerings, they are still considerably cheaper than chilled. The average price of frozen ready meals stands at £3.53 a kilo, up 5.7%; Kantar data for the year to 8 November last year put the average price of chilled ready meals at £6.19, down 1.6%. Given that chilled sells for almost double the price of frozen, there's a clear opportunity to raise the price of frozen offerings, so long as players can convince consumers of frozen's benefits.
Decent Ready Meals
Launched: February 2016 
Manufacturer: Decent Food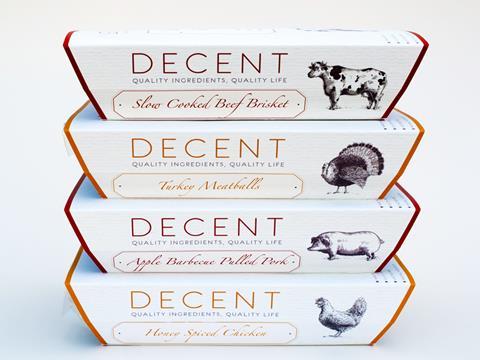 Is this the next Charlie Bigham? Decent has a way to go before it reaches Bigham's scale but it seems to have spotted a niche worth exploiting, for a premium, healthy ready meal brand. The range - Slow Cooked Beef Brisket, Honey Spiced Chicken, Turkey Meatballs and Apple Barbecue Pulled Pork (rsp: £5.45 to £5.95) - certainly ticks a lot of boxes: it's high in protein, low carb, dairy and gluten free, with nothing artificial. Available across the South in independents and Crossfit gyms, and online.
Men's Health Kitchen Ready Meals
Launched: April 2016
Manufacturer: Kerry Foods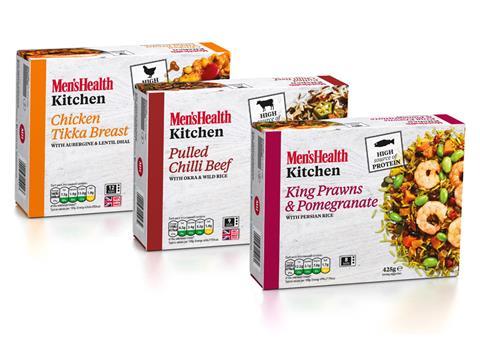 More proof that world cuisines and health are key trends in the freezers. Kerry is going for fit, nutritionally aware men with this nine-strong range of high protein, low fat meals bearing the name of Britain's biggest men's mag. Dishes (rsp: £3/425g) include king prawns & pomegranate with Persian rice and pulled chilli beef with okra & wild rice.
Quorn Meat Free British Classics
Launched: March 2016
Manufacturer: Quorn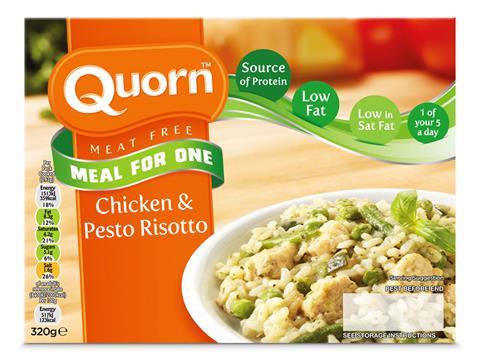 Chicken & pesto risotto, mince & sweet potato casserole and chicken & bacon lattice might not sound like classic British fare, particularly given they're all meat free, but that's how Quorn is billing this trio of new lines (rsp: £2) that doubles the veggie giant's roster of frozen ready meals. The risotto is in Tesco, the other two in Sainsbury's.
Funky Fish Kitchen Frozen Range
Launched: April 2016
Manufacturer: Young's Seafood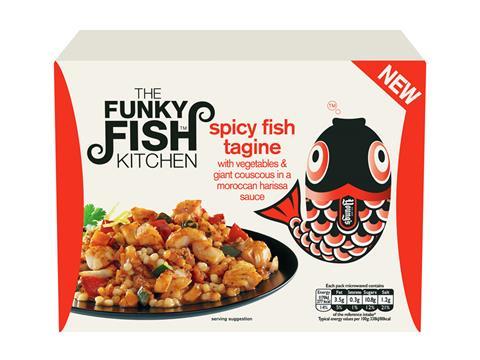 Funky Fish Kitchen, the Asda-exclusive range launched in 2013, has leapt from the chillers to the freezers. This six-strong range of frozen ready meals (rsp: £2/360g) includes spicy fish tagine, Malaysian fish curry and fish macaroni cheese with chorizo crumb. Can be oven baked or microwaved. Stand by for more NPD this autumn.
Desserts

Desserts is another sector that's seen significant inflation in the past year, with average prices up 4.9%, driving overall value up 5.7% to £263.3m. Iceland says its frozen soufflés, which can be cooked from frozen in 15 minutes, have a been a particular hit, and Swedish frozen dessert brand Almondy says sales of its Toblerone and Daim desserts are up 31% and 16% respectively.

"What makes Almondy successful in a category generally in decline is a combination of premium ingredients, convenience, versatility and value for money," says Almondy's UK managing director Andrew Ely.

Frozen desserts might be flying, but the same can't be said for the category's biggest sector. Ice cream sales are static with value sales up just 0.8% to £884.7m on volumes up 0.4% [Kantar]. "Branded promotional activity has been very aggressive over the last 12 months, with brands fighting for market share and driving volume through deals," says Iceland's Broadhurst. "Last year does not go down in the record books as one of the best British summers and this has clearly generated brand promotional activity to make up the volume lost through indifferent weather."

But not everyone in ice cream has seen sales melt away. Unilever's Magnum and Ben & Jerry's have managed combined growth of £19.2m [IRI 52 w/e 2 January 2016] thanks to a mix of promotional activity and premium NPD. Many say there's an opportunity to encourage consumers to consider ice cream as an option for a wider range of occasions. Premier Foods says it wants to encourage greater use in the winter with its new Ambrosia Frozen Custard, for example.

Another growth area is breakfast, says Birds Eye, which launched its Hello Morning! frozen breakfast range of pastries, waffles and croissants in February, supported with a £1m advertising push.

"Frozen breakfast has long been recognised as a freezer aisle fixture in the US," says IRI's senior client director Sarah Pittock. "Birds Eye's Hello Morning! innovation has the potential to blow the category open: a leading brand with substantial media support. If in-store visibility can be maintained, then 2016 could be the year that UK shoppers finally embrace frozen breakfast."
Brands ramp up the promotions as retail chains pull back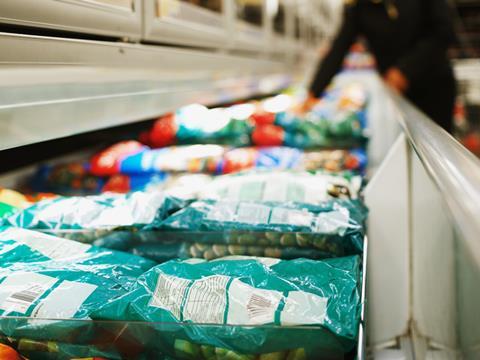 While brands are busy ramping up promotions in the frozen aisle, retailers are cutting back.
The category's biggest player, Birds Eye, has increased promotions by 18.1% to 2,754 in the past year and Young's, Aunt Bessie's, Goodfella's and Ben & Jerry's all followed suit [Assosia 52 w/e 31 March 2016].
At the same time Tesco cut its number of deals by 17.3% to 368 [Assosia] - losing 2% market value share in the process [Kantar Worldpanel 52 w/e 28 February 2016] - while Morrisons and Co-op also cut the number of their offers.
Sainsbury's and Asda were the only big four retailers to increase deals - Asda increased its the most, by 76, and Sainsbury's offered 53 more deals [Assosia], though, like Tesco, both retailers also lost value share [Kantar].
'Save' remains the most popular mechanic, accounting for 59.6% of offers - a rise of 16.5% - with x-for-y and half-price deals following closely behind [Assosia].
"We have seen more cross-category bundle deals featuring well-known brands, led by The Co-op with their 5-for-£5 offer and a similar deal in Morrisons," says Andy Bolton, category controller at Kerry Foods.
"These deals really are amazing value and give the consumer a reason to pick one retailer instead of another."
New promotions are also starting to emerge, with Sharwood's introducing the meal deal concept on its frozen takeaway range with two main meals and a side for £4 - the first time this mechanic has been seen in the frozen aisle.
FEATURED DEALS: RETAILERS
April 2014-March 2015
April 2015-March 2016
Asda
2977
3053
Morrisons
2236
2112
Tesco
2123
1755
Sainsbury's
1633
1686
Waitrose
556
559
| FEATURED DEALS: BRANDS | | |
| --- | --- | --- |
| | April 2014-March 2015 | April 2015-March 2016 |
| Birds Eye | 2330 | 2754 |
| Young's | 905 | 990 |
| Own Label | 913 | 961 |
| Walls | 1239 | 731 |
| Aunt Bessies | 415 | 500 |
Free from

If shoppers embrace frozen breakfast, free-from brand Genius is perfectly placed to tap in. The company acquired Lincolnshire-based gluten-free filled pastry manufacturer Chapel Foods, including its manufacturing facility, in October 2015 and is planning to use the acquisition to bolster its position in the frozen free-from sector.

"The frozen free-from category is enjoying strong growth at 36.2%", says David Shaw, commercial director at Genius, whose products include pies, sausage rolls and a new quiche. "As a result of the acquisition we hope to be able to deepen distribution for the Genius range and in the long term launch a selection of new products on both a local and international scale."

Gluten-free brand Feel Free has secured Morrisons listings for its breaded cod fillets, breaded pollock nuggets and three frozen desserts from May, and in March Tesco increased its listing of Feel Free's frozen ring donuts from 250 to 644 stores.

"We have been approached by a number of the big retailers to work on new product development for their own-label free-from offerings, across both sweet and savoury," says Feel Free's MD Sally Allister. "They're looking at innovation in this category as they expand their ranges to give free-from consumers more choice."

The growth in free-from and health-orientated launches such as Decent and the Men's Health range makes one thing clear: the health & wellness trend hasn't passed the frozen food aisle by. Tesco's November decision to launch frozen avocado halves to its freezers after reporting a 30% rise in demand for frozen fruit slices is more proof.

The resealable packs of peeled and stoned avocados retail at £2.50 per 500g, which at about nine halves is less than the cost of fresh wholehead avocados. "Asda and Tesco have both recently focused on upweighting their own-label ranges, ensuring they are fit for the future and can work in tandem with the key brands," says Kerry's Bolton. "This increased investment in own label shows the trade is backing frozen as a category for the future."
The Original Pancake Co Crispy Pancakes
Launched: April 2016 
Manufacturer: Young's Seafood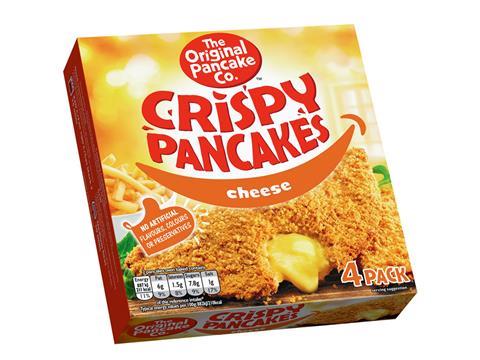 They're back… just don't call them Findus! Young's lost the right to call the Crispy Pancakes it's been making for years 'Findus' after last year's Nomad/Findus megadeal. Now it's come back fighting with new brand The Original Pancake Co, in cheese, beef & onion and chicken, bacon & sweetcorn (rsp: £1/four-pack). Meanwhile, Birds Eye, whose owner Iglo was also snapped up by Nomad last year, is poised to relaunch Findus Crispy Pancakes. Let the showdown begin.
Bontà d'Italia Gluten-Free Pizza
Launched: May 2016
Manufacturer: Schär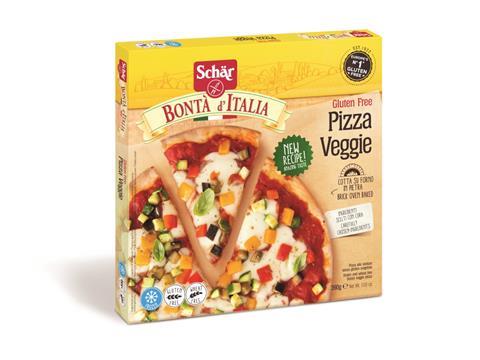 With free-from gaining ground in the frozen aisle, Europe's biggest free-from brand, Schär, is launching a thin-crust gluten-free veggie pizza (rsp: £3/390g). The Italian-made stonebaked pizza promises a 'brick oven' taste and is topped with red and yellow peppers, mushrooms, onion and spinach.
Hello Morning! Cinnamon Waffles
Launched: February 2016
Manufacturer: Birds Eye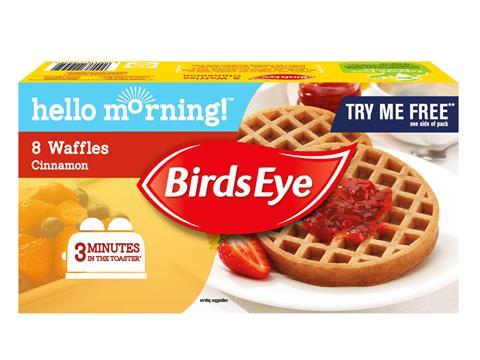 Birds Eye has shown how Waffly Versatile it is with this bid to tap new occasions for frozen. Namely, breakfast. The Hello Morning! range includes these Belgium-inspired cinnamon waffles (rsp: £1.79), which take three minutes to heat in the toaster. The range is backed by a £3m campaign, with TV ads using the classic Waffly jingle.
Ristorante Pizza Salame Arrabiata
Launched: April 2016
Manufacturer: Dr Oetker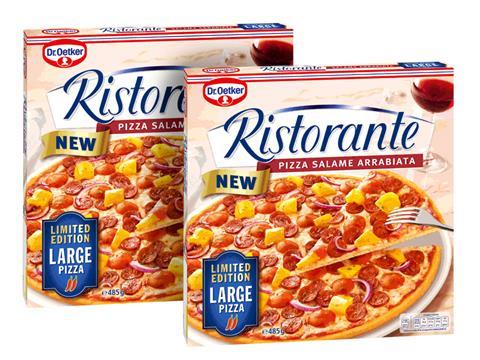 Deep breath… this latest line is 30% larger than Dr Oetker's standard pizzas. The 11-inch limited edition (rsp: £3.99) is stacked with pepperoni, salami, peppers, red onion, cheese and arrabiata sauce. Dr Oetker's research suggests Brits prefer larger pizzas, spending £53.2m a year on bigger pack sizes, and counting.
Vegetarian
Meat-free is another key focus for retailers. Sales of vegetable protein have soared 13.4% to £87m, on volumes up 12.5% in the past year [Kantar] as retailers have increased their ranges. Market leader Quorn is reaping the rewards, with value up 10.8% to £73.7m on volumes up 17.2% [IRI]. Quorn has doubled its ready meals range and instead of being stocked in meat-free freezers, the meals will be merchandised alongside their meat equivalents for the first time.

"Meat-free attracts people to frozen and draws people to the store," says Julian Cooke, head of category management at Quorn, which claims to have increased its share of freezer space in the mults by 25% over the past two years. "We have proven to retailers the uniqueness of this category. If you get someone buying into meat-free their spend is treble that of a meat shopper."

Of course, a multimillion-pound marketing campaign fronted by one of the nation's favourite Olympians, Mo Farah, can't have hurt the brand's performance, and the three-year partnership with the star continues. "The winners in frozen tend to be those brands that are acting truly as brands," says Broadhurst at Iceland. "That is, by pulling their product through the marketplace through advertising and marketing campaigns, as opposed to those that are simply trying to trade their way of out of sales crises."

But that's not to say smaller brands can't win space in the freezers. Retailers who are lending even a small amount of freezer space to alternative brands are contributing significantly to the category, according to Zoe Bannister, commercial director at frozen food brand Bannisters' Farm, which has been busy winning space in the multiples for its frozen potato products in recent years, and last year was ranked as the 36th-fastest growing private fmcg business in The Grocer's Fast 50 ranking. "Challenger brands are punching well above their weight, helping to hold up a category that would otherwise be showing either slower growth or greater decline," says Bannister.
Cadbury Chocolate & Hazelnut Cake
Launched: March 2016 
Manufacturer: Almondy Bakery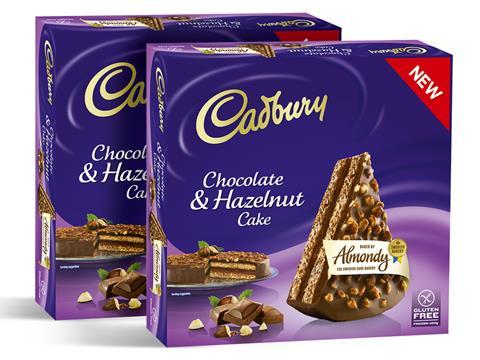 The rest of the market might be counting calories; not Swedish baker Almondy. It has combined crunchy chopped hazelnuts with lashings of Dairy Milk chocolate to form this Cadbury Chocolate & Hazelnut Cake (rsp: £3/400g). Made with Almondy's signature almond base from a Swedish recipe dating to the 1890s, the cake defrosts in 40 minutes and joins Almondy Daim and Toblerone to make up the range. The cake was trialled in 200 Tesco stores and is currently available through Nisa.
Ben & Jerry's 'Wich
Launched: March 2016
Manufacturer: Unilever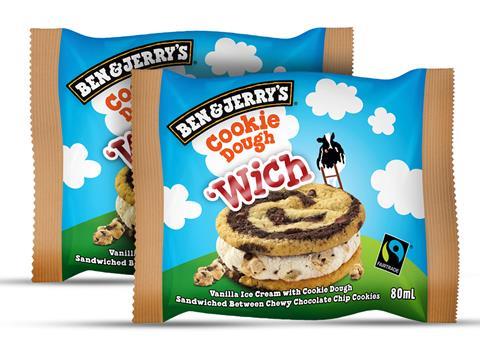 Unilever has taken the ice cream sandwich to another level with Ben & Jerry's 'Wich, in cookie dough and chocolate fudge brownie variants. Both feature the signature ice cream sandwiched between two soft baked cookies and come in singles (rsp: £2.49), 3-packs (rsp: £4.19) and 8-packs of mini version Son of a 'Wich (rsp: £4.99).
Only By Nature Frozen Yoghurt
Launched: June 2015
Manufacturer: Only by Nature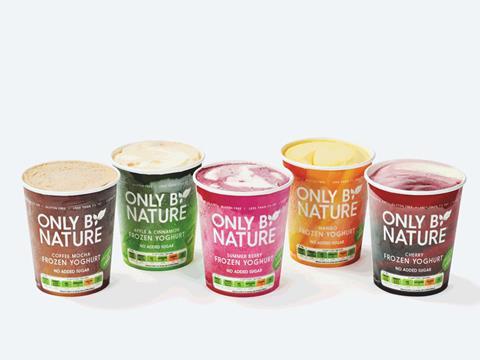 It's claimed this stevia-sweetened line (rsp: £3.99/450ml) is the UK's lowest calorie frozen yoghurt. It has fewer than 80 calories per 100ml and comes in five flavours including apple & cinnamon, coffee mocha and cherry. Made with Jersey and Guernsey milk and cream, the range launched in Waitrose and goes national in Tesco next month.
Marvellous Jelly Popping Handheld
Launched: May 2016
Manufacturer: R&R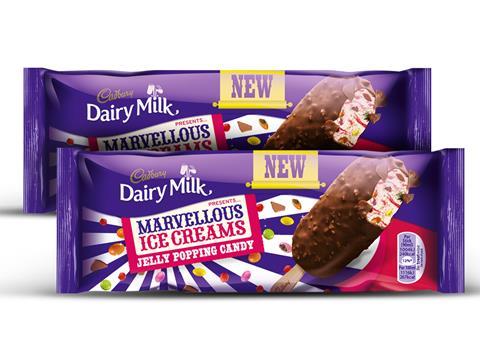 For the first time Cadbury Dairy Milk licence holder R&R is putting the Marvellous Creations ice cream spinoff in the stick format, combining smooth vanilla ice cream with zingy raspberry sauce, candy-coated milk chocolate pieces and chewy strawberry jelly pieces encased in a milk chocolate shell laced with popping candy. Explosive stuff!
Range rationalisation

Naturally, winning space is one thing; keeping it is entirely another. Just look at frozen poultry, the worst performing subcategory with value sales down 7.5% to £416.3m on volumes down 5.1% [Kantar], a decline some put down to a lack of higher value innovation. "The battleground between the major multiples and the discounters has seen the price of chilled chicken portions drop significantly over the last 12 to 18 months," says Broadhurst. "This must have had a huge impact on the sales of frozen product."

And if products have little to differentiate them from the competition other than a lower price point, their share of shelf is clearly in jeopardy. As retailers rationalise ranges in frozen, they are using the promise of higher volume sales for those that remain on shelf as a bargaining chip in the negotiation over margins, adds Broadhurst. "All retailers are using the excuse of range rationalisation to leverage volume across fewer SKUs to enable cost price negotiation," he says.

Hence the development of more premium products, such as Iceland's Kezie range, which includes Wagyu Beef Burgers (rsp: £1.89/2pk/220g), Rabbit Fillet (rsp: £4.50/1pk/250g), Venison Haunch Steaks (rsp: £5/2pk/250g) and Kangaroo Fillets (rsp: £4.50 2pk/250g), and the Smoke Bros branded range of US-style BBQ meat products, both launched in 2015.

And it's not just about meat. Premium Italian gelato brand Joe Delucci's has seen sales of its branded lines double in the past year and the Tesco Finest range it supplies is also in strong growth.

Even the lowly chicken nugget is getting a makeover. Birds Eye says it is 'reinvigorating' its chicken offering as part of its relaunch with a move that shows just how the standard frozen fare is changing. It's added a 100% wholegrain crumb to its chicken nuggets. "These changes ensure we remain relevant," says Birds Eye's Chantry.

The days of the Turkey Twizzler truly are dead. Freezer la revolución!