As Fleabag's viral speech proves, hair is an emotive subject. Now brands are playing on that personal feeling to revitalise sales
Few things are quite as personal as hair. For proof, see BBC sensation Fleabag's famous 'hair is everything' speech. Her proclamations of its importance – it is the "difference between a good day and a bad day" – struck a chord with the nation.
Against such an emotionally charged backdrop, haircare can't afford to be lacklustre. Consumers want products that are specifically tailored to realising the hair of their dreams. That much is showing in the personalised nature of NPD. Ranges that promise to tackle multiple hair concerns sit alongside products tailored to ethnicity, gender and age. Then there are the new, hyper-personalised brands allowing shoppers to completely customise products.
This innovation aims to tackle the stagnation in haircare sales. So can personalisation return the category to growth?
The market could certainly do with a boost. Shampoo sales are down 0.6% to £384.5m and conditioner sales are flat at £203.5m [Nielsen MAT 7 September 2019]. It's the big, mainstream brands – as well as own label – that have borne the brunt of the decline. Seven of the top 10 shampoo brands and six of the top 10 conditioner brands have seen sales fall over the past year [Nielsen].
However, smaller brands offering targeted solutions for specific haircare concerns have thrived. That's because these brands are playing into consumer expectations, says Mintel. "The engaged beauty consumer doesn't want to be labelled or follow the concept of 'one size fits all', so brands must reflect the diversity of their customers," says Andrew McDougall, associate director for global beauty and personal care. "They must be meeting the needs of all hair types, textures and colours. If not, consumers are showing their frustration that they are not being properly represented or cannot find products for their specific needs."
Those that get it right are reaping the rewards. Take Bleach London, which specialises in products for bleached and pastel-dyed hair and has seen conditioner sales rise by a huge 77.7% to £1.1m. Or Alpecin, the caffeine shampoo that promises to tackle thinning with "German engineering for your hair", which is up 11.4% to £9.3m. Then there's Neutrogena, whose range of therapeutic shampoos including specific anti-dandruff formulations for dry, oily and sensitive scalps have helped increase sales by 2.7% to £11.3m.
Brands lose bounce: top shampoo and conditioner brands by value
Top five shampoo brands
Value (£m)
% growth
Head & Shoulders
63.5
6.3%
Elvive
44.4
-0.6%
Batiste
29.2
4.4%
Tresemme
28.8
-8.4%
Herbal Essences
26.1
-8.5%
Top five conditioner brands
Value (£m)
% growth
Elvive
32.4
10.4%
Tresemme
20.9
-9.6%
Aussie
19.3
-4.4%
Herbal Essences
18.7
-7.6%
John Frieda
16.6
-3.6%
Source: Nielsen, 52 w/e 7 September 2019
Ouch. It's been a bruising year for brands, as sales flatlined amid a category-wide fall in shampoo and conditioner use.
Overall, branded shampoo sales in the mults have remained stagnant at £410.8m, according to Nielsen data. Conditioner is similarly flat at £198.8m.
Still, some brands have managed to buck the trend. P&G's Head & Shoulders is one of just three shampoo brands in growth, thanks in part to its growing focus on personalised and premium products including its new Supreme range.
L'Oréal's Elvive has had a lacklustre year on the shampoo side but performed strongly in conditioner, where its emphasis on targeted care for long, fine and coloured hair helped drive a 10.2% rise in value sales.
Johnson & Johnson's OGX is another rare brand in growth, with a 7.6% rise in shampoo sales. It has reaped the rewards of personalisation by combining ingredients such as charcoal, coconut water, keratin protein and biotin with specific haircare benefits.
Tresemmé is among those that have had less success, but Unilever is hoping to turn things around with on-trend new Hemp + Hydration range, which promises "deep hydration and enhanced shine". It also remains focused on the personalised Pro Collection range, "which has seen an uplift in sales of 22% and continues to be a big focus for us".
Now the big brands want in. P&G is looking to boost Pantene, which has suffered a 7.1% drop in shampoo sales [Nielsen], with Hair Biology. The range offers targeted care for specific needs, including grey hair. That comes alongside the launch of Pantene Gold Series, targeted at consumers with afro and structured hair. Its Head & Shoulders brand, meanwhile, was expanded with Supreme, a shampoo that combines anti-dandruff scalp care with moisturisation through argan oil.
"We've really been focusing on providing superior innovation that meets the shopper desire for that personalised product," says group sales director Ian Morley. P&G is also "really advertising that our range caters for a very diverse UK population".
Meanwhile, Unilever has embraced personalisation with Tresemmé Pro Collections, similarly targeted at specific hair types and concerns. "Consumers want products which are bespoke to their needs and that is exactly what we are delivering," says Chris Barron, VP for beauty and personal care.
"The engaged beauty consumer doesn't want to be labelled or follow 'one size fits all'"
The company also recently relaunched its Dove Colour Care range with a focus on older shoppers, who are seeking care for mature, colour-treated hair.
The importance of this approach is evident in supermarket ranging. The Tesco website now features a dedicated section for afro and textured hair, including brands such as Cantu and Vatika, while Sainsbury's and Waitrose have responded to demand for natural and organic products with targeted ranges.
Shopper research underlines just why personalisation is such a promising avenue. In a poll of 638 consumers conducted for The Grocer by Streetbees, 44% of respondents said they were very interested in purchasing products tailored to their hair's specific needs and 45% were fairly interested.
Capitalising on that interest, however, is easier said than done. In our poll, 31% of consumers said they believed truly personalised haircare is only available in salons – meaning mainstream brands can't do it.
Part of the challenge is that personalisation tends to be a low-volume business. A product that treats dandruff and split ends and gets rid of brassy undertones and is designed for over-50s may be the perfect solution for some, but it's unlikely to make sense for brand owners who need to innovate at scale.
One way to tackle this issue is through modular systems that allow shoppers to mix and match ingredients – an approach pioneered by direct-to-consumer services like Function of Beauty. That concept is now starting to make its way into stores. Emulsion, for example, is a brand listed in Boots that offers unscented shampoo and conditioner bases that can be combined with add-ons and fragrances to create bespoke products.
"Consumers want products which are bespoke and that is what we are delivering"
Personalisation isn't just about hair concerns, however. Shoppers also increasingly expect brands to reflect their personal values on social, ethical and environmental issues – and that's an area where big brands can take full advantage of their scale.
"There has been a shift in consumer attitudes when it comes to brands, especially amongst millennial and generation Z audiences," says Barron. "They prefer to buy from brands who champion a cause."
In Unilever's case, this focus on purpose can be seen in Tresemmé's Power Your Presence campaign, which offers shoppers a free course from the International Centre for Research on Women on "making your presence count". P&G, meanwhile, is using its Pantene brand to champion the rights of transgender and non-binary people in partnership with the Dresscode Project.
Going waterless
Now P&G is poised to pursue the sustainability agenda with its new Waterless Hair Care range. Targeted at shoppers concerned about water use, it features shampoos, conditioners and styling products that require no water. The products are only available in the US at the moment but reflect a wider trend set to shape the haircare category in the UK.
It's a savvy move, says Mintel's McDougall. "Consumers are going to become increasingly focused on sustainability in the coming years," he explains. "So women may cut back on the number of products they use in their haircare routine in a bid to save time and be more environmentally friendly."
As McDougall suggests, this kind of innovation is key to addressing the fundamental problems in haircare. Environmental concerns, the rise in home working and the trend for longer hair mean consumers are simply washing their hair less. That's why NPD that encourages new usage occasions is just as important as personalisation and purpose.
L'Oréal Elvive is one of the brands at forefront of this movement. Its low-shampoo range of non-foaming, sulphate-free "cleansing creams" has for some years targeted shoppers worried about damaging their hair through frequent washing.
More recently, formulations that promise to "detox" hair (think OGX's charcoal and Elvive's clay shampoos) or contain micellar water (as offered by Herbal Essences and Charles Worthington) have created opportunities to sell additional products.
All of which suggests brands cannot afford to sit back on the innovation front any time soon. With consumers more ready than ever to reduce their product use, only brands that are fully attuned to the needs of their target customers will thrive.
How brands are making the most of grey hair's purple patch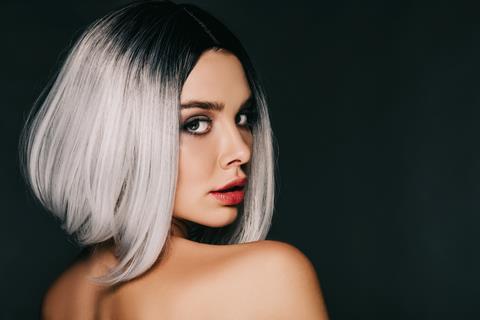 The grey hair brigade certainly isn't what it used to be. New converts to silver-toned hair include everyone from Kim Kardashian to Jamie Lee Curtis. Now haircare brands are getting in on the trend with innovation that's designed especially for grey manes.
Purple shampoo is at the heart of this movement. That's because grey hair – both natural and dyed – is prone to developing yellow and brassy undertones, which can be neutralised with purple pigment. Pantene, Dove, Pro:Voke and L'Oréal Elvive are just some of the brands to have brought out purple lines.
"Everywhere we look, people are either embracing their natural greys or reaching for the bottle, which is why we've created the Dove Silver Care range," says Chris Barron, VP for beauty and personal care at Unilever UK & Ireland. "Our consumers can not only say goodbye to brassy tones and to the damage caused by dyeing, but they can say hello to hair with shine and glamour."
What's made grey hair so lucrative is the sheer breadth of demographics buying into the trend. There are age-positive over-40s embracing their greys in defiance of conventional beauty standards, as well as teens going silver for an edgy look.
Recent product launches reflect this diversity. While Pantene's new Grey & Glowing range and Dove's new Silver Care have a clear age-positive slant (the Grey & Glowing website feature the line "I will proudly go grey"), products for shoppers who have dyed their hair tend to emphasise colour nuance and vibrancy. Bleach London's range falls into this category: it includes Silver shampoo and conditioner for banishing yellow tones as well as Fade to Grey, which promises a charcoal/slate grey hue.
Of course, there are also those who aren't ready to go grey yet. That's where John Frieda's Defy Grey range comes in. Targeted at consumers who are just discovering their first grey hairs, it promises to "blend in" unwanted greys.
More generally, however, brands are banking on shoppers increasingly embracing all things grey. Even at John Frieda, Defy Grey sits alongside a new Shimmering Silver range.
"Our research tells us that silver hair is still a hot trend for 2020," says Barron at Unilever. So prepare for haircare aisles to take on many more shades of grey in the next 12 months.