Ready meals were in trouble even before the pandemic hit. So how can they reassert their convenience and health credentials?
Ready meals can be a lifesaver. At the end of a hectic day, when nobody has the time or inclination to cook. Or when there's some place to be and throwing a ready meal into the microwave is the only chance to eat. In our regular lives, the five-minute meal makes perfect sense. But in our new Zoom-calling, Netflix-watching, sourdough-baking lives?
Well, less so. That sales of chilled ready meals fell 3.6% in 2020 [Nielsen 52 w/e 5 September 2020] – one of the few casualties of a year in which grocery retail sales climbed 8% – is testament to the fact that most of us had very little to do. And all the time in the world to dust off an Ottolenghi cookbook and get experimental in the kitchen.
That sudden abundance of time sent total sales down by as much as 25% at the start of lockdown. But it wasn't all bad news for the category in 2020, as certain brands still secured growth. So what was behind those success stories? What mattered to locked down consumers? And what does it all mean for ready meals as we move into 2021, with hopes of fewer restrictions ahead?
At a total category level, the series of national lockdowns and tiered Covid-19 restrictions undeniably dented growth. Though ambient meals managed a 10.1% increase in sales and frozen 5.6% – largely due to stockpilers grabbing anything with a long shelf life – that couldn't eclipse the £74.2m lost in sales of chilled meals. That was crucial, given that chilled SKUs make up 75% of the £2.6bn ready meals market.
"Ready meals lost the most after newspapers, in-store bakery and chilled lunch lines"
Chilled brand McIntosh can testify to the brutality of the conditions, having suffered a 12.1% decline in value to £10.3m [Nielsen]. "Following an initial volume spike at the beginning of the pandemic attributed to panic-buying and shoppers stocking up on meals, sales of McIntosh ready meals took a significant drop during the first few months of restrictions," says Julie Nisbet, MD of brand owner Strathmore Foods.
"Flash reports produced by IRI showed that during lockdown, when tracking year-on-year changes of all categories, chilled ready meals were suffering from the largest value decline after only newspapers, in-store bakery and chilled lunch products."
WW (formerly known as WeightWatchers) tells a similar story, having seen its value slump by 22.1%. "People having the time to cook more has definitely affected the ready meals category, as has the fact that people are eating together more frequently," adds Gemma Alderson, WW brand manager at Greencore.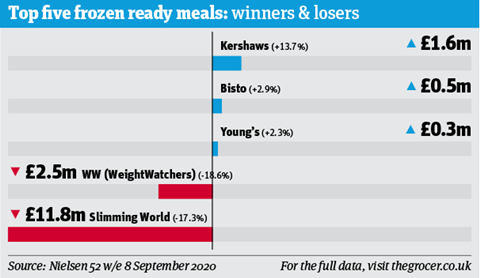 Chilled ready meals – which make up 75% of the ready meals market – lost £74m of sales in the past year [Nielsen 52 w/e 5 September 2020] as shoppers found themselves with more time to cook from scratch. That's a decline of 3.6%; volumes slipped by 4%.
A stronger performance by branded chilled meals acted as a buffer to the wider category decline, however. Sales surged by £19.7m (7.6%) on volumes up 2.5%. The 5% rise in average prices indicates that consumers were willing to splash out more on premium at-home meal occasions, partly as a result of the lack of opportunity for treats outside the home in pubs and restaurants for much of the year.
See Charlie Bigham's performance (up £14.1m or 18.4%) for proof of this. Unit sales increased by 20%. Of the sector's major brands, this was only beaten by Gressingham, which saw unit sales of its posh duck offerings surge by 26.6%.
So, own label is to blame for chilled ready meals' decline, with sales plummeting £93.9m (5.2%) on volumes down 5.1%. This is hardly surprising – given that retailer offerings account for 85.9% of market value, own label was particularly exposed when the appeal of quick, convenient TV dinners began to wane under lockdown. The shift towards smaller neighbourhood stores, which tend to overtrade on brands, also helped buoy branded performance.
Where consumers did opt for prepared options it was those with a long shelf life that tempted them, pushing up value sales of ambient meals by 10.1% and frozen meals by 5.6%.
Brands outgrow own label
Time was just one factor weighing against ready meals, though. There were also wider trends at play. For starters, ready meals are heavily dominated by own label, which represents a little under 90% of total sales. And this was the year that own label struggled against the power of brands.
Across grocery, own label has achieved just half the growth of brands (12%), according to Nielsen. That was down to retailers freezing deals on private label to maintain availability, a shift to online shopping that favoured the more e-commerce ready branded lines, and strong growth in neighbourhood c-stores, which tend to stock fewer own label and more branded lines.
"Shoppers have been engaging more with local stores and the convenience channel has more than kept up with growing demand," says Baxters Food Group category & shopper development controller Gordon Sloan. "The challenge for convenience stores is managing their ranges as shopper expectations grow. Ranges must take account of big-selling lines from leading brands."
Indeed, chilled ready meal brands gained an extra £20m this year, despite the wider problems in the category. And with restaurants closed for much of the year, premium brands saw the biggest increases as consumers turned to their ranges for a small sense of socially distanced occasion.
Charlie Bigham's is a case in point, having sold nearly 2.5 million additional packs of its homemade-style meals, raking in an extra £14.1m in the process. "2020 was a year when many people rediscovered the joy of delicious meals at home," points out CEO Patrick Cairns. "We saw a renewed interest in scratch cooking with quality, fresh ingredients. So, when consumers returned to pre-prepared meals, or needed a special alternative to a night out, Bigham's was perfectly placed."
"As many consumers will have missed out on their typical treat occasions, they could trade up"
Those same factors helped duck specialist Gressingham Foods net an extra £2.2m – the biggest proportionate value increase across the 10 biggest chilled ready meal brands. "We saw sales of our aromatic duck and our Bistro range of restaurant-style 'ready meals' grow significantly this year," says brand manager Rebecca Alderton.
"We position our meals as an 'end of the week, celebratory treat' and, as many consumers will have missed out on their typical treat occasions this year, they could trade up because of this."
This same leaning toward premium products shaped the performance in soups, with fancier lines from the likes of Yorkshire Provender, Tideford Organics and Bol all driving a 15.1% increase in sales of branded fresh soup. In ambient too, premium brands such as Crosse & Blackwell (up 79.3%) outperformed their more economic competitors.
The brand's owner Princes say they saw a 64% uplift in new shoppers, and an 8.5% increase in volume per buyer. Crosse & Blackwell's premium foodie feel and its focus on local provenance were key factors, it believes. Even the more exotic-sounding ingredients in its new lines, such as quinoa and butternut squash, were sourced in the UK. "There is a growing interest in locally sourced products as consumers seek out more sustainable ways of shopping and supporting British suppliers," says the brand's commercial director Dean Towey.
Those foodie credentials may hold lessons for the ready meals market this year. Because it wasn't only the pandemic that shaped buying behaviour in 2020. Five years of consecutive growth in ready meals came to an end in 2019 as sales fell £52.3m [Kantar 52 w/e 8 September 2019].
A survey by market research provider Streetbees in December of that year found that 35% of consumers, unaware of the imminent pandemic, had already planned to reduce their ready meal consumption. More than half of those were doing so because of concerns that they were overly processed.
"The healthy food trends that were prevalent will be accelerated by Covid-19"
A year on, there's no reason to think this mindset will have changed. In fact, it may even have strengthened in the wake of so much focus on health.
"People are so much more aware of how viruses spread, how diet can affect their health, and how important it is for the immune system to eat well, exercise and keep fit," points out Soupologie co-founder Amanda Argent. The brand launched two new 'fat-free, five of your five per day' plant pots under its sub-brand Foodologie in December to respond to this new consumer focus.
As a result, brands that will sustain or recover growth in 2021 will likely be those that represent an alternative to the perceptions of highly processed, additive-laden microwave meals. "One of the many reasons I started Bol was to switch up this category, which was inundated with terrible choices and unhealthy products," says Bol founder Paul Brown. "Our belief is that most of the big healthy food trends that were prevalent heading into this pandemic will be accelerated by Covid-19." To leverage this, the brand has developed 13 new recipes, all launched during 2020.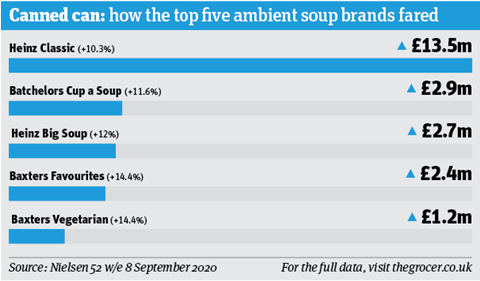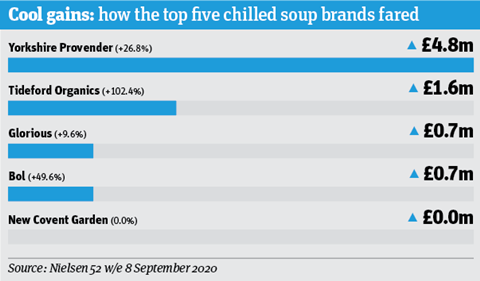 Ambient soup was a major beneficiary of the panic buying we saw in the first half of 2020, with category value soaring 11.5% on volumes up 9.4%. That growth was worth an extra £35.5m at the tills.
"Soup was one of the key stockpiled items during the build-up to the lockdown, with consumers more than doubling (102% value growth vs YA) their consumption in the four weeks ending 21 March," according to Nielsen analyst Stephen Bough.
In percentage terms, own label (accounting for just 15.1% of ambient soup value sales) outperformed brands, with value growth of 14.9% versus brands' 10.9% growth. Still, none of the top 10 branded players saw sales fall over the year.
"The consumer reaction to the coronavirus crisis was to dash to the supermarket to stock up on store cupboard essentials," says Gordon Sloan, category & shopper development controller at Baxters. "The industry had to respond quickly, reinforcing the incredible pace of our industry to adapt and change."
A poor performance by own label in the fresh soups sub-category (down 7.7%) was offset by a 15.1% value growth in brands driven by premium options such as Yorkshire Provender and Tideford Organics.
This reflects a similar shift to more premium offerings seen in ready meals (see p47). The sector also saw increased emphasis on products carrying explicit health claims, as demonstrated by the 49.6% growth in Bol Immune Boosting Super Soup. "Health is at the forefront of consumers' minds," says Re:Nourish founder Nicci Clark.
Plant-based
Bol's plant-based focus is another point in its favour. Because vegetarian main meals grew by 524% in the past year, according to data from SalesOut.
This has informed many of the big branded launches such as Higgidy, which made its debut in chilled meals with a vegan product. "Plant-based food is a macro trend influencing what we do, and it plays a big part of Higgidy's ready meal repertoire," says the brand's marketing director Emma Bagshaw. "It was a conscious decision to extend our plant-based offering with veg-packed ready meals. We felt this was an area we should be more prevalent in."
Ready meals have also been a common feature of the retailer Veganuary ranges. Asda has brought out a South Indian Style Curry with butternut squash and sweet potato. The Co-op unveiled Teriyaki Mushroom Noodles meal under its Gro brand. Tesco has also brought out a vegan pasta bake, having named chilled meat-free meals a major focus of its goal to boost sales of plant-based alternatives by 300% in September. In essence, retailers have recognised they will need to work hard to lure shoppers back to ready meals – even once normality resumes.
Because when they do venture outdoors, their new skills in the kitchen will remain. Yes, "as the work-life balance regresses, convenience will once more play a bigger part in mealtimes," says Adrian Lawlor, chief marketing officer for Kepak's food division, owner of market leader Rustlers. But "we do not foresee consumers' newly discovered passion for scratch cooking abandoned completely, with many perhaps reserving their home-cooked efforts for the weekend or combining pre-prepared meals with freshly made side dishes."
So to succeed in this new environment, ready meals need to prove they can provide convenience and healthiness hand-in-hand. Or they risk losing their relevance long after restrictions are lifted.
Innovations in ready meals & soups 2021