These days, Halloween is about far more than sugary sweets and screaming kids. Sophisticated grown-up parties are all the rage
Halloween hasn't typically been a sophisticated affair. The witching season is usually associated with E numbers, screaming kids and apple bobbing. Yet a growing number of UK consumers are celebrating in a very different style.

And true to Halloween tradition, the US is leading the way. See Stateside magazine Town & Country's guide to an elegant Halloween party for a glimpse into the future on this side of the Atlantic. Its suggestions include everything from a themed crudités plate to a subtle seasonal flower display with purple dahlias.

Granted, these gems do come from a socialite and 'event planner extraordinaire'. But it's not just the upper echelons getting high-end with their Halloween. Browse Pinterest and there are plenty of ideas on h0sting a classy affair, from a delicate 'cobweb cake' to pumpkins painted with flat black paint.

The sophisticated side of Halloween has been enough to convince champagne brands to go all out, even in the emerging UK market. Veuve Clicquot has made it a regular date in the diary and last year hosted a 1920s 'Spookeasy' ball, as well as a function at Swinton Country Club & Spa in Yorkshire. That same year, Freixenet offered Halloween-themed makeovers.
"Pumpkin carving is a competitive sport and costumes are being created for Instagram"
All this means the opportunity for brands is going far beyond the standard trick or treating, and extending to a much more discerning demographic.
Kantar data shows just how much this group is influencing the market. A whopping 73% of pumpkins, Halloween sweets and baked goods were sold to childless households last year [Kantar 2 w/e 4 November 2018]. The post-family group in particular is splashing out: the 55-plus age group accounts for nearly half of all spend on aforementioned Halloween goodies.
While some of this spend may be on grandchildren, many are choosing to indulge themselves. Either way, it's still creating demand for more premium products. That much is shown by the Co-op and M&S overtrading during last year's Halloween. The Co-op did particularly well in baking sales, fuelled by its party bites selection. And demand for premium treats helped M&S gain a 20% higher share of spend at Halloween than it does in total grocery, says Kantar.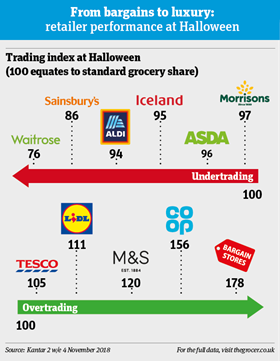 Even pumpkins are getting the premium treatment. Although you can easily pick one up for less than a quid, 44% of shoppers paid more than £1.50 for their pumpkin last year, according to Kantar data. A fifth paid more than £2. In M&S, punters are paying as much as £4 for ready-to-carve pumpkins that have designs etched by laser on to their surfaces.

Mintel senior retail analyst Samantha Dover says this appetite for pricier pumpkins is down to the event "becoming more aesthetically driven" than ever before. "Pumpkin carving is becoming a competitive sport and costumes are being created with Instagram in mind," she explains.

These higher-spending consumers helped Kantar's read of the Halloween market - including pumpkins, Halloween confectionery and baked goods - climb 5.2% to £427m last year, equating to an extra £90.5m in sales.

That's being bolstered by more and more consumers celebrating at home. "In 2018, the growth in spending on Halloween - and the number of consumers participating in it - was driven by a rise in the number of people choosing to celebrate the event at home as opposed to going out, providing a significant boost to retail sales," says Dover.

And it's not just traditional Halloween items doing well in the era of the grown-up reveller. Creative agency TBWA London, which has looked after Lidl's Halloween activity for the past five years, says a wide range of products are benefiting. "With Halloween becoming increasingly popular beyond the core audience of families, there is an opportunity for retailers to diversify their Halloween range to appeal to a new, diverse range of revellers, each with their own take on the event," says TBWA senior planner Kilian Kapfer. "From Halloween baking to dog costumes, the new breed of shopper is no longer satisfied with a one-size-fits-all approach."
"Consumer spending on Halloween products has almost doubled since 2013"
Coca-Cola European Partners' UK commercial development VP Simon Harrison ­reiterates the point. "Brits are spending more on Halloween products than ever before, and the UK is fast catching up with the US in terms of Halloween spending," he says. "Consumer spending on Halloween products has almost doubled since 2013, and this spend isn't ­limited to pumpkins and fancy dress costumes."

Indeed, retailers are making their offerings as diverse as possible. Everyone from the big four through to the discounters is stocking up on eye-catching decorations and spooky canapés to help make a home event as big as anything you would find further afield.

But there has been one big winner in all this at-home, grown-up partying: alcohol. Booze sales rose £86.7m last Halloween [Kantar]. That was driven by 'post family' shoppers spending an extra £55.2m. Child-free under-45s splashed out a further £12.9m, almost 30% more than in an average week.

It's a growing opportunity that Heineken, owner of Strongbow Dark Fruit, has been quick to recognise. "Halloween is the second biggest drinking occasion after New Year's Eve, which naturally presents a huge opportunity for stores to drive cider sales between autumn and Christmas," says Heineken UK category & shopper marketing director Toby Lancaster.
Creepy cocktails
The rise of Halloween cocktails - a must-have in every guide to hosting a high-end celebration - is fuelling that opportunity. Retailers are rushing to provide serving suggestions for these consumers.

Tesco offered online recipes for drinks such as Pumpkin Punch and Lychee Eyeballs. Sainsbury's showed consumers how to make a Smokin' Pumpkin Punch, served from a hollowed-out jack-o'-lantern complete with dry ice. Other options included a Spooky Citrus Sangria and Zombie Shot Shooters, a concoction of vodka and Baileys curdled with lime juice (designed to give a stringy 'brain-like' texture).

Will Hossner, head of account management at digital marketing agency Movement, says this can prove an opportunity for brands. "Halloween is an occasion where people are either curating shared experiences for friends and loved ones or are invited to be a part of them," he says.
"Halloween is the second biggest drinking occasion after New Year's Eve"
"Alcohol brands can play a role in this, through creating exclusive packs, offering content through recipes that include their product and initiating experiences, physical and digital, that strengthen the ­association between them and the occasion."

Brands are taking note. Bacardi, for example, developed the Trick or Treat - a cocktail containing blackberries, ginger beer, white chocolate and its Carta Blanca rum.

Then there's Brothers Cider, which offers a plethora of Halloween-themed cocktail recipes on its site including the Poison Apple, featuring its Toffee Apple Cider and amaretto. "With the demand for unique flavours continuing to grow, the new breed of shopper brings with them the opportunity for experimentation and creativity," says marketing manager Emmy Webster.

"Offering premium products with new, quirky flavours is key to driving adoption within this market," she adds. "Promoting relevant products can capitalise on the ever-growing impulse buyer, as it appeals to those looking for something different." With that in mind, the brand is putting growing investment behind its Toffee Apple variant. This year, it's promoting the cider as 'the' flavour of Halloween, backed by couponing and sampling activity.

Promotions are a popular tack in this area. Last year, the big four and booze brands invested heavily in price promotions and online activity to get shoppers stocking up for Halloween. Litre bottles of spirits were selling for £16 a pop and crates of beer and cider were on '£21 for three' deals in Asda, for example.

Smaller formats are also a solid bet for the season. Heineken says small packs and large single bottles are "the perfect size to stock for shoppers looking for last minute top-up purchases before heading out". Brothers launched 330ml cans in four-packs last year aimed specifically at Halloween party-goers.
Strengthening the core
All of this seems very adult for a celebration that started off as a children's affair. But that doesn't mean the core markets of Halloween are suffering. Treats, for example, are booming. Chocolate confectionery shot up £50.7m last year, while sugary confectionery secured a £19m boost.

Those figures make it a key focus for Mondelez. "After Christmas, Halloween is the second biggest occasion within the candy category, so it is an important date in the retail calendar," says Mondelez trade communications manager Susan Nash. "Its popularity as a season in the UK shows no sign of slowing down."

To capitalise on that popularity, it's rolling out innovation including Maynards Bassetts Dead Chewy and Soft Jellies Scary Safari, in a range of fruity flavours.
"Consumers are keen to recreate their childhood memories of trick or treating"
Mars Wrigley is also turning to limited edition lines to drive shopper engagement. This year will see a return of last year's Halloween innovation Skittles Sweet Heat, following what it describes as 'blockbuster' sales for the spicy flavour variant in 2018.

It's teaming that with a new Fun Size Favourites Variety Box - containing a variety of Skittles, Milky Way, Mars and Twix products - that is expected to make £2.3m this Halloween. "Fun size is the most relevant format at Halloween, with sales worth £30m and chocolate fun size growing at 8.7% year on year," says brand manager Chloe Smith.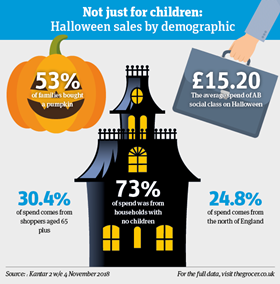 "Given shoppers at Halloween are often preparing to host a large number of people, whether for trick or treating or for a party, shopper decisions at Halloween are often driven by whether a product is from a recognised brand that their guests love and whether the price is right. We are therefore continuing to ensure that we offer Halloween shoppers' preferred SKUs across popular brands, formats and price points."

And sweets need not only appeal to kids. They can just as easily take pride of place at a sophisticated adult do. "Nostalgia remains one of the biggest drivers of the confectionery market as a whole and this is similarly translating into Halloween trends," says Russell Tanner, marketing & category director at Tangerine Confectionery.

"Consumers are keen to recreate their childhood memories of trick or treating and purchase the sweets they loved when they were young," he explains.

"We've previously identified 'kidulting' as a key market trend and reintroduced our Barratt brand of sweets last year, to meet demand from adults looking to treat themselves to childlike moments as a break from the stresses of everyday grown-up life." With that in mind, Tangerine is bringing back its Halloween branded 180g sharing bags and extra large 400g Booty Bags of Fruit Salad, Refreshers and Wham bars.

Tanner says the Halloween bag grew 6% last year to become the number one Halloween branded SKU [IRI], and he expects "even more growth this year".
Soft drinks
Soft drinks is another market happily straddling child and adult appeal. Sales grew £35.8m - 6.2% - last Halloween, says CCEP's Harrison. Nielsen figures show most of that growth came from flavoured carbonates, he says. And there is one brand driving that forward: Fanta. Its sales grew just shy of 20% last year [Nielsen 52 w/e 29 December 2018]. Harrison says this was fuelled by CCEP's ongoing efforts to make the brand synonymous with Halloween. "Last year was Fanta's best-performing Halloween to date and delivered record sales of £15.8m over the four-week Halloween period," he says. "We achieved this by ­engaging with our core audience of young adults by offering them great taste, interactive experiences, excitement and novelty." That activity included the 'Fanta flavour elections', which saw four social media influencers campaign for their choice of new flavour through a prank-style video. Fans were then able to vote for their favourite flavour. Winning with over 150,000 votes each were Fanta Pink Grapefruit and Blood Orange, which were made available just in time for Halloween.

This year, CCEP will be doing more of the same. Fanta is once again working with online influencers and has already unveiled its next limited-edition variant, Dark Orange.
Sustainability
All this innovation is undoubtedly good news for sales. But there is one sticking point amid all this positivity: the environment.

After all, a rise in soft drink sales can only equate to more plastic packaging. Most of the big confectioners' Halloween products are essentially double-bagged sweets and chocolate developed to be handed out to trick or treaters at the doorstep. And, given that presumably few of the 2.4 million pumpkins sold last year were actually eaten, there is also a fair amount of food going to waste.
"There is likely to be a notable shift away from plastics and throwaway products"
So Mintel's Dover expects products with stronger environmental credentials to win greater share of the occasion in coming years. "With sustainability becoming a priority for consumers, we will see more emphasis placed on more environmentally-friendly options and there is likely to be a notable shift away from plastics and throwaway products," she says.

Indeed, it's already happening. January saw the launch of ChicP Chilli Pumpkin Houmous, made from surplus Halloween pumpkins. The product, which donates 10% of its profits to the food waste campaign group Feedback Global, rolled into Whole Foods Market in January and Ocado in March and comes with a fiery hit of chilli.

Now that's something that would go down a treat at a sophisticated Halloween soirée for grown-ups.
How brands are crafting Halloween marketing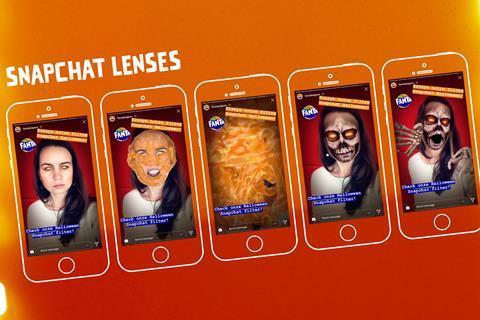 Any marketer will tell you prime time ads aren't what they used to be. So when it comes to Halloween, with all its opportunities to shock and amuse, many are thinking beyond the traditional TV slot. Instead, they are betting on a mix of digital and experiential activity that begs to be shared on social media.
"Social media is one of the main sources of inspiration for Halloween," says Kilian Kapfer, senior planner at creative agency TBWA London, which created a cast of animated characters for Lidl's 2018 Monster Market campaign.
"From make-up related tutorials on YouTube to themed playlists on Spotify and pet costumes on Instagram, new emerging Halloween-related themes and behaviours present exciting opportunities."
One such opportunity lies in creating 'shareable' experiences. For example, last October Kraken Black Spiced Rum ran an event at a secret East London location where drinkers were taken on a journey to find a shipwrecked galleon, before being washed up in an underwater bar to drink cocktails made with seaweed, squid ink and lashings of rum. Cue social media posts from revellers in creepy chic outfits and alarming face paints.
Fanta is also going hard on the experiential marketing front. That's with the help of digital marketing agency Movement, which has spent the past two years helping CCEP achieve its goal of making 'Fanta to Halloween what Coke is to Christmas'.
Last year, the brand ran a series of Twisted Carnival events that saw visitors guided through creepy tents. The brand also ran a collection of exclusive Snapchat filters (pictured) accessed via QR codes on limited edition Halloween packs.
"Both the physical and digital elements have allowed Fanta to reach its audience - evidenced by its significant sales uplift over the past two years - and establish a footing in Halloween that few, if any, of its competitors can claim," says Will Hossner, head of account management at Movement.
"Although getting busier for brands, Halloween still remains relatively untapped compared to Christmas in Europe. There's still ample opportunity if a brand has a credible story to tell, is doing new and surprising things and there's a good fit between its values and those of Halloween."
Why cider brands feel Halloween is a supernatural fit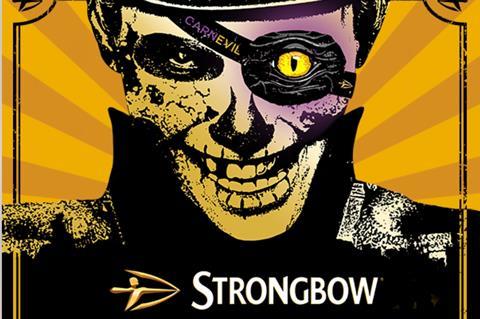 Hobgoblin, the self-proclaimed 'unofficial beer of Halloween', has competition. The witching season of 2018 saw a procession of cider brands attempting to raise hell (and sales) through a combination of savvy marketing, in-store promotions and spooky special recipes.
Strongbow is a case in point. The Heineken-owned brand splashed out big in an attempt to cement Dark Fruit's associations with Halloween last year. Activity included volume driving deals and its CarnEvil campaign (pictured) in pubs, with PoS material including branded eye patches.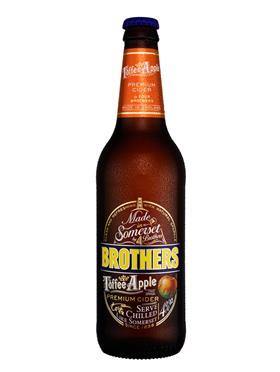 "As cider is a particularly popular choice among 18 to 25-year-olds, the start of university and events like freshers' week and Halloween drives a spike in sales, with students opting for more refreshing and fruity tastes," says Heineken UK category & shopper marketing director Toby Lancaster.
"Throughout these occasions, students are likely to be purchasing cider to enjoy with friends ahead of going out, often alongside crisps or snacks. In these instances, cross category merchandising between cider and snacking foods can capitalise on the opportunity, as shoppers make the natural link between the two categories."
Strongbow isn't the only cider that's looking to muscle in on Halloween. Brothers says its Toffee Apple Cider (pictured) is a Halloween favourite, particularly among those aged 18 to 34. "It offers a unique taste, not available anywhere else in the market," says marketing manager Emmy Webster.
"We've developed a range of Halloween cocktails, so consumers can experiment further at home, creating a bespoke offering which is engaging and fun. Our website hosts a plethora of interesting cocktail and recipe suggestions for Halloween parties including a recipe for 'The Poison Apple' - a mixture of Brothers Toffee Apple Cider and amaretto."
Innovations in Halloween 2019