No self-respecting survivalist would be without a bunker full of tinned food. But is the canned and ambient category in a dark place?
Things are certainly worse than they were a year ago, when we reported category-wide losses of £13.2m in the previous 12 months; this year sales are down by 21.4m, a 0.9% value loss on volumes that have slipped 0.6% [Kantar Worldpanel 52 w/e 26 April 2015].
"The greatest price deflation has come in standard tuna, salmon and mackerel"
But not all subcategories are having problems. Ambient soup has seen sales rise 0.7% in value on volumes up 1%, pulses are racing in prepared beans and peas, up £4.4m in value sales, and while value in canned fish is down 1.2%, volumes have risen by 3.4% [Kantar]. So why are some areas thriving while the overall category merely survives, what can the strongest teach the rest, and are other ambient subsectors and formats putting a dent into the canned classics?
This is a huge (£2.3bn) and diverse category. And it's still dominated by one product: canned fish, now worth £530.5m. There's clear water between branded and own-label performance on the fixture: brands have put on 8.5% in volume sales, with value up 3.3%, while retailers' floundering offerings are dragging the overall subsector down with value down 8.6% on volumes down 4%.
John West is the biggest player in canned fish and, in IRI's table of top 10 canned brands, leads the only three brands that are in growth (the others are Baxters and Napolina) with a 6.4% rise in value sales on volumes up 16.4% [52 w/e 25 April 2015].
"In part this has been driven by the performance of our core tuna range," says marketing director Jon Walsh. "John West has achieved a 38% share in tuna, supported by the continued success of No Drain. Innovation has also been key; sales of Infusions, launched in 2013, have doubled and Spreadables (single-serve fish sandwich fillings in six variants, launched in September 2014) continue to inspire consumers by making life easier. This, coupled with an attractive promotional strategy, has encouraged shoppers to buy into John West."
This year's NPD from the brand includes a line of mackerel in sauces and, following the launch of just-add-water couscous Steam Pots in January 2014, the format looks set to play an increasingly important role in innovation.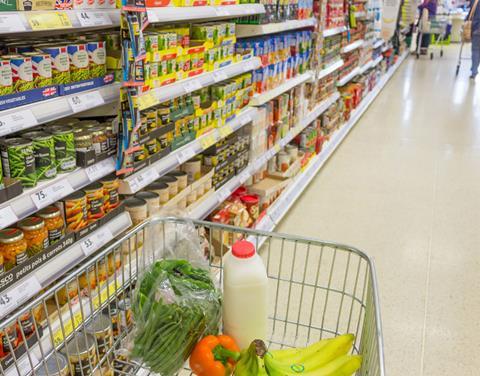 Price deflation
Despite some NPD activity, it's lower price that has driven the 3.4% volume growth in canned fish this year, says Neil Brownbill, marketing director at Princes.
"The greatest price deflation has come in the three largest sectors; standard tuna, salmon and mackerel," he says. "Price deflation has been influenced by a combination of increased promotions on brands as well as reduced headline retail sales prices across the category. As branded has become very competitive versus own label, this has encouraged shoppers to trade up; for example, 5.6% price deflation on Princes pink salmon has encouraged new shoppers into the brand with penetration up 19.5% [Kantar]."
John West's Walsh agrees depth of deals is the primary driver of lower average price per kilo (down 4.5% to £5.90). "This is likely to continue in the short term," he says. "In the longer term, however, additional value through new ranges will help mitigate it."
"Princes' decline is primarily distribution driven… on the back of the Tesco delisting"
The supermarket price war isn't the only retail factor to affect Princes. The delistings that followed the brand's trade dispute with Tesco, which The Grocer reported on in 2013 and 2014, continue to have an effect, with Princes down 10.4% in value and 7.2% in volume [IRI]. "This is primarily distribution-driven, with the Princes fish total points of CWD weighted distribution down 16.8% on the back of the delisting in Tesco last year," says Brownbill. "Princes will continue to work closely with retailers to close these distribution gaps, as well as developing account-specific product ranges and formats."
Canned and ambient food promotions analysed by Assosia
Shifts in featured space for canned goods have been modest in the mults in the year to May 2015, with Tesco's squeeze of 1% the biggest move downwards and only Asda and Morrisons making more room for the category, with 0.4% and 0.1% rises.
Tesco knocked 290 off deal counts year on year, with the drop potentially contributing to its loss of 3.9% category share (though non-featured space deals, says Kantar, continue apace).
Of canned brands, Heinz has altered its approach the most, with 171 fewer promotions year on year. It remains the most active in the category, however, and average total cost savings are up 5.4%.
Meanwhile, average percentage savings are up by 5.1% for Baxters, which ran 60 more deals year on year, to support the reorganisation of its wet ambient soup lines for winter 2014.
Branston has more than halved its average total cost saving from £1.17 to £0.55 year on year, with shallower deals and a slight drop in promotion numbers.
Princes' deals have deepened 3.4% while John West's are down 1.3%. With average price per kilo down 10.3%, Napolina has boosted volume 12% by other means [IRI].
The most popular mechanic in the category is now the simple save, accounting for 41.5% of featured space offers and up 13.4%. X-for-y deals are down slightly, to 35.2% of offers used.
This year's NPD from Princes includes Tuna Fillers, launched in April 2015, and March's two 'hot eat' tinned mackerel products, in piri piri and tomato and onion sauce variants. On-pack flashes encourage consumers to eat hot or cold. "It's designed to open up new usage occasions, such as dinner," says Brownbill. "They were supported with in-store media with strong trial pricing and promotions and have sold well within category benchmarks since launch."
Canned fish's own label-induced flop of £6.4m pales next to that of baked beans, which have seen sales slide by £10.4m, the biggest loss of any subcategory in the past 12 months [Kantar]. The decline equates to a 3% value loss on volumes down 3.5%.
Brands have driven the decline, losing 3.2% in value and 6.4% in volume, while own label had a comparatively cushioned fall of 2.4% value on volumes down 1.5%. "We have already seen the category decline improve," says Ian McCarthy, marketing controller of sides and easy meals at Heinz. "The nation loves Heinz Beanz and we support our core portfolio through promotions and comms to ensure this continues. We have also introduced a number of new varieties and flavours to the range to ensure it provides a wide choice for consumers as well as responding to industry trends."
Canned goods have not escaped the attentions of one such movement: the war on sugar. In May this year Heinz replaced its Reduced Sugar & Salt Beanz, launched in 2004, with 50% Less Sugar Beanz. "As a category leader we are committed to responding to growing consumer concerns regarding healthier options by bettering our reduced sugar and salt offer," says McCarthy. "This new range offers a more compelling claim for consumers, providing reassurance around reduced sugar content. Heinz believes this can unlock consumption, ultimately driving category growth within the increasingly health-conscious industry."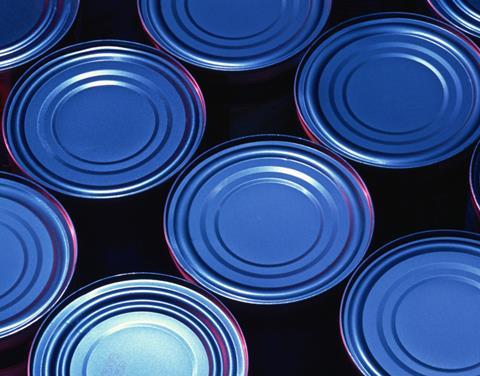 Princes-owned brand Branston, whose seventh position in IRI's top 10 table is due overwhelmingly to its baked bean products, is equally protective of the future of baked beans, once more putting its own troubles (a 4.7% loss in value on a 4.3% volume drop) down to reduced distribution, which improved after September 2014. "The decline in baked beans has been driven by reduction in volume purchased per buyer and a reduction in volume per trip. This has been driven by a reduction in promotional activity year on year, but the position is improving," adds marketing director Chris Wright.
While baked beans rely on renewed promotional activity and a healthier outlook to put the wind back into sales, their close cousins, prepared beans and peas, are enjoying growth of 3.4% in value and 1.7% in volume [Kantar].The read of the market by Kantar places the Heinz Beanz & Pulses range, which launched in June 2014 and includes Tuscan, Chilli and Fajita variants, in the prepared beans and peas subcategory.
Here, branded growth of 6.4% in value and 5.7% in volume indicates the range has made its presence felt. "We know consumers are looking for new and different ways to enjoy beans," says Heinz's McCarthy.
Our report continues beneath the box-out.
Own-label soup steals a march on branded
Growth of 0.7% on volumes up 1% wouldn't usually be cause for a party, but in the case of canned soup we'll make an exception: the sector, which spikes in cold weather, has defied a mild winter and the market's overall slide with £2.3m growth [Kantar].
Not that most brands, which account for 81.2% of canned soup sales, will be in the mood for a party. Brands have slipped a little, down 0.3% in value on volume losses of 1%, leaving own label to drive growth with a 4.8% value rise on volumes up 7.4%.
"Own label had a good year," says Crosse & Blackwell marketing director Chris Wright, pointing to own label's 2.3% drop in average price per kilo to £1.30, as brands have seen their price rise 1% to £1.90. "This was predominantly down to significant price drops on core soups in most retailers, from circa 65p down to circa 45p to get closer to Aldi and Lidl prices."
Although forthcoming soup NPD is not extensive, brands have seen some success with recent launches. "The strongest NPD this year has been Heinz Black Label Soup," says Kantar analyst Bethan Evans. "It has been successful in growing through premiumisation of existing classic flavours, such as Cream of Tomato with Fiery Mexican Spices."
A spokesman for Grant's, the company best known for its haggis, says the range of 10 branded Scottish and Black Label soups it launched into Scottish Asdas in April 2015 is performing "excellently, so much so that we are ramping up NPD".
Baxters has had a strong year, with sales up 2.1% on volumes up 0.9%. The company attributes this growth to a highly differentiated range, strong in-store presentation, promotions and ads. "These next two years will see some big moves from Baxters," says head of marketing Christine Clarke. "We have several concepts in the pipeline."
They better have, if they're going to stave off the advances of own label.
Tomato growth goes to brands
They are also, it seems, finding new things to do with tomatoes. Tomato products are up 3.4% in value on volumes that have risen 5.6%. Although the branded sector of the sub-category is worth just under £53m less than own label, in percentage terms brands have enjoyed the bulk of the growth this year, up 4.9% in value on volumes up 14%. Italian brand Cirio recently updated its logo and was the first brand to package its passata in PET bottles. "Own-label products have had very little impact on Cirio sales," says UK brand manager Clive Davis. "Our market share is continuing to grow as consumers become more discerning on taste."
Canned and ambient ad spend analysed by Ebiquity
Heinz leads spend on traditional ad space, with a combined total of £10.3m on its core products. It relaunched the I Love Winter TV and radio ads in September to support its Classic soup range. The Black Label soup sub brand had a £2m TV campaign, and Beanz and Pulses NPD received a further £1.5m.
Despite a marked dip in spend for the past year, Crosse & Blackwell spent much of its ad budget on the TV campaign it first kicked of in January 2014 for Best of British soups, focusing on provenance and real farmers (right).
Fray Bentos splashed out on radio advertising for its Hunger Burster meals sponsoring TalkSport's Europa League coverage.
Princes brand Napolina has seen volumes rise 12%, giving value just a 0.5% boost with average price per kilo down 10.3% to £1.70 [IRI]. "We've delivered growth despite extremely challenging market conditions," says marketing director Neil Towey. "We've invested significantly in the brand this year and an integrated marketing campaign grew brand awareness to 77% [YouGov November 2015]. Investment is set to continue in the coming year and the popularity of the brand, combined with increased distribution in core categories, will drive further brand value and category growth." Napolina's passata multipacks (4x390g) were launched in March 2015 with the intention of increasing average weight of purchase, and a marketing campaign focused on the brand's 50th anniversary began in June 2015.
In other canned and ambient aisles, results really are as diverse as the category itself. Tinned sponge puddings lost over half their value and volume following Heinz's withdrawal from the subsector in 2014 after continued decline, while ambient vegetarian products have added 15.2% in value and 5.5% in volume thanks to the success of soya-led brands including NPD leader Morinaga, with GranoVita also performing well [Kantar].
Canned pasta, a sub-sector in which brands dominate, lost 2.9% in value and 1.1% in volume; Heinz's plan is to take it straight to the kids via a six-month partnership with Nickelodeon, and the addition of Angry Birds and Teenage Mutant Ninja Turtles pasta lines in December 2014. While Heinz, the biggest advertiser in the category, is still spending on traditional ads, along with Fray Bentos, it's part of a mini-trend of brands sponsoring well-matched TV and radio content.
Slump in canned fruit
On the sweet side, canned fruit has seen 4.6% value losses on volumes down 8.5% - driven, says Princes, by price inflation (average price per kilo is up 4.5%) and poor market conditions, particularly for pineapple and prunes. Ambrosia has also had a tough year, with 5.9% value and 9.3% volume losses [IRI] despite some NPD.
Matthew Critchley, category marketing director at Ambrosia owner Premier Foods, echoes other brands that say promotions have been crucial in the past 12 months. "Last winter Ambrosia delivered a softer performance due to the fact that the brand actively reduced the number of promotional activities in order to work on new products and innovations launching at the end of the year. However, the brand is back in growth and its market share is up to 31.4% [IRI]."
"Ambrosia reduced the number of promotional activities in order to work on new products"
Product development has also been central to Baxters Foods, which has managed to defy a static canned hot meats market, with value up 2.1% on volumes up 0.9%. The company has launced microwaveable puddings and Hunger Burster pot meals under the Fray Bentos brand in the past year. "Those who do buy into the category buy into Fray quite heavily, and we think there's an opportunity to drive some life back into that category," says head of marketing Christine Clarke. Hunger Burster sponsored talkSPORT's Europa League coverage from September 2014 to May 2015. "Fray is important to us and we will see an increase in that investment, in advertising and range expansion, without question."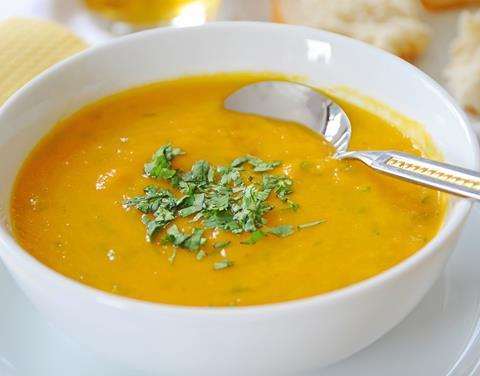 Ready meals and hot snacks
With meatballs a continuing foodie trend, she says, there is also an opportunity for the Fray Bentos range of meatballs, aimed at children, to gain a more premium adult variant.
Ayrshire-based Grant's Foods this year took 14 new canned products, a combination of branded soups and Chosen By You hot meat ready meals, into Asda. "The category is polarising, much as the grocery industry has polarised itself," says MD John Fallon. "Asda are excellent at looking to grow the category and innovate and that's why we're doing lamb tagine, pulled pork and pulled beef, which in no way could be described as old-fashioned or a classic - and we're certainly seeing great results from it."
Canned and ambient market analysed by Kantar Worldpanel
Canned goods' decline of 0.9% has largely been driven by a drop in the volume shoppers buy per trip. Shoppers are also switching spend to chilled convenience products.
The price of canned goods has fallen this year, driven by increased promotional activity. This has come mainly through Tesco, which has significantly increased its share of volume sold at a temporary price reduction, and has also cut prices deeper than last year.
Tinned sponge puddings have seen a significant reduction in branded presence, led by the withdrawal of Heinz Sponge Puddings. Conversely, brands have been performing well in ambient vegetarian, with new soya brands on shelf.
Innovation in the past year was even lower than normal. Canned fish saw innovation, but at much lower levels. The biggest-selling range updates have come from John West and Princes, while the strongest NPD has been Heinz Black Label Soup.
To counter volume decline, brands could look to larger pack formats or moving away from increasingly popular temporary price reductions towards multibuys.
In own label, exciting new products may drive up shopper trips.
Asda is also lauded by Malton Foods marketing controller Robert Burns. "Retailers such as Asda that have traditionally overtraded in ambient have been the quickest to react to changes in the market," says Burns. "They are some way in front in terms of implementation, particularly in the instant hot snacks category."
But Asda lost 1.6% of its value share this year, while Aldi and Lidl (which all overtrade in canned goods) along with Waitrose grew theirs. "The discounters have been clever in maintaining shelf space for branded and own-label ambient goods and they know the importance of ambient as part of a shopping basket," says Burns. "Bulk or multibuy offers may not always be the best option for some consumers, and an everyday low unit price may work better."
Across canned goods, average price per kilo has fallen 0.5%, driven, says Bethan Evans of Kantar, by increased deals, mainly through Tesco. "They've significantly increased their share of volume sold at a temporary price reduction, and have also cut prices deeper than last year," she says.
Canned cold meat has struggled more than hot, leading brands to emphasise the need to attract younger shoppers. "Our marketing strategy is shifting from loyalty to building category penetration focused on showing younger and lapsed consumers how the brand is relevant to their everyday lives," says Spam brand manager Liz Dee.
Neil Brownbill of Princes adds: "Ambient meat is a brand-led category and ensuring appropriate range by format is of paramount importance. The category remains extremely price -sensitive, promotional activity is important and inflationary pressures must continue to be resisted."
Convenience
Convenience has influenced Princes' cold meat NPD - it launched ready-to-use diced ham in February - and as shoppers switch to chilled convenience lines, canned and ambient goods are in danger of being left behind.
Clarke at Baxters maintains the can remains a "really convenient, versatile, functional" format. Nevertheless, Baxters launched its four-strong range of ambient meal pots in June 2014. "We've moved into bowls but there are pouches and other formats we need to be looking at, because we need to be thinking about convenience," says Clarke.
Ambrosia has also staked a claim in the convenience category with ambient Ambrosia Puds, launched in June 2014 to compete with chilled twin-pot desserts, and childsize ambient Ambrosia My Mini Pots, six packs of 55g pots in custard and rice variants launched in March 2014. Premier Foods says they are performing well. Although innovation has helped some canned and ambient subsectors into growth and given manufacturers like Baxters a boost, the rate of NPD has slowed.
"Overall, this year has seen less innovation than the previous year, with a drop-off in NPD and development of existing products," says Kantar's Evans. "The biggest-selling range updates have come from John West and Princes canned fish, but innovation in this subcategory is still at much lower levels than the previous year."
Heinz, Ambrosia and Baxters all promise NPD to come, but as it stands there is an empty space where the next big thing should go - not a comforting prospect for a category dicing with decline. Standing still raises the risk of being left on the shelf.
Malton Foods, Wessanen, John West: NPD in canned and ambient
Asda Chosen By Kids ambient ready meals
Launched: March 2015
Manufacturer: Malton Foods
Asda added these two extra variants to its ambient kids' ready meal range earlier this year. The meals (rsp:£1.60/250g) carry healthy messaging, provide one of a child's 5 a day and are free from artificial colours and flavours. They have a one-year shelf life and stand upright in their sleeves for more visibility on shelf. The rest of the range comprises mild chilli and wedges, pasta bolognese, chicken stew, beef hot pot and lasagne meals.
Whole Earth Baked Beans
Launched: June 2015
Manufacturer: Wessanen
Wessanen's Whole Earth organic baked beans have a new, more contemporary look as part of the brand's redesign. The range, best known for its peanut butter, is positioned as a provider of 'down to earth goodness' and also includes breakfast cereal, organic sparkling drinks, seed butter and tomato ketchup. Rsp: £0.89/400g.
John West Mackerel Fillets in Sauce
Launched: May 2015
Manufacturer: John West
Reflecting John West's continued faith in world food flavours, its seven-strong range of mackerel fillets in sauce includes tomato and chilli, teriyaki, Dijon mustard, Mexican, sundried tomato and basil, korma and sweet chilli variants (rsp: £1.10/125g). The cans carry a '100% traceable' flash.
Crosse & Blackwell 'Frozen' pasta
Launching: September 2015
Manufacturer: Princes
Crosse & Blackwell's new licensed pasta follows the brand's strong performances in kids' ambient pasta and meatballs. These, says Chris Wright of C&B, both outperformed the market thanks to distribution gains, increased promotion and, in the case of the meatballs, an on-pack promotion with Butlins. Rsp: £0.49/213g.