Talk about making a meal of it! Brits are scoffing down butter by the plateful – or so it would seem given the massive uplift in demand. Since the pandemic took hold in the UK, sales of butters and spreads have grown £25m [Kantar 4 w/e 19 April 2020].
That's not just down to panic buying, which was largely responsible for butter's boom in the week running up to lockdown. A change in the nation's diets has delivered more long-standing growth.
While home baking has exploded, bread is taking centre stage at mealtimes. Now that cafés and coffee shops are closed, there could be 50 million more at-home sarnie occasions a week, Kantar predicts. More sarnies means more butter.
Toast is seeing an uplift, too, because "people aren't rushing out to work and are able to have breakfast at home" says Mike Harper, marketing director for Kerrygold distributor Ornua Foods UK. "We've seen significant increases in breakfast occasions – which is great for us as a butter brand as one in four breakfast occasions involves toast."
It's some welcome good news for the butter, spreads & margarine category. Until now, it was suffering from a long-running decline in volumes – a trend that was still apparent at the start of this year. In the 52 weeks to 26 January 2020, the market recorded a modest 0.5% value gain, and that was entirely driven by average price increases. Volume sales were down 0.9% [Kantar].
"The trend towards scratch cooking and baking may continue for some time"
So selling an extra 4.7 million kilos in the latest four-week period – an increase of 15.6% on last year – is positive news for all corners of the category.
Of course, some corners have benefited more than others. The standout performer has been block butter, which added 36% to its value and 34% to its volumes in the recent four-week period. Lurpak, the market leader in block butter, gained an extra £10.4m in the latest quarter [Nielsen 12 w/e 18 April 2020].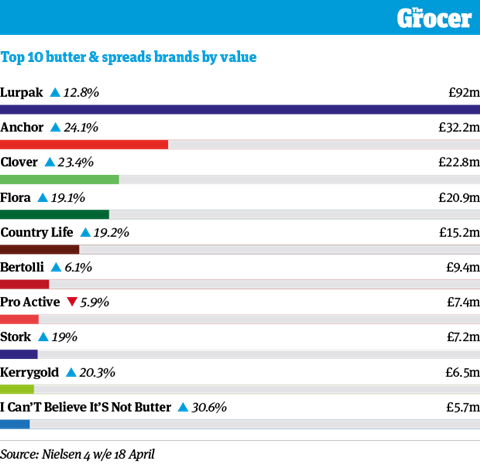 The top 10 BSM brands made £327.7m between them in the 12 weeks to 18 April. That's £44.6m more than in the same period last year.
Growth accelerated in the final four weeks, with value up 25.6% compared with 15.8% over the longer period.
The rise was driven by a combination of stockpiling and price inflation, says Nielsen client analytics executive Amy Duffy. "As a result of lockdown, shoppers have spent more on BSM due to the impact on availability and a pull-back on promotions."
Lurpak remains leader – worth almost £60m more than closest rival Anchor.
In percentage terms, relaunched I Can't Believe It's Not Butter outpaced rivals, growing around 31% in both value and volumes.
That's partly down to block butter's strong associations with baking and scratch cooking. Saputo says its baking-orientated block brand Willow has performed well thanks to the surge in demand for home baking ingredients.
The dairy giant sees this as a long-running trend. "With many households expected to be impacted financially by the current crisis, the trend towards scratch cooking and baking may continue for some time, and this has the potential to benefit sales," says Emilie Grundy, butters and spreads marketing controller at Saputo Dairy UK.
There is an emotional element at play, too. Butter offers comforting credentials as Brits face the strange new era of lockdown, according to Alex Gordon, CEO of cultural insight agency Sign Salad. "When uncertainty strikes and anxiety is rife, consumers revert to reliable commodities," he explains. "Butter's understandable origins and predictable flavour are satisfying support in an age of uncertainty."
Understandable origins are a key point here. For some time now, butter has benefited from the consumer desire for less processed and more natural foods. Those credentials could prove even more powerful in the lockdown era. Robert Graham, MD of Graham's the Family Dairy, is confident in the potential, having seen demand for its butter treble since the coronavirus crisis began.
"When uncertainty and anxiety is rife, consumers revert to reliable commodities"
"Butter's got strong winds behind it. It's natural, and fats are not demonised so much now," says Graham. For him, those natural cues tie in nicely with the growing demand for provenance. "Ninety percent of the spreadable butter sold in Scotland is not produced here. With an increasing demand for local, great-tasting products, there is a real opportunity for Graham's to maximise this market."
The sentiment is echoed by Ornua's Harper, who says the provenance craze gives block butter "significant headroom" for growth. "People want to know where products have come from and there's more awareness of things like grass-fed dairy," he says.
"It's about communicating that as opposed to launching massive amounts of innovation. General trends are coming towards us, it's just making people aware of why we're different." That's why the grass-fed element of Kerrygold, something that features prominently on its butter packs, will play a key role in its TV and social media push in June.
It's certainly on trend. This month, Irish food board Bord Bia announced what it claimed was the world's first national grass-fed dairy standard. Expected to roll out later this year, it will appear on Irish dairy products sourced from cows that are grass-fed for a minimum of 90% of the time. Its aim is to provide Irish brands with a competitive edge.
The UK's smaller brands could combat such a move with their own regional provenance cues, believes Francis Clarke, MD of Cornish brand Trewithen Dairy. It found that referencing Cornwall on its butter came out well in customer research, as "the region is synonymous with luxury and renowned for quality food", he says. The brand has enjoyed a "substantial uplift" since the coronavirus hit, with its unsalted block sales doubling in volume.
Clarke's point about quality is crucial. Because before the coronavirus saw promotions pared back, there was a danger of butter and spreads consumers becoming ever more driven by price. "Promotions are on the rise as retailers use more temporary price reductions, and private label is growing faster than brands," says Kantar analyst Luiz Freire.
So far, block butter is holding its own with a 5p increase in price over the past year. Ornua is keen to keep it that way, and to avoid the deep deals that are already threatening the value of block cheddar.
"There's more loyalty in block butter than there is with cheddar," says Harper. "We don't want to strip value out of the category, because people would've bought the butter at full price. We're one of the few brands in the category that doesn't promote. Brands command a premium in block butters, and we want to be the lighthouse in terms of retaining value in the category. We think we've got a product that justifies that."
Butter isn't the only corner of the market taking this view. Even spreads, typically a highly competitive area, are resisting the price pressures. In the past year, prices of dairy spreads edged up 0.5% and volumes increased 1.8%.
The latest four-week data paints an even more positive picture. Value rose 32%, and a hefty part of this was down to a 11.2% increase in average price [Kantar]. It goes to show that block butter isn't the only thing whetting consumer appetite during the lockdown – and shoppers are still willing to pay for what they want.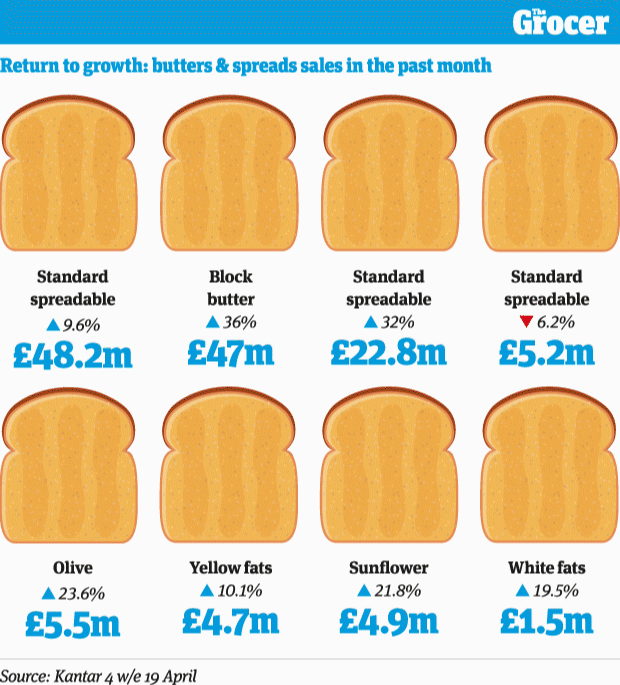 The butters, spreads and margarine market added £25m over the latest four weeks – a rise of 21%. Block butter was the biggest winner, surging 36% in value and 32% in volumes.
This comes in stark contrast to the 52-week period to 26 January, when the category grew its value by just 0.5%, while seeing volumes dip by 0.9%.
The fall in unit sales was down to a continued decline in the consumption of "host foods" such as sandwiches, notes Kantar analyst Luiz Freire. "As a result, the average volume per shopper is 1.5% lower."
Overall, average prices have risen 1.3%. "This is as a result of block butter, which accounts for 30% of value sales and which has increased by 5p per kilogram," says Freire.
But that could all change. Own label is outpacing brands, with value and volumes rising 4.3% and 4.2% respectively. Brands, meanwhile, fell 1.1% in value and 2.8% in volumes.
"The fact the discounters are growing much faster than other retailers is giving a boost to private-label BSM," says Freire. "Private label is still growing ahead of brands outside of the discounters, but at a slower rate."
Of the spread brands, the biggest winner in percentage terms was the I Can't Believe It's Not Butter, which recorded a 30.6% uptick in value in the latest 12 weeks [Nielsen].
Even brands that had been struggling are seeing something of a revival. Flora, for example, gained £3.4m in that period, as 23% more packs headed through the checkouts. It marks a sharp contrast to last year, when Flora lost more than a fifth of its volumes [Nielsen 52 w/e 31 December 2019].
The revival is down to the "trend for consumers returning to trusted household brands" amid the Covid-19 pandemic, claims Flora marketing director Catherine Lloyd. "Our research has shown that since the nation went into lockdown, consumers are not only baking more frequently but they are cooking more in general and making healthier choices," she says.
As she suggests, health is a key part of the strategy for Flora owner Upfield. Last year, it unveiled a plant-based reformulation of Flora designed to play into the vegan trend and evoke health associations. And in November, Upfield revived its Blue Band brand after 15 years to entice parents seeking a "balanced diet and healthy lifestyle" for their kids.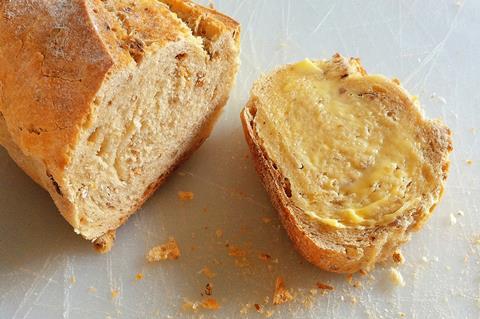 Tough times for plant-based butter and spreads
The plant-based super-trend has yet to gain traction in the butters, spreads and margarine category, it seems.
The value of dairy-free options grew by just 0.8% to £28.1m in the 52 weeks to 26 January – making them worth 1.9% of the total market [Kantar]. Meanwhile, volume sales slumped by 4.1%.
Brits' apparent lack of interest in vegan BSM has meant tough times for even the biggest brands.
Flora, for instance, lost £13.5m last year despite investing in a plant-based formula [Nielsen 52 w/e 31 December 2019]. And Saputo delisted its Vitalite vegan baking block in September after just six months on the market.
More recent data provides a glimmer of hope. Free-from spreads enjoyed 12.5% value growth in the four weeks to 19 April [Kantar]. But there are questions over whether that will continue. The lockdown has largely stymied the experimentation plant-based relies upon for growth, warns Saputo senior brand manager Emilie Grundy.
"People have been going to stores and focusing on the core items the whole household can enjoy. If they're flexitarians, dairy-free might not have been part of baskets as much as previously."
Her concerns are bolstered by Kantar's belief that locked-down shoppers are less concerned about sustainability – a major driver of plant-based.
Nevertheless, Trewithen Dairy MD Francis Clarke believes those concerns will return. "We think coronavirus has highlighted the impact of human beings on the environment," he says. "It's going to be a key part of people's buying decisions going forward, recession or no recession."
That leaves room for more sustainable innovation. "As the sustainability trend evolves, we may see some more eco-friendly/sustainable packaging formats," suggests Nielsen analyst Amy Duffy.
Health credentials
It seems a sensible move given the macro trend for healthy eating. But there's a note of caution here: health credentials don't always pay off in the world of butters and spreads. Plant-based spreads only edged up 0.8% in value in the past year and lost 4.1% in volume. Cholesterol-lowering products fared worse, shedding 6% of value and 17% of unit sales [Kantar]. Indeed, the cholesterol lowering Flora Pro-Activ was the only brand in the top 10 to actually suffer a blow to sales in the latest 12-week period, down 5.9% to £7.4m [Nielsen].
For that reason, Rachel Campbell, Arla Foods senior brand & category manager for BSM, believes trading on taste is a more secure strategy. "The main driver from shoppers for BSM is taste," she says. "We are more likely to see the growth in those areas linked to taste to a higher degree, which is true of what we see in block butter."
"As we come out of coronavirus, it will be a real challenge from an NPD point of view"
Campbell believes this is even more true during lockdown. Indeed, she points to distribution gains for the garlic variant of Arla's Lurpak brand as a key driver behind its recent sales growth. Flavoured butters tap into the slower lifestyle consumers have adopted, Campbell claims. "It is likely that we will see a further increase in flavoured butter sales as customers spend more time cooking from scratch and looking for easy ways to enhance meals," she says.
Still, now probably isn't the time to start innovating with flavours. NPD was already tough in butter – according to Kantar, only 10 innovations reached over £100k in the past year. In the wake of the pandemic, ranges are being further streamlined to maintain availability of bestsellers.
Graham's has scaled back production of its organic lines. Saputo has been forced to stop production of what Grundy calls its "smaller selling lines". She believes rationalisation will be a theme in the wider market even as lockdown eases. "As we come out of coronavirus, I think there'll be pressure on ranging," Grundy suggests. "It will be a real challenge from an NPD point of view."
So for now, it's simply about making a meal out of what you've got.