Move over, ketchup. Britain has a new number one sauce.
Mayonnaise sales have overtaken sales of the red stuff over the past year, growing 6.9% to clock up a cool £152.2m compared with £145.5m for ketchup, down 2.7% [Kantar Worldpanel 52 w/e 23 April 2017]. Ketchup still outsells mayo in volume terms but here, too, the tide is turning: mayonnaise volumes have increased by 7.3% year on year to 58.5 million kilos, while ketchup has fallen 4.2% to 67.6 million.
It's not just mayo that's putting ketchup under pressure. In a resurgent sauces & condiments market that has bounced back into 1.2% value growth after losing 2.4% the previous year, sales of BBQ and hot sauces are booming and suppliers are launching NPD at a breakneck pace, offering shoppers ever more new and exciting alternatives to the classic red sauce. No wonder category leader Kraft Heinz recently reported a 16.3% collapse in annual sales for its UK division, driven by a 13% sales drop for its iconic tomato ketchup.
So what's driving this upheaval in sauces and condiments? What in particular has helped mayo take off? And what other key trends are shaping the category?

To understand the changing category dynamics, look no further than the epic battle between Kraft Heinz and Unilever that's been shaking up the category over the past 12 to 18 months.
The two fmcg giants went head to head in a bruising corporate standoff earlier this year, when Unilever rejected a £115bn hostile takeover bid from Kraft Heinz, and their battle in sauces and condiments has been every bit as confrontational.

First, Kraft Heinz parked its tanks on Hellmann's lawns with the February 2016 launch of Seriously Good Mayonnaise, which it pointedly claimed would address a "lack of excitement" in the mayo segment. Unilever retaliated two months later, unveiling a raft of new Hellmann's options to rival the Heinz sauces portfolio. In turn, Heinz extended [Seriously] into sauces, launching four French-style options earlier this year as well as reformulating its reduced sugar and salt tomato ketchup, while Hellmann's boosted its mayo offering with a brand refresh and 'new and improved' Light mayonnaise.
Then, in late March, came the ultimate provocation: Unilever updated Hellmann's ketchup offering, launching a honey-sweetened version as well as a ketchup made with red and green tomatoes, backing it up with big marketing investment. It's early days yet for the new Hellmann's lines, but the impact of Heinz's foray into mayonnaise is already plain to see in this year's numbers.
"The launch of SeriouslyGood Mayonnaise has been a key contributor to category growth in mayo," says Heinz marketing lead Rhodri Williams, adding the brand is now worth £14.3m. Heinz is also investing to change perceptions around mayonnaise and how it can be used, with a recent Upgrade your Mayonnaise push with BBC Good Food highlighting its use in recipes such as chicken empanadas and salmon wraps.
Sauces and Condiments Category Snapshot 2017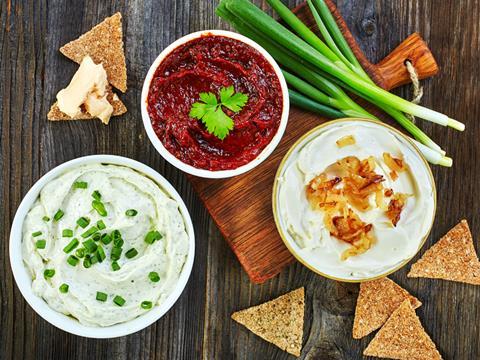 Unilever, too, is confident recent improvements to the Hellmann's range, including removing artificial colours, preservatives and additives, have contributed to the mayo boom, though overall sales are down [IRI p52]. "We believe that by updating our offerings in the mayonnaise category we have been able to address the needs of consumers seeking healthier, more sustainable and natural products, therefore widening the appeal of Hellmann's Mayonnaise," says senior brand manager Kyrie Merryman.
Huge rise in mayo NPD
Growth in mayonnaise isn't just down to Heinz and Unilever, however. There has been a huge increase in mayo NPD across the market, with a raft of flavoured options and new brands coming in, often inspired by restaurant and street food trends. Nando's set the pace early on, launching jars of its Perinaise into supermarkets in 2014 and more recently adding Lemon & Herb as well as Hot variants in a new squeezy bottle format, with All About Food stablemate Gourmet Burger Kitchen launching a chilli mayo into Sainsbury's this summer.

Meanwhile, M&S - an early supporter of the trend with its listing of Japanese cult mayo Kewpie - is featuring a Sicilian Lemon Mayonnaise in its Spirit of Summer lineup this year, while Ocado has added super-premium mayonnaise from Harvey Nichols, with variants including Blue Cheese and White Truffle, to its range. There's even a Gin Mayo slated for launch soon.
"Seriously Good has been a key contributor to category growth in mayonnaise"
"Offering a much wider flavour choice to consumers has meant that mayo has become much more appealing and intriguing a category," says Laurie Booker, marketing & development director at Cowan. "There are also many more options for consumers when it comes to lighter variants within mayo, which therefore appeals to those on a calorie-controlled diet. There is generally only one lighter option within ketchup and that's Heinz's 50% less sugar variant."
The sugar and salt factor
Health concerns have benefited mayonnaise in other ways too. With sugar overtaking fat as public health enemy number one, the focus has shifted away from high-fat products (such as traditional mayonnaise) towards table sauces and condiments perceived to be high in sugar and, to a lesser extent, salt. Ketchup has borne the brunt of this, not least because of its popularity with children.

Heinz revamped its reduced sugar ketchup in January, further reducing salt levels and renaming it 50% Less Sugar & Salt. It says the new version has already achieved a 9.6% share of the total ketchup category. "We're seeing our consumers buying both the original Heinz tomato ketchup and the 50% Less Sugar and Salt variety," says Williams.
Biggest Advertisers
Real Good Ketchup, which is certified through the Sugarwise scheme, has gone one step further by removing added sugars completely. "Our research with the diabetic and health community indicated that most table sauces and in particular ketchup were no longer an option, even with the reduced sugar products," says brand founder Elizabeth Jones. Following a launch into Ocado and Whole Foods Market in November, the brand's tomato ketchup, which is sweetened with xylitol and stevia, was picked up by the Co-op and Morrisons, and it is now gearing up to bring 2.35-litre catering jars into schools.
"We're seeing consumers buying both original ketchup and 50% Less Sugar and Salt"
Unilever, meanwhile, is addressing the sugar issue from a different angle, launching a honey-sweetened Hellmann's tomato ketchup that it claims contains 30% less sugar than conventional lines. There is increasing consumer demand for "more natural ingredients" in the ketchup category, according to Merryman.

Tackling sugar is clearly an important part of ketchup's fightback against of mayo. But reformulation alone won't do; the ketchup category needs more excitement.
Several smaller brands are trying to bring just that to ketchup, including Tiptree, the Foraging Fox and Rubies in the Rubble, whose food waste-friendly range includes banana and chipotle ketchups. But scale is hard to come by in a category so heavily dominated by one global giant.

That is why ketchup aficionados will be pleased if Unilever brings premium US brand Sir Kensington's to the UK. It acquired the New York sauce maker, which uses the slogan 'At last, progress - a ketchup that requires no apology' for an estimated $140m this year. Sir Kensington's is one of a number of premium brands that have been putting the Heinz portfolio under pressure Stateside, and with heavyweight backing from Unilever it is tipped for rapid expansion.

Of course, there's more to sauces and condiments than just mayo and ketchup. Brown sauce continues to be a staple for many UK consumers, putting in a solid performance with 1.3% value growth to £45m, though volumes fell nearly 3%. Salad cream, meanwhile, has slipped further in the past year, with value and volume down 2.7%.

The rise of mayo has made things tough for salad cream, though Heinz insists its own is doing better than the wider category, citing a 0.4% rise in value sales in the latest 52 weeks. The Co-op, too, reports a good performance: "Our customers love salad cream," says sauce & condiment buyer Ian Thornley. "We over-trade on that versus our competitors."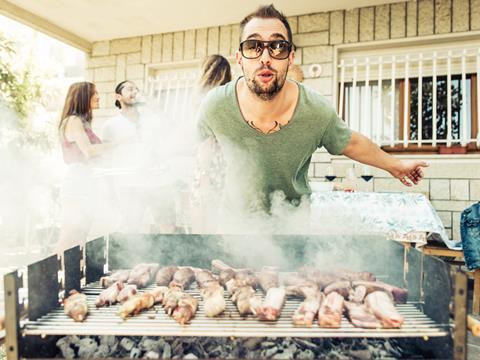 Sauce brands compete for BBQ season sales boost
The weather in the British summer can make or break table sauce sales, so brands and retailers are having to come up with strategies to ensure their sales thrive no matter what.
'Spontaneous BBQs' is the buzzword this season, with brands reporting an increase in unplanned occasions. Spontaneous after-work grills now account for 48% of all BBQ occasions, says Rhodri Williams at Heinz. "The rise of spontaneous occasions shows consumers are more likely to take advantage of decent weather, with the average family household firing up the grill over nine times a year."
In response, Heinz's Add A Little Magic campaign has focused on increasing purchase and consumption by consumers on last-minute shopping trips to local shops. It also launched weather-activated social posts.
For retailers, stocking a range of pack sizes is important. "If buying for a family you tend to want a bigger bottle, but if buying for the occasional BBQ you tend to want a smaller bottle," says Co-op buyer Ian Thornley. "This year we added smaller sizes over the summer."
At Asda, buyer Caroline Cartwright emphasises the role of promotions and NPD. "The key to winning in the BBQ season is having great deals on core sauces but also injecting excitement through new products, new brands and exciting new concepts."
Retailers are also experimenting with merchandising, with Sainsbury's co-siting table sauces in some chillers this summer alongside meat, fish and salads.
As the average consumer is now spending £35 on food and drink related to a BBQ, and 33% of barbecue baskets currently don't contain a table sauce, Williams sees huge potential. "With the average barbecue basket spend five times higher than average, there is a real opportunity for increased spend in the sauces category during the barbecue season - and beyond."
The heat is on
But the standout growth stories of the category (mayo aside) are found in barbecue, hot/chilli as well as soy. From relatively small bases, these segments are outpacing the wider category as Brits develop a growing love for all things hot and spicy.

The barbecue segment in particular has exploded over the past year, with near 30% value growth and volumes up a whopping 40.8%. Increasing consumer awareness of different styles of barbecues, be it US regional or traditions from South Korea or South America, has opened the door to a swathe of new brands looking to win over shoppers with their punchy flavour combinations.

Recent additions to the market include three new flavours from Red's True Barbecue (Dirty, Buffalo and Triple 6), while the Co-op expanded its own-label range with Memphis BBQ, Carolina and Kentucky Bourbon sauces. 2017 also marked the first time Iceland says it had "a tailored BBQ sauces offer in our stores".

The growth in American-inspired barbecue is not just shaping flavour innovation - it is also reflected in packaging formats. "The continued rise in popularity of American cuisine, and informal meat occasions both in and out of home, has inspired a surge in squeezy bottle formats," says Paul Watmore, UK marketing director at AB World Foods. AB's own launches this year include Jerk BBQ from Levi Roots, Tabasco Sweet & Sticky BBQ Sauce and Guinness Barbecue Sauce, all in squeezy formats.

In hot and chilli sauces, the trend towards hotter and spicier flavour profiles continues, with a growing emphasis on innovative recipe combinations and specific named chilli varieties. Cue a raft of launches with habanero, jalapeño, scotch bonnet or even the Carolina Reaper (see Innovations below).

Players busy with NPD have included Frank's, Salubrious Sauce Co, Dr Will's, and Meat Lust with its Ghost Chilli sauce, which it says is now outselling its previous bestseller, Buffalo sauce. "Today's consumer is looking for more than just heat in pepper sauces," says Harold Osborn, executive VP of Tabasco, which reports growing interest in its Chipotle sauce as UK consumers experiment with smoky flavours.
Artisanal brands
Echoing developments in craft beer, the BBQ and hot sauce segments are also seeing a growing crop of small, artisanal brands that are explicitly pushing the concept of 'craft sauce', complete with small batch production and hand-selected ingredients.

"There is a huge overlap between craft beer purchasers and craft sauce consumers," says James Digva, owner of craft sauce producer Sauce Shop, who is working on new fermented hot sauces. "Craft food and drink is synonymous with great flavour, authenticity, quality ingredients and less processing, and this is becoming important to many more people."

The craft trend is also making itself felt in the soy sauce category, which has seen value rise 9% on volumes up 10.1%. Up-and-coming player Fun Soy, for example, is working to establish flavoured soy sauce as a subcategory with its range of truffle, lemongrass and chipotle-flavoured soy sauces.

With Japanese cuisine a growing trend - especially teriyaki - many are predicting even stronger growth for soy-based sauces in the months ahead. "Over the past 12 months, we have seen a marked shift in consumer demand for the authentic flavour of ethnic cooking and in particular the rise in popularity of Japanese cuisine," says Bing-yu Lee, general manager of Kikkoman UK, which this year added roasted garlic and toasted sesame versions to its range of teriyaki sauces.
Whether it's in BBQ, hot sauces or soy, brands have been leading much of the flurry of NPD activity across the sauces market in the past year, helping them grow by 2.3% in value terms compared with 1.7% growth for own label. A marked cutback in promotional activity has further helped drive value back into the market and supported branded sales, says Kantar Worldpanel analyst Candy Lai, who adds this shows that "shoppers do value branded products in this sector and are willing to pay a premium for them".

Branded sales have also been boosted by the strong performance of Iceland. The retailer, which only sells branded sauces and condiments, has significantly expanded its in-store range, improving its value share of the market by 12.5% in the process. "We have had success right across the range, from ketchup to mayo, but we also introduced a wider range of summer sauces this year, introducing new flavour profiles to complement our frozen and chilled offer," says senior buyer Joanne Armstrong.
Own-label quality and differentiation
The signals aren't quite so reassuring for brands elsewhere. After letting brands take the lead on innovation and value growth, retailers look determined to fight back.

"Own-label product quality and differentiation are increasing across all ranges, from basic up to premium-tier products, with a huge selection of flavours for consumers to choose from," says Chris McLaughlin, marketing & sales director of All About Food. Sainsbury's, for example, added mango & habanero and sweet & spicy jalapeño chilli sauces in colourful bottles to its own-label range in July, while Tesco has boosted its own-label mayo offering with chipotle and mustard options in squeezy bottles.
Winners and Losers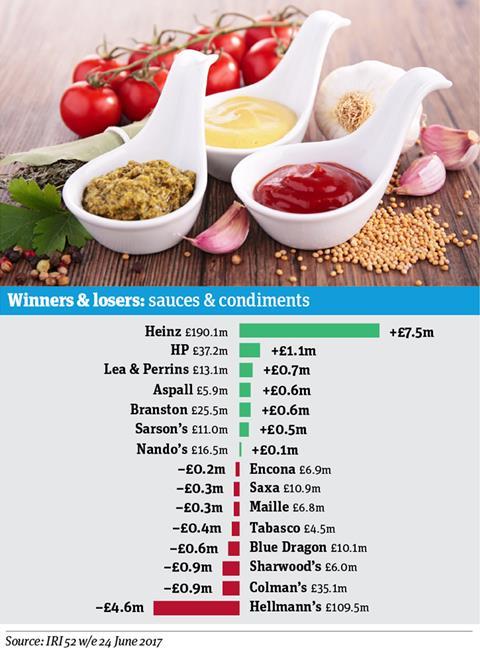 At Asda, the focus has been on redesigning own-label packaging and reworking pack sizes "to reflect the leading brands so customers can see true value". Condiments buyer Caroline Cartwright adds: "We're really proud of the new packaging designs across mayonnaise in particular."
It's fighting talk. Brands only need look at condiments to see what's potentially in store. In sharp contrast to the sauces category, brands have failed to drive value back into the market and own label is gaining ground. "This paints a concerning picture for brands, with own label leading the market since last year and continuing to grow," says Kantar's Lai.

Mustard is a rare bright spot within condiments, with sales up 7.9% on volumes up 7.3%. Much of that is from American-style mustards and heavy investment by Unilever and Heinz. Hellmann's entered mustard for the first time this summer with an American-style yellow mustard it claims is "the best tasting mustard in the market", while Heinz's Yellow Mustard gained new listings in Tesco in April and says the 400ml SKU is performing strongly in Morrisons. The brand is now looking to further raise the profile of American-style mustard with a new sponsorship deal with NFL UK.
"Brands must innovate and show they aren't being complacent in condiments"
Elsewhere in condiments, English Provender has given its range a brand overhaul and new design, featuring new cauldron-inspired copper lids. With chutneys in value decline, standing out more clearly against own-label competition is key, says brand manger Kira Mutimer. "Brands are having to ensure they offer a clear difference to give consumers a reason to trade up."

Such innovation will be crucial if condiments brands want to claw back value - and it will be just as crucial for sauce brands if they want to keep own label at bay. "Brands need to make sure they aren't being complacent and instead are continuing to innovate and show customers that when you're purchasing a brand, you are also gaining added value," says McLaughlin at All About Food.

There's a huge opportunity in Brits' growing appetite for exciting and innovative sauces and condiments. But brands will have to work harder than ever to ensure they are the ones capitalising - and not own label.