As mental wellbeing takes centre stage, a new generation of functional products are hoping to capture shoppers' imagination
Diets aren't exactly known to improve mood. Yet two years ago, Tom Kerridge challenged that perception with his 'Dopamine Diet' cookbook. It wasn't just his 11-stone weight loss that grabbed the headlines. The idea of consuming foods that trigger dopamine - a neurotransmitter that contributes to feelings of pleasure and satisfaction - captured the public imagination. The diet promised something that seemed nigh on impossible: to "make you feel happier" while losing weight.

It was one of the first cookbooks to focus heavily on the link between food and mood. That concept has since rapidly gained consumer awareness. Mintel research in February 2018 found as many as 66% of UK adults believed what they ate had a direct impact on their emotional wellbeing.

Spotting an opportunity, a spate of food and drink brands have brought out products that promise a mental, rather than just a physical, benefit. By tapping the increasing desire for wellbeing, they hope to give the functional food and drink market a boost.

Admittedly, it could do with a boost. Following three years of growth, there was a 0.9% decline in the number of food and drink servings chosen for health benefits in the past year [Kantar 52 w/e 24 February 2019]. That equates to 400 million fewer servings.

On the face of it, mood food and drink is an area ripe with potential to turn things around. Two thirds of consumers would be open to trying a food or drink product that claimed to improve mood, found an exclusive survey of more than 760 consumers by Streetbees for The Grocer. That's partly because mental health and wellbeing is an increasingly hot topic.
"People are going past basic nutrition and seeking out food and drink with benefits"
"Public perception of what it means to be healthy has evolved from simply being well or unwell to a wider notion that encompasses physical, mental and social wellbeing," says Lucía Seoane-Pampin, behavioural analyst at insight consultancy Canvas8. That has a clear link with food. "People are going past basic nutrition and seeking out healthy food and drink that will benefit their body and mind."

Juliet Gellatley, founder of vegan charity Viva, has seen the growing interest first-hand. "I do a lot of public speaking, and my most attended talk without fail is Mood Food," she says. "There's a real hunger for it, people are suffering from stress and tiredness and they're looking for a way to alleviate that."
Wellbeing products
Indeed, barely a day goes by without the nation's stress levels hitting the headlines. A 2018 survey by the Mental Health Foundation found 74% of Brits had been so stressed they felt overwhelmed or unable to cope in the course of the year. Charity Anxiety UK estimates 13% of people in Britain suffer from the condition.

So this area has been the target of many launches. One such launch is 'mood enhancing liquid' brand Pypr, which contains lemon balm and passionflower to help relieve stress. Having entered the out-of-home market in January, the brand says it is now in discussions with several UK retailers.

That was followed by the launch of functional brand Blockhead's Calm Mints in April. The mints contain ingredients like Mongolian bark and St John's wort - the only herb clinically proven to have an impact on mild to moderate depression - to boost mood.

"The more we spoke to people, the more we realised keeping calm was a growing need," says founder Danny Lowe. "The simple fact is people are more stressed and anxious these days, and they're looking for products that can help alleviate those feelings."

There are challenges in this market. While consumers want products to boost their mood, they don't necessarily trust those claims. Only 6% of respondents to our Streetbees survey felt confident that mood food and drink products do what they say on the tin.
Download the full data at the bottom of this report
And brands do have to be careful about the claims they make. Under EFSA rules, no food or ingredient can claim to improve mood without specific scientific testing.

So, many brands are letting their ingredients do the talking instead. Take Drink 420, which launched in February using the hot ingredient of the moment: cannabidiol, or CBD.

"Our brand is all about unwinding," says chief executive officer Alex Lai. On pack, it claims its CBD formula can help 'unwind without the high'. That message seems to be getting through to customers. Sample testing by the brand found 40% of customers bought Drink 420 for its anti-stress benefits.

Functional startup Nooro is thinking along similar lines. In April, the brand launched its Mind Fuel snack bar containing CBD exclusively into Planet Organic. The bar also contains gut-boosting chicory root fibre and nootropic (brain-boosting) ingredients maca and ginkgo.

Brand founder JD Furlong says the response has been so positive that it plans to relaunch the bar in June with new packaging, alongside two new nootropic bars. That's because it's not just the CBD element that has caught people's attention.

"We thought we were riding the wave of CBD and that the nootropics were secondary, but the response to the nootropics is much stronger than we imagined," says Furlong. "People are just as interested in the nootropics side of the bars as they were in the CBD, so we've accelerated our plans."

Wow Drinks saw a similar reaction to its nootropic energy drink, also launched in April. The 250ml Focus cans promise to support mental performance and reduce fatigue, featuring L-carnitine, an amino acid linked to improved memory, mood and learning.

"I was terrified before the launch because everyone we spoke to had never heard of nootropics, but it's actually been our most successful launch to date," says founder Oliver Dickinson. "Usually we have to spend three to six months activating a new product and educating shoppers, but people just got the concept of nootropics immediately."
Nootropics
Nootropics are not such a highly regulated area as mood claims. There are currently no UK guidelines on what can or can't be called a nootropic, leaving it largely up to the brand to define the term. That's a gift in some ways. But Dickinson is also keen to ensure nootropics don't go the same way as other unregulated terms such as 'superfoods', which are increasingly attracting scepticism.

"It's important that brands ensure their nootropic products have the effect they state on pack," says Dickinson. "We worked with a laboratory to ensure our Focus drink did exactly what we say it does."

Another area tying into mood food is gut health. It's fast becoming a buzz term in food and drink, and sales are rising accordingly. Holland & Barrett reports a 25% increase in sales of gut health products over the past year. Similarly, Ocado says searches for kombucha on its site doubled over 2018, while searches for kefir rose 40%.

As consumers become more interested in gut health, they are starting to understand its link with mood.
"More people are becoming aware of and interested in the gut-brain axis"
"We're definitely seeing growing interest in the gut-brain axis, and more people are becoming aware of it every day," says Colm O'Sullivan, spokesman for fatigue reduction supplement brand Zenflore.

His assertions are backed up Kellogg's Happy Gut survey in January, which found more than 75% of 18 to 35-year-olds believe their gut has a direct impact on mood and emotional wellbeing.

That there is solid scientific evidence of the link - experts estimate that 90% of the body's serotonin receptors are located in the gut - makes this an area full of potential. So much so, in fact, that even industry heavyweights such as Mondelez are getting involved. In March, it announced its investment in 'psychobiotic gut health brand' Uplift Food through its innovation hub.

It's not hard to see what attracted Mondelez. Uplift Food carries the tagline 'Good Mood Food' alongside shouting about its probiotic content, putting it right in the middle of the gut health and mood food trends.

For now, the Uplift Food range is restricted to health books and supplements. But Mondelez is clear its investment will change that. "Together with Uplift Food, we have a unique opportunity to disrupt the functional food category by delivering 'snackable' products focusing on gut health," says executive vice president Tim Cofer.

It's a space that Health Lab is also looking to conquer with its new Probiotic Wellness Balls. The mixed berry flavour gained a listing in Waitrose in April, while its Choc Matcha variant is available online.

The brand is clearly playing to the mood food trend in its marketing. 'Our Probiotic Wellness Balls help create a healthy and happy belly, which means a bucket load of benefits including more energy and vitality, boosted moods and improved immunity,' the brand's site says.
Staking a claim
Still, with EFSA keeping a close eye on these claims, not all gut health products are as overt about their associations with the mind. For example, sporting legend Jonny Wilkinson launched fermented tea range No 1 Kombucha into Sainsbury's in May with an eye on the mood food trend.

"The benefits these drinks have for mental health is a key focus for the brand," says Wilkinson. However, there are no mood claims on pack, suggesting he thinks the gut health benefits speak for themselves.

It's clearly a fine line to walk. Gut health products have already fallen foul of the EFSA once for their claims relating to the immune system and gastrointestinal tract.

So, claims must be carefully worded to avoid the same issue. On the other hand, products risk missing out on the growing trend if they avoid overtly stating the benefits.

That will undoubtedly be an area of focus for the year ahead. As gut health becomes more and more mainstream, the associations with mood are likely to become ever more high-profile. So food and drink players will be queuing up to offer a new meaning to the term 'gut feeling'.
Can complete nutrition brands win over busy Brits?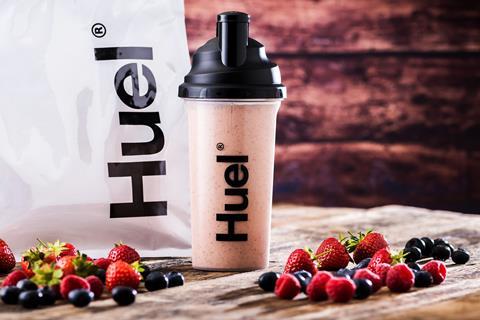 Brits are getting busier. That's not only impacting on the nation's stress levels, it's also influencing eating habits. "Two thirds of Brits say they eat unhealthy meals because they're quicker to prepare," says Lucía Seoane-Pampin, behavioural analyst at agency Canvas8.
Step in meal replacement brands such as Soylent and Huel, promising all the ease of a fast food fix with a much healthier nutritional profile. Huel was the first to market with the 2015 launch of its plant-based powder, which promises all the nutrition the body needs from one meal. There are plenty of opportunities for growth for the right meal replacement brand, says CEO James McMaster.
Indeed, things have moved fast for Huel in the four years since its launch. The predominantly D2C business has amassed six offices around the world, nailed its first retail listing in Selfridges and delivered almost 300% year-on-year sales growth.
"We're one of the fastest growing companies in the UK," claims McMaster. To keep up with demand, the Huel range has expanded well beyond the initial plant-based powder to include snack bars, cereal, other powders and ready-to-drink SKUs.
The UK market has proven so receptive to the concept that it is catching the eye of overseas players looking for their next growth area.
The past year has seen both US brand Soylent and French brand Feed enter the UK meal replacement market. "We noticed a lot of Brits are finding themselves in a situation where they don't have the time or money to get the nutrition they need," says Andrew Thomas, VP of marketing for Soylent. Though the brand is initially targeting urban professionals and students, Thomas says there is a growing market for complete nutrition outside of these groups.
"The category is young in the UK, but it has broad appeal. We're seeing Brits resonating with the brand far quicker than when we launched in the US."