Eggs are among the foods shouting about their naturally high protein content – giving bars and shakes some fresh competition
Britain is going potty for protein. Consumers tucked into just shy of 1.65 billion kg in the past year. And that's just take-home sales.

It's a number that is steadily growing. Over the past five years, protein consumption has risen 3.9% [Kantar 260 w/e 16 June 2019].

You may expect that to be driven by high-profile, high-protein brands such as Grenade and Fuel10K. Or even the whey powders aimed at sports nuts. But truth is, their contribution to the rise of protein is minuscule - the sports nutrition market is only worth £155.6m in take-home sales [Kantar 52 w/e 19 May 2019]. Instead, protein's growth is chiefly down to more basic foods, such as poultry, eggs and certain dairy products.

Now, these foods are upping their efforts to highlight their natural protein credentials. Protein was the theme of this month's British Egg Week. John West is highlighting the muscle-building power of fish. And the British Poultry Council is pushing that chicken is a "great source of protein".

The natural element is key here. Because a quarter of consumers who buy into protein bars and shakes actually prefer to rely on natural sources of protein, according to a survey conducted by Him for The Grocer.
"The protein in eggs is one of the most motivating benefits for young families"
So just how important are chicken, eggs and the like to the protein boom? How is marketing playing a part? And will bars and shakes end up with egg on their face?

Sports nutrition products don't have anything to worry about just yet. After all, appetite for protein means there are plenty of sales to go around. In the past year, value sales of protein bars rose 21.7% to £32.3m. Protein powder is up 5.1% to £17.9m.

Still, the stats on natural protein are on a greater scale. Poultry is now the nation's greatest source of protein, accounting for 11.5% of at-home intake. Protein consumption through poultry has increased 14.3% in the past five years, beaten only by eggs and egg products (up 26.8%) and yoghurt (up 19.9%).

This hasn't happened by accident. In the case of yoghurts, innovation is fuelling growth. The boom in naturally high-protein skyr lines alongside NPD such as Arla Protein has established yoghurt as a go-to source.

For poultry and eggs, however, it's more about highlighting what's already there. 'Protein Power' was the tagline of British Egg Week earlier in October, and British Egg Industry Council chairman Andrew Joret says that was a carefully considered message.

"The protein in eggs is one of the most motivating benefits for young professionals and families," he says. "Millennials are driving the growth of eggs as more are won over by their nutritional benefits and versatility."
Demographics
The target audience is key here. Because younger consumers are the driving force behind the protein boom. Consumers aged 28 or younger have more than doubled their protein intake in the past five years. The under-35s are, in fact, the only age group showing significant growth in protein consumption [Kantar]. Older consumers have, by contrast, slightly reduced their intake.

Interestingly, younger consumers are also most interested in the idea of natural protein. Our research with Him found nearly a third of 18 to 24-year-olds expressed a preference for natural protein sources, compared with just 12% of 45 to 54-year-olds.

That's because these younger consumers are at the forefront of a change in perceptions. Protein is no longer just about sports nutrition. Which means natural elements - foods that simply form part of a balanced diet - are gaining ground. Beef jerky supplier Jack Link's, which is increasingly trading on its protein credentials, has seen this change take place. "Protein is widely perceived as healthy. However its role has evolved from niche muscle building to a more mainstream health focus, with consumers turning to natural protein to fulfil nutritional needs, rather than tailored sporting products," says marketing manager Kenneth Ruigrok. "There's been a dramatic shift towards more nutrition-based choices."
"There's been a dramatic shift towards more nutrition-based choices by consumers"
There is also a growing desire for all things natural - another trait associated with younger consumers. John West brand controller Kate Willoughby believes that is boosting foods that are naturally high in protein. "It's part of the broader 'back to nature' trend," she says. "People are striving to reconnect with nature and are increasingly savvy about what goes into their products. A recent report by Mintel showed that 38% of UK respondents agree that a product with a shorter ingredient list is better for them than one with a longer list."

John West is one brand taking advantage of these trends in its marketing. It has teamed up with two-time Olympic gold medallist swimmer Rebecca Adlington and athlete adventurer Ross Edgley (the first person to swim around the UK) for its Get Yourself Shipshape campaign. The activity, which included sponsorship of the Great Swim 2019 and heavy sampling at running events, reinforces the natural protein content of fish.

Pulses and grains brand Merchant Gourmet is taking a similar tack. It is sponsoring England & GB Hockey in a bid to communicate the high protein and fibre levels of its pouched lentils, grains and seeds.

"A shift in consumer perception is leading shoppers to revert to seeking nutrition in more basic grocery items, instead of supplements and processed foods," says head of brand Nyree Chambers. "Growing awareness and media criticism of the high salt and sugar content that comes as a by-product of processed and refined foods has led to strong consumer distrust in the category, even amongst those brands targeted at health-conscious shoppers, such as niche protein products."

See the rise of bone broths for further evidence of this 'back to basics' approach. Not long ago, it was a niche food favoured by the likes of Gwyneth Paltrow. Now, it's become a fairly mainstream source of protein. Startup Boosh recently became the sixth bone broth brand to be listed by Ocado, winning listings for its organic beef, chicken and Asian spiced chicken broths, which contain 14g of protein per 350g pot.
"Bone broth is making a resurgence as people see the importance of nourishing their bodies"
"Bone broth is making a resurgence as people realise the importance of nourishing their bodies," says brand manager Donna Chappelle. "It has been used as a homemade remedy for generations and we are now realising that our ancestors knew a thing or two about how to take care of themselves."

Even convenience-led products are going down the simple, natural route. See 'on-the-hoof' brand Prime Bar, made with 100% British bred grass-fed beef alongside fruits, herbs and spices. Designed to rival the standard protein bar, it has already won listings in M&S, Ocado and Selfridges.

Prime Bar believes the appetite for meat bars in the US is gradually making its way over here. "One only has to glance over the pond, the barometer for future UK food movements, to see the blossoming appetite for on-the-hoof meat bars, set to be worth $580m by 2021 according to some estimates," says co-founder Freddie Gore Browne.
Nutri-check: how Brits' nutrient intake is changing
| How Brits' nutrient intake is changing | | | | |
| --- | --- | --- | --- | --- |
| | Kg/year | Change y-o-y | Average daily intake | Max/recommended intake |
| Carbohydrate | 81.8 | 0.5% | 224g | 260g |
| Sugars | 38.0 | 2.8% | 104g | 90g |
| Fat | 29.2 | -0.5% | 80g | 70g |
| Protein | 24.9 | -1.2% | 68g | 50g |
| Saturates | 11.2 | 0.9% | 31g | 20g |
| Fibre | 6.3 | 0.7% | 17g | 30g |
| Sodium | 0.9 | -2.8% | 2g | 2.4g |
Numbers in kg represent average yearly per capita consumption of each nutrient, calculated by dividing Kantar figures (52 w/e 16 Jun 19) by the UK population (ONS).
Daily recommended maximum intake is from NHS guidelines.
Fibre is recommended minimum from British Nutrition Foundation.
Plant-based
The above examples are all decidedly carnivorous. But meat and eggs aren't the only sources of 'natural' protein being touted at the moment. For there's one movement that can't be ignored in all this: the rise of plant-based diets. Indeed, sales of meat-free items shot up by 18% to £474.m in the past year [Kantar 52/w/e 14 July 2019].

That's having an impact on the protein market. Consumption of protein from vegetable sources has grown 4.6% in five years [Kantar]. Driving this boom are meat substitute players such as Cauldron, Beyond Meat and Quorn, the latter of which has been particularly busy on the NPD front.

These veggie options all contain different protein sources. Quorn is made from a fungus-derived protein, which a recent University of Exeter study found to be twice as effective at building muscle mass as milk protein. Other meat alternatives are pushing the benefits of pea protein. It's a rapidly growing market, expected to reach $176m (£144m) globally by 2025. One major brand getting in on the act is Birds Eye with its plant-based Green Cuisine range. The burgers, sausages and meatballs launched in March all use pea protein as a base. And it's reporting positive results so far. "We've seen from retailers' shopper data that the range is appealing to new shoppers, particularly families," says Birds Eye's marketing director Steve Challouma.
"We have seen an increase in shoppers looking for a plant-based protein source"
The Meatless Farm Co is another fan of the pea. "Pea protein has been key for our innovation and achieving our aim of creating plant-based products without sacrificing on a taste, texture and nutritional profile," says founder Morten Toft Bech.
On the more experimental side is algae protein. It may not yet have the same following as pea protein, but it ticks plenty of boxes. Namely, it's a complete protein source - boasting all the amino acids that form the building blocks of any protein. Plus, it contains calcium, magnesium, potassium, omega-3 and essential fatty acids. Brands are starting to take note. Take the meatless sausage from Moving Mountains, the brand behind the UK's first plant-based 'bleeding' burger. It uses algae to create the sausage 'skin'.

"We've spent years perfecting the Moving Mountains Banger," says founder Simeon Van der Molen. "We use an antioxidant-rich algae skin to perfectly replicate the pork casing of a traditional sausage and give it the same satisfying bite. Algae is an all-natural and sustainable protein."
Still, you don't need to be that innovative to benefit. As naturally vegan products, nut butters are also capitalising on the plant-based protein movement. Meridian Foods says its nut butter sales are up 3.6%. "We've seen a real boom in the past five years," says head of marketing Sue McIntosh. "With many consumers trying a more flexitarian approach to their diet, we have seen an increase in shoppers looking for a more plant-based or non-meat protein source."
Macronutrients
For the moment, all forms of naturally protein-rich foods seem to be cashing in. Still, it's no time for these foods to sit on their laurels. Because even though protein is growing, it's falling to a slower pace. A year ago, we reported five-year growth of 6.5%. That growth now stands at 3.9%. It means consumption of fibre and fat has grown at a faster rate over the latest five-year period.

So perhaps protein credentials won't be a surefire hit for long. Some suggest fibre could be the next big macronutrient (see p47). But in the world of sports nutrition, where the protein boom originated, something more fundamental is going on.

"We are seeing a shift in consumer attitudes," says Kantar analyst Ben Dixon. "Whilst positive health benefits such as added protein or vitamins, or natural credentials, are the biggest consumer needs in sports nutrition, they are no longer driving growth. Instead, we are seeing growth in products which meet 'managed health' needs such as low fat, sugar or salt content."

It's the polar opposite to what's going on in the wider food and drink market, where the focus is on highlighting positive ingredients, rather than showcasing 'low in' labels. But as we've seen, sports nutrition is often the harbinger for a shift in attitudes. So could protein-rich skyr soon make way for an unexpected comeback for low-fat yoghurt?
Beyond bran flakes: can fibre be the new protein?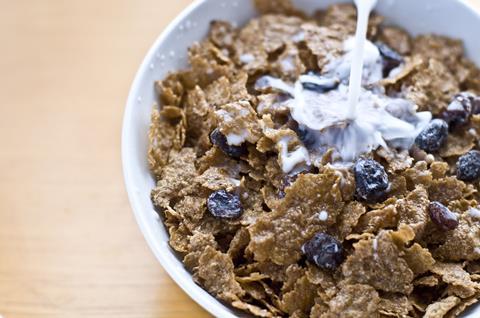 It's the nutrient many of us are lacking. Brits consume around 19g a day, far lower than the government-recommended 30g. Not getting enough is linked to cancer, diabetes and cardiovascular disease. But despite its dietary benefits, fibre has only recently come into the public eye.
"It's been neglected in favour of protein," says Rachel Ousley, senior behavioural analyst at consumer insight specialist Canvas8. It doesn't help that fibre is associated with somewhat bland propositions such as bran flakes. "Sales of high-fibre breakfast cereals have declined, while protein-based breakfasts have been on the up," she says.
That could all be about to change, though. Fibre consumption has grown by 4.4% in the past five years, according to Kantar data. In the past year, growth has even outpaced that of protein.
It's partly thanks to the gut health trend. "People are increasingly learning about the importance of a healthy gut and many are consciously adding more fibre to their diet," says Alan Bird, commercial director at protein drink brand Purition.
It's a trend that has also caught the attention of Dafna Bonas, founder of pretzel snack brand Indie Bay. "Gut health is a hot topic in the media right now, and this is set to continue in 2020, pushing fibre firmly into the spotlight," she says.
That doesn't mean protein is old news. "Fibre and protein go hand in hand – consumers expect their snacks to do more than just satisfy cravings. Both protein and fibre content matter."
Indie Bay is one product to boast both, with 3.1g of fibre and 13g of protein per 100g. Another to nail that combination is Quorn mince, which contains 5.5g of fibre and 14.5g of protein per 100g.
That's because its products are made from mycoprotein, which is high in both. The fibre trend has inspired Quorn to highlight its high fibre content on pack, as well as its plant-based protein credentials.
Meat alternatives like Quorn are in a particularly good place. Meatless Farm Co founder Morten Toft Bech says many plant-based proteins are naturally high in fibre.
So as the gut health and plant-based trends converge, fibre may come out from the shadow of protein to get a boom of its own. (Just don't expect a bran flake revival.)
Innovations in protein 2019