Pie players have put a lid on decline. Volumes are flat in chilled pies, but compared with last year's soggy-bottomed results (when volumes were down 1.5% and value up a modest 1.9%), value growth of 2.4% this year [Kantar Worldpanel 52 w/e 16 August 2015] is as welcome as a pastry product at a picnic.

With customers willing to pay more for the pies they eat, the category has put on £5.6m in a year. But even while price rises and increased frequency offer double-crust delight to the nation's piemakers, they must cook up a way to drive volume growth.

So what can be done to boost volumes? And what lessons can piemakers take from the booming meat snacks sector, which is enjoying continued value and volume growth?

Price increases of 2.4% overall demonstrate consumers' readiness to buy premium pies from brands such as Square Pie, Pieminister and Higgidy.

"The category has made some great leaps forward in the industry-wide trend towards premiumisation," says Mav Howgego, commercial director at Higgidy. "As consumer habits evolve and disposable incomes increase, there remains huge headroom for growth in this area." The performance of Higgidy at the top end of the category (it's up 18.4% in value on volumes up 13%) demonstrates that. "TV shows such as The Great British Bake Off resonate with a consumer trend towards hearty, homely comforting food. Hot pies in general, and Higgidy in particular, are really benefitting from this."

With consumers willing to pay more, what goes into pies is crucial. Encouragingly, post-Horsegate concerns about meat in pies have subsided - Kim Burgess, head of markets at Addo Food Group, previously Pork Farms Group, says it hasn't come up once during consumer research.

There are marked differences in the performance of different proteins, though.

Beef and chicken remain the category's top performers, with beef value sales up 5.7% and chicken pies holding steady. Their performance is overshadowed by this year's rising star: lamb. Sales are up an impressive 26.7% in value (although notably from a low base, with lamb pies now worth £1.4m).

Lamb products in the market include five of Cleone Foods' 20-strong range of Island Delight Jamaican patties, stocked across the big four; Island Delight grew 19% in value this year [Nielsen MAT 12 October 2015]. Charlie Bigham's Shepherd's Pie and Tom's Pies Lamb & Chickpea with Chorizo also represent branded dalliances with lamb, with the use of this more expensive protein fitting in with the overall trend towards premium pies.

Industry players are reluctant, though, to make overly grand claims about the potential of lamb. "For decades the top sellers have been beef and chicken variants and nothing indicates this will fundamentally change," says James Osgood, commercial director of Peter's. "I won't hang my hat on it being the new core protein in savoury pastry!"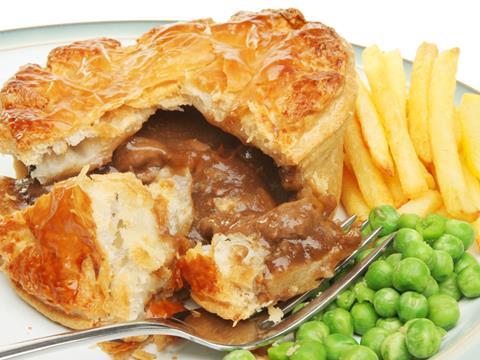 Chilled pies has had a strong year, with growth coming from consistent price increases coupled with volume recovering from last year's 1.5% fall as shoppers buy into the category more frequently.
For the second year running, lamb has had the highest growth. Large price increases in pork and mixed meat, of 27% and 24.6%, respectively led to disappointing figures.
Promotions continue to increase among the big four, with Tesco, Asda, Sainsbury's and Morrisons all above the 46.9% average among retailers. Morrisons' promotional strategy is geared heavily towards volume-based deals but it continues to lose both market share and growth.
Retailers addressed the challenge of improving their private label to combat the growth of brands and did so successfully, with a 3.1% increase in private and only 0.9% in branded sales.
Aldi and Lidl continue to absorb more share, so the big four must continue to improve their private label.
Andy Northway, Kantar Worldpanel
Pork in trouble

While lamb is flying, and beef and chicken hold steady, it's a different story for pork. Pies containing pork are now worth just £1.6m, representing a meager 0.6% share of the overall market, after a dramatic 38.8% drop in volumes on value down 22%. Mixed meat pies have also suffered, with value down 21.2% on volumes down 36.8%.

"Large price increases on pork and mixed meat pies have led to disappointing figures," says Kantar analyst Andy Northway.

Crucially, however, these figures do not include the traditional pork pie (which is classed in a separate category by Kantar), volumes for which are holding steady. And suppliers of pork pies (and pies containing pork) are striking a decidedly positive note.

Addo, which rebranded from Pork Farms after the acquisition of Kerry Foods' chilled savoury pastry business over the summer, suffered a blow when Tesco delisted its range some time ago, but its individual pork pies are now back in the retailer. Consumer response has been strong, says the company's Burgess. "People are pleased it's back, and we've seen strong 12-week growth," she says.

Other brands have invested in the future of pork pies, too. Vale of Mowbray was relaunched in April 2015 with a new logo, online presence and marketing campaign alongside a 'major investment programme' and expansion of its North Yorkshire factory. These efforts are starting to pay off - sales are up 0.9% on volumes up 1.5% [IRI 52w/e 12 September 2015] - and new flavoured pies are in the pipeline for next year (see p55).

There is plenty more potential for brands, especially in the chilled pie secor, where own label dominates with a 67.7% share, believes Northway at Kantar.

Dedicated pie player Pukka made a 2.8% value gain in chilled and, from a smaller base, is 24.9% up in frozen [IRI]. "Pukka is growing due to distribution gains across a number of retailers," says head of marketing Rob Dixon, who also highlights the growth of its larger Family Pie product, which is being listed in a growing number of stores.
Jerky set to take a big bite out of meat snacks
Jerky is giving the meat snacks sector something to chew on. Value sales have grown 52.9% on volumes up 35.8%, albeit from a small base, making the sub-sector now worth £6m.

Average prices have risen 12.5%, and at £42.37 per kilo, the nature of the product helps it command a significant premium over other meat snacks.

"Jerky has had a strong year," says Kantar's Andy Northway. "It's still a relatively small player, but its performance continues to impress."

The sector's big news was the summer merger of longtime collaborators Cruga and The Jerky Group to form Meatsnacks Group. It produces the Wild West, Hogbites, Cruga, Bundu and Texas Joe's brands as well as Men's Health Fuel Beef Jerky and own-label jerky for Marks & Spencer.

"A key driver for growth is better-informed consumers seeking healthier snacks which they see as permissible and guilt-free," says sales director Lisa Gower. "Meat snacks are connected to protein, gluten free and natural functionality trends, hence why jerky and biltong are showing strong growth."

"Jerky has huge potential moving forward," adds David Harriman of Jack Link's Peperami, which is managed through Euro Food Brands in the UK. "We have focused on our Peperami and BiFi brands in Europe and have an office in Berlin which focuses on our jerky products."

Jerky is traditionally made with beef but other proteins are moving in. In March, The Jerky Group launched Hogbites Pork Jerky. And in July Kings Biltong, owned by New World Foods, replied with a pulled pork flavour listed by Sainsbury's.

As the subsector grows, more change is inevitable. "We've moved to pouches, which have better barrier properties and extend product life," says Gower. "As an emerging category there are very few own-label players in the market, but this is set to change in 2016."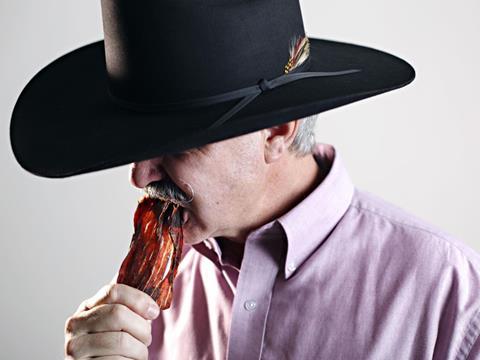 Vegetarian options

Pies are closely associated with meat, but veggie pies are also in very rude health. Though not included in Kantar's read of the chilled pies market, they are increasingly of interest for brands. Howgego says one of the products leading Higgidy's growth is its spinach, feta & pine nut variant. "We're seeing strong growth in meat-free options, driven in part by meat reducers."

Higgidy launched its Snack Pack Sausage Rolls this summer in both meat and veggie variants, while Pieminister's redevelopment of its lighter range, now known as Open Top, includes two Vegetarian Society Approved variants. "Our vegetarian pie sales are also increasing and we've just launched cheese & onion," adds Martin Dewey, founder of Square Pie.

While frozen and chilled ready meal pies performed well, up 4.9% in value and volumes up 2.4% [IRI], it's a different story for canned meat pies. The sector dropped 11.9% of its value, down to £17m, on volumes down 14.8%. Frozen pies have taken a smaller battering, down 2.3% in value on volumes down 5.2% [IRI]. Own label dominates here, but Birds Eye, the biggest brand, has seen volumes rise 0.9% and value slip 2.1%.

"Own label is performing behind the market rate in the frozen pie category, according to Nielsen," says Birds Eye marketing director Steve Chantry. "Our star performers this year have been our traditional range of pies; Birds Eye 4 Chicken Pies is the biggest SKU in the product portfolio." Following the launch of Cheese & Onion and Sausage & Bean Rolls in 2014, Birds Eye extended its commitment to 'informal pastry' with the launch in October of Ham & Cheese Pastry Wraps.

Branded pasties, slices and rolls

Meanwhile, the biggest brand in the pie and savoury pastry market, Ginsters, had a modest value gain of 0.7% accompanied by a matching volume loss of 0.7% [IRI].

But the company's NPD is making its mark - and again, premium cues abound. "We launched our Pulled Pork Slice as a limited edition and our data shows that sales went up 30% in the impulse sector alone," says sales and marketing director Linda Evans. "We've also had some major new business wins this year with our core range of savoury and sandwich products being listed in the new M Local stores. Our heartland is still pasties, and whilst sales of pasties overall are flat in the year to date, Ginsters pasty sales are growing by 1.8%."

Other successes in this area include Pukka, Higgidy and Caerphilly-based Peter's, whose namesake pastry brand is up 2.8% in value on volumes up 4.9% [IRI]. "We attribute this to quality and consistency, standout packaging and marketing support, but also to innovation from our core, adapting top-selling lines to different occasions," says Osgood. "We launched a mini nine-pack of our cornerstone corned beef pasty in April, which has been a revelation for families, lunchboxes and fridge snacking."

The Peter's Seriously Tasty brand, established in 2013, grew strongly following the launch of a pasty range this spring, but its Heinz range has suffered 25% value losses [Nielsen MAT 12 October 2015]. "The pie market is extremely competitive," says Osgood. "We're seeing distribution grow in some sectors while in others branded shelf space has shrunk due to range rationalisation. Our Heinz savoury pastry range has been the one core piece of innovation that has stuck in savoury pastry and driven incremental growth since the launch slices and rolls in 2013. We expect this range to see further growth and range expansion."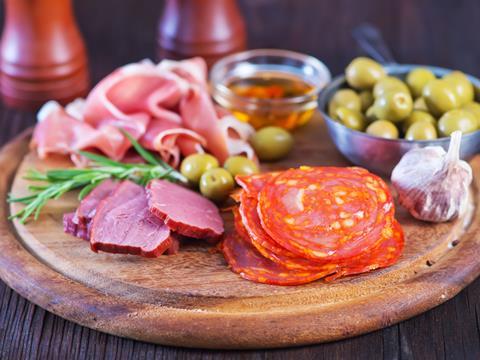 It's been a strong year for meat snacks, with value up 8.9% on volumes up 8% adding a cool £8.6m to category value.
Chicken, the biggest sub-sector of the market, has contributed more than half of this as promotional activity increased and drove volumes. If this continues to increase at the current rate, however, it could prove detrimental, leading to a value decline in the future.
Chorizo, like chicken, has benefitted from falling average prices with shoppers buying into the sector more frequently.
Jerky has also had a strong year with sales up 53%, although from a much smaller base, as prices increased 12.5%.
Salami, which was a major beneficiary of last year's penetration increase (up 12.5% in value), has suffered this year with a 0.5% reduction in value although volumes are holding steady.
In the next year, being able to maintain growth alongside declining prices will be a serious challenge. for retailers.
Andy Northway, Kantar Worldpanel
Retailer ranges

Among chilled pie retailers, Waitrose and Marks & Spencer continue to outperform the category, while Morrisons, The Co-op and Asda are in decline. "Morrisons has a promotional strategy geared heavily towards volume-based deals, with 60.6% of volume currently sold on promotion," says Kantar's Northway. "Despite this, Morrisons continues to lose both market share and growth."

This year's favoured mechanic is the temporary price reduction, says Higgidy's Howgego. "There's been a lot of movement this year in retailers' promotional strategies, particularly focused on the merits of single price points over multibuys."

Brands including Kepak's Rustlers have consolidated their ranges this year, while Pork Farms recovers from its Tesco delisting. "There's been rationalisation across the piece, but a number of little things have happened," says Burgess of Addo. "M&S moved to a more premium handcrafted range, Asda relaunched their hot pies. The Co-op have done a redesign on their packaging and have been back in positive growth from a 12-week perspective; even just a redesign is making an impact from a consumer point of view."

These moves may explain why own label has secured further growth in chilled pies, up 3.1% over the past year despite lowered volumes [Kantar]. "Retailers addressed the challenge of improving their private label to combat the growth of branded products within their stores," says Northway. "Aldi and Lidl continue to absorb market share, so the big four must continue to improve their private-label offering."

Piemakers know pastry, but given the boom in meat snacks some are eyeing the sector for growth. In March Ginsters raided the innovation fridge to launch Ginsters Meat Club, bagged and skewered chicken-based snacks aimed primarily at adults.

It's no surprise meat snacks have attracted attention: continued growth has seen value rises of 8.9%, and it's now worth £104.5m. Volumes are up 8% and brands are bullish about the potential for further growth.

It's been a year of change for established meat snack players. With its sale from Unilever to US-based Jack Link's complete, category leader Peperami's value sales rose 4.1% on volumes up 4.8% [IRI]. The new owners launched a bread-wrapped Peperami Roll in October (see p57).

"We're now ready to accelerate the growth into 2016. We've got a lot of news coming, and we're investing heavily in store and through marketing," says David Harriman, UK country manager at Jack Link's Peperami. "We believe this category has the potential to grow by more than 50% over the next three years, and our ambition is to lead a disproportionate amount of that growth."

Peperami came up against some stiff competition in March as ZMI Group launched its ambient pork salami stick Snackeroni into 500 Asda stores. But Harriman insists it hasn't affected sales of Peperami. "I think consumers still expect in the main to find meat snacks in a chilled location," he says.
What makes a Genuis in free-from pastries?
Making gluten-free savoury pastry is no mean feat, but with the free-from category in decidedly rude health, brands are now readily embracing the challenge.

There are two consumer types: those who have a medically diagnosed allergy or intolerance, and those pursuing a 'healthier' way of eating.

So, what opportunities are up for grabs?

"Recent times have seen a major boom in the free-from bakery category, as an increasing number of shoppers are turning to a gluten-free or gluten-light diet as a positive lifestyle choice," says David Shaw, UK sales director at Genius Gluten Free.

The brand recently added frozen roast vegetable quiches and sausage rolls, stocked at Asda, to the Chicken & Gravy Pie and Steak Pie frozen SKUs introduced to Tesco and Morrisons in May.

In 2014, Addo launched its No G brand, listed at Sainsbury's and Ocado, which includes savoury pies alongside quiches, sweet tarts and sausage rolls with the tagline Too Good to Be Gluten Free.

Addo produces No G at its Riverside Bakery in Nottingham. "It's been a long time in development, they have created a mini-factory within a factory," says Kim Burgess, Addo's head of markets says.

"Base sales have grown 50% in six months and repeat purchase is strong. It needs to deliver, otherwise you'll only get gluten-intolerant consumers; the bigger win is looking for the healthy lifestyle consumers."

Further growth is predicted, meaning private-label players will be watching closely.

Marks & Spencer already has sausage rolls and multipack pork pies among its Made Without Wheat gluten-free range, while Tesco has stayed on the sweet side with its cakes, biscuits and pies.

"I'm sure private label will be interested, but for us it's about driving the brand," says Burgess. "I haven't tasted a gluten-free product of the same standard yet."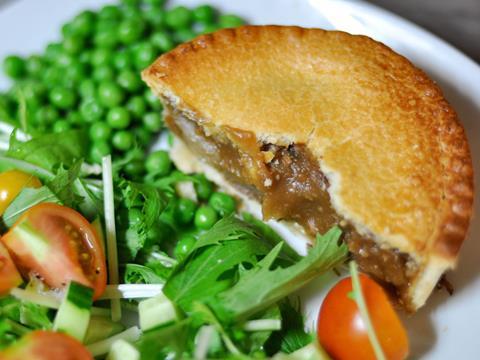 Savoury snacking

Peperami aims to tap adult snacking occasions, convince parents of the merits of protein-based snacks, grow penetration and increase the visibility of the category. These ambitions are broadly shared by Kerry Foods' Mattessons brand, which has turned around last year's disappointing results to produce double-digit value and volume growth.

"It's been a phenomenal year," says Chris Owen, meats marketing controller at Kerry Foods, owner of Mattessons (home of Fridge Raiders, Double Dippers and new lines Strip Sticks and Savagers) and new tertiary brand Meateors. "Savoury snacking has started to take off. People are accepting that they can snack on meat and it's great for protein diets. Retailers have started to get behind it and merchandise it in the right places."

Chorizo, chicken and jerky are where the growth is in meat snacks, while bratwurst and salami have lost value. "Chicken has continued to rise as store promotions are more present," says Kantar's Northway.

"This consistent increase in promotions could lead to a general reduction in the value of the category, which could be detrimental to its longevity. Chorizo remains the only category where non-promotional growth is growing faster than promotional, and continues to excel in value growth year on year."

The simple explanation, borne out by the presence of a chorizo variant in Mattessons' Savagers launch (see box) and Proper Cornish's introduction of its Chorizo Sausage Roll, is that Brits continue to love chorizo.

Brands dominate in meat snacks with 75% of the market. Meat snacks are, says Kerry Foods' Owen, the natural home of brands - the clue's in the occasion. "It is snacking; it's not a slice of meat, a pie, a sausage roll." But me-toos are not unheard of; Aldi has its Meatster Snack Salami and chicken Snackers and Meatsnacks Group's Lisa Gower expects to see more own-label jerky in 2016.

Both Kerry Foods and Peperami are exploring ways to boost the visibility of the category. "We're working with retailers to make meat snacking a destination both back of store and front of store in food to go," says Owen. "We've seen strong rates of sale and have expanded listings as people have started to buy sandwiches and a meat snack for lunch."

Given meat snacking's obvious convenience credentials, it's surprising to see independents and symbols suffering a value loss of 42.5% in meat snacks [Kantar]. Ginsters' Meat Club may be one answer; it launched in all channels in the impulse sector in March.

Advertising

In a year in which traditional advertising spend in savoury pies and meat snacks dropped by almost half, brands have been making creative use of digital as well as on-pack promotions. Higgidy claimed Friday nights as pie nights with its Higgidy Sofa Supper campaign, with stars of Channel 4's Gogglebox taking part in its experiential activity earlier this autumn. Limited editions for sporting events have worked well for Mattessons, which also set challenges for YouTubers to create a Fridge Raiders robot.

The biggest ad spender in the category, Peperami, reduced budgets only marginally to just over £900,000, all of it spent on TV. "We did the relaunch of our brand through the King of All Snacks advert, which went live in May," says the brand's David Harriman. "Our advertising is iconic and well received, and we can use that and some of the big events happening next year to raise awareness of the brand."

Investment in advertising is set to be key next year. With the Olympics and European Championships forthcoming, the next summer of sport could also be the summer of meat snacking.

Pastry players will want to remind Brits that nothing goes with football like a pie.
Peperami Roll

Launched: October 2015 
Manufacturer: Jack Link's Peperami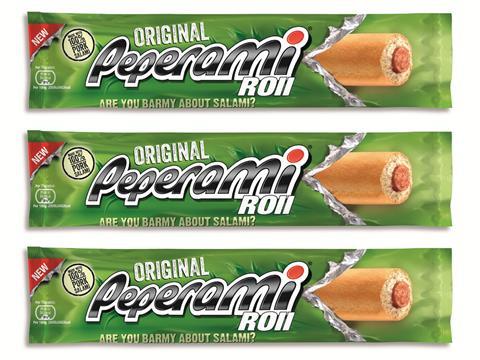 Peperami's new owner Jack Link's has unleashed its first innovation for the brand in the form of a 75g smoked salami sausage wrapped in soft baked bread. In line with the category trend for 'big eat' adult meat snacks, it's available in an Original variant in single and multipack formats (rsp: £1.25/75g or £2.50/3x50g) or as a Hot multipack David Harriman of Jack Link's Peperami says: "It's a bigger product, and it's about making the brand more accessible to more people on more occasions."

Mattessons Savagers

Launched: September 2015

Manufacturer: Kerry Foods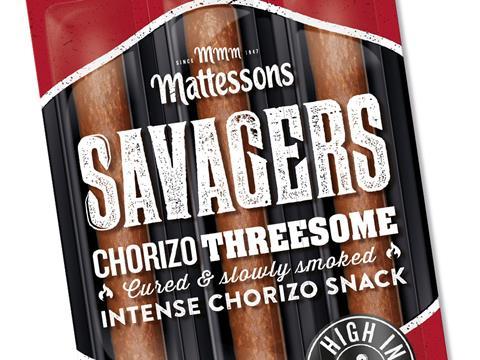 Mattessons' is urging consumers to "rip open & gorge" its Classic Chorizo and Smoked Salami Savagers cured meat sticks. Made with 100% pork and cured over seven days, they are available in single and multipack formats (rsp: £1.69/3x25g and £0.79/25g). "It's quite masculine," says Chris Owen, meats marketing controller at Kerry Foods.

Strive Biltong and Jerky

Launching: January 2016

Manufacturer: Meatsnacks Group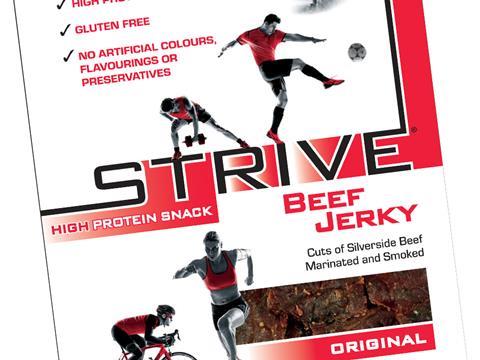 Aimed at active adults, Strive's high-protein snacks come in Beef Jerky and Beef Biltong variants. The packs (rsp:£1.99/35g) emphasise protein snacking's positive associations with a range of sports and trumpet each variant's protein content, gluten free credentials and lack of artificial colours and flavourings.

Meateors

Launched: April 2015

Manufacturer: Kerry Foods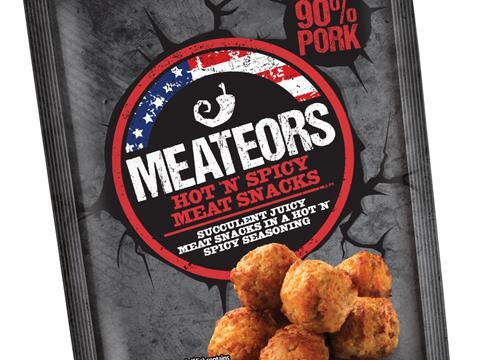 Originally launched in a BBQ flavour, Kerry Foods' adult meat snack now also has a Hot'n'Spicy variant. Meateors are bagged ready-to-eat 90% pork meatballs (rsp:£1.49/110g) and are listed by Tesco, Asda and Ocado. "Meateors is targeting adults who want a real hearty big eat," says Kerry Foods's Chris Owen.
Flavoured Pork Pies

Launching: Spring 2016  
Manufacturer: Vale of Mowbray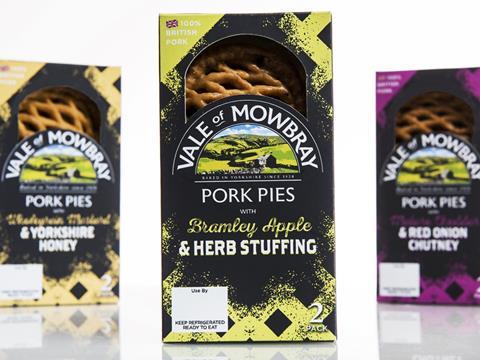 Following the expansion of its Leeming Bar production facility, brand and own-label bakery Vale of Mowbray will launch a range of flavoured, lattice-top pork pies. Available in individual pie (rsp: £2.50/350g) and two-pack (rsp:£1.39/2x75g) formats, the seven-strong range includes Caramelised Onion & Red Leicester Cheese, Chipotle Barbecue Sauce, Mature Cheddar & Red Onion Chutney, and French Wholegrain Mustard & Yorkshire Honey variants. Listings are to be confirmed.

Spiced Chicken Sambousek

Launched: September 2015

Manufacturer: Marks & Spencer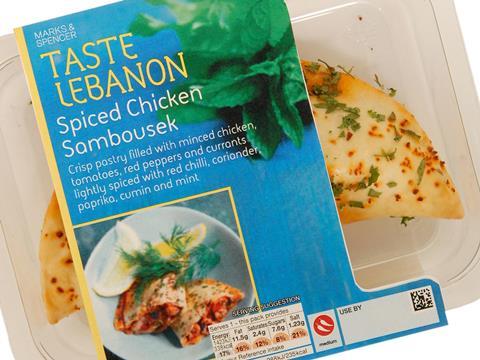 Part of Marks & Spencer's Taste collection introduced in September, this half-moon pastry (rsp: £3.50/144g) is filled with minced chicken, tomatoes, red peppers and currants and spiced with red chilli, coriander, paprika, cumin and mint. Inspired by Middle-Eastern flavours and techniques, the sambousek are also stuffed with cheese or lamb.

Delisanté Galettes

Launched: April 2015

Manufacturer: Delisanté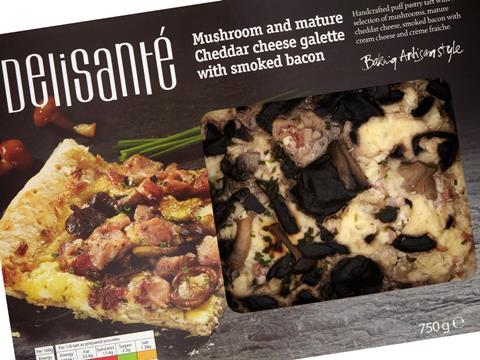 These French-inspired open tarts have been exclusive to Ocado since their launch earlier this year. Available in Grilled Pepper, Cherry Tomato & Mozzarella, and Mushroom & Mature Cheddar Cheese with Smoked Bacon (rsp: £7.99/750g), they are made with handcrafted puff pastry with a cream cheese and crème fraiche base.

Wall's Pies

Launched: September 2015

Manufacturer: Addo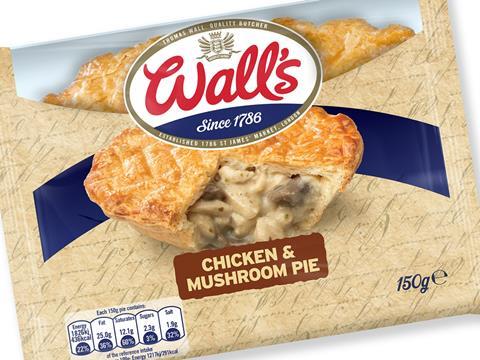 Wall's has launched limited-edition chilled pies as a response to an unlikely habit. "A lot of guys eat chip shop-style pies cold," says Addo's Kim Burgess. Although intended to be eaten hot, Wall's pies can be eaten straight from the chiller. The pies are available in two variants, Chicken & Mushroom and Steak (rsp £1/150g).