High street sausage rolls are off the menu again. So shoppers are bringing their favourite porky snacks indoors. Who's cashing in?
How the mighty have fallen. Before Covid, Greggs seemed unstoppable. Sales and profits were, quite literally, on a roll. The bakery chain entered spring feeling positive, having posted sales growth of 13.5% to £1.17bn for 2019.
Two national lockdowns later, and the king of sausage rolls looks in danger of losing its crown. Greggs warned from the outset the prolonged closure of its shop operations would result in a net weekly cash outflow of £5m. The full force of that was felt this week, as Greggs announced plans to cut more than 800 jobs.
That doesn't mean Brits are forgoing their sausage roll fix, though. While Greggs is suffering, savoury pastries are flying in retail. Sales grew 7.4% to £1.4bn in the past year [Kantar 52 w/e 4 October 2020], as shoppers filled their trolleys with sausage rolls, pork pies and pasties.
Brands have further encouraged this move with trend-led innovations that replicate the out-of-home experience. All this has left Brits pigging out at home like never before. So who's winning?
One thing is for sure: Britain's love for pastries hasn't wavered during lockdown. Many of the staples you'd find in Greggs have done particularly well in retail. An extra £16.7m worth of sausage rolls went through the tills in the past year, equating to a 10.4% rise in value [Kantar]. Pasties grew 8.9% to £99m. And pork pies emerged as a particular favourite, up 12.1% to £208.4m.
"No longer are consumers looking for food to go, but rather snacks throughout the day"
So it's no wonder seven of the top 10 savoury pastry brands are in growth this year [Nielsen 52 w/e 5 September 2020]. Together, those brands brought in an extra £25.6m.
In this tumultuous environment, what determined the winners was their willingness to adapt. See market leader Ginsters, up 4.9% to £102.1m [Nielsen]. Its own figures from IRI, which include the discounters, show faster growth of 8.6%. Either way, the brand has certainly made headway despite this year's upheaval.
That's no small feat. Ginsters MD Kieran Hemsworth points out the disruption of Covid-19 was felt even among retail-focused brands. "We had a nice tried-and-tested marketing plan, which involved sampling of Ginsters at 24 events across the country," he recalls. "We got into March all ready to go and had to totally pivot the plan and put a lot more focus behind social and digital and PR and shopper marketing.
"That's been focused around the big growth occasion we've seen, which is the work from home lunch," Hemsworth adds.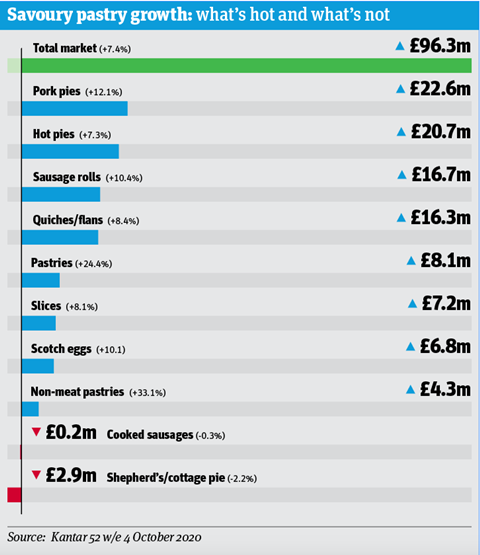 Brits are wolfing down savoury pastries like there's no tomorrow. Overall, they bought an extra £96.3m worth in the past year – equating to 34.8 million more packs. That means only two sub-categories – cooked sausages and shepherd's/cottage pies – are in decline.
"The category's performance is driven by an increase in basket size, where an average of 1.6 packs are bought per trip, up by 3.3%," says Kantar analyst Katie Woods.
Value was also boosted by a 3.2% increase in average price per pack. "All sub-categories, excluding hot pies, down 2.2%, have seen an increase in average price," says Woods.
This price increase was driven by shoppers buying into more premium products and increased appetite for branded lines, which grew 11.5% in value. Own label, which tends to be cheaper, grew at a slower rate of 6%.
That's partly because brands have been quicker to capitalise on the plant-based trend, says Woods, who points to the Ginsters Quorn pasty, launched last September, as "one of the most noticeable NPDs in the past year", alongside Pukka's range of vegan pies.
New occasions
It's proven a savvy move. As millions of workers have traded the office for their living rooms, the at-home lunch has emerged as a massive opportunity for savoury pastries. It's an occasion Higgidy credits with its staggering 28.5% rise to £33.4m [Nielsen]. The brand says at-home lunches have grown more than 30% in the past year – meaning anyone in this space stands to win big.
"No longer are consumers looking for food to go, but rather snacking products, such as sausage and veggie rolls, to grab throughout the day and quick but savoury pastry products, such as quiches, for lunchtimes," it says.
Indeed, at-home snacking is another occasion that has seen a massive uplift. Higgidy has catered for that with the launch of its Mini Spinach & Cheddar Muffins, which are "performing ahead of other snacking and sharing lines in the range". Meanwhile, Ginsters rolled out vegan Mexican empanadas this month. "If you're stuck at home it's easy to go to the fridge and pick out bite-size products, so out-of-home snacking has come into the home as well," says Hemsworth.
"If you're stuck at home it's easy to go to the fridge and pick out bite-size products"
These new occasions are influencing consumer attitudes to the category. No longer forking out a fiver for an out-of-home lunch, shoppers are increasingly happy to pay for a more premium supermarket pastry. As a result, average prices have risen by 3.2% across savoury pastries [Kantar].
"With consumers looking for comfort and a little bit of luxury in uncertain times, premium has been a key focus for shoppers," says Higgidy CEO Mark Campbell, who points to an 11.5% rise in sales of premium hot pies, quiches and rolls over the past year.
Brands have responded in kind with products that scream quality. Ginsters' Hemsworth points to the launch of the brand's deli-style pork rolls in June. If that wasn't fancy enough, it even unveiled a Wagyu Beef and Truffle Oil Pasty in February, exclusive to Selfridges.
That's not the only way of communicating premium, though. Brands have also been busy replicating the out-of-home arena to tempt shoppers to part with their cash. That means Greggs has plenty of rivals for the title of best vegan sausage roll. Ginsters unveiled its Quorn sausage roll in February, while Birds Eye followed with the launch of a meat-free roll under its Green Cuisine brand in June. They've been accompanied by a host of plant-based innovations that aim to rival foodservice.
And if you can further communicate out-of-home credentials with your brand name, all the better. Iceland says its exclusive Greggs range enjoyed "exceptionally strong growth" during the first lockdown, when the bakery chain closed its doors. Over the full year period, it's up 32.5% to £47.4m [Nielsen].
Frozen boom
Plus the Iceland range has another string to its bow: it's frozen. As shoppers have sought to limit their supermarket trips during Covid-19, frozen food has proven an area of hot growth – and savoury pastries are no exception. Overall, frozen savoury pastries have grown ahead of the market, up 17.8% to £133m [Nielsen].
It's a trend that's been noticed by Pukka, which reports frozen pies have "performed particularly strongly" this past year. For category controller Julie Stevens, the reason behind their popularity is clear. "They fit the bill for a quick and convenient meal option at the end of a working day," she says.
"With consumers looking for comfort in uncertain times, premium has been a key focus"
As the leading frozen food champion, Birds Eye has been actively encouraging this appetite with promotional activity to drive trial and attract new shoppers to the frozen fixture.
It believes the long-life nature of frozen products is just one attraction. The new, trend-led products in the freezers are also tempting shoppers, says Anne-Marie Gayer, senior brand manager at Birds Eye. "The popularity of frozen pastry products is led by high-street eating, with people wanting to replicate that experience at home," she says.
Of course, with a vaccine in sight and the national lockdown coming to an end, the high street is set to reopen again. So shoppers will once again be able to flock to Greggs for their pastry fix. But the question is: having tried cheaper and equally convenient supermarket offerings, will they want to?
Plant power: how the big names in pastry are going vegan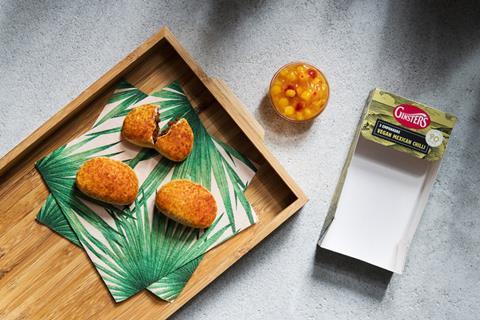 Ginsters
Number of vegan SKUs: Five
Latest NPD: Vegan Mexican Chilli Empanadas
If you want to venture into plant-based, you may as well team up with an expert. That was the thinking at Ginsters last year, when it partnered with Quorn to produce a range of vegan SKUs. The Ginsters Vegan Quorn Pasty hit shelves last September, followed by a steak slice in October and a sausage roll this February.
Quorn hasn't been its only external partner, though. Its latest innovation – a vegan Mexican empanada – uses Gold&Green Foods' Pulled Oats.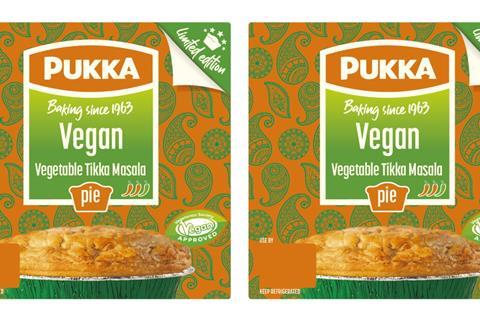 Pukka
Number of vegan SKUs: Two permanent products
Latest NPD: A limited-edition Vegan Tikka Masala Pie
The self-proclaimed 'people's pie' brand caused a stir in September when it launched its first vegan pies. Kantar names the Vegan Chicken & Mushroom and Vegan Minced Steak & Onion pies, made with soy pieces, among this year's most notable innovations. And Pukka says sales have "far exceeded our expectations".
The pie brand is clearly keen to keep that momentum going. For Curry Week this year, it unveiled a limited-edition Vegan Tikka Masala Pie.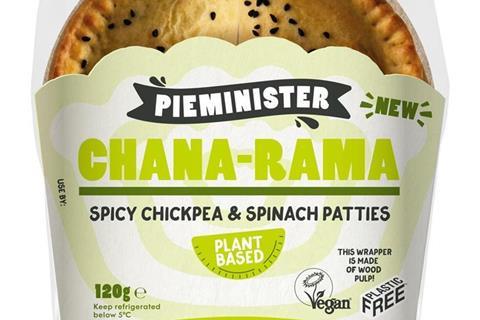 Pieminister
Number of vegan SKUs: Seven
Latest NPD: Chana-Rama patty
It all started with Kevin. Kevin the vegan pie, that is. That was the first vegan SKU from Pieminister, which has since rapidly beefed up its plant-based range with variants such as its Mooless Moo and Mock-a-doodle pies.
This Indian-inspired Chana-Rama patty, which packs chickpea, spinach and potato into a saffron pastry, is the latest addition to its vegan line-up. It will launch into Waitrose this month in plastic-free packaging, and is designed to be a "quick, easy lunch option".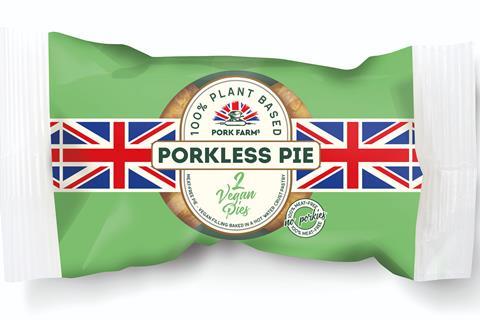 Addo Foods
Number of vegan SKUs: 16
Latest NPD: Pork Farms Porkless Pie
Across its entire operation – Wall's, Pork Farms and white-label products – Addo Foods has an impressive 16 vegan SKUs. Twelve of these are white-label products for the retailers. Meanwhile Wall's has three vegan products, including Vegan BBQ Jackfruit Rolls. And Pork Farms has one: the Porkless Pie, rolled out in October. Using pea protein to mimic the texture of meat, it rolled out to Asda in mid-October. Brand manager Mike Holton said demand for meat alternatives was "not just a passing trend".


Emma Weinbren is managing editor at The Grocer. As second-in-command to the editor, Emma is responsible for the day-to-day running of The Grocer in print and leads The Grocer's features desk.

Emma won the PPA New Talent Award for New Section Editor of the Year in 2016. Prior to joining The Grocer in 2016, Emma was deputy and features editor at Chemist+Druggist, a weekly magazine and website for UK pharmacists.

Follow Emma on Twitter: @EmmaWeinbren