With pressure from PHE to cut back on sugar and health a rising concern for shoppers, could veggie desserts be the next big thing?
Celery cheesecake, anyone? Don't judge too soon. Vegetable-based desserts have already won a place on fine dining menus, from modern Mexican restaurant Ella Canta's corn sponge cake to the Jerusalem artichoke, toffee apple & salted caramel creation at Michelin-starred Fera at Claridge's. Now they could be making their way into the mainstream. For although the desserts category is looking good on the face of it - value sales increased by 3.6% to £2.5bn over the past year [Kantar Worldpanel 52 w/e 22 April 2018] - it faces plenty of challenges ahead.

As the war on sugar rages on, puddings are among the nine categories challenged by Public Health England to reduce sugar content by 20% by 2020. Plus, increasingly health-conscious younger consumers are starting to shun calorific post-dinner treats. According to Kantar Worldpanel, under-28s decreased their share of spend in desserts by 7% over the past year. That's even higher for hot desserts.

The category has recognised the need to adapt, and this year has heralded the launch of many desserts that are more permissible than your standard apple crumble with custard. Vegetable cheesecakes made their way into retail for the first time thanks to Waitrose, and startups are using ingredients such as courgette purée as a replacement for butter. There have also been plenty of free-from and low-calorie launches looking to tempt the healthy-living crowd.

So can veggie puds really tempt consumers away from more sugary options? Or will there always be a place for pure indulgence? And what other trends are shaping the desserts category?
Parts of Asia use sweetcorn, red beans, yam and root vegetables as dessert ingredients
Brits wouldn't be the first to embrace the vegetable dessert. Several parts of Asia use sweetcorn, red beans, yam and root vegetables as dessert ingredients and toppings, points out The Grocer's sister publication FoodSpark, which analyses food trends.
Waitrose introduced this trend to the UK in June with a duo of sweet vegetable cheesecakes. Available in Avocado & Lime (yes, avocado is technically a fruit) and Beetroot & Raspberry variants, the two-slice packs (rsp: £4) contain 30% less sugar than the retailer's New York Cheesecake with Raspberry & Passionfruit. "Carrot cake has been around for years and Instagram is filled with chocolate cake recipes using beetroot, but we'd not come across vegetables being used more widely in desserts," says Waitrose dessert developer Samantha Cooke. "We knew our customers would love this trend, so decided to start experimenting." The range has since disappeared from the retailer's shelves, but will return next April.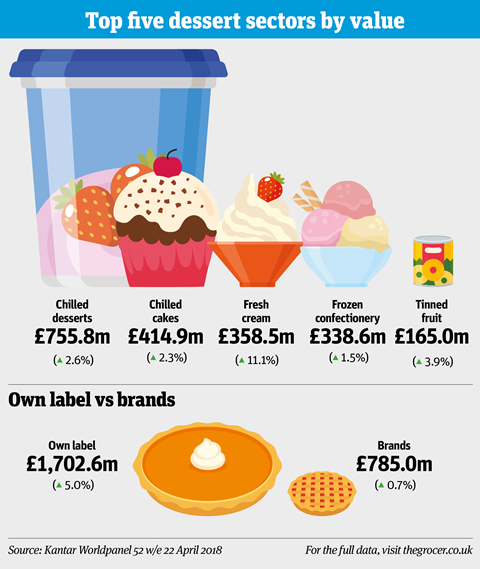 Find the full data at the bottom of this report

One brand hoping it will mark the start of a mainstream veggie following is Gato & Co, which launched its three-strong pilot range into Selfridges in January last year. Including a chocolate fondant that contains 26% aubergine and a salted caramel, courgette-based sticky toffee pudding, it has since gained several listings, including at Sainsbury's.

Co-founder Kim Lamza admits the brand faced an uphill battle in convincing Sainsbury's customers to give veggie desserts a go. "It hasn't been easy. Food bloggers like Deliciously Ella have made products like sweet potato brownies more widely known, but Brits just aren't accustomed to seeing veggie desserts on the shelf."

Fellow veggie dessert brand Blackberry Cottage says it is a matter of breaking negative preconceptions. "A lot of consumers will read 'spinach brownie' and imagine it tastes of spinach," says founder Kate Saunders. "Once shoppers have tried the desserts, they're always amazed at the taste, but that initial perception is hard to break."

Still, Saunders believes the support of bigger players such as Waitrose - along with concerns over sugar - will help things along. "We're seeing more people willing to experiment with new and healthy alternatives to high-sugar products."
"More people are willing to experiment with healthy alternatives to high-sugar products"
Vegetables aren't the only way of making desserts healthier, though. Given the appetite for free-from produce, some brands are turning to gluten-free and dairy-free options. One such free-from brand is Freaks of Nature. It claims to contain 50% less sugar than standard desserts in its creations, which include a Mango Fandango and Cocoa Loco chocolate ganache. Founder Peter Ahye believes this is the way to attract the younger generation. "More young consumers would buy into the sector if there was a greater scope of products with natural ingredients and lower sugars."

Retailers seem to agree. Tesco began listing Freaks of Nature puds in April and has continued investing in its own free-from dessert range, which has racked up £500k more sales than its nearest rival in free-from desserts, M&S [Kantar Worldpanel].

Another healthy brand capturing the attention of the big four is Oppo. The brand ventured into desserts for the first time in June with the launch of its three-strong range of low-sugar cheesecakes into Sainsbury's stores (see right). "We saw a gap in the market," explains brand co-founder Harry Thuillier. "As the nation becomes more conscious of their sugar and calorie intake there's an opportunity for desserts that don't include unnecessarily high levels of both."

It says something that Oppo counts younger consumers among its core clientele. "We know that 80% of our customers don't have children, which suggests a fair amount of them are younger or pre-family shoppers," says Thuillier. "Typically the pudding aisle is being skipped by younger shoppers because it's full of high-sugar products; it's a big deterrent for these consumers."

Even traditionally indulgent brands such as Pierre Marcolini are taking these findings on board. Its new collection of ambient desserts launched in June, boasting a reduced sugar content and single serving sizes to avoid overindulgence. "We wanted to move away from classic desserts like tarte tatin to tempt younger audiences," states Marcolini.

If brands can get health right - along with taste - they stand to make important gains. For they are currently fighting a losing battle against own label, already a dominant force in desserts. "The gap between own label and branded increased this year, with private label now controlling over 68.4% of the category," says Kantar Worldpanel analyst Benjamin Montague.

With volume sales of branded desserts dropping 6.5% [Kantar Worldpanel], Gü marketing manager Hannah Kehoe believes healthy innovation is necessary to get back in the game. "Perceived healthier options have become one of the top consumer considerations in dessert purchases, so 'healthier' takes on known and loved products could give brands the up on cheaper own-label products," she says. The brand plans to expand its Light Gü Mousse Fusions range to include a Lemon & Lime variant in October to further appeal to shoppers looking for guilt-free indulgence.

Despite the focus on health, there will always be room for indulgence, adds Premier Foods brand director Daniel Jalalpour. "Shoppers are still looking for premium, luxury dessert options, and we anticipate that trend to continue." Still, if you're looking to tempt in younger consumers and address sugar concerns, you could do worse than a beetroot cheesecake. Spoons at the ready.
Innovations in desserts 2018
Click pictures to expand