As retailers up their game in plant-based, you have to be quick off the mark to win the battle for this ever-more influential consumer
There's no allowing for slow reactions in the world of plant-based. In the past two months alone, two of the big four have launched new ranges, alongside too many branded innovations to mention. For the winner of this quick-fire activity, there's plenty of growth to be had. Sales of meat-free and vegan items have shot up by 14.3% to £352.1m over the past year [Kantar Worldpanel 52 w/e 12 August 2018]. Outside of free-from, that makes it the second fastest-growing category in grocery in percentage terms.

That retailer ranges are spearheading this growth - own label is up 20.3% - is no accident. For this has been the year supermarkets have begun an all-out fight for the plant-based consumer. Tesco launched its 20-strong Wicked Kitchen range in time for Veganuary (the number of SKUs has since doubled to include cakes, pies and desserts). Sainsbury's has unveiled a number of innovative products from BBQ jackfruit to mushroom-based 'shroomdogs'. Morrisons unveiled a range of frozen ready meals, nut cutlets and veggie burgers in September, shortly followed by the rollout of Asda's plant-based ready meals at the beginning of October.
Download the PDF version of this report
---
It's not just the big four, either. Iceland has pushed its No Bull range, most notably including the 'bleeding' burger that became its bestselling product of the summer. Just last month, Waitrose debuted 30 own label veggie meals after reporting a 71% increase in sales of vegan and vegetarian products compared with 2017.
Consumer demand shows no sign of slowing. According to the Vegan Society, there were 542,000 vegans in the UK in 2016, representing a 360% increase over the previous 10 years. But it's not just an increase in veganism that's fuelling the plant-based trend. Consumer research by Mintel found 56% of UK adults eat vegetarian or meat-free foods, and 34% have reduced their meat intake, pointing to plenty of growth opportunities with mainstream consumers.
So who's winning the fight for the ever-more influential plant-based consumer? Which retailers have been quickest off the mark? And what will be the tactics for ensuring future growth?

In terms of share, there are two dominant players. Sainsbury's and Tesco jointly account for over half of the meat-free value sales through the supermarkets and discounters, overtrading and dwarfing other players [Kantar Worldpanel 52 w/e 12 August 2018]. They're continuing to press that advantage with value growth of over 15% each.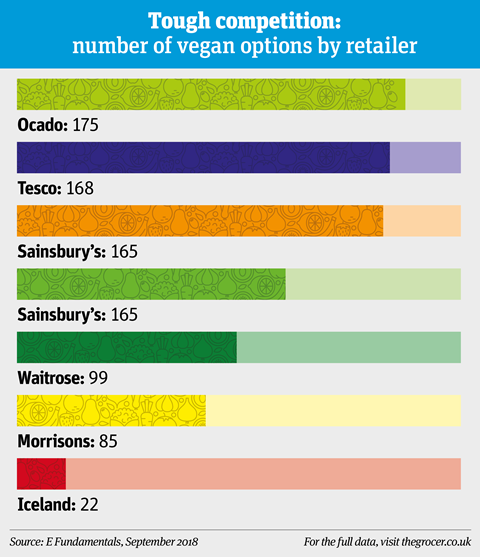 Find the full data at the bottom of this report
Battle of ranging
This success is partly linked to the size of their ranges. An analysis of retailer sites by E Fundamentals in September found Sainsbury's and Tesco had the largest number of vegan SKUs available, aside from Ocado (which hugely overtrades in the meat-free market). It may not be that way for long. Asda and Waitrose are close behind and are rapidly increasing their offerings, meaning there's still everything to play for.

Whoever wants to win that battle will have to pay attention to the quality of their range as much as SKU count. Looking at Kantar data, it's clear some subcategories are growing much faster than others.

One area showing particular promise is vegan snacking, up by nearly 40% or £7.7m. "Research by the Vegan Society identified that over 90% of those following a vegan diet felt there was a lack of plant-based snacking products on the market," says Nicola Yates, marketing manager at Fry's, whose range includes offerings such as vegan sausage rolls or chicken-style strips. "There has been shift in emphasis from offering a few easy options to genuine interest in new flavours and ingredients, offering a wider and more sophisticated selection of plant-based choices."
"Over 90% of vegans felt there was a lack of plant-based snacking products on the market"
Ready meals are another area that stands out. At a total level, this was the second fastest-growing sub-category by percentage, with a 22.7% rise. The growth was even more apparent in own-label ranges, whose value shot up 30.8% to net an extra £4.3m.

This demand perhaps stems from the fact vegan cuisine is relatively new to UK consumers, who may need a little guidance in putting together an entirely plant-based meal. Alpro UK & Ireland marketing director Vicky Bhattu explains it requires a change in mindset. "The traditional western diet starts with the non-plant element and adds things around it, whereas we're focusing on the Mediterranean style of eating, which means putting plants first," she says.

The plant-based boom hasn't just required a change in mindset among consumers, though. Retailers have had to put a huge amount of thought into merchandising. At a first glance there seems to be little strategy from retailer to retailer, or even product to product. Sainsbury's, for example, launched Naturli Plant Based Mince straight into its meat cabinet earlier in the summer, but last month placed The Meatless Farm Co's burgers and mince into meat-free chillers. On the other hand, Waitrose partitions its vegan and vegetarian ranges in specialist sections of the store. As both retailers overtrade in meat-free and vegan sales, you could argue there is no right or wrong answer.

Yet the lack of united strategy could leave consumers confused, warns Tony Watson, director of Meat The Alternative. He'd like to see retailers place plant-based alternatives next to the meats they take inspiration from, to help capture the growing number of consumers who want to reduce their meat intake.
Many of the new wave of meat alternative brands agree. Beyond Meat recommends retailers merchandise its Beyond Burger alongside standard hamburgers when it makes its debut in Tesco (news of the arrival date is expected next week). After all, at one Californian chain, the Beyond Burger became the bestselling patty in the meat cabinet, outselling beef and turkey burgers, according to executive chair Seth Goldman. Richard Harrison, commercial director at The Meatless Farm Co, adds: "Long term, we'd like to see our products in what would be reclassified as a protein aisle."

It's a view that doesn't sit quite as well with established players such as Quorn. "Our view is that the category needs a home to help people to shop it effectively," says marketing manager Alex Glen. "Almost half of the population are actively trying to reduce their meat intake, so having increased visibility for the space is massively important."
"Our view is that the category needs a home to help people shop it effectively"
The most loyal plant-based customers also want that visibility. In September, the Vegetarian Society asked its social media followers whether plant-based products should be stocked alongside meat and dairy. The vast majority of respondents - some 78.9% - wanted vegetarian and vegan lines to be kept separate. Sixty per cent said they wouldn't want to visit the meat aisle, while 25.9% wanted to keep veggie food easy to find.

Richard Harrow, partner at private label consultancy IPLC, says there is also the issue of in-store impact. "Putting these products within the normal lineup appeals more to the flexitarian, which is the larger market," he says. "But when Iceland brought out its No Bull range, it did so with great authority by putting a six-foot cabinet of vegan products together - you can't miss it.

"Now, compare that with Tesco's Wicked Kitchen range, and you could be hard-pressed to find them in store unless you know what you're looking for as they often sit alongside other ready meals."
Alongside merchandising, there is another pressing question for both retailers and brands to answer: consumer scrutiny. Despite the trend for 'dirty vegan', most shoppers are reducing meat to improve their health, the environment and animal welfare. Yet not all plant-based products will achieve these aims. A recent Action on Salt exposé on heavily processed meat alternatives found high salt levels. There is also growing scepticism over the environmental impact of soya farming, historically the main ingredient in meat substitutes.

"It's a similar trend to what we see in the gluten-free space - just removing gluten or meat isn't enough - people want the overall health profile of the product to be boosted, not simply replacing gluten or meat with processed fillers," explains Nick Croft-Simon, co-founder and director of the White Rabbit Pizza Co.

"If the nutritional benefits of a plant-based meat substitute are there, consumers will opt for it, but the key challenge is finding the right formula built around taste and compelling health credentials."

That means there may be a lot more interest in veg-based propositions, rather than meat alternatives with a long list of ingredients. "There is certainly a lot of interest in other proteins, like peas, which we're looking into ourselves," adds Meat The Alternative's Watson. "It's not an allergen, but as an ingredient, it's significantly more expensive and unlike soy, doesn't deliver all nine essential amino acids you'd get from meat."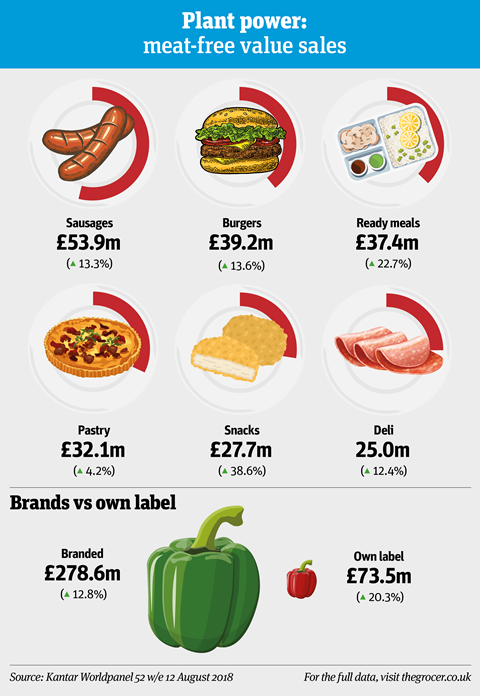 Find the full data at the bottom of this report
Meat brands shake up the establishment
Even meat brands are getting involved. Yorkshire sausage maker Heck recently converted its old production plant into a vegan-friendly factory where it is producing a new range of veggie bangers filled with wholesome ingredients such as quinoa, spinach, cauliflower and green lentils.
This rise of these veg-based alternatives may explain why the typically more processed subcategory Kantar refers to as 'ingredients' - featuring the likes of tofu and Quorn minces - was one of just two in volume decline. (Although premiumisation kept it in healthy value growth of 6.9% to £73m.)

Quorn isn't particularly worried for now. "Traditionally, new customers come in through mince and ingredients," says Glen. "It's an easy switch to make in everyday favourites like spag bols, lasagnes or chillis, reducing meat intake without making a seismic change."
"It's an easy switch to make … reducing meat intake without making seismic change"
However, the brand is keen to keep abreast of latest developments. In July, Quorn announced a £7m NPD investment drive that will see its range extended to include family favourites such as a vegan battered fish product, set for launch in spring. The R&D will see the brand "lead innovation in the category and truly invest behind it to drive scale", says Glen.
It has also entered a new aisle by striking a deal with Dr Oetker to top the pizza giant's Ristorante range with its Vegetarian Chicken and Vegetarian Bacon. It marks just one of the many plant-based pizza innovations of late. Swedish brand Oumph brought its vegan pizza to the UK in September, having collaborated with Greek cheese alternative brand Violife to ensure the perfect topping. Meanwhile, Linda McCartney's, Magioni, White Rabbit Pizza Co and Kirstys have all launched products in recent months.

This innovation shows how quickly the market is moving in branded, as well as in retailer lines. Brands like Oumph, Vivera and Naturli were yet to launch in 2017. Homegrown lines such as The Meatless Farm Co and Feed Me Vegan (created by Lucy Watson of Made In Chelsea fame) have touched down in the mults as recently as October, while frozen stalwart Fry's forayed into chilled with an ambitious new lineup.
Arguably, this level of activity is necessary to compete with the retailers' razor-sharp focus on plant-based. Although there appears plenty of growth to go around, IPLC's Harrow warns there could be some casualties as themarket grows. "As retailers develop their own label ranges, tertiary brands might start to disappear," he says. "Unless they offer something really different, I can't see them surviving when the competition hots up."

And, as another Veganuary looms on the horizon, this competition is certainly set to get hotter. Considering more than 78,000 Brits took part in this year's, the next event could be big business - and Asda and Morrisons are among those promising some timely NPD. Get ready for another quick draw.
Innovations in plant-based 2018
Click on an image to expand