Duracell is in pole position, but Energizer is hot on its heels. So who can win as batteries face a change in consumer habits?
The race for power is hotting up in batteries. No longer is Duracell in a safe leading position. Number two brand Energizer is fast catching up to become a serious challenger.

Yes, Duracell is still the number one brand by far with sales of £120.4m [Nielsen, 52 w/e 29 June 2019]. That amounts to 40% of the entire batteries market. But it is suffering a slowdown. Value sales fell 1.3% in the past year and volume was down even further, dropping 5.9%.

By contrast, Energizer is speeding up. Its value shot up 10.9% to £72m, with 4.6% more packs sold. "The brand accounts for almost 80% of the category's growth in the past year and is the only brand out of the top three that also managed to grow unit sales," says Nielsen client manager Julia Kaiser.

That performance is even more impressive considering the lacklustre state of the overall batteries market. Over the past year, value has edged up just 1.5% to £306.6m, while volume has fallen 0.2% [Kantar 52 w/e 19 May 2019].

So how has Energizer managed to race ahead against the odds? Can it ever hope to catch the market leader? And what of the rest of the players?

In terms of image, Duracell is still miles ahead of the competition. A Streetbees poll of 1,039 consumers revealed 77% named Duracell as the longest-lasting battery brand. By contrast, only 7% said the same about Energizer - even though its Ultimate Lithium line claims to be the world's longest-lasting AA battery.
"Rather than lowering pack prices to compete with Amazon, supers are offering larger packs"
But Energizer has a more critical factor in its favour: price. Nielsen's numbers reveal Energizer has been selling for an average of £4.42 a pack, versus Duracell's £5.18 (the highest price of the brands). In such a price-sensitive market, that has been key to Energizer's growth, says Nielsen's Kaiser.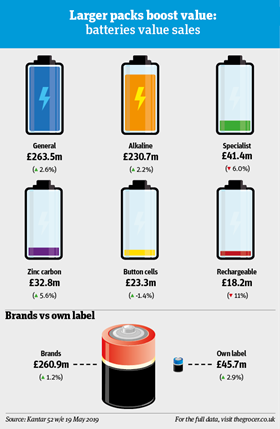 That affordability is despite average Energizer pack prices rising a whopping 10.9% over the past year. It's not down to the average battery getting more expensive, though. Nielsen says the figures point to growing consumption of larger packs.

It's all part of a wider trend in the market. Duracell said last Christmas - the most important time of the year for the category, accounting for a third of its value - that half of its sales come from packs of eight to 12 batteries. Energizer cottoned on to the popularity of the larger pack and, crucially, offered it at a lower price.

Tesco's battery offering is a case in point. At the time of writing, an eight-pack of Energizer Max AAA batteries was going for £6 a pop, or two packs for £7.50. Eight Duracell Ultra AAAs are £8.50. It's a similar picture across AAs and lithium coins.

These larger formats are proving big business, says James Tuck, marketing manager at GP Batteries, the Hong Kong-based business that claims to produce roughly four billion of the 15 billion batteries sold globally every year.

"We're seeing growing sales of four plus four packs, eight plus fours, 10-packs, 12-packs and even 24-packs in some supermarkets. Rather than lowering pack prices to compete with the discounters and Amazon, the supermarkets are offering larger packs. This is helping them grow value sales while staying competitive."
Demise of the £1 pack
As Tuck suggests, the increase in pack sizes has ­influenced retailer performance. Bargain stores - usually the go-to destination for cheap batteries - have suffered a 4.6% blow to value. That's because consumers are no longer so tempted by the small £1 packs ­typically offered by these stores. Instead, bargain hunters are heading to the ­discounters for competitively-priced larger packs.

That's showing in the numbers. Aldi's value sales are up 42.3%, according to Kantar figures, while Lidl's are up 24.6%. It should be noted that their growth is from a small base - both Lidl and Aldi undertrade in batteries - but, increasingly, it's a channel that cannot be ignored.

So much so that Duracell has launched budget spin-off brand Simply Duracell into Aldi as well as Poundstretcher. It's a clear bid to trade on Duracell's brand equity while hitting a lower price point and keeping its customers in the mults happy (Simply is not available in any of the big four).

In this 'bigger is better' climate, it's not just the discounters gaining ground. Online is also a growing channel. "Battery sales are going crazy on Amazon and the grocers know they have to compete with it for sales," says Tuck at GP, which produces batteries for own label and branded players in the UK, as well as its own GP Ultra brand.
"Battery sales are going crazy on Amazon and the grocers know they have to compete with it"
"We went into Amazon with GP Ultra four years ago and were doing about £250k in sales by the end of the first year. We're now doing £2m-plus. Now Energizer is starting to push hard in Amazon and they're growing fast."

That growth is being fuelled by large packs at competitive prices. At the time of writing, 24 Energizer Alkaline Power AAs were selling on Amazon Prime for £7.99, while 24 GP Ultra AAs were on Prime for £9.99. Only Amazon Basics or the online retailer's Eono Essentials brand were cheaper.

"What will be interesting to watch is how aggressively Amazon pushes the premium brands over its own private label, and ­consequently how much marketing resources players like Energizer and Duracell will commit to Amazon to push their products on the channel," says Peter Hobson, VP at investment research company Third Bridge.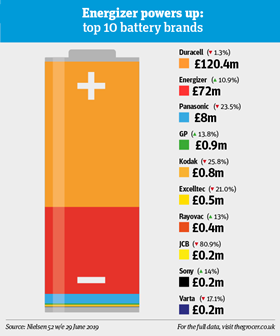 Because as Amazon's own brand demonstrates, it's not all Duracell and Energizer. Smaller brands are also on the rise in this price-conscious market. One of these is Varta, up 13% to £408k. It has become the key battery brand sold through B&Q. That it comes at a competitive price on Amazon - a pack of 40 AA batteries is £11 - can't have hurt sales.

GP has seen similar growth, up 13.8% on units up 13.2%. It's also on Amazon, selling at £9.99 for a pack of 24 AA batteries (or £6.99 on deal). Tuck says growing distribution is the main factor behind its growth. "We're the only battery brand in WH Smith and the only one in The Entertainer and we have won distribution in various other places in the past year too," he says.

"We have increased battery sales in WH Smith threefold since working with them to bring batteries out from behind the counter and on to the shop floor. Having batteries in a more visible place in store is key to driving sales growth."

New formats are also generating extra ­revenue. GP points to power banks as an example. "They are still only between 3% and 5% of our total turnover but they are growing at a very strong rate," says Tuck. "There is everything to play for in this market. Over 90% of people in the UK have smartphones but less than a fifth of them have mobile power banks. That means there is huge potential for growth."

Indeed, 79% of those polled by Streetbees agreed they felt anxious when their smartphone ran out of battery and there was no power source available. So whoever can crack a mass market solution to that may just win the race for power.