Revamping old favourites doesn't always go down well – but in savoury pastries, the spirit of reinvention is sending sales soaring
Food and films have this in common: every so often, someone comes along and has a crack at reinventing a classic. The dismal remake of 11-time Oscar winner Ben-Hur, and a Melbourne café's recent attempt to pass off a box containing bread, lemon and half an avocado as 'deconstructed avocado on toast' are proof this is often a terrible idea.

But sometimes it works. The rave reviews of 2018's A Star is Born, the third remake of the film since the 1937 original, are proof of that. And the power of reinvention is just as evident in the world of savoury pastries. Classics are now getting a makeover for the modern era. Ginsters has given the Cornish pasty a Moroccan twist, Greggs has updated the sausage roll for the vegan audience, and Waitrose has unveiled new flavour twists on the good old-fashioned scotch egg.

This spirit of reinvention is sending sales flying. Brits have munched through an extra 39.1 million (4.8%) packs of sausage rolls and Cornish pasties [Kantar 52 w/e 8 September 2019]. That has resulted in a 2.4% increase in sales of savoury pastries to pass the £1.3bn mark. Meat snacks are similarly buoyant. Sales have grown a hefty 11.2% to £156.9m on volumes up 9.7% in the same period [Nielsen].

This is impressive for a number of reasons. Our appetite for meat and gravy wrapped in pastry tends to tail off in heatwaves, yet Britain basked in its hottest-ever summer temperatures in 2019. Then there's the flexitarian trend. A third of us are avoiding meat, the main ingredient in most pastries, or cutting it out altogether [Mintel]. Plus, competition in the food-to-go fixture has never been stiffer. In theory, pastries and meat snacks should be suffering.

Innovation has been crucial in overcoming these odds, says Tristan Hogg, MD at Pieminister. His company serves as proof. In July, it launched a quartet of snacking patties (crescent-shaped filled pastries). The patties include jerk chicken barbecue variants and, suitably, two of them are vegan. This focus on trend-led innovation has seen Pieminister sales surge by 18.1% to £9.3m on volumes up 16.5% in the past year [Nielsen].
"All too often we'll grab a pastry snack wishing a more appetising alternative existed"
"All too often we'll grab a ready-made pastry snack wishing a more appetising alternative existed," says Hogg. "Well now it does. No longer will we need to suffer greasy, soggy pastry, unrecognisable, bland fillings and excessive amounts of plastic packaging, all in the name of 'convenience'."

For Hogg, this idea of reinventing the classics is key. "When we began in 2003 our mission was to reinvigorate the traditional British pie, creating new versions of traditional recipes using sustainable ingredients marketed to a younger audience," says Hogg. "We've continued to lead the way in this sense, creating 'traditional' pies for vegan/reducetarian and coeliac consumers that taste just as good as our classics." He names Pieminister's Jamaican patties and vegan offerings as simply a "continuation" of this ethos.
Savoury pastry value sales: premiumisation pays off
Top savoury pastry and meat snack sectors by value sales
Value (£m)
% growth
Market share
Hot Pies
282.4
6.7
21.7
Quiches/Flans
193.4
-0.8
14.9
Pork Pies
185.4
-0.2
14.2
Sausage Rolls
161.4
4.6
12.4
Shepherd/Cottage Pie
128.6
5.9
9.9
Pasties
89.6
4.2
6.9
Slices
88.2
-2.7
6.8
Cooked Sausages
83.1
-0.1
6.4
Brands vs Own Label
Value (£m)
% growth
Brands
329.8
1.7
Own Label
972.1
2.6
Retailer performance
Market share
% growth
Tesco
23.6
24
Sainsbury's
14.5
13.2
Asda
13
12.6
Marks & Spencer
12.3
3.4
Morrisons
9.1
9.3
Aldi
7.5
6.9
Co-Op
6.2
5.1
Waitrose
5.7
4.7
Lidl
3.4
4.9
Premiumisation is paying off for savoury pastries. Overall sales have grown 2.4% to £1.3bn on volumes up 0.6%. That was driven by a 2% rise in pack prices.
Premium own label lines have been key to attracting more affluent shoppers, who are responsible for £18.1m of the category's £30.2m growth.
Indeed, posher own label pastries accounted for a third of growth in savoury pastries, despite only representing 8% of the market.
Premium own label hot pies are also growing strongly, with value sales up 55.5%. That's thanks to notable NPD such as premium steak pies from both Aldi and Marks & Spencer, whose new 'Our Best Ever' steak pie retails at £5.70, almost three times the category average of £2.08 per own label hot pie.
In terms of the retailers, there's a mixed picture. Private label is in decline in all of them with the exception of Sainsbury's, Aldi, Lidl and M&S, where new ranges have flourished.
Meanwhile, brands have been hampered by the decline in sales of pork pies and slices.
Charles McAlindin,
 Kantar
Source: Kantar 52 w/e 8 September 2019
Innovation
Ginsters is following a similar tack with its reinvention of the pasty. Recent innovations include vegan Moroccan vegetable lines, Quorn mince pasties and premium range Cornish Handcrafted. It claims NPD has driven £14m growth in the past two years, while slower sales of existing standard lines have weighed down growth. It's up 1.5% to £97.7m).

"Our aim is to be an innovative disruptor, understand consumer trends, identify innovation platforms and bring exciting concepts to market that appeal to consumers and improve category relevance," says Kieran Hemsworth, MD at Ginsters, which this month launched a Steak & Ale pasty in collaboration with fellow Cornish business St Austell Brewery. "We are seeing a strong growth trend in 'real convenience' food. This is food that is quick, easy and tasty, but without some of the compromises people would have made in the past. Consumers are looking for convenience food that has real heritage and provenance, made with great ingredients, without any artificial ingredients."

It's not just these wholesome credentials that are bolstering sales of Ginsters, though. The brand has been keen to ensure NPD appeals to a veggie audience - a tactic that has been replicated widely elsewhere in the market. Higgidy has played to the meat-free audience with the launch of its first vegan line, a Creamy Mushroom & Kale Pie, in January. The brand says 64% of its sales are accounted for by vegetarian lines.
"Consumers are looking for convenience food that has real heritage and provenance"
Holland's Pies, meanwhile, has launched a trio of frozen and chilled vegetarian pies: Cheese & Onion and Cheese & Veg variants in partnership with cheddar brand Wyke Farms, and a Vegetarian Mince & Gravy line.

Meanwhile, Pukka unveiled a Veggie Cheese, Leek & Potato Pie in 2018. It has been the most successful new hot pie product of the past year, says Pukka, which grew a massive 17.2% to £36.1m. That makes it the second-biggest brand in savoury pastries after Ginsters.

"Pukka continues to lead the way within the pie category by delivering on-trend NPD to the market, to tap into alternative consumption moments which meet the varying needs of consumers, to ensure that there is something for everyone," says category controller for Pukka Sarah Reedman.

"We continuously monitor the consumer environment, enabling us to develop a comprehensive trend-led pie offering that meets the needs of today's shoppers," she adds.

Addo Food Group is thinking along the same lines. In September, it launched Vegan BBQ Jackfruit Rolls under the Wall's brand in a bid to tap growing demand for meat-free pastries. It will be hoping that innovation is enough to reverse the decline in Wall's, which has shed over £5m in the past year [Nielsen] primarily due to distribution losses.

"Within the chilled savoury pastry market, the key to unlocking success is innovation," says Addo Food Group brand manager Michael Holton.

"It is vital to stay one step ahead of consumer demands and is the only way to shake up the category, an industry that has not seen enough pioneering development over the past 20 years. Innovation is a big focus for us and is something we have made great strides in over the past year."

Plus, this meat-free innovation is helping to capture one demographic that is still proving tricky: the younger consumer. Although volumes of savoury pastries are back in the black - shoppers have picked up pies, pasties and other pastries 2.4% more often this year - not everyone is buying them.
"Our loyal carnivore customers have dabbled with veganism or flexitarianism"
"The category remains challenged," says Hemsworth at Ginsters, quoting Kantar figures. "Penetration continues to decline from 88.8% to 88.1%, particularly with younger consumers. Only 79% of pre-family consumers bought the category last year, so we need to ensure the category remains relevant to these consumers."

Pieminister believes meat-free products are key to tempting this audience. "By introducing a growing range of gluten-free and vegan pies alongside our classics, we're bringing new, younger, affluent shoppers to the category," says Hogg. "Our meat-free sales are so encouraging that they're starting to outsell many of our classic pies. And our two vegan patties are the most popular of the four in the initial patty range."

Even meat snacks are being reinvented for the new generation. "Over the past few years some of our loyal carnivore customers have dabbled with veganism or flexitarianism for health and environmental reasons," says Will Yates, founder and MD of premium beef jerky brand Billy Franks, which has been carving out a loyal following through craft beer pub chains such as BrewDog in recent years.

"It just made sense for us to create a plant-based snack to complement our meat jerky range that could be enjoyed by meat eaters, veggies, flexitarians and vegans alike. What we've created has its own distinctive, savoury flavour that is free of any preservatives and has the same chewiness as meat jerky."
Top 10 savoury pastry brands by value: brands gain sales
Top ten savoury pastry brands
Value (£m)
% growth
Ginsters
97.7
1.5%
Pukka
36.1
17.2%
Higgidy
31.2
1.1%
Walls
29.5
-14.7%
Peters
15.5
5.4%
Bells
13.6
2.6%
Welsh Pantry
13.3
69.7%
Pork Farms
10.4
-10.9%
Vale of Mowbray
10.2
4.3%
Pieminster
9.3
18.1%
Source: Nielsen 52 w/e 7 September 2019
Pukka has lived up to its name over the past year with some pretty pukka growthPukka has lived up to its name over the past year with some pretty pukka growth. The leading pie brand has accrued an extra £5.3m, as volumes soared 14.8%. That makes it the second-largest contributor of growth across the savoury pastries market.
Growth came from a variety of factors, including strong distribution gains, significant marketing investment and the launch of a veggie Leek & Potato variant, says Pukka. Plus, sales of its frozen range have shot up 157%.
The only brand to achieve higher value growth than Pukka is The Welsh Pantry. The brand is up a staggering £5.4m on volumes up 70.6%, which it attributes to increases in production capacity and distribution gains.
Overall, eight of the top 10 brands are in growth. Together, they have amassed an extra £9.2m.
Ginsters was responsible for £1.5m of that figure after continuing its investment in NPD. That included its first foray into the frozen aisle in April with its frozen Cornish pasties.
However, MD Kieran Hemsworth says there are challenges in the market. "We're seeing penetration continuing to decline, particularly with younger consumers," he says. "Only 79% of pre-family consumers bought into the category last year, compared with 88% of the wider population. We need to ensure the category remains relevant to these consumers." Brands gain sales: top 10 savoury pastry brands by value.
Meat snacks
Indeed, the meat snacks market is showing the same spirit of reinvention that can be found in savoury pastries. See jerky and biltong brand The Curators, which has emerged as the sector's fastest-growing player (see p54) following big distribution gains in the likes of Sainsbury's. "Our Pork Puffs are a great example of how innovative brands can modernise a traditional snack and bring it to new audiences," says co-founder Ed Hauck.

Hauck describes the puffs, launched in January, as a "light, crunchy twist on the traditional pork scratching". Crucially, they contain less fat and more protein per serving than your standard scratching. "This has recruited a new wave of hungry snackers seeking an alternative to the traditional packet of crisps, often associated with high levels of saturated fat," he says.

But you can't rely on protein credentials alone in this fast-paced sector. New and interesting flavours are crucial to standing out from the crowd. The Curators has Korean BBQ, Sweet Sriracha and Espresso flavoured jerkies, and the range is set to expand in the coming year, says Hauck. It makes sense given the mounting competition in the sector. New brand Jekl Steak On The Go, for example, has just launched a trio of cooked sliced beef products in Spiced Teryaki, Honeyed Jalapeno and Pineapple & Orange variants.

Founder Russ Klinger says the product is a UK first. "We set out to challenge consumers' taste and quality expectations of bagged meat snacks," he says. "Unlike biltong and jerky, this is more like roast beef in a bag in three delicious global flavours. It's a category game-changer for good quality outlets who want a high-margin, trade-up alternative to conventional snacks."

Another UK first is Billy Franks' Boozy Jerky lines: Beef & Citrus IPA and Pork & Cider. "We first did this for BrewDog Shoreditch back in 2015 and it was an instant hit, so we had to make it part of our core range," says Yates. "The concept is really starting to take off Stateside and we think there's huge potential for it here too."

These exciting flavours are largely coming from smaller, challenger brands. Still, the giants are also moving fast. Take market leader Peperami, which has achieved growth of 16.1% on volumes up 17.3% (see above). That's been thanks to big distribution gains and a raft of new launches including Snack Boxes and Pep'd Up Chicken Bites. In October, the brand built on that NPD with a duo of beef and pork jerkies in Hot and Original flavours.

"Peperami Jerky blends cured, dried and beechwood smoked beef and pork to deliver a tasty, protein fuelled, on-the-go bagged snack," says marketing manager Pavan Chandra. "The new tender jerky is designed to meet demand for convenient on-the-go food offerings with higher protein content, offering a more sophisticated snack for an older audience."

Tapping this on-the-go opportunity also means winning prime retail space. Chandra points to the recent launch of Peperami Beef Bar, which is positioned in various different parts of the store "to increase impulse purchase opportunities".

That question of location has traditionally been a challenge for meat snacks. In smaller outlets, they are often without a permanent fixture - instead relying on clip strips in associated categories such as alcohol and bagged snacks. Those areas have traditionally been the domain of Jack Link's, the namesake biltong brand of the US giant that bought out Peperami back in 2014.

"Our products are predominantly sold via world foods fixtures, ambient stands and clip strips, highlighting the brand's South African recipe heritage and capitalising on its convenient, snacking format," says marketing manager Kenneth Ruigrok. Still, it doesn't seem to have done the brand any harm. Value and volume sales have grown by nearly half in a year.
"Retailers are effectively using the front-of-store chilled section for healthier alternatives"
Now it's looking to broaden its horizons. "To increase category penetration, we're looking to gain a permanent place in stores amongst prominent savoury snacks such as crisps and nuts, to increase visibility in high footfall locations," says Ruigrok.

This presents a growing opportunity. Because retailers are increasingly willing to place meat snacks and savoury pastries at front of store to add value to their food-to-go offerings.

"Sales of sandwiches are plateauing, up just 0.4%, and there is a clear rise in consumer demand for meat snacking and food on the go," says Fridge Raiders brand manager Becky Smith, quoting Kantar numbers to 24 February. "The retailers that are effectively tapping current trends are the ones giving meat snacks prominent positioning.

"Front-of-store meat snacking is up 28% and Kerry Foods is driving this with 34% growth in this area," she adds. "Chilled snacks are allowing people to get the nutrition they require in a world where the three stalwarts of breakfast, lunch and dinner are now often not the norm. What we are seeing from retailers is an effective use of the front-of-store chilled section to position these healthier alternatives - an area that is often dominated by sandwiches."
Top 10 meat snack brands by value: fast growth
Top ten meat snack brands
Value (£m)
% growth
Peperami
71.2
16.1%
Fridge Raiders
56.4
7.4%
Kings
5.2
40.4%
Taste Inc
4.3
80.2%
Jack Link's
4.0
43.4%
Wild West
3.6
-25.4%
Cruga
3.0
22.4%
Ember
0.6
148.6%
Dieter Hein
0.5
24.9%
The Curators
0.3
847.6%
Source: Nielsen 52 w/e 7 September 2019
Innovation and new Sainsbury's listings are behind the success of Britain's fastest-growing top 10 meat snack brandInnovation and new Sainsbury's listings are behind the success of Britain's fastest-growing top 10 meat snack brand The Curators. Value sales for the brand are up 847.6% to £329.6k on volumes up 977.5%, overtaking the likes of Men's Health and Ember. That's particularly impressive given that Ember itself is growing fast, more than doubling its value.
The Curators launched Pork Puffs, a low-fat twist on the traditional pork scratching, in January. It went on to win listings for its Beef Biltong in 400 Sainsbury's stores in August. Co-founder Ed Hauck says it's the brand's most successful product launch yet.
"We are taking traditional snacks into new markets and new audiences, modernising some product formats that have often been misunderstood as unhealthy," he says.
Number one meat snack brand Peperami also puts its double-digit growth – value sales are up 16.1% on volumes up 17.3% – down to new markets and audiences. In April, the brand entered the chicken snack market for the first time with the launch of Pep'd Up Chicken Bites, aimed at female audiences and young families, followed by new Peperami Tender Jerky in September.
"This has allowed Peperami to expand its distribution and target new audiences, while still appealing to the brand's heartland consumers," says Peperami's marketing manager Pavan Chandra.
Premiumisation
All of this has been pretty brand-heavy. And with good reason. In meat snacks, brands are leading the way with 11.2% value growth [Nielsen]. Meanwhile, own label sales have fallen 15.6% (though it's worth noting that Nielsen data excludes the discounters).

In savoury pastries, there is more of an equal performance. Brands are up 1.7%, while own label sales have increased by a healthy 2.6% [Kantar].

That's largely because the retailers are winning in one key area: posh pastries. Premium own-label lines have raked in an extra £10.2m over the past year, equating to a third of total category growth. They have also helped to push up average prices by 2%.

Kantar singles out innovations such as the M&S 'Our Best Ever' Steak Pie, priced at £5.70, as particularly noteworthy. "This more premium product has brought a notably more affluent shopper into the hot pies category," says Kantar analyst Charles McAlindin.

Aldi took its lead from M&S with the launch of its own premium steak pie. That came alongside sausage rolls and pork pies. "Three of these new SKUs feature in Aldi's top 10 savoury pastry products in terms of spend," says McAlindin.

The power of these innovations is reflected in retailer performance. Own label is in decline in all of the retailers aside from Sainsbury's, Aldi, Lidl and M&S, where McAlindin says "new ranges and NPD have flourished" over the past year.

Other retailers are spotting that potential. In spring, Waitrose looked to revive the scotch egg - down 5% in value in the total market - with a posh twist. Its new suite of flavours included Pork & Beetroot, Ploughman's and Pork, Pea & Mint.

So perhaps the scotch egg will be the next classic to benefit from a bit of reinvention. It certainly beats a deconstructed avocado on toast.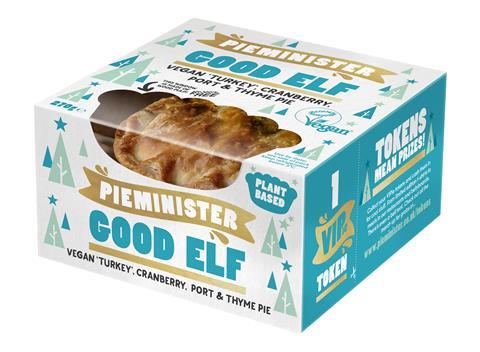 Can pies step in to replace turkey this Christmas?
Forget slaving over a hot stove this Christmas. Those seeking an alternative to the traditional Christmas dinner need look no further than the pie aisle.
Iceland has unveiled an entire Christmas dinner in a pie, featuring turkey, sprouts, stuffing and full-size pigs in blankets. Higgidy is replacing its Christmassy turkey & stuffing pie with a meat-free Very Merry Parsnip version. And Pieminister is adding to its four-strong range of Christmas pies with a new plant-based 'Good Elf' offering.
"We have been creating Christmas versions of our pies since 2003 and the original four – Christingle, Deer Santa, Mistle Moo and Cracker – are all Great Taste Award winners and seasonal best sellers," says Pieminister's co-founder and MD Tristan Hogg.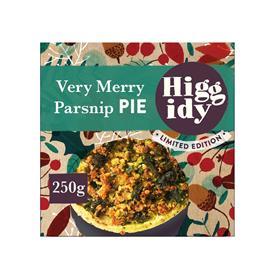 Pieminister's first vegan Christmas variant, Good Elf pie, is filled with sustainable vegan 'turkey', cranberries, port and thyme. The NPD, which is certified by The Vegan Society, has already won the brand incremental Sainsbury's listings over the Christmas period, says Hogg. It will be joined by a gluten-free version of the brand's Mistle Moo pie, made with British beef and free-range British bacon.
Free-from is crucial here. Higgidy, whose Very Merry Parsnip pie features a seeded spelt shortcrust pastry with root vegetables and chestnuts in a crème fraîche & white wine sauce, says meat-free is a key part of its strategy.
"Meat-free has played an important role for Higgidy for many years, with 64% of sales being vegetarian," says Higgidy's category manager Philippa King.
Own label NPD is also notably meat-free this Christmas: Lidl's festive lineup includes a four-strong range of veggie tarts, and Waitrose's offering includes vegan 'root en croute' filled with roasted carrots marinated in smoky paprika and dill with a creamy spinach sauce, wrapped in a lattice of crisp puff pastry.
So here's to a pastry-filled festive season
Innovations in Savoury Pastries and Meat Snacks 2019