The rise of the discounters has given shoppers a whole new definition of value. So is this the end of no-frills basic ranges?
Refreshingly straight-talking and modest. Those were the words used to describe Sainsbury's Basics range when it became an unexpected social media phenomenon in 2015. The public rushed to praise the blunt description of its tomato soup as 'less creamy, still comforting'. That came alongside a fruity trifle that was 'less fruity' (but had 'lashings of jelly and custard'). And a cheese spread that was 'a little less cheesy'. It may have won Sainsbury's a few likes on social media, but it also perfectly summed up the problem with the supermarket value tier.

For these ranges are still very much a compromise. Bundled up in utilitarian white packaging, they essentially promise lower quality at a lower price. At a time when Aldi and Lidl offer shoppers quality at equally wallet-friendly prices, that message can feel a little outdated.

The supermarkets have clearly taken note. Tertiary brands such as Tesco's Hearty Food Co and Sainsbury's Stamford St aim to add more appeal to value - and, crucially, give the discounters a run for their money. So do these brands represent the future of value own label? And is there any place for stark white packaging and trifles that are less fruity?
"Value own label has forged a place within consumers' savvy food shopping mentality"
In its current form, the value tier is lagging behind the rest of own label. It climbed just 1.4% in value over the past year, while premium and standard are up 5.6% and 2.5% respectively [Kantar 52 w/e 24 March 2019]. It's no secret this end of the market has proved challenging for the big four. In its annual results earlier in May, Sainsbury's revealed sales of its economy own label had fallen 2.5%, dragging down an otherwise steady performance.
That's not because shoppers are suddenly finding themselves flush. In April, the British Retail Consortium reported the highest level of food inflation for five years. Consumer confidence is dwindling amid the ongoing uncertainty of Brexit. In theory, shoppers should be flocking to value lines in their droves. And Mintel research finds there is still support for the concept. In a poll of 2,000 consumers last June, 63% agreed value own-label products were a 'good example of savvy shopping'. "Value own label has forged a place within consumers' savvy food shopping mentality, which is by no means solely driven by financial necessity," says Emma Clifford, associate director of food and drink at Mintel.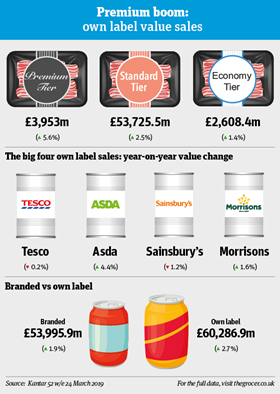 That suggests the problem lies with what's on offer, rather than the overall concept. As Clifford says, today's "foodie culture" has translated to the rise of premium own label. At the same time, it has made overly budget-driven options feel less relevant. While foodies will happily admit to shopping in the discounters, they are unlikely to buy into 'less cheesy' cheese spread. So supermarkets have looked to tempt back shoppers with tertiary brands.

Tesco was the pioneer with the launch of its Farms brands back in 2016. Since then, it has invested heavily in developing and promoting 16 'Exclusively at Tesco' brands, including Hearty Food Co and Stockwell. They appear to be hitting the mark. Kantar reveals Tesco was one of the strongest performers in value own label in the past year, and it named the Hearty Food Co as the most successful new range in ready meals.

Others have since followed suit. Asda revived its Farm Stores brand back in 2017, and Sainsbury's is investing in its Stamford St and J James brands. The latter earned a special mention from Mike Coupe, who revealed 30% of its volume sales had come from new customers at the annual results presentation.

Mintel says these brands can prove a canny move. "Replacing own-label products with tertiary brands aims to appeal to savvy, brand-conscious shoppers while sidestepping any concerns over the quality of the lines, and any stigma that might be attached to purchasing these products," says Clifford.
Sharper design
The look and feel of these brands is the key element. Branding agency Coley Porter Bell, which worked on the redesign of Tesco's core own label range, says it can make all the difference. "The design codes of pared-back, simplistic design are no longer relevant in the value tier," says creative director Sam Stone.

TCC Global's global insights director Bryan Roberts also believes the design will appeal to new shoppers. "People who wouldn't have been seen dead putting Tesco Value into their basket would buy Creamfields so it means there's a lot less of a value ghetto," he argues.

Saying that, these tertiary brands pose challenges of their own. Firstly, they don't have the obvious value cues of their predecessors. "When Tesco first introduced Hearty Food Co into pasta, it became quite hard to pick apart what was the cheapest option," says Roberts.
"Replacing own-label products with tertiary brands aims to appeal to savvy shoppers"
Secondly, these value ranges could almost be too good. Sainsbury's proudly states 50% of customers who buy into its J James range have switched down from standard lines. That's not necessarily good news. "There's always a risk of trading down shoppers who would have happily bought standard or premium, whereas you want to encourage people to trade up where possible," says Kantar's consumer insight director Charlotte James.

These challenges could explain why Morrisons has stood firm in its approach to value. While the rest of the big four were working on tertiary brands, it relaunched its M Savers range last year with typically pared-back packaging. Since then, the range has grown from 250 to over 280 SKUs.

On the other side of the coin, some argue the value tier needs to go altogether. Many continental retailers have pared back their offering to only two tiers: standard and premium. "The good, better, best tiering is not fit for purpose," says Richard Harrow, partner at own-label consultancy IPLC. Supermarkets may have changed the design of the value tier with tertiary brands, but they haven't necessarily changed the quality to match those higher-end cues, he says. "Unless the quality gap is addressed we cannot see them halting the discounter growth with these exclusive brands."

Clearly, supermarkets need to have a serious think about what value really means to today's consumer. But one thing is clear: 'less cheesy' cheese spread is unlikely to cut it.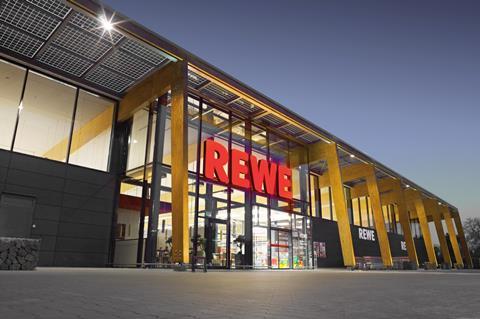 The European retailers abandoning 'value' offers to compete
In the UK, supermarkets have looked to compete with the discounters by improving their value offering. On the continent, retailers have taken the opposite tack.
In fact, German retailers Rewe (pictured above) and Edeka decided the value tier had no place left in the heartland of Aldi and Lidl. "They upgraded or replaced their value ranges to standard tier, thereby moving away from the classic three-tier own-label architecture of good, better, best," says Koen de Jong, managing partner of consultancy IPLC and author of The Private Label Revolution.
By offering consistent quality and lower prices in their standard offering, these retailers are "successfully fighting back" against the discounters, says de Jong.
Little wonder, then, that others are replicating this approach. De Jong says Albert Heijn, Jumbo, Système U and Coop Italy are all showcasing alternatives to the standard three-tier architecture.
In the case of Dutch retailer Jumbo, it never had a value tier. As a small retailer, three tiers of own label were unworkable. But in response to the discounters, it unveiled an Allerslimste Koop (Smartest Buy) range of products, which are in essence standard tier lines at the same price as Aldi and Lidl.
Fellow Dutch retailer Albert Heijn has taken a more similar approach to UK retailers with a strategy reminiscent of Tesco's Farms brands. In 2015, it removed the AH Basic logo from chilled ready meal products in favour of more high-end names. "It is most likely that Albert Heijn decided it did not want shoppers to associate AH labelled products with lower quality," says de Jong.
It has since broadened this approach to other areas of the supermarket. What was AH Basic salmon is now Cap Sork salmon, for example. "Consumers have embraced the discounters big time in Holland and the supermarkets had to do something," says de Jong.


Emma Weinbren is managing editor at The Grocer. As second-in-command to the editor, Emma is responsible for the day-to-day running of The Grocer in print and leads The Grocer's features desk.

Emma won the PPA New Talent Award for New Section Editor of the Year in 2016. Prior to joining The Grocer in 2016, Emma was deputy and features editor at Chemist+Druggist, a weekly magazine and website for UK pharmacists.

Follow Emma on Twitter: @EmmaWeinbren