Personal care is looking shabby with hygiene routines slipping and 'click & forget' subscriptions cleaning up
This time last year, if you turned up at the office unkempt, unwashed and wearing holey pyjamas with coffee stains, you might find yourself in an uncomfortable conversation with the HR department. This year, rolling out of bed a few minutes before 9am – and potentially giving your hair a quick brush, if you're on a video call – is part of the new normal.
So it's no wonder lockdown restrictions have caused over 100 million personal care occasions to vanish from the average week [Kantar]. The category has struggled to wash its face as a result. There's been a decline in most areas of the market, resulting in value sales slipping 0.2% on volumes down 0.1% [Kantar 52 w/e 6 September 2020].
"There's a combination of factors at play here," says Baylis & Harding category director Andrea Crompton. "Consumers have spent vast amounts more on some categories, like handwash and hand sanitiser, however this growth has been offset by a decline in areas such as grooming. So the toiletries category looks net flat but the mix within it is extremely different to last year."
More specifically, razor blades have seen the biggest drop in value sales, down 9.2%, followed by toothbrushes (down 6.5%), and deodorant (down 3.5%). Wayne and Waynetta Slob would be proud.
But it's not just the decline in grooming that's hit supermarket personal care sales hard. So too has the rise of 'click & forget' direct-to-consumer offerings designed to take the hassle out of shopping.
So what can be done to inject value back into the in-store experience? And can anything give Britain back its enthusiasm for grooming as working from home continues?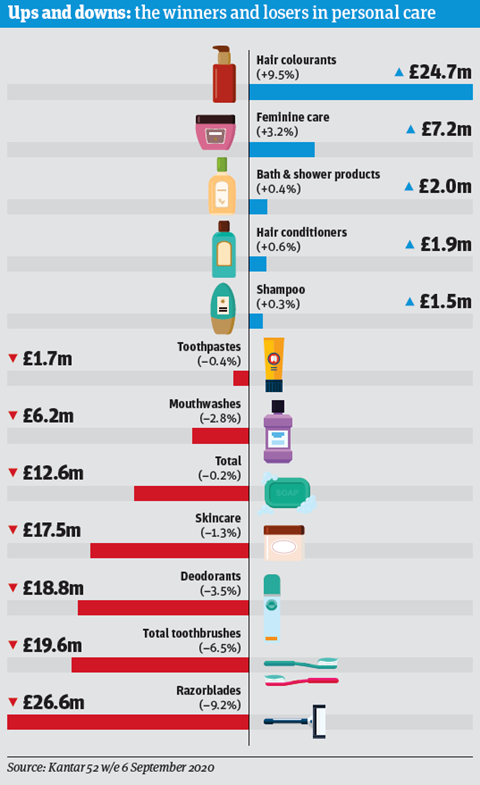 The 0.2% decline in the overall value of personal care and toiletries to £6,358.4m belies tectonic shifts in our habits.
"In the past few months there's been a loss of over 100 million personal care occasions a week," says Kantar analyst Sophie Adnitt. See the big declines for razor blades, toothbrushes, deodorant and mouthwash for proof.
Not all categories were hit so hard. Take DIY hair colourants, which benefited from hairdressers closing.
Covid-19 has turned our personal care routines upside down. Most Brits say they've been sleeping in more since March. On average, people say they now wake up between 7am and 8am, compared with between 6am and 7am at the start of the year, and the majority are sleeping for longer [Censuswide/The Body Shop].
As a result, there has been a huge shift in the time of day products are being used. According to Kantar, more than 250 million occasions have been lost between 5am and 8am, yet only half of those have been recovered later on in the day.
"Some did take a more relaxed approach to personal hygiene when working from home"
"With shoppers working from home during lockdown, new routines were always likely to emerge and actually some shoppers did take a more relaxed approach to their standards of personal hygiene," says GSK Consumer Healthcare marketing director Craig Percival.
"However, as we exited lockdown over the summer and started socialising again, there was a renewed emphasis on appearances. As a result, we've seen the toiletries category value grow, with the volume of purchases per trip offsetting the decline in frequency from shoppers."
Direct to consumer
Those growing volumes aren't all going through stores, though. It's no coincidence that the subcategories with the steepest drops in high-street sales are areas where people are increasingly taking a low-effort option in their shopping methods too, such as subscription services.
New DTC personal care subscriptions have been popping through letterboxes across the UK faster than you can ring the doorbell. For women's razors there's Friction Free Shaving, for deodorant there's Wild – which, since opening in the midst of the pandemic, has been freshening the armpits of 100,000 new subscribers – and for replacement toothbrush heads there's Ordo. "We've seen a surge in demand since Covid-19," says Ordo co-founder Barty Walsh.
Amazon is also appealing to customers who don't want the fuss of traipsing to the high street. As supermarkets and pharmacies battled with long queues during lockdown, Prime customers could simply order their products for free, next-day delivery. That has put Amazon on course to rack up a staggering $28.8bn (£22bn) in global health & beauty sales by the end of 2020 [Edge by Ascential].
One business that's taking advantage of that trend is GSK, which has been investing in digital storefronts and online ads. "It made total sense to accelerate the work we were already doing to enhance online shopping experiences across our portfolio," says Percival. "On Amazon, shoppers can now navigate what our brands offer and find with ease which of our products can provide a solution to their oral health needs."
Granted, getting everything delivered by Amazon in separate packages isn't exactly eco-friendly. But some subscription services are giving shoppers yet more reason to venture away from the supermarket with sustainability claims, too.
Sustainability
Ordo says its refill system and vegan toothpastes indicate the direction of travel. "DTC brands are making waves in innovation and sustainability in ways the traditional brands aren't," argues Walsh. "Traditional brands need to step back and look at what a modern-day consumer is looking for."
Wild is another example. "Less than 50% of products used in the bathroom are recycled compared to 90% in the kitchen," says its content executive Emily White. "With Wild you keep the case for a lifetime and just keep putting in new refills of deodorant, which are wrapped in compostable bamboo."
Established players could do well to take note. According to Kantar, a large proportion of the 3.5% decline in deodorant sales is coming from ages 11 to 24 (–6%). If large brands can't convert young people into shoppers, the category may never recover.
"Less than half of bathroom products are recycled versus 90% of kitchen products"
Still, if deodorant has been one of the big losers of lockdown, there are also winners. See the £24.7m growth in hair colourants. "Shoppers have identified the occasions they can replicate at home to cut back on spending," says Kantar analyst Sophie Adnitt.
This behaviour may increasingly characterise the personal care market, as the recession bites. If shoppers can treat themselves at a lower price than salons – many of which will fall foul of local lockdowns – that could prove a powerful draw. Especially as financial downturns tend to see people turn to affordable luxuries. So the challenge for retailers will be making sure that spend isn't syphoned off by trendy DTCs.
"Supermarkets have the opportunity to offer simple solutions such as bundle packs, – like shampoo, conditioner and a hair treatment – to create customer trial opportunities and encourage future trade-ups," says head of category and insight at DCS Group Matt Stanton. "Another method is pamper packs, offering a mix of products to increase the average basket spend."
Stanton makes a good point. After the year we've had, we'll all need a bit of pampering come Christmas.
Innovations in personal care 2020