Scottish food & drink has big ambitions. Trade group Scotland Food & Drink has unveiled plans to double sector value to £30bn by 2030
Scottish food & drink has big ambitions. Trade group Scotland Food & Drink has unveiled plans to double sector value to £30bn by 2030. Bold indeed, particularly in light of growing uncertainty over Brexit and Scotland's future in the United Kingdom.

But SFD's aptly named Ambition 2030 framework isn't pure pie in the sky, given the sector's performance in recent years. Exports from the nation's rich larder have grown 8% year on year in the past 12 months and have rocketed by 56% in the past decade [HMRC 52 w/e 31 December 2016].
"Ten years ago, we wouldn't have been having this conversation," says SFD chief executive James Withers. "Food and drink in Scotland was not a big story. It was static. Now, in 2017, it's the best performing sector of Scotland's economy." So what's driven this transformation? And, with uncertainty over Brexit and Scottish independence continuing to build, how can the sector's growth be maintained?

The current success of the export market puts Scotland in a good position to begin its most difficult growth project yet. Food exports alone grew by 22% to £1.5bn and exports to EU countries increased by £133m to £2.3bn [HMRC 52 w/e 31 December 2016].

Though it didn't ask for it, Scotland can offer an unlikely thank you to Brexit for its successes. The weak pound meant international markets bought the equivalent of 1.2 billion bottles of Scotch whisky last year, bringing the total value to more than £4bn.

An improved economic performance in parts of Europe saw an upsurge in demand across some of Scotland's most important export markets, causing exports to grow 4% on volumes up 4.8%.

"The slowdown or small decline in recent years was a result of political and economic headwinds in certain markets," says Scotch Whisky Association head of communications Rosemary Gallagher.

"The weakness of sterling had a significant impact on exports in the second half of last year. However, this short-term positive currency impact should be seen in the context of continuing uncertainties around Brexit in the longer term."
Scottish salmon sales are also back in fine fettle. Exports are up 16.7% to £450m [HMRC 52 w/e 31 December 2016] and have recovered after a Russian trade embargo in 2015 caused Norwegian salmon to enter some of Scotland's most important markets. Though sales in China dipped by £64.8m and the US imported 5.3 million kg less than it did the year before, causing a £6m sales drop, salmon performed well across Europe and particularly in France, where sales rose by £33.4m.

The decline of salmon production in Chile also helped the catch recoup some losses in the US and China, as demand pushed prices up across all markets. "We anticipate increased productivity in the coming years," says Scottish Salmon Producers Association chief executive Scott Landsburgh. "Some early harvesting to ensure healthy, high quality salmon from Scotland meant less large fish for export in 2016, one of the reasons for the dip in tonnage going to China, for example, where the demand for larger salmon weighing around 7kg is high. The US continued to be our biggest overseas market and export value here remained relatively stable despite a drop in volumes."
A bumper year for fruit & veg
Scottish fruit & veg, the nation's fifth-biggest export opportunity, also had a bumper year, growing by 8% and more than doubling in the past decade. This success is not just felt internationally. In the domestic market fruit, veg and salad sales are up 5.3% on volumes up 8.1% [Kantar Worldpanel 52 w/e 29 January 2017], passing the £1bn mark, and a third of all the soft fruit now eaten in the UK is grown in Scotland. To make sure the health trend is more than a passing fad, The Scottish government relaunched its food education programme for schoolchildren, which listed chefs holding practical sessions in schools, encouraging children to eat more seafood and creating spaces in public schools to grow veg as top priorities.

"There's still a long way to go to reach our dietary goals in Scotland," says head of nutrition at Food Standards Scotland Heather Pearce. "We've all been touched by the sometimes serious consequences of diet-related ill health, whether it's within the family or in the wider society, so improving our diet matters to us all."

Scots might be paying more attention to salad, but they still have room to treat themselves.

"While biscuit sales are currently fairly flat, we are noticing that with the rise in consumers being more health conscious, they prefer to treat themselves with a good quality premium biscuit, rather than an everyday variety," says Border Biscuits brand and innovation director Lesley Ann Gray.

"We are continuing to perform well in the special treat market and we are growing twice as fast as the category with a retail value of £12m, up 11.4% year on year."

Confectionery sales are up 5.1% on volumes up 2.1% and Scotland's biggest pie manufacturer, Bells, has seen sales of the classic Scotch pie rise by 22% in the past year.
Pop-up gallery: Scottish innovations

"We love pies. Scotland massively overindexes on fresh pies, alcohol and confectionery compared to the rest of the UK," says Bells sales and marketing director Gordon Smith.

Mackie's has also benefited from the nation's love of treats and is spending £1m on creating a state-of-the-art chocolate factory.

"This allows us to produce both milk and dark chocolate from the finest raw ingredients, to use in our ice cream and to sell as luxury chocolate bars," says commercial director Stuart Common. "Our biggest sales still come from the ice cream part of our business and we have a great desire to see this grow."

Indulgence doesn't stop at food, Scots are splashing out on booze as well. Take-home alcohol sales rose 3.4% on volumes up 2.8%, with brands behind the bulk of the growth [Kantar 52 w/e 29 January 2017]. Craft, in particular gin, is also gaining traction.
Peak gin?
Total craft spirit sales grew 42% year on year over the past 12 months, with category value rising from £51.2m to £72.2m [Nielsen 52 w/e 25 March 2017], 50% of which came from gin alone. Abroad, British gin export sales have grown 12%, reaching nearly £500m [HMRC 52 w/e 31 December 2016].

The rest of the world has also got a taste for small batch Scottish gin. New distilleries making handcrafted gins with local botanicals like Loch Ness Spirits, Lussa Gin and Avva have been popping up in every corner.

Martin Murray, co-founder of premium Scottish gin brand Rock Rose, which went into the market two years ago, describes the upsurge in Scottish gin as a "whirlwind."

"We keep asking 'is this peak gin? Is this the busiest year? When is it going to stop?'" says Murray. "Gin is also becoming increasingly popular with young males, when we used to primarily target the 25-45 female market. I've been in restaurants and seen a whole stag party drinking gin and tonics, which I just wouldn't have pictured - but that's the way it is now. Everybody is still trying to second-guess what gin is going to do as a category. There's going to be high growth in gin in the export market and it might not reach the heights of whisky but it will definitely close the gap."

Though it may never gain the same level of acclaim as Scotch whisky, Scotch gin does have its advantages, which include being considerably faster to produce.
Awards celebrate food and drink north of the border
Move over France, the tiny Scottish island of Barra is the next hot spot for snails. Chef Fred Berkmiller (pictured) was honoured with the Scottish Sourcing award for his L'Escargot restaurants at the Scotland Food & Drink awards on 18 May. An ambassador for Scotland's larder, Berkmiller goes to great lengths to source almost everything he serves from within the country.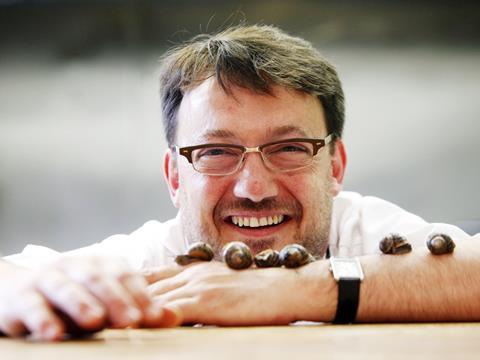 Product of the Year was Chocolate Tree for its Whisky Nibs, which also claimed the top prize for confectionery and snacking. The business was praised for its innovation in the growing craft chocolate market and the judges described the product as being of "good quality with a nice, strong flavour".
In Distilling, Loch Ness Spirits came top with its Loch Ness Gin, made with local juniper. In Brewing, Stewart Brewing scooped the top spot for its Radical Road craft brew with its punchy flavours.
In Dairy, Graham's the Family Dairy won for its Gold Smooth milk, and Peelham Farm Produce won Meat for its Organic Air-dried Smoked Juniper Mutton. Loch Fyne's Kinglas Fillet took home the Fish & Seafood award.
New category Own Label Product of the Year is sponsored by The Grocer and recognises the best Scottish products available from supermarkets. Aldi was the inaugural winner for Specially Selected Orkney Caramel Shortbread, praised for tapping growing demand for indulgent products with genuine provenance.
Brand Success of the Year, which recognises the development, innovation and enterprise of a particular business, was won by Pickering's Gin for the effective use of strong product advocacy and word of mouth.
The Young Talent category was awarded to Liam Pennycook of Strathearn Distillery and the hotly contested Food Pioneer award, which drew an initial 146 nominations from the public, went to Graham Suttle of Kained Holdings.
"Gin has that amazing flexibility of having an almost endless recipe list so there's so much you can do with it, which has never been the forte of whisky," says Withers.

'Mother's ruin' is often thought of as an English drink but some 70% of gin consumed in the UK is made in Scotland. The demand has been so great even bigger players have been encouraged to break into the market.

BrewDog wants to "redefine the entire industry" with newly launched sister brand LoneWolf, which it says will set a new standard for distilling. "It is commonplace for spirit brands to bulk-buy their base alcohol from a supplier and redistill with their own botanicals," says LoneWolf MD Doug Bairner. "We are custodians of our liquid at every stage of its creation and believe that our exacting processes give the best possible spirit."

LoneWolf gin, which is available online for £32, is made in a new, purpose-built distillery near BrewDog's HQ in Ellon, Aberdeenshire that boasts the word's only triple-bubble still and an 18-metre tall rectification column.

The upsurge has prompted the launch of a new industry body to verify the authenticity of brands, the Scottish Craft Distillers Association.

The new SCDA partnered with the Scotch Whisky Association earlier this year and is now offering a badge of accreditation "designed to assure the customer that the product is a Scottish craft distiller spirit" and is assessing each application on provenance, quality and authenticity.

To get a bottle with strong provenance and authenticity, consumers are willing to shell out more than double the price of a standard brand. "When we set our price at £34 two years ago we were at the higher end but now we're seeing gins coming on to the market at £43," says Murray.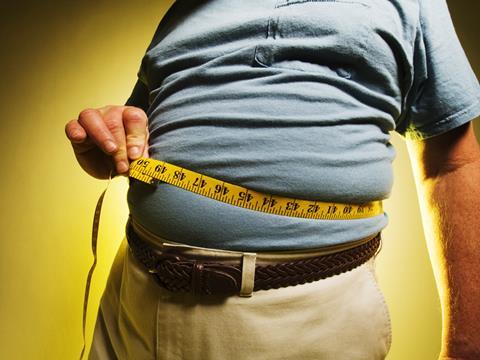 Scottish brands on a health kick
Scots get a bad rap when it comes to health. Of course the Scottish diet isn't as bad as the stereotypical deep-fried Mars and Irn-Bru, but there's no sugar-coating this: 67% of Scots are overweight or obese, versus 63% of English adults [House of Commons briefing, 20 January 2017].
Things are in danger of getting worse, says Food Standards Scotland dietary advisor Dr Gillian Purdon. "Around one-third of children and around two-thirds of adults in Scotland are currently overweight or obese," she says. "It's forecast that, unless things change, 40% of adults in Scotland could be obese by 2030." So what is the industry doing?
Scotland's biggest brands are on a health kick. In January, Nairn's launched Snackers, a gluten-free alternative to crisps containing 100 calories a bag. More indulgent brands are following suit. Innis & Gunn has launched an alcohol-free beer (see p57) and Mackie's is looking into launching light versions of its ice creams. Scotland's other national drink, Irn-Bru, will be reformulated with less sugar to meet changing tastes and escape the sugar tax.
"The biggest trend in soft drinks has unquestionably been the desire to reduce the level of sugar that is consumed through drinks," says AG Barr marketing director Adrian Troy. "From autumn this year Irn-Bru will still have its unique great taste, but with less sugar." Sugar-free NPD Irn-Bru Xtra also hit shelves in Scotland last August to tap growing demand for diet drinks. It's racked up sales of £12m since, says Troy.
That's not all. FSS has kicked off a campaign encouraging Scots to give up treats every Tuesday. The body says if Scots give up two biscuits and a can of full sugar pop one day a week, it could add up to 16,000 fewer calories across the year. FSS is pushing the message of the new campaign across TV, online and social media.
With pressure like that, more reformulation could well be on the menu for Scotland's biggest brands.
"We're definitely seeing people willing to spend that little bit extra on things that are cleverly branded and have a story behind them. It's a bit like craft beer where people aren't particularly loyal to brands but they're loyal to the ethos of smaller producers."

This hasn't gone unnoticed by big Scottish brewers. Tennent's launched Caledonia, a three-strong range of premium bottled ales."Half of 18 to 34-year-olds intend to drink more bottled ale and two of three beer drinkers believe it's worth paying more for a good quality beer," says Tennent's head of customer marketing Claire Arnott.

"This presents retailers with a real opportunity to capitalise on the growing consumer trends and drive sales through their tills. Each ale in our Caledonia range has been brewed using the best Scottish ingredients, including Highland water from Loch Katrine and 100% locally sourced barley. The flavour profiles for each offer food pairing opportunities, ideal for the 'big night in' market."
BrewDog goes global
Unfazed by the potential changes to trade in Europe, BrewDog opened new bar in Estonia in April and has plans for a flagship location in Paris as part of its "significant international expansion".

"It's always exciting to launch a new bar, but now feels like a particularly pertinent time," says BrewDog co-founder James Watt. "We nearly doubled our UK sales last year, which gives us a solid platform to expand our international reach even further."

Some short-term effects of Brexit managed to give exports like salmon and whisky a leg-up, but the industry is heavily reliant on access to European markets, access to which could now be in jeopardy. "As long as frictionless trading continues to exist between the UK and EU countries, we see no reason for Brexit to be an impediment to continued growth in our exports to Europe," says Landsburgh. "Industry collaboration with regulators, national government and other stakeholders is helping to ensure sustainable growth in production."

The potential long-term impact of Brexit on Scottish food and drink may be shrouded in more mystery than the Loch Ness Monster, but Scotland is not shy in standing up for itself during negotiations.

"We shouldn't have to face the choice between remaining as part of the UK and the EU single market," says rural economy secretary Fergus Ewing. "The pursuit of a hard Brexit is a major threat to this success and these export figures show why we must work to protect Scotland's place in Europe. It's clear the industry is going from strength to strength. The increased collaboration between industry and public sector and the Food and Drink Export Plan are helping this by identifying opportunities to support businesses and breaking down barriers to trade."

Just because the political landscape has changed, Scotland Food & Drink sees no reason to slow down with its plans to accelerate growth in the industry.

"Sure, there's a lot of uncertainty in the world, but when was the business world ever certain?" asks SFD's Withers. "Year on year it's in constant flux and when you look at the rest of the world no one else is standing still. There's a lot in the world we can't control, but there's a hell of a lot we can control. Whatever happens in the future debate about Scotland being part of the UK or not, the same way as the UK being part of the EU or not, we need ongoing, seamless access to the market. We can't afford to have any trade hindrance."

The Scottish government says Scotland deserves to be part of the single market and though it is supportive of an independent Scotland within the EU, keeping access to the rest of the UK market is still a priority. "Our biggest market is the rest of the UK and whatever happens, you would hope that we don't get to a position where trade flows are hampered in any way," says Withers.

A decade on from Scotland Food & Drink's first 10-year plan, the industry is ready to take things to the next level and make huge investments in innovation, skills and its supply chain to drive growth by at least 5% each year until it hits its target. "There's a heap of work we now need to do if we're going to realise our potential," says Withers. "Competition and change mean we stand still at our peril. We need to build on what we do well, unlock new potential, raise our ambitions and press fast-forward."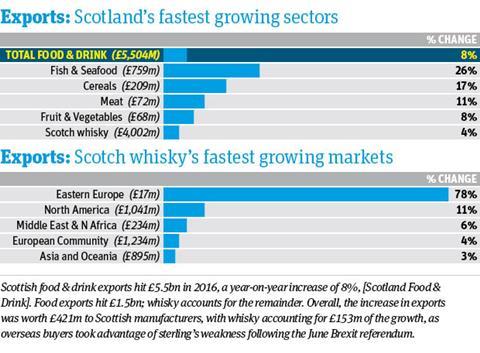 Download the PDF version of this report
---