The traditional pie is struggling. Brands are now looking to tempt the young, cool crowd with exotic recipes and vegan NPD
Savoury pastries have a problem. Sure, value sales are up 1.5%, but this hides a less positive picture. The number of packs sold in the past year has dipped 0.5% [Nielsen 52 w/e 8 September 2018]. Lift the crust and delve deeper into the numbers and you might just find some more unsavoury surprises.

For example, Brits have munched 4.2 million (or 2.6%) fewer hot pies at home. There's been a 3.4 million decline in the number of scotch eggs, a 5.8% fall, and 2.3 million fewer sausage rolls eaten, or 2% [Kantar Worldpanel 52 w/e 15 July 2018]. Just a year ago, we reported growth for all three sectors [Kantar Worldpanel 52 w/e 13 August 2017].
Download the PDF version of this report
---
This is far more than the waxing and waning of particular pastries' popularity from year to year. "The traditional savoury pastry consumer is dying," says Mark Campbell, MD of posh pastries brand Higgidy. "There's a whole new band of consumers bored by the traditional offer and too health-conscious to buy beige."

So beige is out, and the trinity of meat, veg and gravy encased in pastry is less likely to cut it with the new generation. Brands are suddenly finding they need to innovate - and fast - to win over the up-and-coming crowd. Those who are making the effort are prevailing. Pukka is up 17.9% in value, Higgidy has grown 7.8% and market leader Ginsters is up 7.2% [Nielsen]. Impressive stuff, given that Ginsters is worth close to £100m.
What can the wider savoury pastries and meat snack sectors learn from these brands? What does the new generation want from their pastries? And is there still a place for old classics such as steak & kidney, chicken & mushroom and the hallowed Melton Mowbray?
Pastries certainly need more young blood. Analysis by Kantar reveals that 69% of savoury pastry consumers fall into the older 'post-family' demographic, 22% live with their families and just 9% are in the 'pre-family' group. This backs up Campbell's point about the death of the pie eater.

"The longer-term picture is that savoury pastries have been losing relevance with consumers and losing penetration," confirms Ginsters' MD Kieran Hemsworth, pointing to Kantar figures that put pastries' penetration at 90% in 2010. Today that figure stands at 89.1%.

Granted, a 0.9 percentage point decline in eight years hardly seems catastrophic, until you consider this is the equivalent of roughly 600,000 fewer shoppers.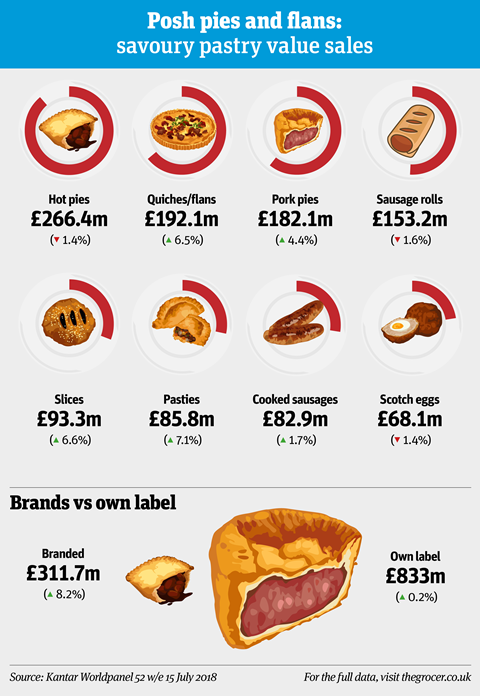 Find the full data at the bottom of this report
Katsu chicken and Moroccan vegetables
Brands have had to work hard to stop that figure falling more dramatically. The past year has seen a 0.2% point rise in penetration, thanks in no small part to the efforts of brands such as Ginsters, which in June relaunched with new livery and a host of NPD.
"In the past 15 years ready meals and pizza have been the scene of huge innovation while savoury pastries have pretty much remained the same," says Hemsworth. "Within savoury pastries as a whole, we know 58% of consumers have reservations about ingredients, and 38% believe products are bland. It is a case of changing mindsets, proving our premium credentials and demonstrating that we are driving new levels of innovation."
"Ready meals and pizza have seen innovation while savoury pastries have stayed the same"
Hence the relaunch. The new approach centres on provenance (all Ginsters pastries are made in Cornwall), quality of ingredients and flavour. To address the preconception that pastries are bland, Ginsters is trumpeting its use of Indonesian sarawak pepper in its pasties and has enlisted Michelin-starred chef Chris Eden to cook up a new range, which includes Katsu and Piri Piri Chicken Slices and a Moroccan Vegetable Pasty.

Britain's third-biggest pie brand, Pukka, has also been rolling out more exotic offerings, helping it to achieve the highest percentage gain of the past year, amounting to an extra £4.7m through the tills [Nielsen]. The Veggie Tikka Masala Pie Pukka launched last year has already achieved sales of more than £250k and continues to grow as listings increase, says category controller Sarah Reedman, quoting IRI numbers for the year ending 9 September.

"Our growth is largely incremental and is mostly coming from new shoppers," she adds, citing Kantar numbers. "There are five million people buying our brand and a million of them are new shoppers. Four per cent of Pukka shoppers are under-28s versus own label at 2.9% and other brands averaging at 1.5%. Take Pukka out of the category and the sector would be in decline."
Of course, that depends on whose numbers you use. But what remains consistent between Kantar's, Nielsen's and IRI's reads of the market is that the strong growth of Ginsters, Pukka, Higgidy and a handful of other brands is being undermined by the sharp decline in own label.

"Own label remains the dominant force in savoury pastry, accounting for 72.8% of market share," explains Kantar analyst Hugo Schild. "Brands are far outperforming own label in growth terms, seeing 8.2% growth compared with own label's 0.2%. Brands are starting to gain traction, potentially thanks to differentiated offerings and, unusually, lower prices."
"Brands are starting to gain traction thanks to differentiated offerings and lower prices"
Brands' decline in average price is marginal: just 0.2%, driven in part by a 4.5% rise in sales on deal. Just over 37% of sales are now on promotion, with temporary price reductions the most common mechanic, having seen a 6.4% rise in use in the past year. The strong growth of Pukka, which sells for an average of 13% less than the market average, is another factor.

But the overriding difference between own label and brands is premiumisation. While own-label products have for the most part played it safe and stuck to the likes of beef & onion and chicken & mushroom (hence losing chiller space to increasingly premium pizzas and ready meals), brands have been pushing their culinary and convenience credentials to encourage shoppers to spend more.

Examples abound. The premium Pieminister range now includes a Pea, Paneer, Spinach, Potato, Chilli & Mango offering, while Higgidy has launched pastry-free Frittatas, vegan parcels with roasted sweet potato & red onion and a trio of posh sausage rolls with pancetta, bramley apple and cranberries. Proper Cornish has recently launched a chunky bacon & maple sausage roll.
"It's continually receiving fantastic feedback," says MD Chris Pauling. "Consumers appear to be more willing than ever to try new flavours and also to try a combination of flavours. We've seen some very exciting flavours hit the market in 2018, especially across the sausage roll market. Double depositing ingredients is a great way to increase the taste experience of a sausage roll."

Not even the humble pork pie is immune to all this. "Consumers are looking for interesting flavour combinations, but pork pies are often viewed as being very 'traditional', so there was a need to diversify our offering to entice new customers," says Michael Holton, brand marketing manager at Pork Farms and Wall's owner Addo. "The introduction of Thai Style Coconut & Lemongrass and Smoky Bacon with Parsnip & Maple Syrup Pork Farms pies in April appeals to those looking for experimental options."
Will pies and pastries ever be seen as healthy?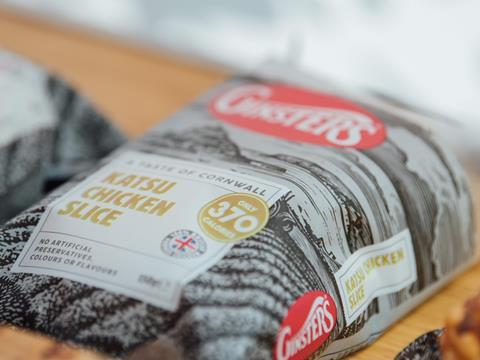 Pies and pastries mean many things to many people: the ultimate all-American dessert, quintessential pub grub or a half-time pick-me-up on the football terraces. But they are rarely associated with healthy eating.
Until now. Ginsters is looking to change findings of its research, which found 57% of consumers believe savoury pastries are unhealthy. MD Kieran Hemsworth says health is a particular concern for younger consumers, so lower-calorie offerings are key to engaging this group.
"Our new Katsu Chicken and Piri Piri Chicken Slices are deliberately under 375 calories each and have been a real hit with younger consumers," he says. "Twenty eight per cent of the Katsu volumes have been bought by younger consumers and 35% of the Piri Piri. Just 9% of total savoury pastries have been bought by this group."
Ginsters isn't the only one. According to Addo Food Group, 89% of consumers are looking for healthier snacking options. "Consumers are far more engaged in what they should be eating as part of a well-balanced diet and are actively seeking healthier alternatives," says brand marketing manager Michael Holton.
"We are responding to these opportunities with the development of the front-of-store and food-to-go SKUs. This has led to the development of Wall's Thins, which contain just 70kcal per slice."
Meat snacks players are also banging the healthy eating drum. "Consumers are looking for snacking solutions that provide real food credentials and nutritional benefits," said Kerry Foods strategic insight & category lead Janine Piper on announcing the relaunch of the Fridge Raiders brand in July.
The brand's new positioning now focuses on protein content, she adds: "With each and every Fridge Raiders product powered by protein, we hope the portfolio will resonate more clearly as the perfect solution for modern-day snackers."
The craft movement
This, of course, reflects wider trends across food and drink. The craft movement that began in beer is now changing the types of food most commonly served as an accompaniment to it, and beyond. The standard pork scratchings of old are being replaced by offerings flavoured with everything from maple syrup to English mustard. Jerky and biltong are being used as a canvas for experimentation with new flavours.
"We work closely with our team of chefs to curate the most relevant and exciting flavour profiles, taking influence from world food trends, street markets, pop-up restaurants and craft beer," says Ed Hauck, co-founder of jerky brand The Curators. "Our Espresso BBQ Jerky was inspired by die-hard barbecue 'grill-heads' from the US who have been using coffee as a meat rub for years, and the emergence of coffee in craft beer."

Established in the fashionable craft beer pubs of BrewDog and others, The Curators is becoming a mainstream brand with its Sweet & Smoky, Teriyaki and Sweet Sriracha jerkies now available in Sainsbury's. In January, the retailer will begin selling the brand's latest Korean BBQ offering.

"It is interesting to see that the current data suggests meat snacks volume is down but value is in growth," adds Hauck. "We believe that value is being driven by brands such as The Curators, which offers a higher quality of product. There are a lot of parallels with the craft beer market, where the overall drinking trends are towards less volume but better quality and therefore consumers spend a little more for what they really want."
Hauck is not alone. Last year saw the launch of Made for Drink, a range of charcuterie-based meat snacks. First came the brand's duck fritons - essentially a scratching made with duck instead of pork fat - designed to be served with IPA. This was followed up with Chorizo Thins, tipped as the perfect partner for a full-bodied rioja, and Mangalitza Salami Chips, which founder Dan Featherstone says pairs perfectly with a cool, fruity pilsner.

"At a time when craft beer and craft gins are all the rage, it made perfect sense for someone to create meaningful snacks from best-in-class ingredients and a hand-cooked, small batch mindset," he adds. "Appealing to an altogether more inquisitive younger audience, we've created a new breed of snacks around the timeless notion of people coming together to enjoy great food and drink."

By people, he doesn't just mean beer-drinking blokes. As with pastries, the development of new products inspired by cuisines from around the world is attracting a much broader range of consumers into the fold. A recent campaign by The Curators revealed 50% of shoppers who bought the brand were new to the category and 61% of those were female. Many contend that attracting such shoppers is key to the future growth of meat snacks.
"We've just launched our new brand Krave, aimed at bringing more people into the meat snacks category," says Jennifer Macdonald-Nethercott, marketing manager at Meat Snacks Group. "Krave provides the consumer with new flavours, including chimichurri beef biltong and Szechuan pepper & ginger salt beef jerky. The brand is aimed at a foodie, more female market who don't currently consume meat snacks. We see this brand as driving market penetration and have a campaign in place for the autumn to drive this objective."

Then there's Ember, which entered the market last year with a distinctly high-end biltong range. Its aim is to increase penetration of meat snacks from 7% of UK households to 10% by the end of 2020. Considering that figure stands as high as 50% in South Africa, Ember co-founder Harry Mayhew believes the ambition is achievable. He argues the opportunity lies not in creating masses of new flavours, but establishing a "knockout combination of quality and taste alongside an emotive lifestyle brand".
"The opportunity now is to overturn the past poor reputation of pork scratchings"
Posh pork scratchings brands such as Mr Trotter's and Snaffling Pig are similarly looking at an image revamp. "Pork scratchings used to be mainly in pubs accompanied by beer - the opportunity now, for us and for others, is to overturn the past poor reputation of scratchings by letting new customers taste the wonder of a well-cooked pig," says Mr Trotter's co-founder Rupert Ponsonby.

Quality and flavour are key. Gone are the stray bristles and jaw-breaking rind of the scratchings of old; in are adventurous flavours and consistent, crunchy curls of crackled pork fat. "We've brought out a new Mr Trotter's salt & vinegar crackling, the knack of dipping crackling in vinegars being an existing favourite in much of the east," adds Ponsonby. "Far more chefs, delis, farm shops and supermarkets are now interested in the category."

Indeed, rival Snaffling Pig partly credits growing distribution in the supers for year-on-year growth of 50% to £4m. "Our focus on high-quality ingredients matched with great-tasting flavours is complementing the indulgence trend and giving customers a snack they're craving," says CEO Nick Coleman. "The trend of nights in has also helped as our customers see us as a treat to share with friends and family."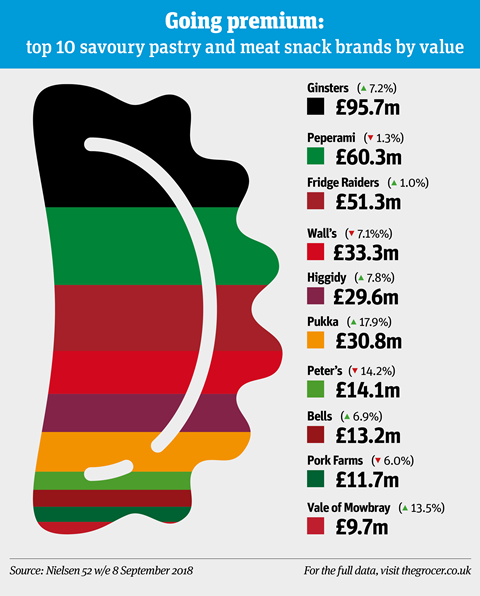 Find the full data at the bottom of this report
The meat-free market
There are still challenges to overcome, of course. Coleman cites "immense cost pressures" in the meat sector as a headache, for example. Meanwhile, the growing trend for flexitarian, veggie and vegan diets among younger consumers is leading some meat snacks players to move into meat-free alternatives. Kerry Foods launched Fridge Raiders Combos - mixes of cheese, puffed rice, flapjacks and mixed beans - in the summer.
Of course, there's still a place for the classics - Pukka has recently launched a new recipe for its Steak & Ale Pie, and in October Ginsters rolled out snacking variants of its pasties and sausage rolls - but most agree that a wider range of meat-free products will be key to attracting the young blood the category needs.
"Across the board, the growth of our vegetarian products outpaces all else"
Pukka's Reedman says the brand's Veggie Masala and Leek & Potato offerings have been crucial in attracting new, younger shoppers. "Accessibility is a key point here," she adds. "Veggie options in pies have always tended to be very premium. By launching our own vegetarian options, we have appealed to younger consumers and helped make veggie pies much more mainstream."

Higgidy's performance and Ginsters' new Moroccan Vegetable and Cheese & Onion pasties (the latter has been pepped up with apple purée) back up Reedman's point about the premium punters are prepared to pay for vegetarian pastries with foodie appeal. "Across the board, the growth of our vegetarian products outpaces everything else," says Campbell.

"Almost 70% of what we make is now vegetarian and this year we launched our first vegan line (Roasted Sweet Potato & Red Onion Parcels). Within such a traditional category it's essential to meet head-on evolving shopper needs, by developing products and ranges that suit consumers' changing lifestyles with innovation that generates excitement and attracts a new shopper."

So step away from the meat and gravy. It's time to make way for the next generation.
Innovations in savoury pastries & meat snacks 2018
Click on an image to expand