Dennis the Menace and pal Pie Face would be pleased. For sales of the traditional sweet treats the comic book terrors liked hurling in their rivals' faces are booming, helping to drive 0.9% growth for the hot puddings & desserts sector on volumes that have dipped 1% [Kantar Worldpanel 52 w/e 21 May 2017].
Sales of pies, tarts & flans have surged by 9.8% in the past year. Volumes are up 4.6%. That's an extra £2m through the tills; growth that's overshadowed only by the traditional Christmas pudding, which has seen sales grow 6.6%, or £2.6m, on volumes up 0.6%.

So what's driving this renaissance for the wholesome puds of old? Which retailers and brands are driving growth in puds, pies and tarts? Is anyone being left behind? And how is the rest of the sector doing?

All this might seem counter-intuitive, given Brits have eaten 157 million (11%) fewer roast dinners (see p47), a meal that often precedes a good apple pie or steamed pudding, in the past year. But in spite of this, Kantar notes that more shoppers are buying hot puds and they are doing so more frequently. That basket size is falling is significant: households are getting smaller, meaning that offering smaller, more convenient packs is of growing importance for the sector. This has also contributed to the long-term decline of the roast.

Link deals such as dine in for £10 and alike are important to this market, offering portion-controlled treats at an affordable price. They're also driving growth for own label at the expense of brands: the former's sales are up 3.3% on volumes up 0.3%; the latter is down 2.4% on volumes down 2.2%. A combination of fewer promotions and premiumisation is driving average prices up overall.

"Aldi's Specially Selected range has performed very well, mainly driven by sponge puddings"

"As seen in the wider market, strong growth from own-label lines is driving category performance," says Kantar analyst Fridaos Abdulrauf. "Asda's Baker's Selection range has witnessed 151% growth, helping to drive strong performance in the sponge pudding and chilled pancake sectors. The Aldi Specially Selected range has also performed very well, seeing 67.2% growth, mainly driven by the success of sponge puddings. Waitrose's addition of Bramley apple crumble 2-packs helped boost performance."

Note the preponderance of traditional, homely desserts in the examples cited by Abdulrauf. But it's not just own label, which dominates the market with 59% of value sales, that's turning to comfort food. 2016 saw the launch of Mary Berry Summer Fruit and Belgian Chocolate Brownie puddings, which have racked up £1.2m in Waitrose, Tesco and Ocado since launch [IRI].

Jem Hodson, marketing manager at Hain Daniels, which produces the Mary Berry desserts, says growth in comfort food is partly driven by the economy.
"With consumers continuing to be aware of the economy, we are seeing less growth in truly new ideas and growth in products that are safe but with a twist, reducing the risk of consumers spending money on something they may not like," says Hodson. "With less money in people's pockets, desserts are lower down the shopping priority and less likely to be bought."
Shrinkflation
Hence the growth of own label to the detriment of brands. Analysis by IRI shows big losses for many of the sector's biggest players, with Premier Foods' Ambrosia brand losing £3.4m (-5.5%), Aunt Bessie's losing £2.7m (-21.1%) and Gü Puds down by £504k (-8.7%). Volumes are down for all three as well [IRI 52 w/e 20 May 2017]. Gü's is a case worth noting.

Last month we revealed that it had shrunk the weights of twin-packs of individual cheesecakes and pies, by almost 17% in one instance, while prices remained unchanged. Gü strawberry & raspberry shortbread cheesecakes were reduced from 190g to 158g, while the chocolate & vanilla cheesecake variant is down from 180g to 156g, and lemon has lost 22g of its original 180g. Key lime pie twin-pack was also reduced, from 170g to 156g, and Zillionaires' Cheesecake from 167g from 184g.
Category snapshot 2017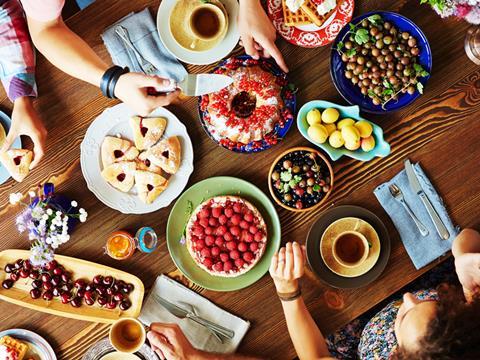 The move was inspired by the spiralling cost of ingredients, said a spokeswoman at the time, although stiffening competition with own label would no doubt have had a bearing on Gü's decision to cut pack sizes instead of raising prices. "As opposed to passing these costs on to Gü customers, or compromising quality, as of May a few of our puds have seen a small change in the weight so we can maintain our current rsp," said the spokeswoman. "This decision has been a last-case scenario for us, as we pride ourselves on consistency."
"With consumers aware of the economy, we're seeing less growth in truly new ideas"
Another concern for all brands in the sector will be growing share of own label-orientated retailers. Aldi's sales have surged by more than fifth, driven partly by its growing share of the wider grocery market. Marks & Spencer is up 8.2% and the Co-op, which has benefited from targeting shoppers looking for evening meals on the way home from work, has seen its sales surge 19.9%. The Co-op's launch of banana & caramel puddings next month (see right) is more evidence of contemporary twists on traditional favourites.
Christmas pud
One traditional hot dessert that's had plenty of modern makeovers in recent years is the Christmas pudding (see the Heston from Waitrose Hidden Clementine pud). The pud's growth over the past year is primarily driven by the increasingly premium products being pushed by the major retailers. The average price paid for a pud last Christmas was 6.1% higher than in the previous festive season.

This Christmas most retailers will be pushing posher puds. Morrisons, for example, is launching a Pedro Ximénez sherry & pear Christmas pudding, with a 'hidden centre' of quince and pear sauce, under its premium-tier label The Best.

Lidl will offer a premium gluten-free Christmas pud as it continues its bid to widen its appeal, while Waitrose will push the Hidden Clementine pudding alongside a Persian Christmas Pudding, also created by Heston Blumenthal.

"Inspired by classic Persian flavours, the chef has worked his magic on the festive staple by adding apricots, pomegranate liqueur, pistachios, caramelised orange and Middle Eastern spices," says a spokeswoman for Waitrose. "In the centre of the pudding is a fragrant honey and rose butter, and it is topped with a shimmering copper finish."

Expect further modernisation of classic puds in the coming year, says Hodson. "Florals such as rose, elderflower or pomegranate are seen as a way to add value, while texture is being added to various dishes in creative ways with the use of things such as popcorn. Herbs are being used in interesting ways to boost flavour, such as rosemary in a crumble, and malt flavours are being seen across ice cream and hot puddings.

"Finally, the use of garnishes and other visual representations are being used to present premium products."

There's another growth opportunity, suggests Abdulrauf. "We've also seen spend fall by £1.7m in families with a child aged 0 to four, so looking to produce lines that suit the needs of younger shoppers could help drive further growth."

In light of Dennis the Menace's taste in puds, how about custard pies?