Forget standard supermarket cakes. The new wave of bakes are creative, indulgent and worthy of a Paul Hollywood handshake 
The supermarket cake used to be easy to spot. At the end of the bake sale, it would be the one left in the corner. Faced with a choice, consumers would generally pick homemade creations over mass-produced supermarket wares. Were such products to enter the Great British Bake Off tent, they would be highly unlikely to receive the coveted Paul Hollywood handshake.

If Hollywood were to meet the latest wave of supermarket cakes, though, that handshake might be on the cards. These premium bakes have earned their place on the shelves with intricate designs, quality ingredients and innovative recipes.

Take Sainsbury's, for example. Its newly launched Patisserie Valerie counters sell such luxurious pieces as a £35 Madame Valerie Gateau, a chocolate sponge layered with caramel cream and honeycomb pieces, then decorated with salted caramel and white chocolate truffles. It's not alone in catering for posh tastes. At M&S, a flower festival cake - a four-layer bake covered with vanilla buttercream and hand-piped flowers and leaves - comes with the same £35 price tag. Over at Waitrose, a Heston Top Hat cake comes at a distinctly premium £45 with a quartet of sponge flavours: sherbet lemon, raspberry jam swirl, chocolate with blackcurrant, and salted caramel with fudge and honeycomb. These cakes are designed to be anything but leftovers at the bake sale.
"Consumers don't want to 'waste' a treat on a product that isn't up to scratch"
The cake market is growing as a result. Market value climbed more than £61m - or 4% - this year to a total of £1.6bn [Kantar Worldpanel 52 w/e 17 June 2018]. That's all the more impressive considering Brits aren't actually eating that much more cake. Volume remained relatively flat at 0.7%, meaning the rise in value is almost entirely down to consumers parting with more cash per slice. Nowhere is this more true than in small cakes and whole cakes, which saw price rises of 4.2% and 4.8% respectively.
So which retailers and brands are spearheading the rise of premium cakes? How are they getting consumers to splash out more? And how is this trend being mirrored in the similarly growing biscuit sector?

The rising demand for premium is partially down to a change in consumer appetite. "Consumers are increasingly conscious of what they are eating and don't want to 'waste' a treat on a product that isn't up to scratch," says Stuart New, head of bakery at food supplier Rich's. "As a result we are seeing a rise in premium bakery, with consumers looking for indulgent treats that warrant the calories."
Luxury
Retailers have been particularly quick to jump on this new mindset. "Premium is the fastest-growing tier within own-label cakes across all retailers," explains Kantar Worldpanel insight director Becky Henry. "We're seeing shoppers trading up from standard private-label cakes to premium, but critically they're also switching from branded cakes to premium private-label cakes."

The standout pioneer has been Sainsbury's, which brought in outside expertise last April in the form of long-standing premium cake chain Patisserie Valerie. What started as a 12-store trial has since expanded to include a presence in 70 branches, either in the form of fresh cakes at its patisserie counters or a click & collect service.

Patisserie Valerie project manager Hanna Wein says Sainsbury's customers have been happy to pay a premium - few of its whole celebration cakes go much below the £30 mark - for a more luxury proposition. Its most expensive order so far was for an 18" White Cigarette Celebration Cake, costing an eye-watering £237.
"Premium is the fastest growing tier within own-label cakes across all retailers"
"We've sold a total of 10,000 click & collect cakes across our Sainsbury's counters, and we currently sell around 36,000 cakes directly from the counter every month," she reveals.

Wein attributes the brand's success to the indulgent nature of its cakes and attention to detail. "Our cakes are seen as a treat, or something bought as a gift or for a special occasion, which tends to mean people are willing to pay a bit more for a product that is luxurious and high quality."

It's certainly a concept that has worked on the high street. Patisserie Valerie's estate has grown from eight sites nationwide to 159 in the past 16 years, 20 of which opened in the past 12 months. Still, Wein admits the move into supermarkets was initially a very different challenge.

"It's a different environment for us. It's much more competitive and we have to ensure the cakes sell well next to the Sainsbury's range, but we've made it work by offering something totally different to anything else in the cake aisle." For its part, Sainsbury's says the Patisserie Valerie counters haven't affected sales of its own-label cakes, instead acting as a boost to its existing revenue.
Find the full data at the bottom of this report
Innovation
Not everyone has been as ambitious as Sainsbury's, but they're certainly not resting on their laurels, either. M&S, whose value sales increased 7.5% over the past year, has plenty of new arrivals in its online cake selection. These range from a £30 shimmering chocolate piped rose creation, decorated entirely with floral designs, to a £45 extra large rainbow layers cake. Aldi, which grew its value by 10.1%, has taken its tried-and-tested tack of seemingly high-end offerings at a reasonable price. In June, it unveiled a duo of new additions to its Specially Selected range - Raspberry & Prosecco and Peanut Butter Cheesecake Bars - at £1.99 for a pack of two.
While these examples are very much ­classic luxury, others have looked to trends as a means of conveying the premium message. Asda is one of these. Having witnessed the impact of 2017's unicorn mania, it introduced a unicorn celebration cake last September that bakery manager Hannah Watson hailed as a "step change for the category". The cake proved so popular Asda has since expanded its mythological range with unicorn ­cupcakes. Others are going wild for 2018's big trend, the flamingo. M&S this year unveiled a £40 tropical flamingo cake, while Tesco launched a pink flamingo cake in June. In terms of brands, Mr Kipling followed up the launch of its pastel-coloured Unicorn Slices (which have since amassed more than £1.8m) with the introduction of Flamingo Slices. "We've achieved a retail sales value of £245k after just 10 weeks," says Richard Martin, general manager of sweet treats at Premier Foods. "The Flamingo Slices have been a ­popular addition to the range, and further underline that demand for cakes remains high for products that capture the imagination."
"Own label has historically performed very well in premium cakes"
On the whole, though, brands haven't been that successful in communicating a premium message. That's particularly true in larger cakes. Branded whole cakes, for example, have seen a 7.7% drop in value on volumes down 12.4%. Simply put, consumers just aren't rushing to buy their high-end occasion offerings. This is perhaps because branded innovation has largely focused on cake bars.
Admittedly, some are making the effort. Mars unveiled its Skittles rainbow cake last September to capitalise on the love for the rainbow format. And Finsbury Foods looked to grab a slice of the freakshake furore with the launch of its Baileys celebration cake into Asda last month.

Finsbury is also keen to go after the retailers' stomping ground of classic, high-end cakes. "Own label has historically performed very well in premium cakes," says Finsbury head of ­category management Richard Hawney. "There have, however, been examples this year of brands performing well by replicating what own label does so well, which is high quality, standout products that offer a point of difference." As an example, he points to its Mary Berry brand, which has accrued over £5m in retail sales since its launch of whole, loaf and celebration cakes last spring. "We identified through consumer research that there was a gap in the market for a premium cake brand with heritage and quality credentials that can offer something unique and alternative to own label," says Hawney.
Find the full data at the bottom of this report

The standout hero for the brands, though, has been cake bars. With branded value sales soaring 39.3% on volumes up 32.1%, cake bars are responsible for £16.4m of brands' £19.1m growth in cakes this year [Kantar Worldpanel].

One brand to jump on this growth is Mars, which introduced three new SKUs last month. The brand expects the two limited edition festive Galaxy bars and new M&M's bar to drive further growth into its existing cake bar range, which it states grew 5% this year to be worth £4.6m.

Premier Foods was another to pitch into the cake bar craze with the launch of Cadbury Roses bars in October last year. The range capitalises on its popular selection box flavours, with variants including Strawberry Dream, Orange Creme, Coffee Escape and Hazelnut Whirl. "It's a completely new proposition for us," says brand director Joanna Agnew, who hopes it will "attract an older audience to the cake aisle".
Other mini cakes are looking to tempt consumers at the opposite end of the age spectrum. Pladis, for example, took ­inspiration from café culture for the launch of its McVitie's Moments in June. Described by the brand as "the biggest innovation in the cake category in 2018", it is clearly eyeing millennial consumers prone to splashing out on a cake slice alongside their single-origin, oat milk macchiato (in a reusable cup, naturally). The five-strong range of luxury cake squares mimics the cake offerings at Costa and Starbucks with flavours including Chocolate Caramelting Flapjacks, Choccy Rocky Road and Salted Caramel Billionaire (rsp: £1.50-£1.60). According to Pladis, the range "will profoundly shift expectations of the cake category and modernise it for the 21st-century consumer", driving excitement and incremental growth into the category.
"Cake bars put something on the shelf for consumers looking for portion control"
Smaller brands are also grabbing the opportunities arising from café culture, among them Ridiculously Rich by Alana. "We saw a gap in the market for premium grab-and-go cakes and went for it," says founder and namesake Alana Spencer, whose Grab & Go cake slices made their way into cafés in September. She is already looking to expand the range with two new flavours. "Our aim was to create a truly high-end treat by merging the premium packaging found in fruit and nut-based health bars with the indulgence of a coffee shop brownie," explains Spencer.

Amid all this indulgence, it's important not to forget the key selling point of cake bars: permissible portion sizes. "Cake bars put something on the shelf for consumers looking for portion control and a treat they can easily consume on the go," says Mrs Crimble's brand controller Caroline Mitchell. In response to this insight, Mrs Crimble's launched new gluten-free Big Choc Macaroon Bars in February last year.

This search for a permissible treat means healthy lines are doing particularly well. By far the biggest player in the cake bar market is low-calorie brand Fibre One. Worth £17.3m, the three-year-old brand already accounts for just under 40% of total sales for the sector, reporting sales growth of 111% year on year. It's not hard to see why. Playing to Britain's health-conscious shoppers, brand owner General Mills states its range of brownies and squares contains 90 calories, 5g of fibre and less than 1.9g of saturated fat.
Now Fibre One is branching out into the early evening snack occasion with the introduction of two new cake bar SKUs, both launched in August. Carrot Cake and Triple Choc bars contain the brand's trademark 90 calories with "at least 30% more fibre, 30% less fat and 30% less sugar than the average cake bar in the UK".
Demand for healthy alternatives is evident across all of the smaller cake market. In January, Mr Kipling launched Fruity Slices, a three-strong range containing real fruit, fewer than 105 calories and 30% less sugar than Mr Kipling Angel Slices. Despite Mr Kipling shedding £2m this year [Nielsen, 52 w/e 14 July 2018], general manager Richard Martin insists the £1.1m generated by Fruity Slices is reinvigorating the brand. "We've had an excellent six months, increasing sales by 9.5% and our market share by 1.4%."

The permissible trend also explains the 15% growth in the value of fruit loaves. This was driven predominantly by Soreen, the only cake player in the top three this year to see value growth [Nielsen]. The brand focused heavily on encouraging healthy lifestyles this year, collaborating with PHE in its Change4Life campaign and launching its own Soreen Cycle Project, as well as introducing a new limited-edition strawberry lunchbox loaf.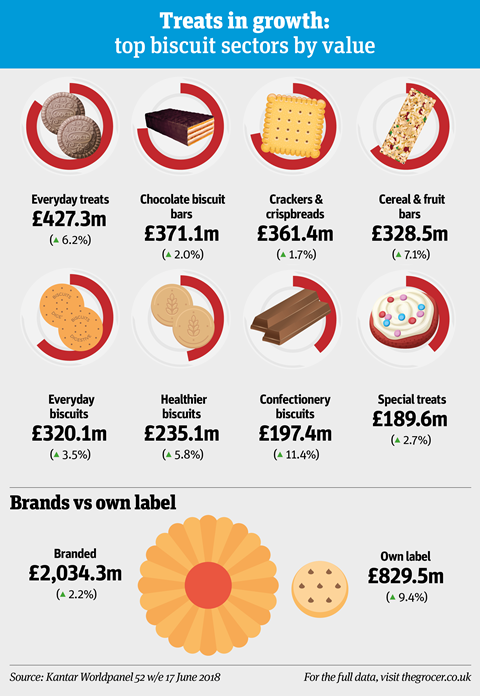 Find the full data at the bottom of this report

In biscuits, it's a similar story. According to Kantar Worldpanel, shoppers spent an extra £12.9m on healthier biscuits this year. This helped bolster the total market by 4% to £2.9bn. "Data shows 86% of biscuit growth this year came through special treats and healthier options," says Bahlsen trade marketing manager Julien Lacrampe.

McVitie's Thins have been a driving force behind this, having accumulated £26m in sales since launching in January 2017. Keen to build on this growth, McVitie's parent Pladis introduced new Chocfilled Thins and Hobnobs Thins in July. "Both are examples of how we are extending the reach of sweet biscuits to even more shoppers and snacking occasions throughout the day," says Pladis' customer marketing director James Thomas.

Thins certainly seem to be where the action is. Mondelez also expanded its slimline range with new Oreo Coconut Thins in June to "excite customers with an exotic new flavour", and doubled the pack sizes for its original Oreo Thins in the same month (up from 96g to 192g).
"An increasing amount of shelf space was given to healthier biscuit options this year"
In other healthy innovation, there's the 115-calorie Nutella B-ready, which arrived on shelves in July this year. Aimed at shoppers looking for "the perfect mid-morning snack" on the go, the range of single-serve, six-pack and 10-pack biscuits has made £15m for parent brand Ferrero since launching. "We have presence in three out of four stores in the UK, and penetration is at 11%, equating to 2.9 million households," says customer development director Levi Boorer.

Retailers have responded accordingly. "An increasing amount of shelf space was given to healthier options this year, with space for chocolate biscuit bars being reduced," says Jeremy Peters, head of category at Burton's Biscuit Company. "Everyday treats and ­special treats are both driving growth in biscuits, but cereal bars and healthier options are also making an impact. The 'healthier' segment is expected to grow 14% by 2021 as consumers look for lower fat, salt and sugar options that don't compromise on quality or price point."

Saying that, there is still a space for luxury. "Over recent years, there has been a trend from everyday traditional biscuits to premium biscuits," says Susan Nash, trade manager at Mondelez International. "Research shows that consumers are looking for a little treat in their everyday moments that deliver on taste or are classed as a really special treat."
A prime example is Fox's. The brand launched its Chocolatey Squares in August, stating the two-strong range was "inspired by consumers' desire for 'a little bit of what you fancy'". The 'little bit' is key to this ­proposition. Each of the chocolate-covered shortcakes is split into four breakable pieces to make sure portions are still within reason.

Mondelez took a similar tack in August with bite-sized Joyfills. The 90g packs (rsp: £1.50), which are available in Oreo and Cadbury variants, contain 1g crispy biscuit shells with a cream filling. The brand is betting big on these tiny indulgences, supporting their launch with a £4m multichannel marketing campaign until the end of October. "We believe this will be a real opportunity for retailers to drive incremental biscuit sales for the afternoon, on-the-go and evening treating opportunity," says brand manager Carly Sharpe.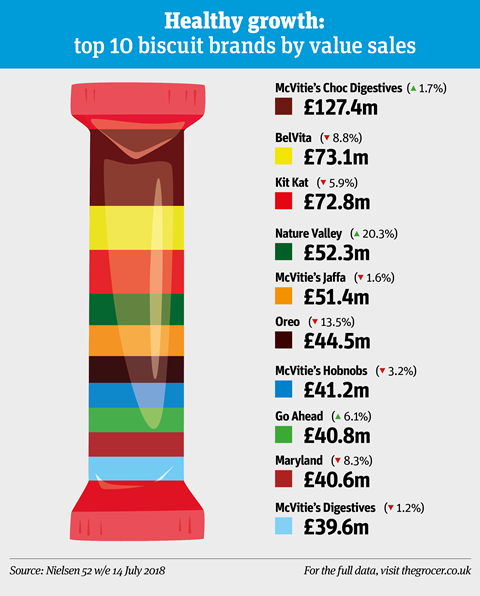 Find the full data at the bottom of this report
Indulgence
Yet it seems not everyone is concerned about calorie-counting. A poll of 1,000 shoppers by consumer insight specialist Streetbees found three-quarters of consumers don't think about the calories of a biscuit when making a purchasing decision. Pladis came to a similar conclusion when compiling its annual biscuits report. "Of 12 main motivators for snacking, we found 'treat myself' to be the number one driver," says Thomas.
"Of 12 main motivators for snacking, we found 'treat myself' to be the number one driver"
This perhaps explains why unashamedly indulgent options such as Bahlsen are performing well. The brand reported 22.1% value sales growth in its indulgent Choco Leibniz biscuit range this year, and looked to build on this with the launch of luxury Choco Moments - available in Crunchy Hazelnut and Mint flavours - in February. "By tapping these higher-priced sectors we're driving incremental spend for the category," says Bahlsen's Lacrampe.

It also explains why everyday treats gained an extra £25m (6.2%) in sales this year [Kantar Worldpanel]. Most of that extra spend came from a 5% average price hike, with high-end SKUs like Thomas Fudge's new Blisscuits flavours persuading shoppers to trade up on their everyday biscuits for an "extra naughty tea break".

So one thing is clear: there is still room in the market for a real treat. Whether a high-end, hand-painted cake or a luxury biscuit, consumers aren't likely to give up on their indulgences any time soon. Just make sure your offering would pass the Paul Hollywood test.
Innovations in cakes & biscuits 2018
Click on an image to expand