No selfie-respecting Instagrammer would be caught dead without a hint of natural-looking bronze, though they're not above getting a helping hand with achieving it.

Fake tan sales have risen 38.8% to £20.9m on volumes up 22.1% over the past year - the greatest percentage growth in a buoyant year for the skincare category, which returned to growth for the first time in three years [Kantar Worldpanel 52 w/e 3 January 2016]. Suncare, however, remained in the shade.

So, how are artificial tanning products continuing to gain favour? And what can be done to brighten up suncare's future?

When it comes to fake tan, orange is so last year. People want a more natural look aided by a raft of 'convenient and natural' NPD such as the first in-shower product launched by St Tropez and L'Oréal's Sublime Bronze Dream Legs. These upmarket launches have helped push average prices up 13.7%.

A growing number of young males are also entering the sector - using anything from facial bronzers to body tanning products - spurred on by growing pressure to be "more body beautiful" says Kate Waddell, insight and innovation director at Dragon Rouge.

This is echoed by Aloha producer Inline Health & Beauty, which is entering the fake tanning sector for the first time with a unisex Fake Me! range that features packaging designed to appeal to both sexes.

"The popularity of the selfie is giving rise to a population of both men and women striving for that selfie-ready complexion in any weather and at all times of day," says brand manager Carol Wong, adding online tutorials are increasing consumer confidence in applying fake tan and achieving a streak-free look.

Sales have also benefited from increased usage throughout the year, with strong sales growth in months outside the historically key May-July season, according to NPD Global.

"Sales were up 26% in March and 9% in December 2015 compared with the previous year," says Teresa Fisher, senior account manager of UK beauty, who adds the extension of the season has been aided by brands and retailers increasing the focus on bronzing and tanning all year round with new launches and in-store initiatives.

With fake tan now being used year round, some believe this should be reflected in store. "There is a real opportunity for retailers to grow sales if they were to place fake tanning products near toiletries and beauty products as opposed to seasonal aisles," says Debra Jamieson, sales & marketing director at UK Point of Sale. She adds that investment in PoS should be seen as a catalyst to boost the decline in traditional suncare sales.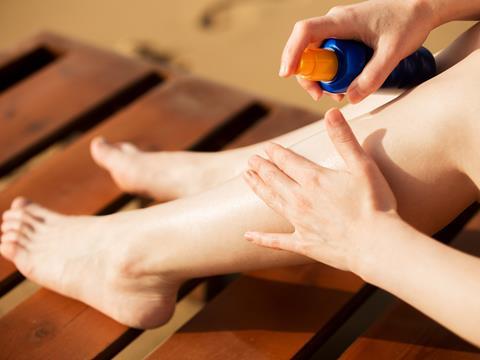 Beauty & suncare has recovered from a tough year to grow year-on-year value sales 1%, a decent performance given total toiletries declined 1.7% through price deflation and smaller baskets.
Skincare has turned around three years of decline. Suncare decline slowed slightly due to growth in artificial tans, but sun protection and aftersun suffered from another mild summer.
Close to 700k extra shoppers engaged in facial skincare. Promotions were less important this year, but growth of the value retailers drove average price down. Own label achieved faster growth than branded, largely driven by Boots.
Bodycare's value increase was assisted by Aveeno's Jennifer Aniston campaign. It also benefited the brand in hand preparations, in which it grew faster than all other major brands.
Suncare retained shoppers but the average shopper purchased only once. Artificial tans overtook aftersun in value, as more shoppers bought in and existing ones spent more, opting for brands over own label.
Georgia Percy, Kantar Worldpanel
Suncare in the shade
Overshadowed by the lousy summer, sun protection and aftersun sales were left in the doldrums with value slipping 7% and 13.9% respectively, as shoppers purchased less frequently due to the unreliable British weather.

Volume losses may also have been affected by surplus household stock, says Nivea. "Suncare products usually last a couple of years so the peak in 2013 could have impacted consumers' frequency of purchase even in 2015," says Anna Wigby, suncare category manager.

To prevent sales sliding further, Garnier Ambre Solaire owner L'Oréal believes retailers need to put suncare higher up the agenda. "Effective display is key to strong performance, whether this means locating suncare in high footfall areas of a store, tapping cross-category selling opportunities or simply capitalising on UK temperature peaks via in-store activation," says Stijn Demeersseman, general manager commercial operations for L'Oréal's consumer product division in UK & Ireland.

Nivea producer Beiersdorf points to the success of the high street channel, which increased its market share substantially in 2015, albeit from a small platform, as an example of "excellent in-store activity".

"Where activated with excellence, PoS has been the driver of disruption, presenting the right range and educating the shopper about the importance of applying sun cream when in the UK as well as abroad," adds Wigby. While the high street channel particularly caters for destination shoppers, impulse purchasing presents a "key opportunity across retailers" she adds.

Nivea plans to extend a major in-store initiative featuring prominent signage across aisles in the UK this summer following its success in Tesco Ireland, where it was being rolled out last season.
Nivea Sun Protection Roll-On

Launched: January 2016
Manufacturer: Beiersdorf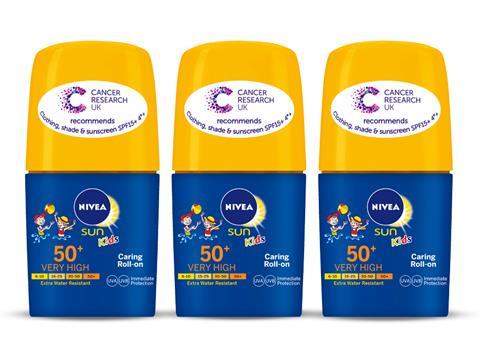 The new roll-on format from Nivea has been developed with kids and adults in mind, with SPF30 and 50+ factors added to the brand's Sun Kids range, which features a 'pleasant child-friendly' scent, while the adult portfolio has been boosted by roll-ons with the same factors but in Nivea's signature suncare scent. Aimed at removing the chore factor of suncare application, all products in the range are available in 50ml format, each with a £7.99 price tag.

Protect & Cool Refreshing Sun Mousse

Launched: January 2016

Manufacturer: Johnson & Johnson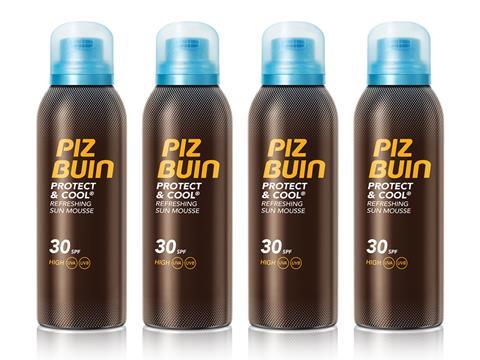 Designed to provide a 'pleasurably icy sensation' to skin on hot days while also protecting against harmful rays, Piz Buin claims this is the first cooling sun protection product in foam format to hit the UK. Available across retailers nationwide, the mousse comes in SPF15 and 30 in 150ml size - 'ideal for hand and beach bags' (rsp: £14.50).

Calypso Sun Burn Relief

Launched: March 2016

Manufacturer: Linco Care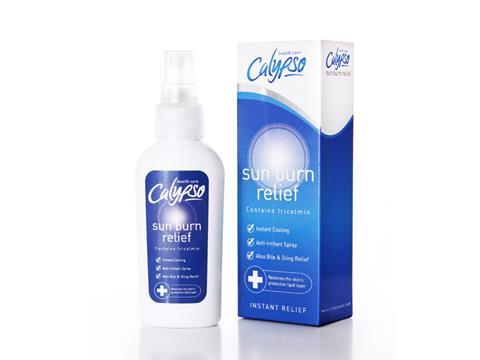 Pitched as the 'ultimate sunburn relief', Calypso's latest piece of NPD is a multifunctional formula designed to moisture, soothe and cool, while also restoring the skin's protective lipid layer. Perfect for use following over-exposure to the sun, it can also be used on skin irritations from bites & stings to depilation & shaving (rsp: £4.49).

Childs Farm Sun Care

Launched: January 2016

Manufacturer: Childs Farm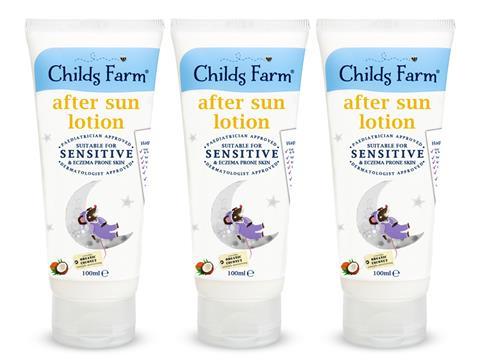 Childs Farm's 50+SPF suncream and after-sun lotion (rsp: £10.99 and £4.99 respectively/100ml) are aimed at children six months upwards, and available from Waitrose and Ocado. They are suitable for sensitive skin, contain no parabens, SLSs, mineral oils or artificial colours, and are dermatologically and paediatrician approved.
Educating the kids
Educating consumers about the importance of skin protection is a key priority in 2016 for Garnier Ambre Solaire. In a bid to teach children how to protect against sun damage, the L'Oréal brand is joining forces with the British Skin Foundation to launch a free Wrap Splat Hat school education programme from May across UK primary schools, using the Wrap (T-shirt), Splat (sun cream), Hat message. "Increased consumer awareness and understanding of the sun's impact on the skin is central to future growth," says Demeersseman.

Garnier Ambre Solaire is also looking to boost sales with NPD that will tap two key trends - scientific advancements in protection technology and convenient formats to make application easier.

Later this month it is launching Garnier Ambre Solaire Sensitive Advanced UV+ Infrared range - pitched as the brand's 'most complete' protection against the sun's rays to date - alongside Garnier Ambre Kids Easy Peasy Sun Protection, which comprises an anti-sand spray and a wet skin lotion.

The latter joins Nivea's child-friendly new roll-on format to tap the trend for easy-to-apply suncare for children (see panel, right). Beiersdorf is supporting it with a £3m push that kicks off this month.

NPD and campaigns are vital, but suncare brands will, of course, still be praying for sunshine this summer. Consumers, on the other hand, will be looking bronzed in selfies come rain or shine.