Eggs are driving growth in cooked breakfasts – with healthier (and Instagram-friendly) accompaniments sharing the plate
Sunny with the chance of 'cloud eggs'. That's the forecast in the breakfast category, which has bounced back from two years of decline. Last year, shoppers shelled out an additional £10m on the first meal of the day. And it's chiefly thanks to one ingredient: the humble egg.
Cooked breakfasts are back. But forget the greasy fry-up - today's shoppers are serving up poached, scrambled or even cloud eggs alongside foods like spinach and avocado instead. Despite being increasingly time-poor, Brits are even willing to spend more time in the kitchen to get the desired results- mixing ingredients, chopping fruit and sprinkling seeds.

There's good news elsewhere in the breakfast market, too. The sector's largest subcategory - ready to eat cereals - has seen an almost £10m (0.7%) increase in sales.
Download the PDF version of this report
---
All of which has taken the value of the total breakfast occasion to £11.6bn. Take-home sales of cereals, breakfast bars and drinks are up 1.4% to just over £2bn on volumes up 2% [Kantar Worldpanel 52 w/e 22 April 2018]. It's a welcome a reversal of fortunes compared with last year, when the market value declined 2.4%.

Yet in this revitalised breakfast market, there are clear winners and losers. And only those that meet increasingly demanding consumer criteria can reap the rewards of Britain's growing breakfast habit.

Health is one such demand. Nearly three in 10 breakfasts were chosen for health reasons over the past year, and that figure is on the increase. The number of servings chosen for nutritional benefits such as fibre and vitamins rose 17% last year, while the number chosen for natural or 'less processed' credentials shot up 23%.

Which shows why eggs are in such a sweet spot. All-natural with no sugar and high vitamin B2, B12 and D content, consumption of eggs at breakfast has gone up 2.7%.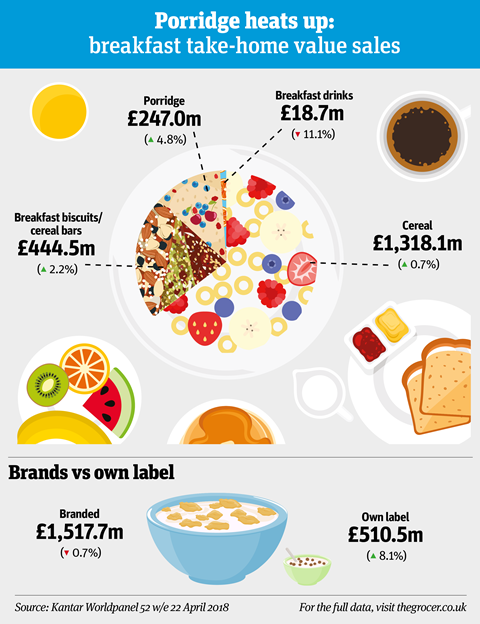 Find the full data at the bottom of this report

It's not just the inner beauty of the egg that has got people talking. Instagram has named eggs one of its top 10 most hashtagged foods, with health-conscious folk proudly using hashtags including #foodporn and #yolkporn (yes, really) to generate likes. The phenomenon has even inspired new ways of cooking. Cloud eggs - made by whipping the whites into a cloud shape and baking in the oven before topping with the yolk - have become the latest fodder for a social media brag.
"Social media has driven breakfast into 'Insta-bragging' moments, with 130,000 food related images uploaded to Instagram every day," says Christina Honigfort, head of marketing at bagel brand The New York Bakery Co. "We've noticed an increase in consumers tagging us in their breakfast bagel creations - especially those containing eggs."
The British Free Range Egg Producers Association (BFREPA) says its Facebook video showing how to make picture-perfect poached eggs has had a 'huge' response. Although it may take a bit of time, it's time consumers are willing to spend. According to Kantar, the we're taking an average of 7.4 minutes to make breakfast this year, up from 7.1 minutes. "While convenience can come out of a cereal packet, it is unlikely to match the nutrition profile of a breakfast that's prepared from scratch," says BFREPA CEO Robert Gooch. "Eggs are a versatile, nutritious, affordable staple which can be turned from a fresh ingredient into a breakfast item in seconds. Not many foods can claim that".
All this love for eggs is a far cry from consumer attitudes 30 years ago, when consumption dived as a result of Edwina Currie's infamous salmonella controversy. The British Egg Industry Council says it's about time the tide turned.
"Eggs have made a triumphant return to the breakfast table with consumption growing"
"Eggs have made a triumphant return to the breakfast table with consumption growing among people of all ages," says chairman Andrew Joret. "The FSA changing its advice in October 2017 to confirm vulnerable groups including babies, pregnant women and the elderly can eat runny eggs as long as they are Lion is starting to resonate."
Eggs may be the star of the show (cooked breakfasts served without eggs are actually down 2.2%) but there is also hope on the horizon for the traditional meaty fry-up. Certain brands synonymous with the full English are enjoying a surge in sales.
"The cooked breakfast has developed in recent years, from a 'greasy' fry-up to a meal which is now perceived as healthy due to different cooking techniques and the use of reduced and no sugar salt products," says Joel Hughes, UK sauces brand build at Kraft Heinz.

Even the calorific black pudding is winning favour (perhaps bolstered by being named a 'superfood' back in 2016). Irish brand Clonakilty saw its listing for black pudding in Sainsbury's doubled from 40 to 80 stores in March as a result of consumer demand, and won a listing in Ocado for its Ispíní sausages in July.

"Since launching in the UK four years ago, the brand has gone from strength to strength, both increasing distribution but also visibility for the product range beyond our black pudding," says Clonakilty's MD Colette Twomey. "In the last year we've seen a 15% uplift in volume sales."
The 'Beast' effect
It's hard to mention the hot breakfast market without talking about the wind behind it - more specifically the so-called 'Beast from the East'.

Freezing weather in March 2018 helped send sales of hot cereal soaring. Brits spent an extra £4.4m on porridge compared with the same period the previous year, making hot cereals the fastest-growing subcategory, with value sales up 4.8% [Kantar 52 w/e 22 April 2018].

The Great British Porridge Company, which hit the market with a trio of porridge pouches in January, says March was its busiest month since launch thanks to the Beast.

Quaker is another brand to see the benefits. "The unseasonable weather in March definitely boosted an already buoyant segment, and as the leading brand in the hots segment we certainly saw an impact," says senior marketing manager Steph Okell.

It helps that porridge is tapping several current trends. Quaker is taking a lead on the health drive by removing more than 175,000 kilogrammes of sugar from its rolled oats products.

Overnight oats is another trend. "They do take longer to prepare than traditional oats but can be enjoyed at home or on the move," says Okell. "To cater for consumers who are more willing to spend time at breakfast, our new-look packaging includes recipe suggestions to inspire them at the start of the day."
"Consumers are practised in the art of Instagrammable porridge"
Snack brand Perkier is also tapping into the overnight oats trend with the July launch of its Oaty Quinoa Porridge Pots, which can be made overnight with cold water and yoghurt or in less than a minute by adding hot water. "Overnight oats is one of the top five growing breakfast and brunch trends in the US, according to Statista, and with over 500,000 Instagram posts it is set to continue to grow," says Perkier's co-founder Ann Perkins.

And similarly to eggs, porridge is a favourite among the social media set. Quaker went after Instagram-loving foodies with a 10-week Show Us Your Oats campaign at the start of the year, encouraging shoppers to post pictures of their finest Quaker creations for the chance to win £10,000 every week of the campaign.

Last year Rude Health, which has been hosting the Rude Health Porridge Championships to coincide with World Porridge Day for five years, asked entrants to post photos of their best bowls of porridge on Instagram for the chance to compete. "Many of the submissions we received rivalled the bowls created by our professional lineup," says Rude Health's co-founder and brand director Camilla Barnard.

"Consumers are practised in the art of Instagrammable porridge because oats provide an affordable, easy and quick-to-prepare canvas with everyday ingredients."

Shoppers' penchant for a hot breakfast has had a knock-on effect on other areas. Alpro says sales of its free-from almond and soya milk are up as a result of being added to porridge and eggs. "The figures speak for themselves," says Alpro's head of marketing Vicky Upton. "More than one in four households now regularly enjoy our products - often at the breakfast table - and we know our most popular chilled and ambient drinks are commonly used as key ingredients in making anything from porridge to cooked breakfast items liked scrambled eggs."
Can matcha waffles be a match for the mults?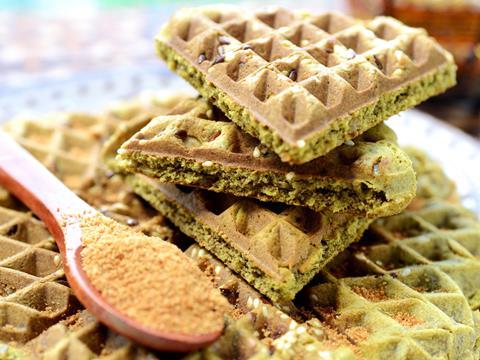 Japanese matcha waffles (above) and bacon & scallop rolls. These are among the breakfast offerings reaching new heights in foodservice, according to food trend experts at The Grocer's sister brand Food Spark, and it's only a matter of time before they hit supermarket shelves.
"There's a lot of money being made by both independents and chains who are catering for the first meal of the day in the right way, which is why retailers are looking to get in on the action," says Food Spark's editor Tom Lee.
For examples, look no further than Billingsgate Fish Market, whose bacon & scallop rolls are rated the 'best breakfast in London' on Trip Advisor. And Indian-style breakfast muffins are selling like hot cakes at London's Wrapchic, while city chains including Lussmanns are dishing up North African shakshuka - eggs poached in tomato and chilli sauce.
Lee expects retailers to start cashing in on our more adventurous tastes. And putting them into ready meal format could be the perfect solution. "For those looking to inject excitement into breakfast with more adventurous recipes, ready meals are a less daunting prospect."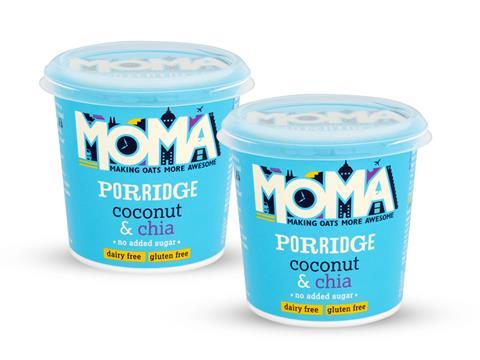 While shakshuka ready meals may be a while away, we're already seeing foodservice trends hitting the porridge aisles. Moma (above) is adding superfood ingredients such as quinoa, chia seeds and coconut flakes to its products to replicate what's on offer in high-end cafés. Lee can imagine these pots eventually forming part of "meal kit-style" breakfast fixtures at the mults including other recipes such as eggs benedict.
Another area of innovation is yoghurt. New launches such as Danone of the World (see p47) are tapping demand for world flavours such as kefir and Icelandic-inspired skyr. Now more innovative NPD is arriving on the scene such as a vegan, shelf-stable yoghurt sachet from Cocofina - a small business that trades on inventive ways to use coconut.
Breads and spreads
All this appetite for a hot antidote to the cold weather should have been good news for bread brands as consumers sought a comforting slice of buttery toast.

That hasn't been the case for everyone. Despite experiencing 'huge demand' during the cold snap, Warburtons says demand was offset by the extreme conditions. "The Beast from the East caused replenishment issues at its peak," says Warburtons' category and product strategy controller Duncan Tyrrell. "We struggled to reach all our stores during this time despite the Herculean efforts of our committed drivers."

Indeed it's been a testing year for Warburtons, which was forced to suspend production of its biggest breakfast offering - crumpets - at two of its four bakeries in June owing to the carbon dioxide shortage.

Tyrrell says the brand sells almost 1.5 million packs of crumpets and giant crumpets a week, but production ceased for a week when there wasn't enough gas to use in packaging. (Of course, there's no such thing as bad publicity: when production did resume crumpet fans took to Twitter expressing their relief using hashtags including #crumpetcrisis and #thankthelord.)

Buttery crumpets aside, health has also been a major influence in bread sales. Kingsmill says sales of its 50/50 toasting loaf are up 14.4% year on year, outstripping the whole healthier white segment (which is in 9.2% growth), since the brand supported it with TV advertising in February.

This appetite for health is even evident in what we're putting on our toast. Dairy Crest says its dairy-free spreads are up 22% in value and volume to be worth £16m, winning more than 340,000 new households to creep over 10% penetration for the first time.
A mixed bag for cereal
So where does our new-found love of hot, healthy breakfasts leave the humble bowl of cereal? It remains the largest subcategory in take-home breakfast, worth £1.3bn alone and holding its own with 0.7% value growth.

The picture varies wildly between own label and branded offerings, though. Retailer products were responsible for the £10m extra sales in the category, racking up a 7.1% increase in value to £386.3m on volumes up 9.1%. Brands, meanwhile, saw value sales fall 1.7% - or £16.3m - to £931.7m on volumes down 4.2% [Kantar]. That's approximately 12.9 million fewer packets of branded cereal sold.

"The longer-term growth of private label in ready-to-eat cereal can be attributed to Aldi and Lidl, which have continued to gain share," says Kantar analyst George Moore. "More recently, growth of private label ready to eat is bolstered by the big four pushing private label, most notably Tesco."

As the mults attempt to combat the rise of the discounters with more competitive pricing, the average price per kilo of own label ready-to-eat cereal fell 1.7% to £2.30 per kilo. At the same time, the average price of branded ready-to-eat cereal is up 2.4% to £3.90 per kilo, further widening the price differential between the two [Kantar].
"The crackdown on sugar has contributed to a decline in growth of many cereal brands"
"It's clear retailers have invested in pricing and upped their game on innovation, packaging and private label merchandising, generating an uplift in volume sales of own label," says Kellogg's sales manager for the UK & Ireland, Ben Simpson. "That said, the key to growth of the cereal category is for own label and brands to both improve side-by-side, with a plan that works together."

Weetabix's head of brand Kevin Verbruggen says it's also about finding the right balance of innovation, cost and value. "There has and always will be a place for brands, and retailers should ensure they keep bestselling SKUs and brands, while also offering a range of other options to accommodate their shopper base and differentiate their cereal space from other retailers," he says.

Amid all this talk of health, one key to succeeding in the cereal category is being mindful of shoppers' heightened awareness of sugar. Kantar data shows shoppers want a guilt-free option; cereals actually account for a third of breakfasts eaten for health reasons.

"The crackdown on sugar has contributed to the decline in growth of many major competitors in the category," says Susanne Fraser, marketing manager at Pioneer Foods, whose brands include Lizi's Granola. "The on-pack communications of bigger brands have arguably focused on the healthy aspects with claims such as high-fibre or protein, but hidden the less healthy aspects such as high in sugar or fat. This has led some consumers to not trust products in the category."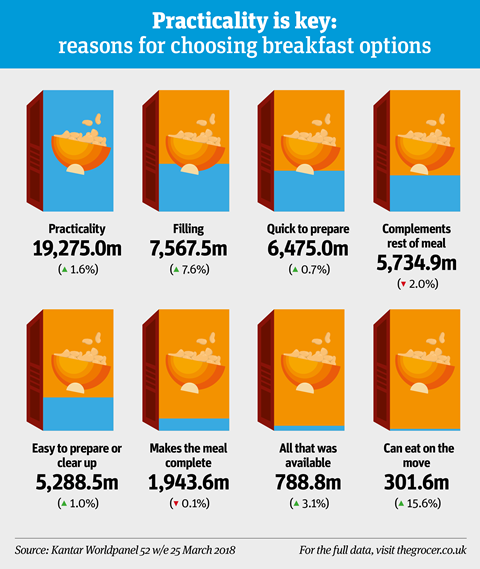 Find the full data at the bottom of this report

Indeed, many full-sugar cereals have both seen sales slide in the past year. Value sales of Coco Pops are down £1.9m (3.7%) on volumes down 10.4%. Similarly, Cheerios are down £3.3m (7.4%) on volumes down 11.4% [Nielsen MAT 9 June 2018].

The consumer shift prompted Kellogg's to launch a Better Starts plan to overhaul the sugar in its bestselling brands in November. This included the launch of a no added sugar granolas range in January (which Kellogg's says became a £2.3m brand within six months of launch, prompting the planned launch of two new flavours in 2019) and the reformulation of Coco Pops in July to slash sugar levels by 40%. Kellogg's is promoting the new recipe by putting the brand on TV for the first time in 10 years.

"It was the right thing to do and we know our consumers were waiting for the changes we've made," says Kellogg's Maguire.

It might have been the right thing to do, but it was also the only thing Kellogg's could do. With Public Health England tasking cereal manufacturers to reduce the sugar in cereals by 20%, cereal producers have no choice but to shape up.

"It will be interesting to see how breakfast cereals evolve over the next couple of years," says Kantar's Moore. "The manufacturer that can reduce sugars, without being to the detriment of taste, will be well placed to take advantage of this opportunity for growth in the coming years."
Breakfast drinks: is the thirst now over?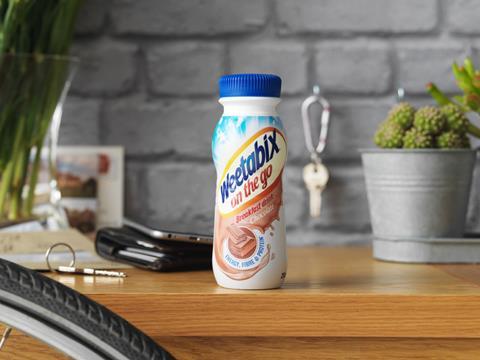 Breakfast drinks are suffering on the face of it. Value is down 11.1% from £21m to £18.7m on volumes down 14.5% [Nielsen MAT 9 June 2018]. It's a far cry from the stellar growth that tempted Australian brand Up & Go (pictured below) into the UK in 2016.
One potential reason is consumers baulking at rising prices. The average price of drinks is up 4.1% to £3.80 per kilo [Kantar Worldpanel 52 w/e 22 April 2018], in contrast to cereal prices, which are being driven down by own label.
Another reason could be a change in promotional activity. Breakfast brand Fuel10k says it's seen a sharp drop in deals for Weetabix On the Go, which holds 75% share of the breakfast drinks market.
"We believe they may have pulled back to drive for more profit," says co-founder Barney Mauleverer.
Indeed, promotions on single SKUs have dropped at a couple of the mults over the past year [Brand View 52 w/e 31 July 2018]. But they have increased on mulitpacks, perhaps why Weetabix says volume sold on deals has remained flat.
Pioneer Foods, which is launching its own breakfast drink under its Lizi's brand, believes there is more than price at play.
"A barrier to wider uptake of breakfast replacements, such as drinks, is that the majority of breakfast eaters say they do not feel like a proper breakfast," says Susanne Fraser, marketing manager at Pioneer Foods. "An opportunity for growth is to make these products more nutritionally complete and filling so consumers feel satisfied for longer."
That Quaker is also making a move with the July launch of Quaker Breakfast Drink in two flavours, Vanilla and Red Berries, is a further sign of belief in the market.
"One of the barriers for people enjoying breakfast drinks is a belief they are too processed, but thanks to the trusted Quaker brand name and flashes on pack highlighting the milk and wholegrain content, we are confident we can help dispel this myth," says Quaker's senior marketing manager Steph Okell.
Drink up.
The health anomalies
Still, it's not all about health. Kellogg's Crunchy Nut, which contains double the amount of sugar as Coco Pops at 11g per 30g serving, is up £5.7m (7.7%) on volumes up 5.6% [Nielsen]. That makes it the second bestselling brand after Weetabix. Kellogg's attributes the brand's success to launching a peanut butter variant and putting more nuts in its flagship recipe.

"Heightened awareness of sugar doesn't mean people are eating less cereal," says Kellogg's Maguire. "Crunchy Nut Peanut Butter Clusters is now worth £3.2m and putting more nuts into Crunchy Nut Original resulted in 10% growth across 2017. Crucially, we know Crunchy Nut is likely to be eaten at other times of day, so we've invested in relevant online media channels outside breakfast time." The brand has also launched resealable 55g Crunchy Nut variety packs to encourage out-of-breakfast consumption.

There are similar health anomalies elsewhere in the breakfast market. Nutella, whose near 57% sugar content means it is hardly a healthy option, is now worth £70m. Despite having to slap a sticker on its jars recommending a 15g portion size for health reasons, owner Ferrero says awareness of the brand is at an 'all-time high'. Consumers are piling it on porridge, pancakes, toast and crumpets in their quest for the Instagrammable breakfast.

Then there are the brands dwindling despite their health credentials. Number one brand Weetabix has been running '£5 off fruit' campaigns on promotional packs, giving shoppers coupons to spend on fruit to put on their cereal. It's also continued its collaboration with Cartoon Network, sponsoring the channel's breakfast slot and encouraging kids to make 'Weetabuddies' out of Weetabix and fruit for the chance to win prizes.

The rationale behind all this activity is clear. "Health benefits are one of the fastest-growing attributes that customers look for when choosing breakfast cereals and these campaigns encourage families to eat a nutritious breakfast and support customers in eating five fruit & vegetables a day," says Weetabix's Verbruggen.

However, in spite of such campaigns and NPD including Weetabix Protein, Weetabix Additions with fruit and Weetabix Crispy Minis, sales are down for the brand to the tune of £6.1m. That's a 4.3% decline on volumes down 3.7% [Nielsen].

"The growing desire for nutritionally led functional benefits has clearly impacted the category," says Lisa Desforges, strategy director at branding agency B&B Studio, which recently helped Mornflake reposition its oat-based offering around the message of 'mighty oats'. "As the trend towards increased protein intake helps drives the resurgence of eggs, traditionally carb-heavy alternatives need to rethink their message."

Kantar's Moore says more radical innovation is needed. "The biggest new product launches of late have been traditional cereal with added benefits - for example, Weetabix Additions," he says. "This helps brands attract a slightly different shopper profile, and appeals to changing ideas around health, but there hasn't been any innovation offering a completely new product."
The 'deskfast' market
Until now, that is. The market's first packaged smoothie bowl, Joyböl - a just-add-water mix of grains, nuts, seeds and fruit aimed at 'deskfasting' urban millennials - will hit supermarket shelves courtesy of Kellogg's later this year.

Initially launched in the convenience and travel sector in July, Joyböl will roll out in the mults after 18 months in the making. "People increasingly care how their breakfast looks and tastes so they're adding more components such as fruit, seeds and mixing cereals," says Kellogg's Maguire. "It takes longer to prep but the reward is greater. Smoothie bowls are a great example of this; search #smoothiebowl on Instagram and there's already 1.5 million posts. We're helping retailers capitalise on that by targeting on-the-go consumers."

The on-the-go element may well appeal to younger consumers. While we may be generally spending more time making breakfast -particularly at weekends - a quarter of people will spend no longer than two minutes on a weekday, shows a Harris Interactive survey commissioned by The Grocer. This is particularly true for the 18- to 24-year-old age group.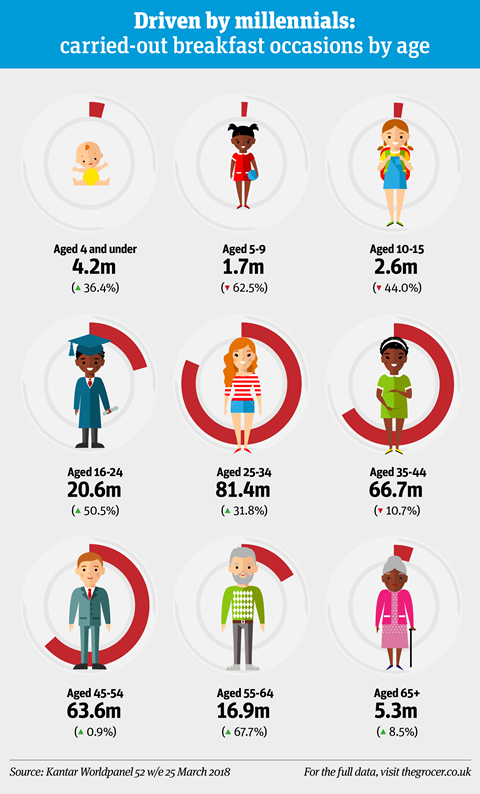 Find the full data at the bottom of this report

Many products aimed at convenience are booming. Princes says its tinned Hunger Breaks All Day Breakfast bean meal, which offers a cooked breakfast in a flash, are up 29% in value on volumes up 38.4%. Sales of its Full Monty variant are also up 23.4% in value on volumes up 31.6%.

One exception is breakfast drinks. Once heralded as a beacon of growth, they have seen £2.3m wiped off their value in the past year [Kantar], though the figures aren't necessarily all they seem.

Weetabix is confident in the potential of drinks such as its On the Go range. It points out the value of the market that skips breakfast is £900m, so there's still 'huge scope' to grow the category.

Barney Mauleverer, co-founder of breakfast brand Fuel10K, also remains buoyant. "For retailers breakfast drinks are a no-brainer listing option given a single-serve milk drink might retail for £1.49, yet a boxed cereal like cornflakes is 12 servings retailing at, say, £2.69," he says. "The value and margin per serving for drinks is off the charts. If you tot up the number of 'morning occasions' in the UK (60 million people times 365 days a year) there are 22 billion occasions that need satisfying - not a small opportunity."

There's clearly no one-size-fits-all route to success in breakfast. As consumers make various demands - from convenience to health and just plain relief from the cold - the one thing that applies to all breakfast players in the coming year is the need to think outside the (cereal) box. As always there will be winners and losers, but as the saying goes, you can't make an omelette without breaking some eggs.
---
Innovations in breakfast 2018
Downloads
PDF, Size 8.33 mb

PDF, Size 9.18 mb