All hail the new hero of juices. Innovative functional blends are driving growth that flies in the face of consumers' sugar concerns 
Every superhero film needs a disaster. In the case of the juices & smoothies market, that disaster was a long time coming. Demonised for their naturally high sugar content, juices have barely managed to muster any growth over the past five years. Despite valiant attempts to reinvigorate demand through flavour innovations and low-sugar formulations, it seemed nothing could save juices from shopper desertion.

That was until super juices and smoothies flew on to the scene. Because these aren't your ordinary juice or smoothie. Rather than offering simple refreshment, these products promise functional benefits ranging from an immune system boost to increased energy or even anti-ageing properties.

Innocent started the ball rolling back in 2014 with its Super Smoothies range, boasting such names as 'Invigorate' or 'Recharge'. Fast-forward to today, and a raft of other brands and retailers are starting to cash in with their own ranges and claims.
"Just being healthy isn't enough any more. Shoppers are seeking a range of benefits"
It's a smart move, says Jack Elkins, brand manager of aloe vera juice brand Say Aloe. "Just being healthy isn't enough any more. Shoppers today are looking for drinks that provide a range of benefits, and are choosing products that are clear in communicating that benefit."

Indeed, taking this tack helped juices & smoothies bounce back from a lacklustre five years to add an extra £9.1m to its value, taking the total market to £1.3bn [Kantar Worldpanel 52 w/e 4 November 2018]. Granted, volumes were still down 2.4%. But the increase in value shows people are prepared to pay for their juice fix.

So what are the functional trends leading this comeback? Just how sustainable is the turnaround? And where are the opportunities for further growth?

Smoothies are the most obvious beneficiary of the functional trend. They racked up the second-highest absolute growth in the market this year - £9.7m - just behind not from concentrate, which shot up £12.8m. Not bad going, considering not from concentrate is more than four times the size of the smoothie market. Beacon smoothie brand Innocent has been a key driver of this success, adding £13.2m to its sales [Nielsen 52 w/e 29 December 2018]. According to Kantar Worldpanel analyst Rebecca Watterson, functional super smoothie range accounted for a large portion of that growth. Now Innocent is looking to squeeze more out of that market with its new Plus range, featuring ingredients like blue spirulina and matcha.

The rising popularity of these functional blends hasn't gone unnoticed among rivals. Coldpress is set to launch what it claims to be the UK's first cold-pressed super smoothies in spring this year. And retailers are also getting in on the action. Over the past year, functional NPD has included everything from a Sainsbury's own label offering - including a Mind Matters variant with Cranberry, Blueberry & Acerola designed to boost cognitive function - to Lidl's Antioxidant, Energise and Defence smoothie range.

Functional juices

Still, it's not all about smoothies. The power of functional juices could have no better example than Tropicana. Following a disastrous 2017 that saw the brand lose £27.6m and the title of biggest juices & smoothies brand to Innocent [IRI 52 w/e 9 December 2017], it bounced back this year with an added £7.7m [Nielsen].
Key to this comeback was its Essentials range, relaunched last January with four new functional juices. Keen to keep the momentum going, Tropicana added yet another variant last month - an Immune Support juice that blends carrot, orange, pineapple and ginger - and a fresh carton design for larger packs. "The functional juices segment has grown 52% over the past year, and our expectation is that both physical health, such as immune system support, and mental health such as stress will remain of the utmost importance to consumers," says marketing manager Caroline Wilding.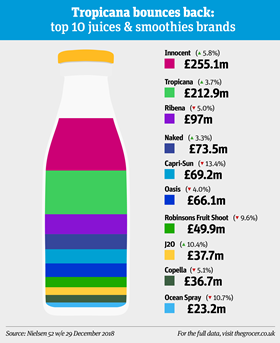 As Wilding says, immune support is a powerful proposition. In our Streetbees poll of 986 consumers, 70% said they would be interested in buying a juice that supports their immune system. This was the most popular functional claim alongside a boost to energy, which interested 71% of respondents. As both of these needs are already well covered by the market, the quest is now on to find the next big functional crowd-pleaser.

Among the front-runners is gut health. This came out as the third most popular functional claim in our Streetbees poll, attracting half of respondents. One of the brands seeing this demand first-hand is Bio-tiful Dairy, whose kefir smoothie range racked up triple-digit growth over the past year. Founder Natasha Bowes believes this appetite will continue to grow in 2019. "In the past year we've seen gut health evolve from a trend into the mainstream market. Shoppers are looking for more than just fruit and less sugar in their smoothies, particularly with the sector's relatively high price points."
"Physical and mental health will remain of the utmost importance to consumers"
It's not just Bio-tiful leading the charge into the mainstream. Grown, a range of fruit and coconut milk smoothies with a fermented oat base and added active cultures, made its debut in Tesco last summer.

Then there are the less common claims. One of these is added protein, which appealed to 42% of Streetbees respondents in a juice or smoothie. So far, this claim has been limited to only a handful of juice and smoothie brands including Naked and Savsé, both of which have launched protein-packed smoothies over the past year. Perhaps even more niche is added collagen, which appealed to just 19% of respondents to our Streetbees poll. Niche it may be for now, but the ingredient is rapidly entering consumer consciousness due to its purported benefits for skin, hair and nails.

Functional food and drink brand Happiness Transformation says its collagen juices are now its bestselling products. "Collagen actually has a lot of health benefits, from improving joint health to repairing gut lining, but most of our customers choose it for its aesthetic benefits," explains founder Aoife Morrin. The ingredient has also proved profitable for bioactive drinks brand Beauty & Go, whose range of collagen peptide juices have gained listings in both Ocado and Boots in the past 18 months.

Finally, there's the latest buzzword in food and drink: CBD. The FSA decided to reclassify it as a novel food in January, which means CBD will have to jump through a series of new approvals and hoops before it's considered fit to sell.

So juices and smoothies innovations such as Bumblezest's Fire & Fortify CBD juice are likely to be removed from shelves in the coming months. But believers in the functional ingredient - said to help alleviate symptoms of Alzheimer's, Parkinson's, MS, anxiety and depression - remain undeterred. "CBD is very much of the moment, and it's proven to be a powerful selling point in everything from beer to skin cream," says Hamish Renton, MD of food and drink consultancy HRA Global. Indeed, recent research from Harris Interactive found one in three shoppers would buy a product containing CBD.
"CBD is very much of the moment and it's proven to be a powerful selling point"
Wow Drinks founder Oliver Dickinson believes it's only a matter of time before CBD is back in the spotlight. "Right now it's just a waiting game for who is going to bite the bullet and put in the hard work. It took our brand 17 months to prove chia seeds, which were classified as a novel food at the time, were a safe ingredient before we could introduce our chia seed juices in 2016. Once we'd put in that work and got approval, it was easy for others to follow suit, which will undoubtedly be the case with CBD."

Alongside CBD, further functional ingredients tipped to make it big this year include yerba mate, vinegars and adaptogens such as reishi, which is said to promote better sleep.

Still, it's not just overt functional claims that are winning over shoppers. Herbs and spices are inspiring a number of innovations due to their functional associations. Research from Mintel found juices and juice drinks featuring herbs and spices accounted for 7.1% of new launches in the year to November 2018, up from 5.9% the previous year.

"Ingredients like ginger and turmeric are proving particularly popular because they allow for natural functionality while also providing authentic and interesting flavour profiles," says Mintel global food and drink analyst Julia Buech. "Interestingly, many juices featuring botanicals make no direct statements as to the claimed functionality of their ingredients; they rely instead on growing awareness of their professed benefits."

These ingredients are a common presence in another growing market: juice shots. Spices such as turmeric and ginger feature heavily in leading juice shot brands Moju, Zinger and Bumblezest. These brands are seeing a rise in demand for the format - sales of cold-pressed juice shots rose 407% in 2018 [IRI 52 w/e 30 December 2018].

"We've found shoppers this year weren't just buying our shots when they felt under the weather," says Rich Goldsmith, co-founder of Moju. "Many used them as a caffeine replacement or as a health boost, similar to small probiotic yoghurt drinks."
"Ingredients like ginger and turmeric are proving particularly popular"
Juice shot brand Zinger, whose range includes ginger, lime & chilli and turmeric formulations, says ingredients are the driver of sales. "Ginger always grabs the attention, but actually our turmeric shot has been our surprise success," says founder Lawrence Mallinson. "It's a relatively new category, but the demand for juice shots is there, especially in 20 to 30-year-old shoppers. The challenge for us is not lack of market growth but increased competition."

The competition is indeed heating up. For where brands go in juices and smoothies, retailers are typically hot on their heels. The past year has seen Co-op, M&S, Tesco and Sainsbury's launch juice shots into their chillers, with the latter placing its new ginger boost (rsp: £1/100ml) inches away from Moju's more expensive (rsp: £1.85/60ml) variant. Moju responded with new ginger multipacks last month at a price of £4.95 for three, offering a saving of 20p per shot.

This pricing tension between branded and own label is clear to see across the market. In not from concentrate juices, own-label products are on average 66p cheaper per litre than branded [Kantar]. In smoothies, retailers are 41% cheaper than brands at £1.84 per litre.

Considering retailers are getting equally as inventive in terms of super smoothies and juice shots, it's becoming harder for brands to justify a higher price tag. As a result, branded value sales dipped 2.2% (£13.9m) this year on volumes down 7.5%. Meanwhile, own label flourished, adding £23m to its value and increasing its market share to 53%.

If you ask Savsé CEO Paul Gurnell, a lack of innovation in branded juices led to their downfall this year. "The role of brands is to innovate - that is critical in driving growth and it's why brands can charge a premium. Own label always follows, that's fair and their role in the market, but if brands don't continue to invest in innovation they will find retail ranges replacing them on the shelf with cheaper, high-quality own-label versions."

Gurnell concedes currency fluctuations are also to blame. "The price of orange and apple juices has increased quite significantly over the past few years," he says. To make matters worse, branded is rising at a faster rate of 5.8%, while own label is up 3.3% [Kantar]. "As a consequence, we've seen shoppers switching from premium branded juices like Tropicana into own-label juices, led by the price premium and the rising quality of own label," adds Gurnell.

Nowhere is this more the case than in not from concentrate juices. Own label prices actually fell by 0.8% in this sector to £1.18 per litre. That's markedly cheaper than the £1.84 per litre charged by brands, who increased prices by 1.1%. "Branded players have been squeezed out this year through less shoppers and less frequent trips, whilst own label increased its market share by 3.1%," explains Kantar's Watterson.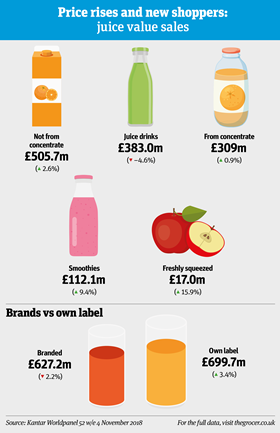 Fresh juices

A further blow to these brands was the number of shoppers switching away from not from concentrate to freshly squeezed juice. Sales in this small yet growing market rose 15.9% to over £17m this year as health connotations hit home. "Our customers have told us they buy freshly squeezed as it's an easy way of getting one of your 5 a day without the hassle of shopping for fruits," says Jonathan Back, commercial director of freshly squeezed brand Johnsons Juice Co. "Many say it is part of their daily lifestyle."

Johnsons may be benefiting from the trend, but this market is typically dominated by own label. M&S has traditionally held the top spot. Now rivals are vying for a portion of that growth. Both Sainsbury's and Holland & Barrett introduced Crussh juice bars in 2017, and Tesco is trialling freshly squeezed orange juice machines in selected stores.

These developments are clearly targeting the more health-conscious shopper. Still, there remains one elephant in the room: sugar. Despite all the health-led and functional innovations, consumers remain somewhat wary of juice's sugar content, says Savsé's Gurnell. "It's up to the industry to educate shoppers on the differences between the naturally occurring sugars found in juices and smoothies and the artificial sugars typically found in energy and soft drinks. There's still a lot of work to be done in communicating that message."

Indeed, efforts to reduce sugar across the category this year have had mixed results. Juice brand Coldpress admits its reduced-sugar NPD last year fell on deaf ears. "Our fruit and coconut waters were great products, but we placed them under the coconut water banner rather than juices with added coconut water," says managing director Andrew Gibb. "Considering coconut waters have an 8% penetration whereas penetration for juice is 10 times that, it was a mistake on our part."

Vegetable power

One sugar reduction method that does seem to be resonating is the use of vegetables. "Vegetables in juices are proving successful because they have none of the baggage and misconceptions attached to fruit," says Caroline Rose, marketing manager at Ocean Spray. "Five years ago vegetable juice was incredibly niche and offered poor taste, but it has now become more sophisticated in terms of flavours."
"Vegetables in juices have none of the misconceptions attached to fruit"
Indeed, veggie juices are becoming bestsellers for many. Crussh says its Veggie Greens blend, which includes kale, spinach and celery, is its most popular juice order in its bars. And organic drinks brand Plenish says its bestselling juice is its Fuel SKU, made up of 96% vegetables, containing kale, spinach, cucumber, ginger and lime.
"Taste is always going to be the primary boundary on whether a product gets repeat purchases, but we can see a growing trend for less sweet flavours across a lot of categories including juice," says founder Kara Rosen. "Instagram is awash with green juices right now."

Indeed, you only need to look at the popularity of celery juice - it has amounted over 88,000 posts on Instagram and won followers including Kim Kardashian - for proof.

It may be a stretch to imagine celery juice on the supermarket shelves any time soon. But if demand for functional and vegetable blends is anything to go by, the future is looking bright for juices - but it's green, rather than orange.
Can juice get in on the functional sleep trend?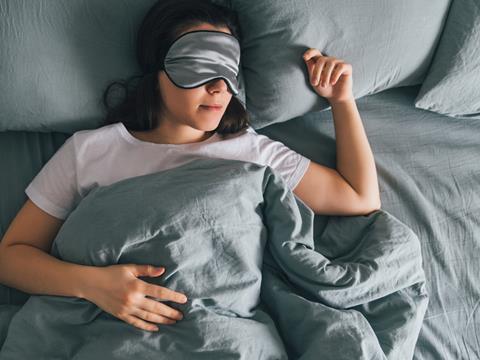 We've had everything from improved gut health to clearer skin and a stronger immune system. Now there's a new functional claim tipped to make waves in the juices & smoothies market this year: sleep.
"Relaxation has become a key priority for consumers who want ways to escape stress and practice self-care," says Jenny Zegler, associate director at Mintel. "Rising interest in relaxation is reaching the food and drink industry, as shown by the 27% of UK adults who would ideally like their diet to improve their mood."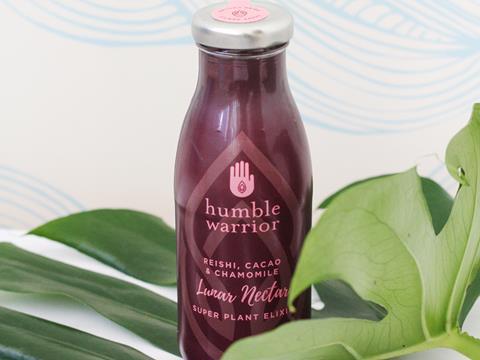 Mintel's Zegler believes there will be many more innovations where those came from. On top of giving shoppers a new reason to enter the category, these juices could also encourage new consumption occasions, she says. Juices are starting to respond to this need with sleep-focused NPD. Plant-based brand Humble Warrior introduced its Lunar Nectar with reishi, cacao husk and chamomile (rsp: £3.49/250ml) to get consumers ready for bed in autumn and Bumblezest launched a Calm & Comfort juice shot with chamomile, lavender and spirulina (rsp: £3.45/60ml) in June 2017.
"The development of calming SKUs could be marketed for consumption in the morning before a stressful or high-pressure day at work or school, or at night to fall asleep easier and stay asleep for longer."
Indeed, drinks brand Refresco says its Cherry Good Night juice (rsp: £1.50/one litre) has been unexpectedly popular among parents, representing a new shopper base. "When it launched in the UK, parents on an ADHD forum started talking about Cherry Good Night being beneficial when trying to get their hyperactive children to settle down and sleep," says commercial director James Logan. Sales of the juice have grown 64% in value and volume over the past 12 months.
That kind of growth will certainly help brands get a good night's sleep.
Innovations in juices & smoothies 2019