They say breakfast is the most important meal of the day. That's fast becoming the case for yoghurt. For 23.4% of all yoghurt & fromage frais consumed in Britain last year was eaten at breakfast, up from 20.7% in 2015 [Kantar Worldpanel 52 w/e 5 November 2017]. That's an extra 12 million breakfast occasions, enough for yoghurt to start its very own breakfast club.
But all this early morning action is coming at the expense of consumption later on in the day. Brits consumed yoghurt on 11 million fewer evening occasions and a whopping 73 million fewer lunch occasions. So why are early birds going for the yoghurt and shunning it in the afternoon?

The trend for bircher muesli and yoghurt breakfast bowls (see the feed of any food blogger worth their pink Himalayan salt) is one driver of the demand for early morning yoghurt in the past year. So too are the launches of breakfast pots by big-name brands such as Yeo Valley and Activia aimed at the first meal of the day.
Yet without the growing consumption of yoghurt at breakfast time, the overall yoghurt, fromage frais, chilled desserts and drinking yoghurt sector's rather lacklustre growth of 1.5% to £2.6bn on volumes down 1.3% [Kantar], would be rather more sour. At least part of this is likely to be down to the health debate. Public Health England has identified yoghurt as one of nine food sectors that urgently need to cut sugar content, calling on manufacturers to reformulate, reduce portions or push lower sugar alternatives.
"PHE has identified yoghurt as one of nine sectors that urgently need to cut sugar"
A big worry is the amount of sugar present in yoghurts aimed at kids. So it's perhaps unsurprising Petits Filous has lost 10.9% of its value on volume down 8.2% [IRI 52 w/e 30 December 2017] despite cutting back on the white stuff. Efforts to reassure parents with new recipes haven't done the trick yet; children ate yoghurt on 82 million fewer occasions last year, according to Kantar.

"Children consuming less yoghurts and chilled desserts presents a challenge for the market," says Kantar analyst Bertie Lewis. "Yoghurt and fromage frais consumed at breakfast, teatime or as a snack have seen consistent growth over the past two years. But this isn't enough to offset the decline from other occasions."

It's also worth noting that most of the adult yoghurts with higher sugar content are aimed at occasions later in the day. Not many would consider a Müller Corner Toffee Chocolate Hoops (sugar content: 18.4g/100g) or a serving of The Collective Russian Fudge Yoghurt (sugar content: 14.6g/100g) for breakfast, after all. So the move towards breakfast may in large part be explained by a move towards healthier options.

Yoghurt brands are taking note. Müller is one of the many reformulating to cut sugar content. "Since 2015 we've achieved a 13.5% reduction in total sugar, equalling 1,759 tonnes, and the reduction across Müller's yoghurt portfolio is ahead of PHE's voluntary guidelines, which sought a 5% lowering of total sugar by August 2017," says head of category & shopper design Sarah Miskell.
"Reducing sugar content could be watering down indulgent yoghurts' after-dinner appeal"
This might help keep the sugar police sweet but, at the same time, it could water down the appeal of more indulgent yoghurts as a treat at the end of an evening meal. For example, Müller Corner - the focus of much of Müller's efforts to cut sugar (its strawberry variant now contains 19% less) - has suffered the greatest loss of the year in this sector. Overall, the Corner brand has lost £12.7m (8.4%) in sales in the past year, with the loss more or less spread evenly between its Fruit and Crunch lines.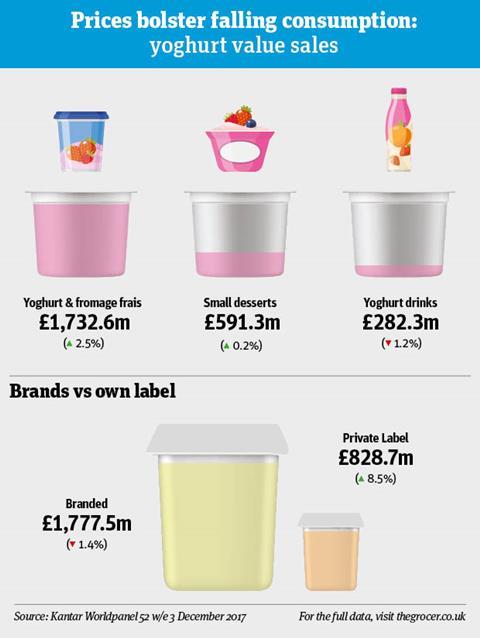 Feeling the pressure
But it would be foolish to pretend everything going on in yoghurts is down to sugar. All 10 of the sector's biggest brands are in volume decline [IRI]. Even health-orientated lines and ­players in the fast-growing big pot sector are losing out.

Take healthy line Müller Light, which is down 1.8% on volumes down 2%. Activia has declined by 5.9% on volumes down 5.7% despite efforts by owner Danone to cut sugar content and drum home the digestive health benefits of the active probiotics the yoghurts contain. Much of this is down to branded range cuts and 8.5% value and 4.7% volume growth for own label [Kantar].

"Range rationalisation continues to put pressure on yoghurt brands," says Danone head of market strategy & category management Clare Denham. "Sales contribution from NPD is at lower levels than in the past, while NPD with a genuine point of difference can cut through. It's not just about responding to regulations, it's about listening to what consumers want."

Less sugar is no longer a point of difference. For today's consumers, health is a much broader term. They want products that are free from lactose and other allergens, high in fibre or protein, minimally processed or containing zero sugar or fat (or ideally a combination of the above).

Examples abound of NPD inspired by such trends. The 2017 launch of Müller Corner Muesli and now the brand's first lactose-free product look to appeal to the breakfast and free-from crowds. The March launch of Müller Corner Plain - replacing its Greek Corner range and containing 27% less sugar - is likely to resonate with the health-conscious.

And the 2016 launch of Danone's Light & Free ticks many of the crucial health boxes of the day. It contains no fat or added sugar and the brand's new Skyr variant (launched exclusively in Tesco in January and rolling out nationally in April) packs 14g of protein per 150g pot. It is now the fastest growing brand of the year with value up 107.2% to £27.6m [IRI].
"Perceived healthier options have become one of the top consumer considerations"
"Health is multi-dimensional," says Danone's Denham. "Perceived healthier options are being called out as one of the top consumer considerations in yoghurt. While this is having a significant impact on the category, 'health' doesn't necessarily mean the same thing to all consumers."

Indeed, the impressive growth of The Collective Dairy - billed as 'fresh, natural, vegetarian-friendly dairy products… no bull' - can in part be explained by the trend towards products seen as less processed and more 'natural'.

The brand itself attributes much of its double-digit sales success to the June 2017 launch of Pro-yo, one of its biggest new product launches to date. The high-protein yoghurt comes in a handy pouch boasting more protein than two eggs and less sugar than an apple, winning listings in Sainsbury's, Waitrose, Ocado and Whole Foods Market.
Watch: The Grocer 1:20 Yoghurt category briefing sponsored by Müller
"With this launch we have taken steps in meeting a growing consumer need; products that are healthy and convenient but that don't compromise on taste," says The Collective's co-founder Amelia Harvey. "We have big ambitions to accelerate this growth in the next year."
Clearly, high protein content still holds a lot of sway with consumers. Arla, for example, attributes much of its impressive 10.3% value growth [Nielsen 52 w/e 30 December 2017] to its Protein yoghurt brand, aimed at widening out yoghurt's appeal to health-conscious gym goers.

Arla isn't the only one packing in the protein. Quark is becoming hot property in yoghurt for this exact reason. Müller launched a quark range earlier this month in an attempt to make the curded cheese product mainstream. It's hot on the heels of smaller players such as Graham's The Family Dairy, which last January launched a four-strong range of naturally fat-free smooth and fruity quark products with 22g of protein per pot called Protein 22. The NPD won a UK-wide listing in Sainsbury's last October and will extend from 91 to 319 stores in April.

"The rate of sale over the past year has been increasing rapidly, exceeding expectations; and the product has won two international innovation awards," says marketing director Carol Graham. Meanwhile, the brand's new skyr range - in flavours including Victoria plum and mango & papaya - rolled out in January.

"We have already received some excellent feedback from our customers and are expanding our reach throughout the UK with a listing in Lidl from April," says Graham, who claims the product is the market's first Scottish-made skyr, with 30% less sugar than other flavoured yoghurts, high protein and completely fat free.
Veg yoghurt: a step too far for shopper tastes?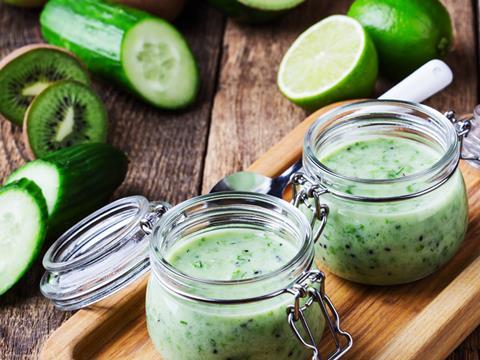 Broccoli, beets and butternut squash. These were tipped to become the yoghurt flavours du jour in the Waitrose Food & Drink Report 2016. Last year, the supermarket put weight behind its forecast with the launch of four fruit & veg yoghurts in flavours including avocado, beetroot and butternut squash.
But the launch didn't quite turn out how Waitrose hoped; the supermarket has since scrapped the products. Arla has gone the same way. It introduced Big Yogs for kids in flavours including strawberry & carrot and blueberry & pumpkin, which have now been discontinued.
The failure to launch suggests demand for vegetable yoghurt is limited. Yet others in the industry believe it could still be a trend to watch. "Vegetable yoghurt could be the next big thing and we believe consumers will embrace it in the UK, as they already have in the US," says Sebastian Rusu, head of brand development at Yeo Valley, which has already trialled an orange, carrot & mango yoghurt.
Smaller producers are also placing their bets on the trend. Beef and yoghurt producer Brown Cow Organics has won listings in Planet Organic, Whole Foods Market and Abel & Cole for its two-strong range of beetroot and carrot & turmeric live yoghurts in glass jars.
Made using Guernsey milk from Brown Cow's farm in Somerset, the NPD has already been featured on BBC1's Countryfile.
Plus, in January it was reported broccoli yoghurt could help prevent colon cancer after researchers in Singapore found that yoghurt made with the superfood killed 75% of tumours in mice and more than 95% of bowel cancer cells grown in a lab thanks to the sulforane in broccoli and probiotics in yoghurt.
The findings prompted a surge in online searches for broccoli yoghurt recipes, with health food bloggers sharing their top tips for the perfect recipe.
Perhaps it's too early to ditch the vegetable yoghurt after all.
Intensely competitive
Yet even among brands hitting all the right notes, there is intense competition. Take Yeo Valley, for example. It is on trend with SKUs such as its 0% fat Breakfast Pot and the launch of Yeo Valley Bio Light, which aims to tap demand for products that are not only low in calories but are also free from artificial sweeteners.

Still Yeo Valley is struggling, with value down 1.1% on volume down 4.8% [IRI]. "There's no doubt that shelf space is increasingly difficult to obtain but we believe that retail buyers genuinely judge each proposition on its own merits," says Yeo Valley marketing director Dan Rusga.

"Yeo Valley is not available in the hard ­discounters, meaning we have been exposed to less shopping occasions over the past year and we also find ourselves in an intensely competitive environment. In addition, our average prices have risen as retailers have increased headline rsps and run fewer ­in-store promotions. Our principal retail customers are prioritising own label yoghurt ranges."
"Prices have risen as retailers have increased headline rsps and run fewer in-store promos"
Others, such as plant-based innovator Alpro, are flying ahead with a similar tack. The brand has seen growth of 27.7% to £36.8m, on volumes up 26.3% [IRI] since the launch of high protein plain and oats big pots in February 2017, followed by a sugar free big pot last October.

Head of marketing Vicky Upton says it's all down to the right innovation. Alpro's oat pots account for two thirds of its growth, she says. "Fibre has been moving higher up the consumer health agenda for some time, and fibre-rich 'DIY breakfasts' such as bircher muesli and overnight oats were continuing to rule the Instagram feeds of health and wellness bloggers," says Upton. "So we introduced this big pot option with added oat flakes to resonate with shoppers looking for an easy way to up their fibre uptake first thing."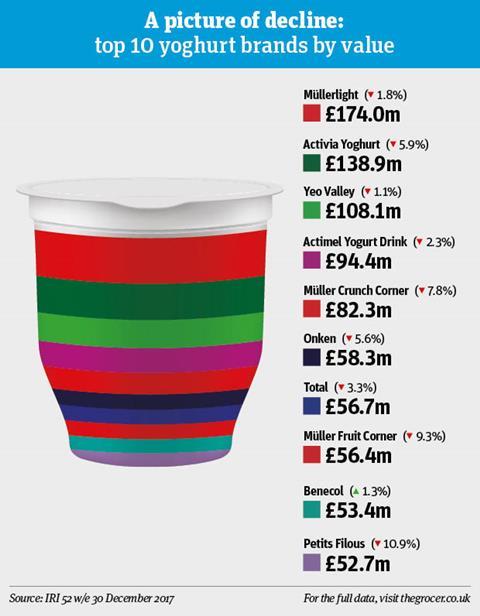 Attracting millennials
This idea of an easy solution is particularly attractive to time-pressed millennial consumers, who could be the key to further growth. According to Barney Mauleverer, co-founder of the Fuel10K brand, yoghurts need to do more to appeal to the on-the-go crowd.

"Traditional brands have been slow to meet the needs of the younger adults who are transfixed to their mobiles and lead much busier lives than ever before," says Mauleverer. "The result is an exodus from the traditional boxed breakfast cereals to alternative, more convenient sources."
"Traditional brands have been slow to meet the needs of younger adults with much busier lives"
He points to his brand's February launch of Mini Yogs, ambient 200ml on-the-go breakfast yoghurt drinks aimed at kids aged seven to 16 years old. "We've made it our mission to really understand our consumer and grow our relationships with them," he adds. "If you know your consumer, give them value for money and then treat them like human beings. Provided your products stand up to the test, you can develop these relationships."

Dairy drinks and drinkable yoghurts are another way of tapping the lucrative breakfast market. "Dairy drinks high in protein are a key trend," says Danone's Denham. "Although they're quite small in terms of value, high-protein dairy drinks are growing fast at 12.9% year on year. Kefir (a cultured drink made by fermenting milk with live cultures in a similar way to yoghurt) is the largest and fastest-growing type, with £2.9m sales and 1,412% growth year on year."

The Collective is cashing in with the launch of a three-strong range of kefir drinks next month in flavours including mango & turmeric and coconut & honey. "What sets kefir apart from traditional yoghurt is the diverse blend and numbers of live cultures," says The Collective's Harvey. "Ours boasts a whopping 13 different strains with billions of live cultures per serving. It's the ultimate snack, perfect for breakfast or great to liven up a smoothie or bowl of cereal."
"Drinkable solutions are a great way to ensure busy consumers don't skip their meals"
Future success for the wider category will rely on greater provision of convenient options, says Isadora Toner, brand activation manager at bircher muesli breakfast pot and drinkable yoghurt brand Nomadic. "The industry needs to keep communicating the message that drinkable solutions are a great way to ensure busy consumers don't skip their meals," she says.

"There's a sizable offering in this sector; Nomadic yoghurt & oats drinks are joined by the likes of Weetabix and Up&Go on the shelves and in fridges nationwide. Retailer fixtures demonstrating how versatile yoghurt drinks are will be invaluable - not just for the category, but for consumers too."
Place for decadence
There's still a place for more decadent yoghurts, however. After launching premium big pot range Liberté Excellence in ­flavours including salted caramel and lemon in 2017, General Mills is extending the ­lineup to include a black cherry flavour in April. The NPD features thick and creamy yoghurt on an 'indulgent' layer of rich black cherry.

"Cherry is the top-selling Liberté flavour in Canada, with sales approximately 30% ahead of other variants," says Liberté UK's brand manager Céline Hasboun. "We're expecting Liberté Excellence Black Cherry to show ­similar performance in the UK where cherry is considered a premium flavour."

And in addition to the launch of its high protein Pro-yo yoghurt, The Collective attributes much of its double-digit sales success to its Gourmet range of limited-edition ­flavours. Next month, a new decadent flavour will hit the sales in time for summer: coconut, rum and pineapple made with Jamaican rum which the brand refers to as 'Pina Colada in a tub'.

Pina Colada in a tub. Now there's one yoghurt that's probably best left until after dinner.
Innovations in yoghurts 2018
Click the picture for full product information