Sex and the City firmly established brunch culture in the UK. Now shoppers are looking to recreate the indulgent experience at home
Sex and the City brought many things to Britain. First, it established the Cosmopolitan as a must-have on any cocktail menu. Second, it created a fresh army of Manolo Blahnik enthusiasts. And last but not least, it established brunch as the most fashionable meal of the day.

The brunchtime escapades of Carrie, Miranda, Charlotte and Samantha were momentous enough for food writer Bee Wilson to write in The Telegraph in 2008: 'There were those who said it was just a show about shoes. They were wrong. Clearly, the main theme of Sex and the City was brunch.'

More than two decades on from the first episode, and the effect on Britain's eating habits is still clear to see. Brunch is now a key eating out occasion. For proof of the enduring Carrie influence, look no further than London-based events company Hip Hop LDN, which launched a Sex and the City themed bottomless brunch in August.

But it's not all about glamorous restaurants with impressive skylines. Today's consumers are also enjoying a more low-key brunch in the comfort of their own home.

Brunch, defined by Kantar as a weekend meal eaten after 10am, accounted for 14.1% of all at-home breakfast occasions in the past year [Kantar 52 w/e 21 April 2019]. That's up from 13.7% two years ago. And this at-home brunch is far from second best. Consumers are looking to replicate the indulgent, Sex and the City-style experience in the comfort of their own kitchens.

That movement is presenting fresh opportunities to tempt shoppers with more premium options. And if brands can get it right, they stand to beat the long-running stagnation in the breakfast market.

Francesca Theokli, marketing director at Weetabix, says it's all about making the home brunch into a real occasion. "We've found that as consumers experience and enjoy a wider array of breakfast foods out of home, they are looking to try and recreate some of those tastes, feelings and experiences at home too, particularly at the weekend when they have more time and breakfast is more of an occasion," she explains.
That's good news for a number of reasons. The drive to create something a bit special means there is opportunity for a wider range of breakfast items. The average weekend brunch involves 3.6 items, compared with just 2.9 for a weekday breakfast [Kantar].

Plus, it's making brunch into a pricier affair. Shoppers spend an average of 26.7% more than they do on a weekday breakfast, at 76p versus 60p per serving.

And many consumers are willing to pay well beyond that price tag, according to a poll of 776 consumers by Streetbees. Four in 10 respondents said they were willing to spend between £3 and £4.99 on their brunch at home. A further 22% would happily spend between £5 and £6.99, and a not insignificant 11% would stretch as far as a tenner. By contrast, 68% wouldn't spend more than £2.99 on their weekday breakfast.
'Affluent' demographic
That increased spend is being driven by an element of bragging, says Wowcher, a discount site that offers a number of brunch deals. "The occasion targets a more affluent demographic, or at least that's how it's perceived by the public," says Wowcher PR manager Salman Dean. "We know that millennials are the drivers of the brunch trend, and groups of younger women in particular want to be seen as fitting in with that affluent, sophisticated group. A lot of brunchers will convey that by sharing pictures of it on social media."
Indeed, there are a whopping 24.2 million #brunch posts on Instagram. That's not just limited to fancy out-of-home occasions - homemade Instagram efforts range from caviar on toast to banana pancakes.
"The occasion targets a more affluent demographic, or at least that's how it's seen"
But the most popular homemade efforts are those that have taken the out-of-home brunch market by storm. Step forward, avocado on toast. Consumers are looking to create their own versions at home, without the £8 price tag seen in trendy eateries.

That's fuelling demand for premium breads. Warburtons and Hovis, for example, have both introduced sourdough loaves over the past year. "The growth of artisan-style breads reflects this demand for out-of-home brunches being replicated at home," says Duncan Tyrrell, category controller at Warburtons. "Cafés and restaurants aren't using regular, square-cut sliced bread in their brunch dishes. They're opting for these more premium, impressive breads like sourdough, which is driving demand for those products in the supermarket." New lines such as these helped push bread into 27.7 million extra brunch occasions this year, to a total of 484 million [Kantar].

Others are looking to make the famed smashed avocado topping - only possible with an avocado at just the right level of ripeness - an easier feat. Vegan brand Holy Moly launched its Breakfast Avocado spread in August, containing avocado, tomato, lime and salt and pepper, with the tagline 'perfect on toast'. The SKU was joined by a 100% avocado variant in June.

"These products provide consumers with a simple solution to help them recreate an iconic, sophisticated brunch dish that they enjoy whilst dining out, in their own homes," says brand co-founder Tom Walker.

There's plenty more innovation where that came from. Moorish rolled out its Avocado Humous into Sainsbury's stores in May (see right), while Itsu is going for a twist on the classic with an Avocado, Egg & Seeds bao bun. That's part of its range of brunch-themed bao buns being trialled across various travel hubs and airports, including an Eggs Benedict and a new Bacon variant set to roll out in August.
"The growth of artisan-style breads reflects the demand for OOH brunches at home"
That Itsu is getting involved in brunch is a symptom of another trend: the exotic brunch (p46). In the out-of-home arena, brunchers are getting more experimental with dishes like Sherpa's breakfast with dahl and spinach, or a Peruvian brunch with sea bream.

It means consumers are likely to be more receptive to unusual NPD such as Itsu's. On the flipside, this appetite for the exotic is hampering more traditional brunches.

The popularity of a simple pastry is waning, as morning goods have fallen 18 million occasions in the past year. And the ingredients for a full English are also struggling to get any real growth. Bacon and eggs remain among the top brunch items - together making their way on to nearly 350 million plates in the past year - but they are declining. Fresh bacon lost 17.6 million occasions in the past year, while eggs fell by 20.8 million. Meanwhile, baked beans have edged up by just 2.2%.


Still, even in this more traditional area, there is growth to be had. Sausages are up 9.1% and were included in 52.2 million occasions in the past year. Meat-free sausages are proving a particularly lucrative corner of the market, according to Quorn. It says a large portion of its sausages, sausage patties and bacon substitutes are consumed in the morning.

Both the meat-free sausage and sausage patty lines have achieved double-digit value growth this year, while sales of the brand's vegetarian bacon slice shot up 8.5%, according to marketing director Alex Glen. "We're seeing the strongest growth from meat reducers, who are cutting back and opting for meat-free across every meal occasion, including brunch," he says.

That plays into another trend influencing the out-of-home brunch arena: veggie-based breakfasts. A quick glance at the top brunch places in London tells you what is tempting the more virtuous consumer. In Caravan, a veggie-packed brunch comes in the form of Edamame Fritters with baby spinach, field mushrooms and duck egg. Daylesford's Pimlico branch offers sweetcorn, spring onion & kefir hotcakes with smashed avocado and tomato salsa. And Redemption counts Sweetcorn & Red Pepper Pancakes among its vegetable-based options.

That seems to be influencing consumers, who have used vegetables in 12.2 million more brunch occasions in the past year - an increase of 14.2%. Even if they're not consuming veggies, consumers are still looking for options that are perceived as healthier. Yoghurt is up 19 million occasions, while fruit is up 17.1 million, equating to a 19.2% rise.
Breakfast stagnation
These trends are all great news for the varied and innovative brunch market. For standard breakfast fare, it's a less rosy picture.

The core breakfast market, which Kantar defines as cereal, porridge and on-the-go breakfast items such as cereal bars and drinks, is stagnating. It edged up just 0.1% to £2,027.8m, and many retailers are suffering from a slowdown. "Both Iceland and Marks & Spencer have reversed their breakfast sales performance from double-digit growth last year into decline," says Kantar analyst Iona White. "On top of that, three of the big four have grown at a slower rate than that of the previous year, with only Asda managing to remain in growth."

That's largely down to the long-running, underwhelming performance of breakfast's largest sub-category: cereals. Ready-to-eat cereals are down 1.5% to £1,298.8m. In the past, the value decline has been blamed on cheaper, own-label cereals. That's no longer the case. Retailer offerings are continuing to gain share - they increased 3.3% in value, while brands were down 3.5% - but overall prices have remained stable. So the dip in value is entirely due to 6.2 million fewer kilograms going through the tills.

Putting it into perspective, cereal remains present at 54% of breakfast occasions. But looking at the factors driving growth in brunch, it's easy to see why its popularity might be fading.

Crucially, brunch appeals to the growing appetite for personalised options that feel a little bit special. That is driving growth in non-core areas of breakfast. Herbs and spices, for example, were used in 17.5% more occasions in the past year [Kantar]. Even the sausage sandwich is being jazzed up. Sausage brand Richmond conducted research that found consumers used a choice of seven different sauces in their sandwiches, and chose up to 15 "unusual accompaniments" such as pickle, avocado and pesto.

Cereal, on the other hand, is harder to make special. "A bowl of cereal with milk doesn't quite cut it any more," says Kantar's White. Still, consumers are increasingly looking to give it the personalised treatment. "The past year has seen 16% of cereal occasions featuring fruit, which is 299 million more than 2015, and 90 million more included yoghurt," explains White. "This customisation of the basic breakfast allows for a more personal experience."

The movement inspired Weetabix's January campaign Any-Which-Way-A-Bix, which encourages consumers to personalise their bowls to their tastes. According to the brand, the campaign has been its most effective to date, having boosted sales by 4% in its first four weeks. The activity is set to return in store and on TV later in August. "More people than ever are personalising their breakfast, with 53% of Weetabix occasions personalised with extra ingredients such as fruit, nuts and yoghurts," says senior brand manager Charlotte Hunt. "The campaign offers inspiration for the many ways consumers can enjoy their Weetabix."

Porridge brands are also hoping to use personalisation to their advantage. Overall, porridge sales have stagnated over the past year (p42), which Kantar puts down to "temperatures normalising again" after last year's Beast from the East. Still, brands are hoping they can use porridge's versatility - see the numerous Instagram pictures of porridge topped with nuts, fruit, seeds and even chocolate - to return to growth.

Quaker has a range of recipes on its site including berry overnight oats, and a Greek yoghurt oatmeal bowl. Mornflake's recipe section boasts everything from a hazelnut and cherry blossom porridge with homemade granola to a simpler peanut butter porridge. The latter is particularly on trend. Nut butter brand Pip & Nut says 65% of consumers add peanut butter to their porridge, based on its survey of 1,500 shoppers with women's health channel Healthista.

But even if cereal can nail the personalisation element, it has another challenge on its hands: health. Headlines around the sugar content of cereals and their processed nature - they were among the processed foods linked to early death in the May BMJ article - haven't exactly helped perceptions.

For their part, brands are now fighting back with innovations that trade on health credentials. There's Nestlé's Oat Cheerios, which contain less than 5% sugar. Or Kellogg's Plant Protein Crunch range, which hit shelves last month with fairly high levels of sugar - 27g per 100g - mitigated by the promise of 7g of protein and 6g of fibre. Some are using the gut health trend to boost positive associations. Take Lizi's Digestive Health Granola (p45), Troo's Porridge+ (p47) and Kellogg's Happy Gut Range, a rebranded version of its All-Bran, Bran Flakes and Fruit 'n Fibre lines.

Still, even these lines face stiff competition from unprocessed healthy options. Fruit & vegetables, for example, made their way into a combined total of 146.3 million extra breakfast occasions over the past year. And eggs have appeared on 33 million more weekday breakfast plates, according to Kantar.

The British Egg Industry Council believes this is largely down to health perceptions. "While they've never really gone away, it's clear that eggs are once again a firm fixture at the weekday breakfast," says chairman Andrew Joret. "Our research has shown that the strong health credentials of eggs are driving growing consumption among people of all ages, but particularly among younger adults aged 28 to 44, who are accounting for around 40% of the growth in egg consumption."

What's more, innovation is looking to make eggs just as convenient as a bowl of cereal. Both Waitrose and Aldi offer on-the-go chilled boiled egg and spinach protein pots, and in November The Happy Egg Co joined forces with Adelie Foods to create a line of pre-cooked, ready to eat scrambled egg pots. The range, which includes Classic, Cheese and Bacon variants, follows the launch of several quick, fuss-free egg solutions from the brand over the past year, including scrambled egg mix cartons and liquid egg white cartons.

All of which shows the need for convenience in the breakfast category - especially when it comes to weekday occasions. That's been the driving force behind the rise in breakfast alternatives (p42), which Kantar defines as breakfast biscuits, cereal bars and the likes of toaster pastries. They single-handedly saved the breakfast market from a decline this year with a 5.4% increase in value, equating to an extra £23.7m.

Their on-the-go potential is clearly a key driving factor behind their increase. Brits are increasingly eating 'carried out breakfasts', which Kantar defines as take-home items that are bought to be consumed out of the home. There were 349 million such occasions over the past year, up 32.8%. According to a Kantar Research Express survey conducted exclusively for The Grocer, as many as 17% of 25 to 34-year-olds eat breakfast on the go every day.
"While they've never gone away, eggs are once again a firm fixture at the weekday breakfast"
That presents a strong opportunity to grow the market. Carried out breakfasts are by far the most expensive occasion in the category with an average cost of 82p. That's even higher than weekend brunch and a whopping 30.2% higher than the total average breakfast, which comes in at 63p.

Breakfast alternative brands are looking to further boost this spend by combining on-the-go credentials with health. That's particularly true of cereal bars - the largest part of the breakfast alternatives market with 74% share - which have increased value by 6.6%. The past year has seen a continuous wave of health-led launches like Kellogg's Special K Protein cereal bars, Alpen's protein bars and Graze's Wow Bakes, which hit shelves in May, touting less than 100 calories per portion.

Breakfast biscuits also saw their fair share of health-centric innovation this year, including Pladis' Go Ahead Nutty Crunch range containing under 100 calories and BelVita's first low sugar product. The brand rolled out its Choc Chip biscuits in June, which claim to have 30% less sugar than the average breakfast biscuit.

Still, not everything that's on the go is a surefire hit. Kantar found breakfast drinks dropped 13.9% in value on volumes down 6.1%. In July, The Grocer reported that Quaker had pulled its breakfast drinks range a year after its launch, with a spokesman for the brand citing "market performance and the declining breakfast drinks segment" as the reason for the move.

There is some reason for optimism, though. Kantar figures only include take-home sales. Nielsen data, which includes on-the-go purchases, shows breakfast drink sales are up 7.5% this year [52 w/e 15 June 2019].

Plus, there is plenty of room for growth. Our Streetbees poll found 51% of respondents are still yet to try a breakfast drink.

Like brunch, perhaps breakfast drinks could do with the backing of some glamorous TV characters. But with another Sex and the City film officially off the cards, it will have to look beyond Carrie, Miranda, Charlotte and Samantha for a boost.
Innovations in Breakfast 2019
Why exotic food trends are the new brunch craze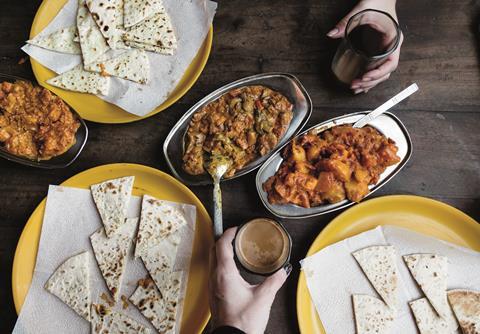 Brits are getting increasingly exotic with their food. And brunch is no exception.
No longer are a full English and cup of breakfast tea the only options for the first meal of the day. A growing number of London eateries are looking further afield for their inspiration.
It's a movement noted by digital food trends publication Food Spark. "There are many restaurants focusing on international cuisines that have been experimenting with their brunch offering in the last year or so – albeit tentatively," says editor Tom Lee.
There's no shortage of examples. Lee points to the brunch menus of the Peruvian-inspired Coya restaurants in London, which includes a Filete de Dorada: sea bream, pink fir potatoes and fennel salad. Then there's Indian street food chain Mowgli, which offers a Sherpa's breakfast of rice with sunshine yellow dahl, crunchy gram crisps, nuts, puffed rice, fresh spinach and pomegranate.
There's one key demographic behind this move towards the exotic. "Brunch is popular with millennials, which is likely driving these international restaurants to create a special menu for that mealtime, especially since it looks like their successors, generation Z, are just as keen," says Lee.
Now exotic brunches are making their way beyond the out-of-home arena. BBC Good Food is inspiring consumers to make their own creations. Its brunch recipes include the likes of a keema (lamb mince curry) scrambled egg rolls, huevos rancheros and a shakshuka flatbread bake.
Retailers are also getting involved, as evidenced by Waitrose's Bombay Brunch wrap. Sainsbury's also suggests a Mexican-inspired mango, avocado and black bean salad as a brunch recipe.
So how could retailers go further in catering for the world brunch trend? Lee suggests looking to London-based restaurant Caravan for inspiration. "Caravan launched its Fitzrovia branch last year, touting on-the-go brunch products like kimchi and cheese buns, as well as a pain au chocolat-style range featuring nduja."
It may take a while before Brits are consuming on-the-go kimchi and spicy pastries as standard. But if the restaurant arena is anything to go by, there is definite room for experimentation.