Sales of bagged snacks have climbed high during the pandemic. Brands are on the top of the world. So, how can they stay there?
Brits have bought a veritable mountain of bagged snacks during the pandemic. They've tucked into almost 60,000 tonnes more than in 2019. As such, the value of crisps, popcorn, nuts and other savoury snacks has climbed by 13.1% to the dizzy height of £3.8bn [Kantar 52 w/e 27 December 2020].
That's an extra £441.8m. And there's good reason for this massive pile, suggests Cofresh brand manager Jon Roberts. "With cutbacks and restrictions on daily life, snacking has become the affordable treat," he says. "At-home snacking is one area that has experienced continued growth."
That's putting it lightly. Lockdown sparked an avalanche of sales in crisps. The sector's volumes are up 15.1%, while popcorn has risen 14.8% and nuts are up 12.2%.
So, how have suppliers kept pace during Covid-19? And how can they prevent the mountain from crumbling post-pandemic?
In line with much of grocery, snack businesses reacted to potential supply issues in the early months of the crisis through temporary range rationalisation.
"With cutbacks and restrictions on daily life, snacking has become the affordable treat"
"To keep products in the supply chain, we had to remove some products from the market to streamline operations and focus on the core," explains KP Snacks sales director Andy Riddle. There was also a temporary halt to product launches and marketing activity.
"We had to remove certain promotional activities," Riddle adds. "We couldn't do campaigns in stores. It wasn't appropriate to send people into shops for marketing campaigns."
Even brands' on-pack activity was affected. Take Walkers' launch of five limited-edition Taste Icons flavours, with each pack containing a free-meal offer for a partner restaurant. This proved something of a challenge with the campaign kicking off as the first lockdown closed all restaurants.
"We had to act with pace but were able to extend the redemption period, re-ran the campaign and worked with the Eat Out To Help Out campaign to help drive footfall back into the hospitality sector," says Walkers senior marketing director Fernando Kahane.
Despite such pressures, the four subcategories in the market all enjoyed double-digit value growth. Product performance varied greatly by format, however. Large packs benefited most from changes to shopper behaviour. As consumers cut back on shopping trips, value sales of large multipacks and sharing packs rose 18.9% and 11.2% respectively [Nielsen 52 w/e 30 January 2021].
Shift to multipacks
In contrast to big packs' fortunes, sales of single bags crashed 26.7% over the period. Furlough and working from home resulted in the disappearance on-the-go occasions, a large part of the usual market for singles, including lunchtime meal deals.
Suppliers say much of this market shifted to multipacks, as Riddle at KP confirms. "Two top-selling products in a meal deal are McCoy's ridge crisps Flame Grilled Steak and Salt & Vinegar," he says. "People couldn't go out and buy their McCoy's singles in the meal deal so they bought them in multipacks, with McCoy's multipacks up about 23%."
Better still, multipacks are doing more than replacing lunchtime singles. For many brands, gains in sharing bags and multipacks have more than made up for the loss of single-pack sales, with Nielsen data showing six of the top 10 'salty snack' brands in overall value growth.
"The role of multipacks has changed," explains Tayto marketing director Matt Smith. "Pre-Covid, they were seen as a lunchtime product. However, our research showed that more people are eating them in the evening than daytime, with 49% tending to eat a single pack from a multipack in the evening and 17% eating multiple packs in the evening."
"Meat and spicy flavours, in particular, have experienced double-digit growth"
Innovation has also played a role in brands' successes, despite pressures on supply chains in the early days of the pandemic. Walkers' Wotsits has grown by more than 30%, or £20m, following the launch of super-sized Wotsits Giants. The brand also benefited from rollout of Flamin' Hot and Sizzling Steak flavours that tap into a category-wide trend.
"Meat and spicy flavours, in particular, have experienced double-digit growth over the past year," says Walkers' Kahane.
Other brands that have turned up the heat in the past year are Doritos with Flamin' Hot Tangy Cheese (also from the Walkers stable) and Pladis' Mexican-inspired Jacob's Mini Cheddars variant. Pringles, meanwhile, extended its lineup with the Sizzl'n range that comprises Kickin' Sour Cream, Spicy BBQ and Cheese & Chilli.
"The three new flavours came from insights that revealed 59% of millennials aged 18 to 34 prefer very spicy foods," explains Pringles activation brand lead Rebecca Worthington.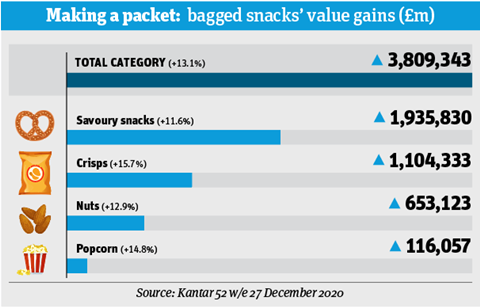 Total value sales of bagged snacks are up by 11.6%, driven by larger formats such as sharing bags and multipacks.
Brands were the biggest winners. In the case of crisps, for example, sales of branded rose 19.2% versus a 7% increase in own label.
"Similar to the trend at an overall market level, in times of insecurity shoppers are picking top brands they are already familiar with and/or feel are reliable," says Kantar analyst Do-Seun Kwon.
A decline in deal activity pushed up average prices.
Even though the pandemic meant fewer product launches, innovation was another driver of higher prices. They increased in all sectors except nuts.
"Big players still turned to innovation to capitalise on increased demand, attracting shoppers with new flavours and new ranges," adds Kantar's Kwon.
Three snacking launches from PepsiCo – Walkers Max Double Crunch, Wotsits Giants and Doritos Stax – placed in Kantar's top 10 ranking of the most successful new fmcg launches of 2020.
Kantar expects healthier snacks to grow in relevance in the coming year ahead of government plans for a crackdown on HFSS products from April 2022.
Manufacturers are also expected to continue to act over plastic and sustainability concerns.
HFSS clampdown
So, spicy is a hot trend in savoury bagged snacks. And so is health. It's tipped to be a big driver of innovation in the coming year, with a government ban on promotion of high in fat, salt or sugar (HFSS) products due to take force from April 2022. This would outlaw volume-based deals and offers on aisle ends and in other prominent store locations.
And it could be a huge headache for snacks suppliers, not least because promotions are a major influencer on category shoppers. According to retail analyst firm Shopper Intelligence, 36% of bagged snack shoppers are "often persuaded to buy extra because of special offers", compared with an average of 18% for all grocery categories.
And 15% of shoppers say a promotion is the only reason they bought a snack, versus 11% across total grocery.
The proposed restrictions will play the biggest role in determining how manufacturers formulate new products or reformulate existing ones, suggests James Taylor, MD at Mackie's Crisps.
The market could soon look very different very quickly because, as Calbee UK commercial director Jon Wood explains, there are currently very few non-HFSS products available.
"We don't need data to reinforce the fact that we are a nation of crisp lovers"
"We predict this will inevitably lead to an overhaul of ranging and pricing to ensure there are products that meet the guidelines and will be allowed in feature space, while traditional snacks will be required to optimise sales from within the aisle," he says.
Callum Saunders, head of planning at marketing agency Zeal Creative, also believes healthier snacks will have an opportunity to shine under the new plan, but says it ignores the question of what shoppers really want.
"We don't need data to reinforce the fact that we are a nation of crisp lovers," he says. "HFSS is legislation designed in accordance with government policy rather than consumer request. Shoppers will still want their fix of salty snacks, these small luxuries becoming ever more important during times of recession and economic hardship."
Provenance of ingredients, too, will be important for consumers in the coming year, though flavour will remain key, suggests Louise Thompson, marketing director at Kettle Foods, which in February launched Steakhouse Barbecue flavour crisps.
"There is a continuing trend towards mainstream tastes such as BBQ flavours but with a focus on more authentic, natural and sustainable sources," she says. "There is also a move towards indulgent and experimental eating, driven by consumers forced to quarantine during the pandemic who have started looking for ways to create some adventure with food flavours."
This is a view echoed by Smith at Tayto Group, who says: "Given few of us will holiday abroad this year, we may see some flavours that remind us of our favourite destinations."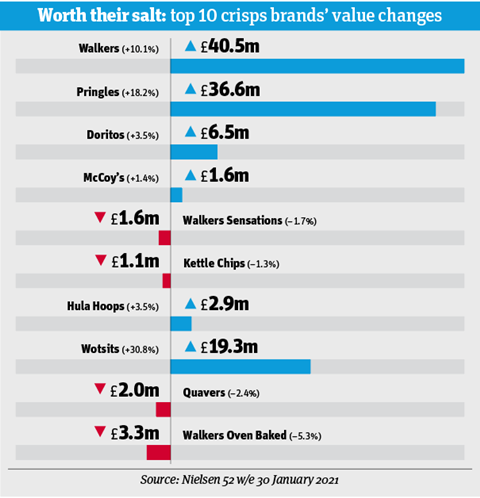 Salty snack sales have boomed as the closure of hospitality and restrictions on socialising turned the traditional big night out into a big night in. The category grew by almost £110m in the 12 months to 30 January 2021.
Brands that managed to meet demand for value fared best, as single packs and some premium brands were left behind. Take Kettle's 1.3% decline.
Reformulating singles into multipacks has been key during the pandemic. "Successful brands have adapted their format offering quickly," explains Nielsen analytic executive Lisa Duranton Jones. "They made larger packs and drove price per kilo down."
Walkers Sensations and Kettle remained generally more expensive than other brands, according to Nielsen. Both recorded a slight dip in value sales.
While many businesses put NPD on hold, product launches helped some brands maintain sales momentum. The fastest-growing top 10 salty snack brand was Wotsits, which soared by 30.8%, almost £20m, following the launch of new flavours and the Giants variant.
Familiar, affordable brands performed well. "Shoppers remained loyal to iconic brands with relatively low price points but occasionally sought NPD to get out of their routine," says Duranton Jones, adding that continued product development will be key to maintaining excitement.
Changed behaviour
Although Covid restrictions are easing, much of the consumer behaviour that shaped 2020 is likely to influence the coming years, suppliers predict. "Even as we emerge from lockdown, we can assume that two important factors are here to stay," says Scott Snell, VP of customer at Pladis UK & Ireland.
"Working from home is likely to become the norm to some extent for many office workers, while the big night in will stay relevant due to the financial pressures faced by households. We expect both of these factors to influence the category for a number of years to come."
As a result, brands are likely to aim marketing activity towards the at-home occasion. It's an opportunity already embraced by Butterkist, which has run promotions offering half-price Now TV Sky Cinema Passes. And Pringles has turned to online gaming with on-pack promotions and a competition offering the chance to win Xbox prizes.
Merchandising aimed at big nights in will also remain important in the coming year. The strategy has worked for pork scratchings, explains Smith at Tayto, which produces Mr Porky and Real Pork Co.
"The pub holds a special place in Brits' hearts as a place to relax and socialise"
"The pub holds a special place in Brits' hearts as a place to relax and socialise," he says. "We've missed pub snacks, so we've been recreating the experience at home. Retailers that have recognised the shift to the 'pub at home' and have made it easy for shoppers to pick up their drinks and 'pub snacks' together have benefited."
For an example of a 'pub at home' success, there's Snaffling Pig, supplier of pork crackling, puffs and chorizo bites. Its grocery sales doubled in the past year and the brand reports online and direct-to-consumer sales growth of 257%.
Then there's Made for Drink. Despite the decline in the single pack market during the pandemic, the startup's founder Daniel Featherstone says its single-serve packs have performed "really well" in Sainsbury's, where they are merchandised in the drinks aisle.
Single packs are likely to play a role for smaller players seeking to add excitement to the category as the country leaves lockdown. One such challenger brand is Mindful Snacker, which launches its Simply Roasted crisps range this month (see box, left).
"For many of the smaller brands, multipacks aren't financially viable and can't compete with corporates in this space, yet the newer brands drive growth in the category," says Mindful Snacker CEO Tara Quick. "Single packs are great for driving trial and discovery so will remain an important part of the category."
When it comes to the wider single-serve snacks market, major players have no doubt it will recover from the hit it has taken over the past year – but feelings are mixed over how quickly or fully it will recover.
"Single packs are great for driving trial so will remain an important part of the category"
KP Snacks' Riddle believes that, as single packs make up for ground lost last year, the format will be the fastest-growing part of the snacks market.
Smith at Tayto is also confident single pack sales will rise as people return to the office but adds: "They are unlikely to return to pre-pandemic levels, as every indication is that levels of home working will continue to be higher than they were."
When people do return to their workplace they are more likely to take a packed lunch than previously, suggests Thompson at Kettle Foods: "The challenge will be to remain relevant to consumers and form part of the pre-planned lunchbox occasion."
Meanwhile, Kahane at Walkers warns the return of the food-to-go market could be a slow process. "The way people work will evolve, with more people likely to flex their working location, so we suspect demand for larger-pack formats and multipacks will continue for some time."
So maybe snack sales are still to peak.
Snack brands shift to greener packaging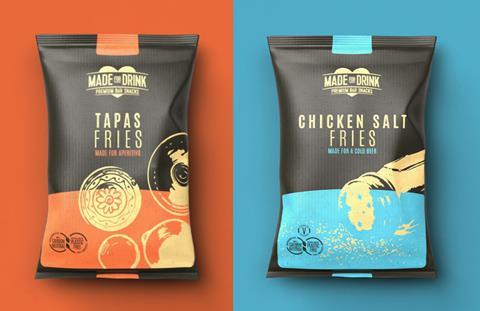 Even during the pandemic, sustainability has been a concern among snack brands and consumers.
Walkers points to a study by First Insight on the demands of generation Z shoppers, saying 65% claim eco-friendly packaging is important to them.
Little wonder, then, that the business opted to pack one of its biggest launches of 2020, the four-strong Doritos Stax range, in a tube it described as "widely recyclable".
Similarly packed Pringles is also looking to boost its green credentials. Last year, it began a trial of a recyclable can in partnership with Tesco. The original Pringles tube has been described as a "recycler's nightmare" because of its mix of materials including foil, paperboard and plastic.
Daniel Featherstone, founder & CEO at Made For Drink, says sustainability will separate snacks businesses and has moved his brand to 100% home-compostable packaging.
"It's the responsibility of smaller brands to lead from the front because they tend to blaze the trail that the big players follow," he adds.
"We just need our retailers to recognise that brands like us provide the perfect lightning rod for encouraging the big boys to evolve their ethical/sustainable outlook."
Another challenger brand leading by example is Joe & Seph's (see p54).
"In response to customer requests and after years of development, we're delighted to be launching our sharing pouches in a recyclable format," says co-founder Adam Sopher.
The wider issue of flexible packaging waste such as crisp bags is being explored by a group of four fmcg businesses – though none are bagged savoury snacks suppliers.
Dubbed the Flexible Packaging Consortium and including Mars and Nestlé, it has enlisted recycling specialist Suez to analyse the extent of flexible packaging waste.
Beyond sustainability concerns, snack producers are also facing rising packaging costs, with the growth in direct-to-consumer services pushing up requirements for a variety of materials.
"With the online boom the demand for packaging, and especially cardboard, has rocketed," states Olly Hiscocks, founder of the Olly's brand that last year extended beyond olives into pretzels and nuts.
"This has seen timelines and costs for packaging increase," he adds.
Innovations in bagged snacks 2021