The Jimmy Doherty effect is making its mark in the pet aisle. As Pets at Home signs up the celebrity farmer to front its latest ad campaign encouraging shoppers to read the labels on dogfood (he points out that some products contain as little as 4% meat), the humanisation of pets is gathering pace.
Soups, casseroles and sausages are among the NPD from the major players in the last year and Tesco is pioneering chiller cabinets in the petfood aisle showcasing fresh meat-based meals for dogs and cats. Yet the category as a whole is still in the doghouse: sales are down almost £100m [Kantar Worldpane 52 w/e 18 June 2017], brands and own label are fighting like cats and dogs for growth, and retailers are streamlining their ranges to focus on fewer, key brands.
In a category historically reliant on promotions to denote value for money, does the humanisation of petfood - and its hefty price tag - really have what it takes to return the sector to growth? And what else can save the market?

"Fresh is a completely new concept in the UK but from our initial trials we know that it's the right thing for us to offer our customers and our pets at this time," says Tesco pet category buying manager Paul Jones. "Customers are increasingly looking for better quality, less processed, natural petfood choices that reflect their families' changing lifestyles."

When Tesco teamed up with US supplier Freshpet to trial branded chiller cabinets in a handful of stores, the move was deemed a risky one, but after a 'promising' response the retailer rolled out the concept to 300 stores in February. "Innovating in fresh demonstrates that Tesco is thinking differently about pets, as well as providing another reason for pet owners to shop more frequently in our stores and online," says Jones. "It's an opportunity for us to really drive the category forward in a brand new direction for UK retail."
Petcare Category Snapshot 2017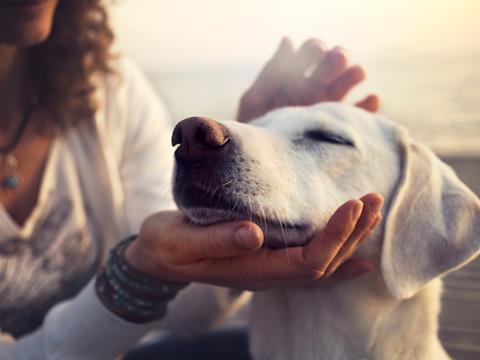 And a brand new direction is precisely what the category needs. Value sales are down £98.7m to £2.3bn, a loss of 4%, and volumes have slipped more steeply at 6.4% with both cat and dogfood contributing towards the decline [Kantar].
"The natural petfood market is growing 15% so it's a key time to take advantage"
Catfood has been pushed into decline thanks to the poor performance of wet food, sales of which are down 3.8% to £96.6m, while the dogfood sector's decline is being caused by complete dry dogfood, which is down 12.6% to £25.6m on volumes down 11.2% [Kantar]. Morrisons is the only one of the big four to grow its value share of the market - it's up 5.2% [Kantar] - which it has achieved by giving more space to natural offerings and simplifying its range in a bid to make the category easier to shop.
Strong performers
"We have seen Morrisons significantly outperform in natural, driven by space increases both on and off shelf, and by it maintaining simplicity in the range by focusing on a few, key brands. That helps shoppers to browse the category," says Amy Wigg, senior brand manager for dogs at natural petfood brand Lily's Kitchen.

Waitrose is another strong performer for the same reason - playing to its strengths by listing premium brands such as raw and natural petfood brands Natures: Menu and Lily's Kitchen, and boosting its value sales in the market by 12.9% [Kantar]. Natures: Menu attributes a 36% rise in sales of its gluten and grain-free Country Hunter dog and catfood range to "tactical" activity in Waitrose including in-store promotions and marketing through Waitrose's website and Waitrose Weekend magazine.

"The natural petfood market is valued at £226m and we estimate that it's growing by 15% year on year," says Natures: Menu's commercial director James Langan. "It's therefore a key time for retailers to be taking advantage of this trend. "As a business, Natures: Menu is investing heavily in new technology with a state-of-the-art factory opening in Norfolk this autumn and £2.8m invested in further new product development. We look forward to working closely with retailers as we enter this exciting next stage as one of Europe and the UK's most successful petfood manufacturers."

This growth in smaller challenger brands such as Lily's Kitchen and Natures: Menu is rattling the category's major players (six of the top 10 brands are in decline - IRI 52 w/e 12 August 2017). So many are pushing to the more premium end of the sector in a bid to keep hold of their market share.

"There are pockets of success within general decline," says IRI insight manager Jason Stroud. "The most successful brands are luxury cat brands expanding their indulgent portfolio. Gourmet was able to expand its soup repertoire without losing momentum on core brands such as Perle, while Sheba follows a similar pattern."

Gourmet is the best performing of the top 10 brands with value sales up 13% on volumes up 7.9% [IRI]. The brand pioneered the cat soup category in 2016 with the launch of single-serve savoury 'broth' featuring flakes of chicken, seafood and vegetables (rsp: 79p/40g) and revamped the packaging in October to 'enhance brand premiumisation'.
Splashing the cash
"More and more pet owners are choosing to splash the cash by purchasing luxury catfood products," says Gourmet senior brand manager Agathe Robert. "What's more, sales of single-serve catfood are worth £77.5m at retail, which is more than four times the value of traditional multi-serve cans, worth just £16.5m at retail and declining 14.2% a year."

With commodity price inflation and a drop in deals - sales on promotion have fallen 7.1% [Kantar] - driving higher volume prices, products such as single-serve cat soup are the perfect way for petcare players to justify charging more. "Pricing is becoming an increasingly important factor in the pet market," says Kantar Worldpanel analyst Adam Dobson. "Manufacturers and retailers will have to weigh up how much cost to pass on to the consumer and how to adapt their offerings to try to counter the current trend of shoppers buying less volume each trip and less frequently."
Hotdogs: can sausages for canines win PDO status?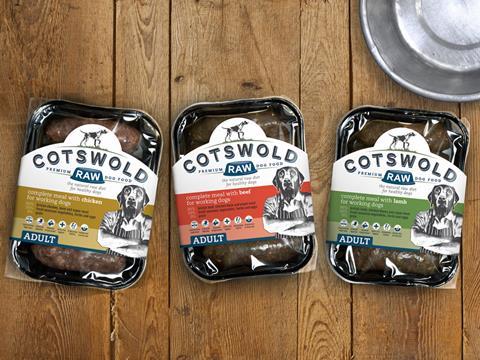 You've heard of the Cumberland and the Lincolnshire. Now say hello to the Cotswold. Only we're not talking sausages for humans: we're talking sausages for dogs.
Raw dogfood brand Cotswold Raw is the brains behind a three-strong range of sausages for dogs it's calling the Cotswold – and it is taking the "unprecedented" step of seeking PDO status.
If it is granted, the Cotswold could join the ranks of British staples including Jersey Royals and Stilton blue cheese – and go down in history as the first petfood brand with a PDO. "In a nation where sausage appreciation continues to burn brightly – the hefty Cumberland, the spicy Yorkshire, the coarse meat Suffolk or the herby Lincolnshire – it makes perfect sense to us that the nation now champions a signature sausage for dogs," says Cotswold Raw co-founder Chris Brierley.
Cotswold Raw's doggie bangers come in chicken, beef and lamb flavours (rsp: £4.45-£5.45 per kilo) and were winners in The Grocer's New Product Awards 2017, taking the concept of humanising petfood to a whole new level. "Even though many pet owners buy into the simple truth that non heat-treated raw meat retains a higher quota of its nutritional integrity and flavour, too many dog owners are still put off adopting such a back-to-basics lifestyle when it means scooping soggy raw meat into a bowl every day," says Brierley.
"In stark contrast, raw sausages provide ease of handling, portion control and instant 'getability', without imposing any nutritional short cuts."
To get a PDO the supplier must prove the product is made in one area using distinct local knowledge.
But whether Cotswold Raw's venture is ever realised remains to be seen: it can take up to four years to get a product legally protected by the EU and it's unclear if and how PDO laws will be affected after Brexit.Hotdogs: can sausages for canines win PDO status? "Raw sausages provide ease of handling, portion control and getability"
Mars Petcare's Sheba has enjoyed similar success to Nestlé Purina's Gourmet with its own classic cat soups range (rsp: £1.99/4-packs), which launched in July 2016 and is now worth £3.5m [Kantar]. The brand sits alongside Gourmet and Good Boy as the only top 10 brands in value and volume growth [IRI]. "Over half of cat and dog owners regard their pets as a member of the family, with trends showing that pet owners are becoming more conscious of what they are feeding their pets," says Mars Petcare's strategic demand director Roberto de Felice. "In line with human food trends, pet owners are interested in feeding their pets products with natural ingredients or products formulated to meet specific dietary needs."

But although launching a range of casseroles for cats under its Whiskas brand in January has brought in £8.2m in sales for Mars Petcare [Kantar], it's going to take more than that to bring Britain's second biggest catfood brand back into the black.
Setting the bar high
Value sales of Whiskas are down 10.3% to £175.4m on volumes down 11.2%, making it one of the worst performing of the top 10 brands, second only to Bakers [IRI]. And with the rise of challenger brands like Freshpet and Lily's Kitchen gaining shelf - or fridge - space, it's a challenging time for the category's major players.

"Lily's Kitchen continues to set the bar high, not just with the right offer of healthy and organic food and treats, but also with a back story of being genuinely home made," says Elizabeth Finn, managing director at brand and packaging design agency Cowan, whose clients include Cesar. "It will be hard for the big brands to compete with this."

Lily's Kitchen, which specialises in human-style meals for cats and dogs (including such delicacies as a Sunday lunch and a doggy birthday surprises containing organic cheese and apple treats), says it has enjoyed value growth of 99% in the last year, with volumes up 63% thanks to increased listings and NPD.
"More than half of cat and dog owners regard their pets as a member of the family"
"Our range of proper food for pets has continued to grow across our retailers as we have expanded the range to meet different needs or launched in new retailers," says Lily's Kitchen's Wigg. "For brands like Lily's Kitchen that offer not only a differentiated proposition but incrementality to th petfood category, range rationalisation has had a limited impact."

And shoppers are loyal to the brands their pets like. Despite consistent price rises in the category - average price is up 2.6% to £2.41 per kilo [Kantar] - there has been little change in the brand versus own label dynamic.Branded products account for 79% of spend and there's been no change year on year [Kantar] suggesting shoppers would rather reduce the volume of branded products they are buying than switch to own label.

In a bid to attract shoppers to its brand, Iams is in the process of developing nationwide sampling opportunities allowing shoppers to try its catfood at home for free."The way consumers purchase their petfood is now changing, with pet owners becoming increasingly aware of their cats' nutritional needs," says Iams head of marketing Giuliano Buccino. "This can be a daunting time for owners who are reluctant to switch brands or buy large bags of food without trialling the product first."
Subscription
Meanwhile, Mars Petcare is backing the August launch of its Dreamies Deli-Catz range of cat treats (see Innovations px) with a debut advert featuring a cat and a chick encouraging cat owners to 'treat your cat before it treats itself'. But is putting samples into shoppers' hands and reaching them through TV screens really enough to get shoppers through the door of the supermarkets?

Some industry experts believe it's only a matter of time before the subscription box enters petcare: think HelloFresh for pets.


"An emerging trend that we think will impact the industry is the subscription model," says John Davies, co-founder of natural pet supplement brand Lintbells. "This new solution will provide consumers with ease of delivery and enable manufacturers to share educational information and build on relationships."

The idea might make life easier for consumers but it won't make life easier for the brands or the supermarkets, who will be forced think outside the box - or fridge - to compete. "The new millennial 'pet parent' has a keen interest in the ingredients and provenance of the food they buy for their pets," says Jenny Philp, managing director of natural petfood brand Vet's Kitchen, and a practising vet.

"Retailers need to respond to this by catering directly for these wants and aspirations. They need a brand portfolio that caters for products promoting health, providing consumers with more choice, innovation and luxury, as well as more independent British petcare products."

And with retailers such as Pets at Home drafting in celebrities better known for their food credentials to put petfood under the spotlight, the pet parents' interest in ingredients looks set to be more than just a flash in the pan.

But the big question for the supermarkets is whether they can remain the destination to get your pets' treats as well as your own.