Bringing in leftovers for lunch is no longer a source of shame. A growing wave of shoppers deem it worthy of a social media brag
The term 'leftovers' doesn't exactly conjure up a positive image. Scraps of food that may otherwise have made their way to the bin hardly seem the basis for an inspiring lunch. And, let's face it, bringing food into work in a Tupperware box used to carry a certain stigma.

That's all changing. These days, bringing in leftovers for lunch isn't just acceptable, it's commendable. For proof, see the number of savvy creations pictured under the hashtag #foodwaste on Instagram.

For in Britain's current era of austerity, plastic concerns and food waste awareness, the conscious consumer is king. And it doesn't get much more conscious than making lunch out of leftovers that would otherwise have gone to waste. As Hamish Renton, managing director of food consultancy HRA Global, puts it: "You're more likely to be seen as virtuous and canny than cheap for eating leftovers for lunch in 2019."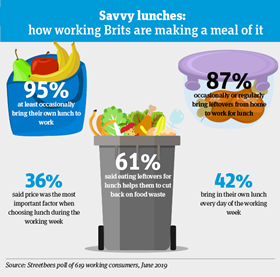 The change in attitude is showing in Britain's lunch habits. Leftovers accounted for 156.8 million carried-out lunch occasions in the past year, up 20 million on the previous year [Kantar 52 w/e 24 February 2019]. Indeed, a poll of more than 600 UK workers by Streetbees found a whopping 87% bring leftovers into work at least occasionally.

So why are Brits increasingly turning to last night's dinner for today's lunch? What does the new cool status of leftovers mean for traditional lunchbox options, and is the trend likely to continue in the year ahead?

The trend for conscious consumption isn't all about doing the right thing. It's also about necessity. A GfK report in December found UK consumer confidence had hit a five-year low. "Consumers are clearly casting a vote of no-confidence in our immediate economic future," said client strategy director Joe Staton. "It's no surprise in the face of ever-rising costs and the threat of higher inflation, combined with uncertainty around the outcome of the Brexit negotiations."
"Shoppers cut down on pre-prepared food to avoid the mark-up when money is tight"
That's been good news for carried-out lunches, which Kantar defines as lunches prepared at home and taken elsewhere. On average, they cost only £1.82 per serving, compared with £5.26 for an out-of-home lunch [Kantar]. That hefty price differential was undoubtedly one factor behind the extra 44 million lunches carried out of the home in the past year.
Indeed, a Streetbees poll conducted for The Grocer found a whopping 36% of respondents said price was the biggest factor in choosing lunch for the working week. That compares with just 17% who prioritised taste, usually the main influence in food choices.

"This year, 8.4 million families in the UK are struggling to put food on the table, and Britons as a whole are less confident in their level of disposable income," points out Alex Quicho, behavioural analyst at insight consultancy Canvas8.

It's not the first time Brits have flocked to homemade lunches to save cash. "These behaviours tend to be picked up when money is tight," says Grace Randall, consumer insight analyst at AHDB. "We saw a similar trend occur in 2008 after the financial crisis, with many shoppers cutting down on pre-prepared foods to avoid the mark-up."
The younger consumer
With cost so high on the agenda, it's little wonder lunchers are making their carried-out lunches even thriftier by turning to leftovers. Kantar data shows that leftover servings are up 15% this year. While the movement can be seen across almost every age group, it's younger adults that are at the helm.

Leftover lunches have almost doubled in popularity among 16 to 24-year-olds, with the number of servings up 92.8% to 22.2 million. Meanwhile, 25 to 34-year-olds packed leftovers into their lunchboxes 38.4 million times, up 15.2%. "The fall in confidence is hitting younger people the hardest, and taking leftovers out for lunch is a great way for them to save money," says AHDB's Randall.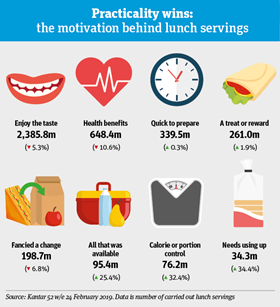 The habit isn't just bypassing costs of buying a lunch. It's also cutting the costs associated with food waste. Last May, Wrap revealed the UK's annual household food waste comes to 7.1 million tonnes. Using up leftovers could go a long way to improve those figures, says Célina Leroyer, brand manager at Mini Babybel. "Twenty-five per cent of wasted food and drink is discarded due to too much being cooked, prepared or served, costing UK households £3.6bn each year."
Consumers are becoming ever more aware of these cost associations. A Mintel report published in April found 86% of shoppers believe making sure no food goes to waste is an important way to save money.

The habit also ties in with the way consumers are cooking. Batch cooking rose 22% from 2014 to 2018 [Kantar 52 w/e December 2018]. Indeed, #Mealprep now has more than 10 million mentions on Instagram. So when cooking large quantities, putting some of the leftovers into a Tupperwave box isn't just savvy in financial terms - it's savvy time-wise, too.

Considering an extra 1.1 million carried-out lunches were chosen this year because they were quick to prepare [Kantar], that's a powerful draw. Canvas8's Quicho can confirm speed is a "key motivation". "UK workers put in the longest shifts of any across the EU, so it's no wonder they want to streamline their meal times."

Saying that, the rise in leftovers isn't all down to selfish reasons. People are also becoming more aware of the environmental implications. "Public perception of leftovers is changing because there's a desire these days to make a positive difference to the environment," says Tessa Tricks, creative partner at environmental charity Hubbub. "It is a really positive way of doing your bit for the planet whilst also saving money."
"Taking leftovers out for lunch is a great way for younger people to save money"
That attitude is being fuelled by the supermarkets. Not only are they taking steps to reduce their own waste - in early June, Defra revealed every major supermarket in Britain had joined a pledge to help halve UK food waste by 2030 - but they are encouraging consumers to do the same.

That means encouraging the use of leftovers. The Tesco site currently offers more than 600 recipes using leftovers, the Waitrose Food magazine regularly includes recipes designed to use up unwanted food, and Asda's Good Living blog has several articles on the subject, including 'five quick and easy ways to use up your leftovers'.
It seems like a win-win situation, or at least for ­consciences and bank balances. But with every winner comes a loser. In this case, that's the products traditionally used for lunchboxes. While leftover occasions are growing, other areas of the lunchbox market are stagnating. Sandwich consumption, for example, remained flat - up just 0.4% to 1.1 billion occasions. That growth is entirely driven by the under-nine and over-65 age groups, with everyone in between cutting back on lunchtime sarnies [Kantar]. Other sectors tell an even worse story. Ambient bakery lost two million carried-out lunch occasions, while soup lost a whopping 4.4 million occasions in the past year.

These losses have spurred soup and bakery brands into action. Heinz is banking on convenience to tempt lunchers. It rolled out microwaveable, reusable pots across two of its most popular flavours - Cream of Tomato and Vegetable - in January. As well as being quick and easy, the 280g, 355g and 490g pack sizes allow consumers to control their portions better than they are able to with a can. Kantar data suggests that's a smart move. 'Portion or calorie control' was the motivation behind 76.2 million servings, up 32.4% on the previous year.
Premiumisation
Meanwhile, bakery players are looking to premium cues to lure shoppers. The past year has seen a slew of high-end products arrive in the bakery aisle, ranging from Morrisons' The Best Beetroot Brioche Buns to Baker Street's Multi Seed Deli Rolls and Allinson's Serious White Sourdough loaf.

It's not necessarily about converting leftover fans to sandwiches, says Allied Bakeries marketing director Matthew Cullum. "Bread and bakery have an important complementary role to play in the leftover lunch movement," he points out. "Ranges should be aiming to help people use up what's in their fridge, whether that's a rainbow sandwich using salads left over from the weekend barbecue, or a soft roll filled with slices of roast meats from Sunday lunch."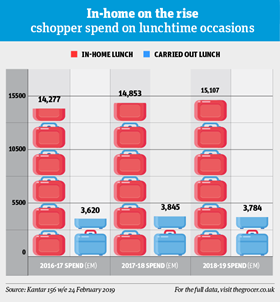 Hubbub's Tricks believes this presents fertile ground for other lunchbox options. "We can already see it happening with the likes of Philadelphia and Hellmann's, which market their products as an ideal way to turn last night's dinner into tomorrow's lunch," she says. Indeed, both brands include a raft of recipes showing consumers how to liven up leftovers with their products on their sites.
HRA Global's Renton also points to the potential of portioned products, such as Tesco's single-serve chicken breast snap packs, launched in May last year. "The big opportunities within the leftover lunch trend are for the single-portion products to provide new ways to change up or refresh leftovers."

There may also be some surprising beneficiaries from the trend. Gaëlle Vernet, group brand manager at Bel UK, points to snacking as an example. "If shoppers are saving money on lunch by bringing in leftovers, this provides opportunity for growth in snacking, by offering potential for this capital to be reinvested in premium lunchbox snacks."
"Bread and bakery have an important complementary role to play in leftover lunches"
That's spawned a raft of premium snacking NPD. Examples include the Co-op's Irresistible sea salt and chardonnay selection of peanuts, cashews, broad beans and giant corn, packs of which hit shelves in November with a premium price point of £2.75/200g. Three months later, Müller relaunched Müller Light Amore, an Italian-inspired luxury yoghurt range currently selling for £1/130g at Waitrose - 57.7% more expensive per 100g than the brand's standard Müller Light pots.

If you ask Canvas8's Quicho, lunchbox-friendly yoghurts and desserts are perfectly positioned to cash in on the rise in leftover culture. "There's an opportunity for these brands to specifically target the post-lunch moment, when people who have saved money on the main lunchtime event are looking for a little more satisfaction."
The right ingredients
Another winner from this trend is, of course, the ingredients for these leftovers themselves. "Categories that are performing well are more ingredient-based, such as canned goods, fresh poultry, frozen prepared food and chilled convenience," says Kantar analyst Rachael Bedford.

Together, these four categories have accounted for 78.2 million more carried-out lunch occasions over the past year [Kantar]. And there's plenty of room for further growth with the right marketing, says Renton. "Players within these categories should be looking at ways to communicate that their products aren't just something for now, they could be something for now and for later," he explains. "For example, pasta or protein brands could market their products to potential leftover lunchers by adding 'great reheated' on pack."
"Categories that are performing well are more ingredients-based, such as canned goods"
Of course, this appetite for leftovers is heavily influenced by what happens in the economy. So GfK's report in May, which showed consumer confidence had improved since December of last year, could spell a downturn in the trend. Still, with Brexit on the horizon and no end to the uncertainty in sight, Gfk's Staton warns UK shoppers are still a long way off caviar sandwiches for lunch.

"Before we see a leap back into the brighter positive numbers last seen in January 2016, consumers will need to be convinced in heart, head and wallet that Brexit's murkiness has finally come to an end," he says.

Looks like leftovers will be on the lunch menu for the foreseeable, then.
Innovations in adult lunchboxes 2019