Bottled water has crashed to earth after five years of solid growth. So is it game over or can it, like Craig David, stage a comeback?
Sometimes in life you feel the fight is over. So sang Craig David as he lamented his complacency at the top of the charts before his career took a downturn. Turns out, that problem doesn't just apply to 1990s RnB stars. The bottled water market is similarly experiencing the pain of a rise and fall.

Having racked up consistent, significant growth over the past five years, it has fallen back down to earth with a bang. Sales have dropped 6.3% in value, equating to a £34.2m decline [Kantar 52 w/e 3 November 2019].

Put simply, there just aren't as many shoppers. Market penetration dropped from 74.9% to 74.6% in the past year. And the remaining shoppers bought into bottled water less frequently. The combined effect hit volumes to the tune of 4.9%, a loss of 74.9 million litres.

Branded water took the biggest hit with a 7.7% decline, leaving just two of the top 10 brands in the black over the past year [Nielsen 52 w/e 25 January 2020]. But even price-competitive own label struggled with a 5.5% drop in value.

So what's going on? Is the meteoric rise of bottled water over? Or can it, like Craig David, stage a successful comeback?

Not all of this is a sign of consumer habits changing. Because the past year's performance was hit by a factor outside of anyone's control: the weather. In 2018, the sweltering summer left consumers downing bottled water with a renewed thirst, which pushed up volumes by 8.5% [Kantar 52 w/e 4 November 2018]. By contrast, the lacklustre summer of 2019 made growth hard to come by.
"Space is increasingly being taken away from still bottled water and given to soft drinks"
"Bottled water drinks are a highly weather-dependent category, and the huge volumes generated by the record-breaking heatwave summer of 2018 were always going to be challenging to beat," says John Letford, head of category development at Danone Waters UK & Ireland.

To make matters worse, those tough conditions led to increased competition in the soft drink aisles. Letford says there was "intense promotional activity from key branded players in diet/zero carbonates, who were also trying to lap volumes from the previous year". At the same time, bottled water decreased its investment in promotions. According to Kantar, the amount of spend on promotion fell 6.3% last year, driven by a sharp drop in volume deals.

Then there is the ongoing issue of space on the shelves. "Space is increasingly being taken away from plain still bottled water and given to soft drink innovations which may have a higher price but have a fairly low rate of sale," says Simon Oldham, group commercial director at Highland Spring. "We're seeing many front of store fixtures actually running out of bottled water by mid-morning as a result. The decreasing availability in the front of store has made on-the-go an area where bottled water is now struggling."

Even if the availability is there, supermarkets are also expanding their meal deals to include more expensive soft drinks. That means bottled water is losing ground with the crucial lunchtime shopper. "Many shoppers are picking up the higher value drinks in these deals because they want to feel they're getting the best deal possible," Oldham says.
Sustainability
And the bad news doesn't stop there. Bottled water has also continued to bear the brunt of environmental concerns, as a growing number of consumers opt for refillable water bottles over single-use plastic. "Plastic waste has become a global concern and consumers are being swayed to purchase more environmentally friendly alternatives," says Simon Prosser, sales and marketing director at Hildon Natural Mineral Water.

Indeed, November saw Ikea report 55% growth in the UK sales of its reusable water bottles, a month after John Lewis reported a similar spike in the popularity of its products. "Reusable water bottles aren't showing any sign of slowing down and some customers have as many as five different types of water bottles - one for the gym, one for the office and even ones for different sized bags so they're always prepared," says John Lewis cookshop buyer Elaine Hooper.

So momentous is the movement that Richard Caines, senior food & drink analyst at Mintel, names reusable bottles "one of the biggest risks to sales of bottled water". That risk is only set to grow as filling up from the tap becomes increasingly easy on the go. The number of free water refill stations across the UK increased from 1,500 in January 2018 to more than 20,000 in June 2019, according to trade association Water UK. All in all, the picture is looking pretty bleak. But all is not lost. Because at least one of those challenges presents an opportunity. As single-use plastic falls out of fashion, alternative formats are gaining ground.
"Consumers are being swayed to purchase more environmentally friendly alternatives"
"We're seeing huge growth in non-plastic packaging formats," says senior Nielsen analyst Tom Newman. He points to canned water, which has tripled its sales to more than £5m, as an example. Cano Water is one beneficiary of this movement, passing the £800k mark from a standing start last year [Nielsen 52 w/e 7 September 2019].

It's not just cans, either. Tetra Pak brand Just Water also went from minimal sales to £869k over the same period. Fellow carton brand Water in a Box says more such options should be available in the supermarket aisles, after its survey of over 2,000 consumers found three quarters are worried about single-use plastic water bottles.

Of course, these brands are still very small. Among the bigger brands, recycled plastic is the most popular way to address the single-use problem. This seems to be hitting the mark with consumers.

Highland Spring, which delivered by far the highest sales gain across the top 10 brands this year, serves as proof. Granted, part of its stellar £15.8m growth was down to picking up new listings in WH Smith travel hubs in train stations and airports, which gave it "a hold of the very important impulse channel", says Nielsen's Newman.

But he also points to its 100% recycled plastic (rPET) bottle as a core driver of those extra sales. Since launching the 500ml product last January - making Highland Spring the first brand to have a fully recycled bottle on the market - it has "flown off the shelves", he says. The success prompted Highland Spring to roll out 100% rPET versions of its 750ml still water bottles in April.

So it's not surprising that many other major players have since followed suit. In December, Buxton announced it would convert its entire bottled water range into 100% rPET by 2021, a move it no doubt hopes will turn around its £26.1m value decline [Nielsen].

Meanwhile, Evian is due to debut 100% recycled plastic versions of its 75cl and 1.5l bottles next month, after trialling them at last year's Wimbledon. The brand plans to make all of its bottles from recycled plastic by 2025.
"We've been focusing on reducing our packaging and carbon emissions for years"
Parent company Danone is clearly taking eco-credentials seriously. Because plastic is just one of the issues on its radar. "We've been focusing on reducing our packaging and carbon emissions through transitioning to renewable energy for years, we are now accelerating our journey," says Letford.

Fellow giant CCEP is also going big on sustainability. It rolled out 100% recycled plastic bottles for its Glacéau Smartwater brand at the tail end of last year. According to CCEP, the 600ml and 860ml formats will take 3,100 tonnes of virgin plastic out of circulation every year.

There is more than pure altruism at play here. "We know 42% of consumers look to brands and manufacturers to take the lead and make their packaging more sustainable, and 86% are more likely to choose a brand with 100% recycled packaging," says Simon Harrison, CCEP's VP of commercial development.
Marketing budgets
Which explains why CCEP is keen to shout about the work it is doing on the environmental front. It is sinking £3m of marketing spend into Smartwater this year to highlight its 100% rPET bottles. That included a three-week campaign in February spanning out of home and radio. Considering Smartwater sales flatlined last year - down 0.9% to £39.6m [Nielsen] - this could prove a much-needed avenue for growth.

It's not the only CCEP brand receiving a marketing boost. In January, Capri-Sun Fruity Waters launched a promotion giving parents the chance to win coupons for discounted children's swimming lessons. The three-month campaign, designed to highlight its healthy credentials, is backed by social media activity. Meanwhile, Oasis is planning to continue its "tongue-in-cheek" above the line activity this year, which its says has "resonated with the target audience".

Plenty of other bottled water brands are putting investment into advertising, too. Last April, Highland Spring launched its first experiential campaign across major UK stations highlighting three themes: provenance, the environment and healthy hydration. That was followed by its 'Remarkable' campaign across social, digital and outdoor in the second half of the year supporting the relaunch of its sparkling waters. Meanwhile, Evian brought back its babies with a 'Bare Necessities' TV ad in summer.

Of course, this kind of heavyweight activity is only really available to big brands with marketing budgets to match. Still, there are ways for smaller brands to get noticed without the need for a primetime TV campaign. Take functional water brand Get More Vits. It is gaining attention through its waters, which include vitamin B, vitamin C, vitamin D and multivitamin variants.

Crucially, these waters promise to be just as effective as a supplement - its vitamin D drink contains the government's daily recommended amount of 10 micrograms.

That proposition seems to be hitting the mark among consumers. The vitamin D water has grown 43.6% over the past year to become a £2m brand in its own right. Get More Vits has seen similar level of growth across its entire portfolio, now worth £4.2m.

This success inspired the brand to launch B12 and Fibre waters, which are due to hit shelves in March, as well as Active BCAA, its first foray into amino acid water.
Health credentials
Get More Vits co-founder Steve Norris says there is plenty of appetite for health-led propositions. "The introduction of last year's sugar tax has encouraged shoppers to consider their soft drinks choices more carefully, and the growing focus on general health and wellbeing has led to an increased surge towards healthier eating and drinking habits that water is benefiting from," he argues.

Ben Parker, at home commercial director at Britvic, similarly sees potential here. "Health has become more of a lifestyle choice than a 'trend' for consumers and 'water plus' brands play perfectly into this area," he says.

That could explain the number of listings that functional brands are securing. See Rejuvenation Water, which last April unveiled a three-strong range of flavoured sparkling waters that came packed full of health claims.
"The sugar tax has encouraged shoppers to consider their soft drink choices carefully"
The Hydration+ range, which contains amino acids, electrolytes, botanical extracts and 5g of plant-based protein per bottle, quickly gained the attention of retailers. "Within six months of launching Hydration+ we had rolled out into Tesco, Sainsbury's, Ocado, Costco and John Lewis," says brand founder Kris Ingham.

Alkaline water brand Actiph is seeing a similar level of enthusiasm for its products, which claim to support an "active, balanced lifestyle". The brand says it has seen a 300% increase in value and volume sales over the past year, after picking up listings in Tesco, Sainsbury's, Holland & Barrett, BP forecourts and Costco.

What's more, functional claims offer some protection against factors such as the weather, says Jamie Douglas-Hamilton, founder of Actiph. "We weren't affected by the poor summer of 2019, because the added benefit of being an alkaline water ensures consumption despite weather conditions."

Amid all this activity, it would be wrong to go without mentioning the functional trend of the moment: CBD. Although CBD has had a greater impact in other areas of the drinks market - see carbonated soft drinks and alcohol - bottled water hasn't been left out. Last year, Love Hemp Water gained listings in Sainsbury's and WH Smith for its CBD-infused spring water. The brand believes it is perfectly placed to appeal to consumers who care about wellness, and want their drinks to "help manage stress, promote relaxation and improve mood".
Core propositions
Note that all of these success stories have been smaller brands. Because bigger brands seem to be focusing their efforts on more mainstream propositions. CCEP, for example, has rationalised its Glaceau Vitaminwater brand to focus all of its efforts on Smartwater. That resulted in the former losing 35.9% of its value to be worth £2.5m [Nielsen 52 w/e 7 September 2019].

It's a similar story at Lucozade Ribena Suntory. Its Fitwater range lost almost half of its sales [Nielsen] after LRS decided to pull it from the majority of grocery shelves in favour of stocking it in "key markets" such as sports and leisure facilities.

It may make sense for these giants to concentrate on core propositions with a mainstream following. After all, this is where the largest chunk of sales lies. But it means innovation has been undeniably tame at the top end of the bottled water market. Most NPD has come in the form of new flavours, such as Britvic's new Cucumber, Mint & Lime Aqua Libre and Volvic's latest addition to its Touch Of Fruit range.
"We are hopefully returning to a better summer this year which will drive growth"
Nielsen's Newman believes this has been to the detriment of bottled water sales. "Buxton and Volvic accounted for a large proportion of losses within the water category this year, and whilst much of the losses can be apportioned to less favourable weather, they've also been impacted by a lack of innovation," he says.

The latter is something that could change. Fingers crossed, the weather will pick up for the summer of 2020 and consumers will be able to venture out in the aftermath of the coronavirus scare. "We are hopefully returning to a better summer this year, which will drive growth back into the category," says Highland Spring's Oldham.

But if we can't rely on the sunshine, innovation may mitigate another fall from grace. Because as Craig David can testify, fresh material is vital to making a successful comeback.
Can seltzers maintain fizz as other sparkling waters struggle?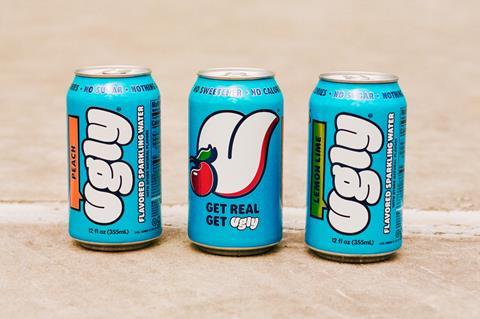 Seltzers entered the UK market with plenty of promise. What began as a small trend led by startups quickly caught the attention of the giants. See AG Barr, which released its own seltzer – Le Joli – in spring 2018.
At the time, sales of sparkling water were flying. But they have taken a dramatic downturn this year, with a 9.4% slump in value [Kantar]. So does this mean the seltzer boom is already over?
Not according to the major players in the market. While conventional flavoured water is declining, seltzer brands say they are continuing to see major uplifts due to their health credentials. Ugly says the basic proposition of its seltzers – no sugar, sweetener or artificial ingredients – has helped it deliver 154% growth over the past year. What's more, the canned brand isn't facing the same environmental concerns as brands that use plastic.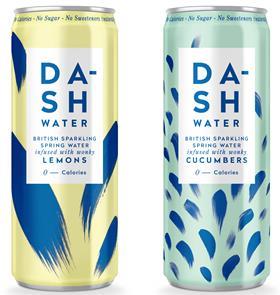 "The demand is there for a product and brand that is challenging the norm within the market, and distancing itself from the plastic bottles, sugars and artificial ingredients which dominate the industry," says Hugh Thomas, CEO of Ugly Drinks.
"Our aim is to sell over 10 million cans globally and continue to grow our listings across the UK."
Fellow seltzer brand Dash Water is similarly optimistic. According to the company, sales quadrupled over the past year, thanks to grocery listings and its export business. It expects to see growth of 250% in the coming year.
Dash says it is important to differentiate between seltzer and other flavoured waters. "Conventional flavoured water contains high sugar or sweetener content, while seltzers are free of sugar or sweeteners," it says.
That proposition helped Dash secure investors such as Simon Duffy, founder of Bulldog Skincare. "Investors see the category as a long-term solution to sugary and artificial drinks," it says. So seltzers haven't lost their fizz yet.
Innovations in bottled water 2020