If you want a glimpse into the future of functional food, look no further than Kim Kardashian. The queen of the selfie isn't just influencing the nation's photography techniques, she is also shaping the way we eat. In between taking bikini-clad pics and dealing with the fallout of Kanye's latest faux pas, Kim has backed the likes of detox tea and (more controversially) appetite-suppressant lollipops.
She is one of many A-listers with the power to send sales of a functional product through the roof with a single tweet or snap. The mere suggestion that 'this keeps me slim' or 'that helps my performance' can create a trend overnight. As Instagram reaches one billion monthly users worldwide and Twitter averages 330 million, it's a phenomenon that shows no sign of dying.

With this kind of star power as an ally, it's little surprise demand for functional food and drink has continued to rise. According to Kantar, there were five billion more servings of food chosen for health benefits over the past year than in 2015. And that's putting functional firmly in the mainstream. Peter Dries, director of marketing at Tetley, says its research indicates as many as 31% of consumers are now selecting food and drink products for their "health benefits, naturalness and positive nutritional content".

This is all linked to an increased interest in wellness. "More than 20 million UK consumers today are placing increasing importance on an active healthy lifestyle," says Marina Love-Smith, marketing director of Natural Balance Foods.

So in the era of Kardashian, what are the key functional food and drink trends? Who or what is driving them? And are there any gaps in the market left to fill?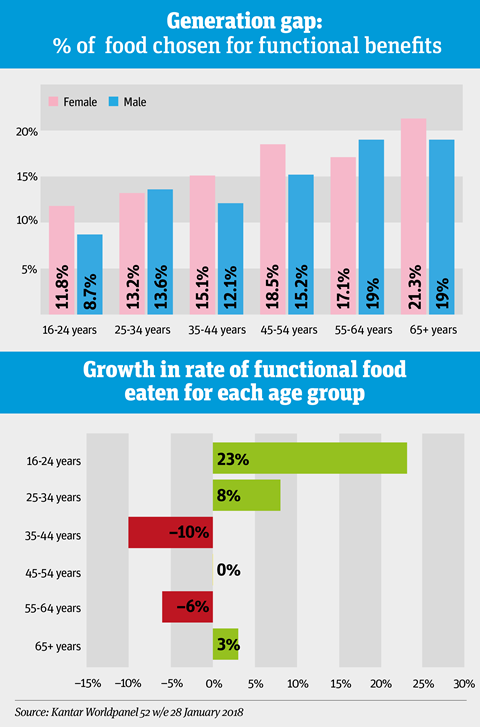 One the biggest celebrity-led functional trends this year was apple cider vinegar. The ingredient, which is said to aid weight loss and support a healthy digestive system, stormed into mainstream consciousness last year after Victoria Beckham tweeted that "two tablespoons first thing on an empty stomach" was part of her daily health routine. Sales have since skyrocketed.

Ocado has reported a 43% increase in sales of its five-litre Aspall Organic Apple Cyder Vinegar so far this year already, and in May Waitrose said sales of its apple cider vinegars were up 60%. The retailer was quick to make the link between the boom and celebrity endorsers, highlighting that Jennifer Aniston, Katy Perry and Beckham were "all talking about their love for the vinegar".

Ghee has had a similar celebrity makeover. Kourtney Kardashian's social media posts claiming a teaspoon a day helped keep her body healthy and maintain her figure created a wave of demand. Ocado saw a 16% hike in ghee sales in 2018 as people ate it either on its own, Kardashian-style, or used it to make 'bulletproof coffee' (also an Instagram favourite).

Celebrity advocates come as a particularly welcome relief for the category following the overhaul of health claim legislation by the EU back in 2012. The new restrictions, which permitted suppliers and manufacturers to use just 222 pre-approved general health claims, caused widespread disruption both on pack and across marketing for functional food and drink brands. With health claims harder than ever to communicate to shoppers, a celebrity touting a products' benefits has never been more valuable.
"Younger consumers are having more ownership of their individual wellbeing"
Given young celebrities and social media are now key drivers of the functional trend, it's no surprise the younger generation is driving the rise of functional food and drink. "Despite older consumers being more engaged with health benefits, it is the 16 to 34s that are driving growth," reports Kantar analyst Rachael Bedford. This demographic chose food for health reasons on 14% more occasions than the year before.
Retailers and brands are noticing this shift. Holland & Barrett has seen its average customer age fall due to the "cultural trend of younger consumers having more ownership of their individual wellbeing." Its strategy has changed accordingly. Not only is its marketing targeting young people (its Cleaner Beauty campaign, for example, responded to the clean beauty movement on Instagram) but ranging is also appealing to a busy generation. "We're ranging a lot more 'on the go' and snacking products," says head of food Ian Chant. "Flapjacks and bars, for example, have grown steadily over the last few years."

Similarly, several functional food and drink brands have targeted millennials with a message of convenience. The Groovy Food Co, for one, has found younger consumers want products that fit into their existing routines. "They've started looking for everyday staples that will deliver added benefits," says founder Rosie Hayward.
New plant protein brand Nush took the same tack this year with the launch of its dairy-free yoghurt tubes, designed to be consumed on the go. "Our almond milk yoghurts are particularly popular as they are enjoyed as a direct swap for the traditional dairy variety, with additional benefits like antioxidants, vitamin E and probiotic cultures," says brand founder Bethany Eaton.
Functional smoothies and water see growth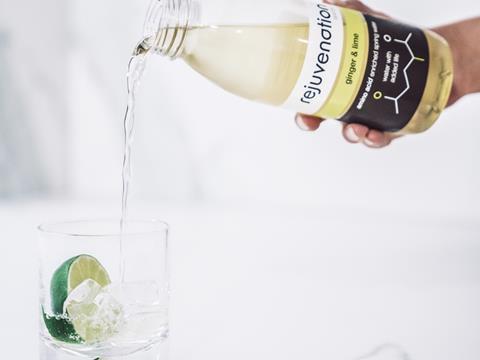 Brits today aren't simply seeking additional benefits in their food. Demand for functional drinks is on the up, as health-conscious consumers search for beverages that provide energy, health and even beauty benefits.
The growing interest has led to a raft of innovation in the sector. "A few years ago, the most people wanted from their drinks was a thirst quencher with no added sugar and natural ingredients," says Kris Ingham, founder of functional drinks brand Rejuvenation Water (pictured above). "Today consumers are demanding 'hydration-plus' from their beverages - they want products that help them in a functional way."
Rejuvenation Water launched back in 2016 with amino acids as its hero ingredient. The brand claims the amino acid-enriched spring water has numerous health benefits from aiding hangovers to relieving stress, with stockists growing in the past year from 200 to 2,000.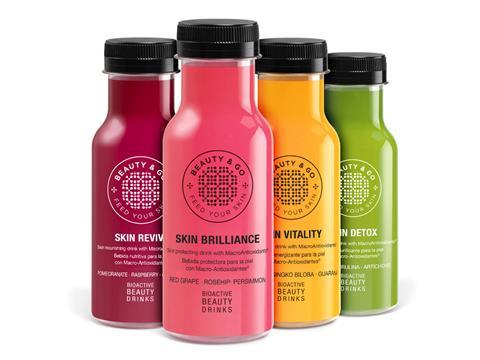 There is plenty more innovation where this came from. Wellness brand Beauty&Go (pictured) claims each bottle in its four-strong juice range contains a mix of vitamins and antioxidants clinically proven to brighten the complexion. Great skin doesn't come cheap, however. Each 250ml bottle will set consumers back £3.50.
For shoppers more interested in what's inside, there is B.fresh's range of gut-boosting Super Smoothies launched in September at a more palatable £2.50 per 250ml.
And if you find it tricky getting up in the morning, Smoothie brand Savsé launched new breakfast smoothie Protein Rise in May that promises to deliver an energy boost. "We've been seeing new shoppers come into the category as well as existing ones buying more," says CEO Paul Gurnell. "Benefit-driven drinks are proving increasingly popular, and it's the manufacturers who have offered a clear point of difference that are seeing the highest levels of success."
Gut health
Probiotics is one of the key words here, as the concept of gut health gains ground among the younger generation. What Yakult started in the 1990s is now being updated for the next generation with trendy new fermented foods. The rise of kombucha, kimchi and kefir has led several experts to name gut health as one of the biggest trends of 2018.

Nicola Peters, founder of fermented food brand The Cultured Collective, has seen a profound change in consumer attitudes since starting the business two years ago. It's good news for its six-strong range fermented products, described as a 'quick health boost' of probiotic-rich fermented liquid. "When we first started, 'fermented' was an unsellable word and we would avoid it. Now consumers are actively seeking fermented foods."

As with ghee and apple cider vinegar, high-profile advocates have played an important role. Gwyneth Paltrow has been vocal in her backing of the gut health movement, as have the likes of Halle Berry, Reese Witherspoon and Demi Lovato. "Ferments in particular have been embraced by wellness bloggers the world over, which has helped fuel their popularity, particularly amongst millennials and younger generations," says Peters.
It's not just celebs; probiotics have fans in the expert community too. "We're lucky here in the UK to have a number of gut health champions including Michael Mosley, who promotes fermented foods in his book The Clever Guts Diet," adds Peters. "Similarly, Dr Rangan Chatterjee of the BBC's Doctor in the House is a passionate commentator on the effect gut health bacteria have on our overall health and wellbeing."

Amid all this publicity, fast-growing startups are plentiful. Kefir brand Bio-tiful Dairy, founded in 2012, claims to have seen average year-on-year growth of over 250% since then, with this figure rising to 350% in 2017. Over 140,000 bottles of Bio-tiful Kefir are now sold weekly nationwide, inspiring the launch of extensions such as Baked Milk Kefir, a range of Kefir Smoothies and the most recent NPD Kefir-Quark in February.

Founder Natasha Bowes believes there is plenty of mileage in the gut health boom. "The probiotic market has been growing at 7% per year and is expected to reach $15bn in US sales in 2019. It's not only the health-conscious consumers that are looking for gut-friendly alternatives, a wider consumer base is jumping on the probiotic bandwagon too."

Even rugby hero Jonny Wilkinson is getting in on the action. He launched a new fermented tea range - No1 Kombucha - exclusively in Sainsbury's in May. The stamp of approval from the man who led England to Rugby World Cup glory could be just what the fermented drink needs, says CEO of Equinox Kombucha Daniel Spayne.

"Kombucha is a whole new drinks category and that is getting both UK producers and consumers excited. You only have to look at the history of what has happened in the USA, Canada and Australia to see how far the market can go. In the US alone, kombucha sales are in excess of $600m per annum."
"Kombucha is a whole new drinks category and that is getting producers and consumers excited"
It's an optimistic view. While probiotics are seeing impressive growth (kefir sales alone are up 19% in Ocado y-o-y), there are limiting factors. The distinctive taste is one of these. "These products do present an unfamiliar taste to modern palates," admits The Cultured Collective's Peters.
One way of skirting around this issue would be to mask 'unfamiliar tastes' within familiar products. Specialist ingredient supplier John Morley Group is planning to do just with Slimbiome, a new range of weight management mueslis containing healthy gut bacteria. Set to launch at the end of the year, the mueslis are the result of a new partnership between JMG and life sciences company OptiBiotix Health. Described by JMG managing director Simon Brown as "muesli-plus, a pioneering new weight management product set to change the face of breakfast food," the products will be available bagged or in single-serve pots for breakfast on the goers.
Yet unlike protein, it won't be simple just to shove probiotic cultures in everything. "Adding protein to a product is relatively easy," explains Bertel Haugen, Rude Health's innovation manager. "Probiotics on the other hand have to contain live cultures, which won't work in some foods."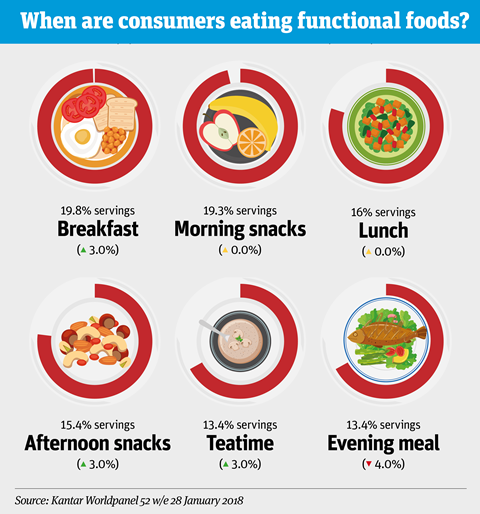 Breakfast
Probiotic muesli is certainly on the right lines, though - breakfast is when most people consume functional food and drink. "People are more likely to choose functional products at breakfast than at any other time in the day," says Kantar's Bedford. "Twenty-six per cent of breakfast cereals are chosen for their health benefits. As the day progresses, functional food seems to become less important."

Indeed, Kantar data shows less and less food is chosen for its additional benefits as the day wears on. While 19.8% of food eaten at breakfast is chosen for its functional properties, this drops to 13.4% of food eaten in the evening meal. Worse still, the amount of food chosen for its health benefits in the evening meal dropped 4% this year [Kantar Worldpanel 52 w/e 28 January 2018 vs 29 January 2017]. Over the same period, the rate of Brits choosing breakfast foods based on their functional benefits rose 3%. Why?

"Breakfast is often considered the most important mealtime to kick-start metabolism and eat foods that will provide benefits throughout the day," says Hayward of The Groovy Food Co. "The evening meal is when people are winding down and less concerned about functional products. It's these eating habits that brands often struggle to crack."

And so, while many functional brands tap the rise in shoppers wanting to start their day right, a noticeable gap has formed in functional evening products. This is creating a potential gap in the market for innovation.

According to The Cultured Collective's Peters, the key to success in functional evening meal products is in providing family favourites with additional benefits. "Our experience of talking to consumers and influencers is that people tend to steer towards more familiar, comfort foods for their evening meals." So brands will need to get their thinking caps on and come up with something that meets both needs. Failing that, Kim Kardashian is bound to be looking for a new gig. How about an appetite suppressant chicken dinner?
---
Innovations in functional food & drink 2018