Sales of free-from food & drink are flying. Brits have forked out an extra £96.5m on the sector in the past year [Kantar Worldpanel 52 w/e 29 March 2015], a staggering rise of 26.9%; volumes are up 21.9%.

Sixty per cent of households now buy into free-from, though far fewer actually suffer from a food intolerance. Brands say there are 27,000 internet searches for gluten-free diets every month in the UK, even though just 1% of Brits suffer from coeliac disease.

The movement is no longer strictly about medical need. It's become a lifestyle choice and is leaving its niche and going mainstream. Which raises the question: where should free-from go in store: in its own fixture or among conventional products? And what other challenges lie ahead for the sector?

The impressive growth is being driven by two key factors: as consumer interest in diets free from gluten, lactose and other ingredients rises, the giants of grocery are ramping up product development to meet demand; at the same time, retailers are increasing the amount of space devoted to such products.

Both Kellogg's and Nestlé have entered the market with gluten-free breakfast cereals in the past year and Britain's biggest purely free-from brand, Alpro, has also been busy on the NPD front, with launches including two Big Pot yoghurt alternatives, a coconut & almond drink and cream alternative Coconut Cuisine.

"Choice and variety are key drivers for the brand and the category as a whole," says marketing controller Vicky Upton, adding that Alpro Almond has racked up sales of £29.6m in the past year [Nielsen 52 w/e 25 April 2015]. "Introducing flavours like almond and coconut to our soya heartland provides an accessible route into the plant-based arena."

The retailers are investing, too. Own label now accounts for nearly a quarter of the market and has grown 26.1% on volumes up 19.8% [Kantar]. Tesco's own-label free-from range is up a staggering 51.3%, after a range extension, a programme of Free From Fairs in store and a trial of more than 300 products throughout the summer.

Waitrose has the greatest slice of the market relative to its overall share of grocery (see p50) and is also growing at a fair clip; own-label sales have surged 20.2%. "In order to keep up with demand we have already vastly expanded our free-from range and are set to widen it further later on this year," says Waitrose buyer Chloe Graves.

Asda, Morrisons, The Co-operative and the discounters still significantly undertrade in this sector and have had mixed performances in terms of sales growth. But they're catching up Morrisons' free-from sales have grown 4.7% and it has recently tripled free-from's standard space allocation. Asda, which has had the second-strongest sales growth of the year, is using a similar tactic. "Asda has led the change recently, expanding from one to three bays in some stores," says Warburtons free-from business director Chris Hook.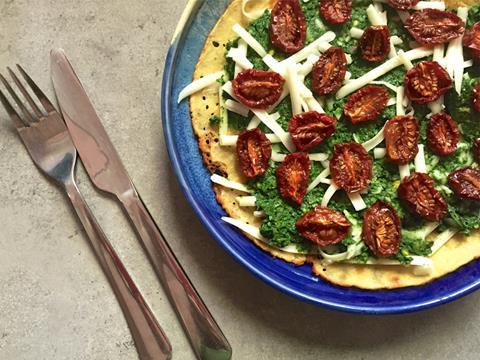 Merchandising

Approaches to how the sector should be merchandised vary from retailer to retailer and sector to sector. Chilled products such as dairy alternatives, for example, are generally stocked alongside conventional products, partly because of practical implications surrounding the location of chillers in store.

This approach also aids the perception that these products are not just for people with specific medical needs. "Our products are now firmly established in the mainstream, attracting both needs-based and health-conscious consumers," says Upton at Alpro, which had the greatest rise up The Grocer's ranking of Britain's 100 Biggest Grocery Brands in March. "It's vital that our marketing doesn't exclude core consumer groups."

Products with a wide appeal and marketing that doesn't solely focus on the health needs of a minority of consumers are crucial if a brand wants to be stocked outside the free-from fixture, say many. One example is Mrs Crimble's Choc Macaroon, the top-selling cake product in the UK total impulse category according to Nielsen [52 w/e 18 April 2015]. "The secret of this product's success is that it is never marketed solely as a gluten-free option," says director of marketing Claire Ramsey. "And it appeals to all types of store - convenience, multiple, cash & carry and lots of other outlets."

Big brands with big budgets can always just buy the shelf space they want, of course. "When Nestlé and Kellogg's launched their gluten-free cereals they went into the main fixture," says Hamish Renton, MD of free-from consultancy HRA. "They want the distribution so they are doing everything you would expect of someone with deep pockets. They want to be in the mainstream cereal aisle because there's more footfall."

Some say they are giving mainstream brands a run for their money outside the free-from fixture. "We're proof that a free-from product can disrupt a market, sell side by side with the conventional product and outperform it," says Stephen Argent, founder of dairy and gluten-free fresh soup brand Soupologie. "The big learning curve for larger retailers has been accepting that the free-from market has now become mainstream."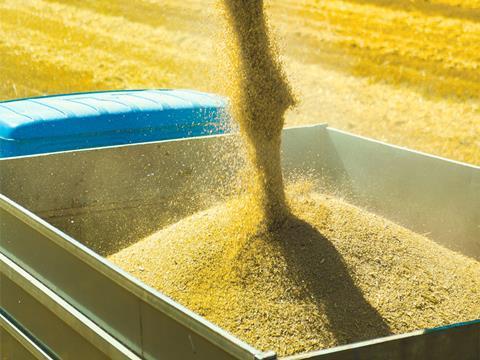 The free-from fixture
Indeed, there are still conflicting views on where certain products should be stocked; within a dedicated free-from fixture or not. For example, Tony McLoughlin, MD of free-from home baking brand Delicious Alchemy, says a bespoke free-from area is still vital. "Having to walk down aisles full of food you cannot eat is frustrating."

There is evidence that brands and retailers are to an extent still feeling their way when it comes to siting products within store. Vegetarian and gluten-free brand Amy's Kitchen recently had its ambient soups moved from the mainstream fixture back in to the free-from aisle.

"This is certainly where free-from brands should be in store," says international sales director Damien Threadgold. "Having a free-from aisle in big supermarkets allows customers who need free-from foods for medical reasons to shop easily for safe products without having to check labels across foods in every category. However, as more and more people purchase free-from without medical reasons, making the free-from aisle more approachable is key. This can be achieved with brighter packaging, PoS marketing material and more education from brands."

Gluten-free bread and baked goods brand Udi's has a trick up its sleeve for making the sector more approachable: dedicated gluten-free in-store bakeries, which the brand plans to introduce in selected Asda stores in partnership with the retailer by the end of the summer. These will offer a combination of Udi's and own-label products.

"In-store bakery is set to be a key growth driver with Udi's looking to pioneer this movement with the launch of up to 20 new lines," explains product development director Holly Wales. "Offering freshly baked free-from food in store will revolutionise consumer shopping behaviour in this category."

Indeed, free-from bakery is the category's second-fastest growing sector after dairy free (see p50) and commentators say schemes like this and the sheer volume of NPD going on at present suggest sales will continue to rise. Warburtons recently brought out sandwich thins and wraps under its free-from label Newburn Bakehouse. Its products became dairy free as well as gluten free last year too.

"We see a big opportunity to widen our alternative ranges," says Warburtons' Hook. "In the US, one in four new products that are launched carry a gluten-free claim but here in the UK it is just 10%, so we clearly have a long way to go in terms of NPD."

Genius reports 48.5% year-on-year value growth [IRI year to 23 May 2015], aided by last year's launch of a morning goods range and its move into the frozen sector with a seven-strong range of pies and pastry. It is also extending into food to go with individual muffins and cupcakes.

Free-from stores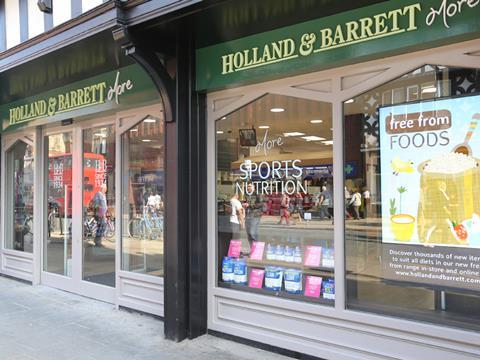 Other initiatives are starting to bear fruit, suggesting more growth is on the cards. In April Holland & Barrett's first free-from concept store opened in Chester under the More fascia, the first of 50 planned for the next two years. The flagship store stocks 700 free-from branded products alongside 1,000 online, rising to 3,000 by the end of this year.

"We did it to tap growth in this market - now one in five people 'think' they have a food intolerance or allergy," says Emma Cockerill, director of sales & procurement at parent company NBTY. "Free-from is our number one priority at the moment and it will change how we operate as a business. We will launch an own-label range as well."

Expanding its frozen and chilled free-from ranges will be a priority for the retailer, says Cockerill, who adds that desserts is an area in free-from that needs attention. "One of our bestsellers is an allergen-free cacao powder ingredient, which is used to make desserts, such as dairy-free chocolate mousses or cakes," she says. "There is a lack of desserts out there and we are on a hunt for those products."

Chilled & frozen

Some brands claim retailers have lagged behind the pace of development on the supply side of the sector. "Manufacturers are ahead of the game versus retailers," explains Jane Rayner, CEO of Great Food, which produces a range of chilled, world food-inspired snacks and meals. "We have the solution to free-from, tasty, healthy, convenient snacking, but there is no free-from sector in the chiller yet. The focus so far has been around bread and bakery products."

The pace of change in chillers and freezer is gathering. Currently the frozen sector, which is considered to be a 'newer' free-from sector, is growing ahead of the market at 38% year on year [IRI 52 w/e 25 April 2015]. Amy's Kitchen reports strong growth in its frozen ready meals and Schär will launch a free-from range into the UK in September. The eight products, which will include frozen lines such as gluten and lactose-free pizzas, will sit alongside 26 existing products following a rebrand, such as gluten-free frozen apple crumble and Yorkshire puddings.

Despite Cockerill's complaint of a dearth of free-from dessert products, there are a number of brands out there looking to liven up and premiumise the free-from chilled sector. The Booja-Booja Company reports strong sales for its dairy, gluten and soya-free Chilled Chocolate Truffles and its Ice Cream Alternative range (made from cashew nuts, agave, water and cocoa powder), for example.

"As the free-from market grows, consumers are looking for products that offer 'the whole package', in other words lines that are organic, natural, 'clean', as well as vegetarian or vegan," says marketing communications manager Louise Truswell.

The gap in the market for free-from chilled desserts has also helped propel the fortunes of coconut milk yoghurt brand CoYo. It clocked up a turnover of £600,000 in its first year (2012), rising to £4m this year. Sales in Waitrose are booming, says the brand, and Tesco has increased its listings substantially. "When we first moved into our own factory in June 2014 we were packing 14,000 pots of yoghurt per week," says founder Bethany Eaton. "Now we pack up to 70,000 per week, just 12 months on."

Impulse

Another opportunity lies in impulse and on the go. "I feel passionately that the free-from range should cover an entire weekly shop," says Holland & Barrett's Cockerill. "There are many gaps in the market at the moment; on-the-go snacks is one of them."

Data shows clear demand for on-the-go snacks. Sales of free-from cereal bars, for example, are up 30.5% compared with total cereal bars, which declined 1.5% [Kantar 52 w/e 4 January 2015]. Brands such as Nakd and 9Bar are driving much of this growth as they take up growing space in c-stores and forecourts at the expense of confectionery.

"Nakd's huge sales boost has been helped by new listings through convenience stores and forecourts such as Spar, BP and Martin McColl's Retail Group and Nisa outlets," says Marina Love, marketing director at Nakd brand owner Natural Balance Foods, which also reports strong sales of its gluten-free protein snack bar brand Trek.

Others tapping the on-the-go trend include Soupologie, which has recently launched 400g Soup to Go pots in flavours including Beetroot & Pomegranate with Chia Seed Sprinkles. Bircher muesli brand Moma has brought out single-serve sachets of on-the-go gluten-free porridge (rsp: 70p) and Eat Natural claims 65g single-serve sachets of its Toasted Muesli with Buckwheat is selling well in Tesco. A gluten-free granola is next.

There are potentially a number of clouds on the horizon for the free-from sector, however. Mark Gould, CEO at Wholebake, which produces 9Bar, claims some gluten-free products have high levels of sugar and fat in them, a fact consumers are getting wise to.

Expect brands to adapt their offerings to address concerns, says Gould, adding thatWholebake has recently cut satfat and refined sugar levels in its 9Bar recipe."With consumers becoming increasingly savvy about the health benefits of foods, a gap is appearing in the market for naturally nutritious and naturally free-from options," he says.

Mrs Crimble's is also tapping this. In May it launched calorie-counted gluten-free pasta and sauce products and cereal bars boasting just 150 calories under new sub-brand Gluten Free… and Good For Me!

Nutritional values

Another challenge came this week with a report from Australia's George Institute for Global Health, which analysed the nutritional value of more than 3,200 gluten-free products across 10 categories. The study found there was little or no nutritional benefit in eating such foods, pouring cold water on the idea that going gluten-free can aid general health.

"There's been a tidal wave of gluten-free products coming on to the market in recent years and many people have been caught in the wash as they search for a healthier diet," says the report's author Dr Jason Wu. "The foods can be significantly more expensive and are very trendy to eat, but we discovered a negligible difference when looking at their overall nutrition. Gluten-free products are necessary for people with coeliac disease, but this information is important because of their broader use in the community."

The point about how vital gluten-free products are to those with a genuine medical need is crucial, particularly in light of the Genius contamination scandal that broke in June (see p55). This isn't the first time Genius has found itself in controversy; in December it recalled a batch of its gluten-free frozen steak pies after the boxes were mistakenly packed with chilli bean pies that contain gluten.

"We have upset a lot of consumers and it is our job to rebuild that trust and confidence," said CEO Roz Cuschieri following the June recall. "I'd like to start by expressing my sincere apologies to all of your readers, and consumers and our customers who have been impacted by the events of the last week; it's not what Genius is about, we are in the business of making lives better and easier."

Although the company has been praised for the speed at which it dealt with the issue, its gravity shouldn't be underestimated. "If you bought a product labelled Fairtrade, you wouldn't know about it," says Renton. "This is different. If someone who is coeliac eats gluten they get really ill."

And so this is perhaps the greatest risk to the future health of the category, too. Even so, the category and Genius are expecting another year of strong growth in 2015.
Organic Gluten Free Mini Gnocchi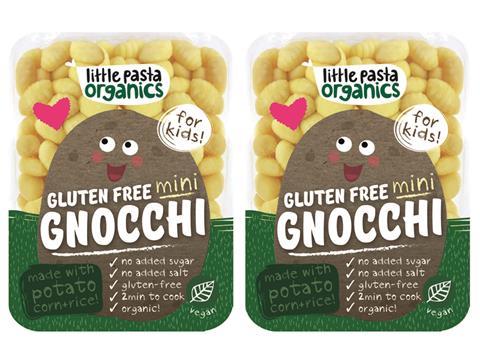 Launching: July 2015 
Supplier: Little Pasta Organics
Little Pasta Organics says its Gluten Free Mini Gnocchi are the first ambient organic gnocchi available in the UK. The gnocchi were created to offer parents a quick and easy meal option for children aged 36 months and older. The product (rsp: £2.59/pack) is 100% organic with an eight-month shelf life and is made with potato, maize and rice flour in place of wheat. The vegan-friendly product also boasts no added salt or sugar, and it takes just two minutes to cook.
No.G Gluten Free Pork Pie
Launching: July 2015
Supplier: No.G - Too Good to be Gluten Free
First No.G created a gluten-free pastry. Now the brand is using it in its new gluten-free pork pie and sausage rolls (rsp: £2.20, both) targeted at convenience and food to go. The company is considering further NPD in areas such as gluten-free Scotch eggs and cocktail sausages, lighter puff pastry tarts for summer and pies for the colder months.
Great Food Snack Packs
Launching: Summer 2015
Supplier: Great Food
Great Food is launching a gluten-free snack pack this summer, which it says is perfect for on-the-go snacking and picnics. The 100% natural baked lines are available in two 84g variants: Baked Sweet Potato Bites and Baked Moroccan Falafel, both of which come with a cool tomato salsa dip (rsp: £1.49).
Chippa Condiments range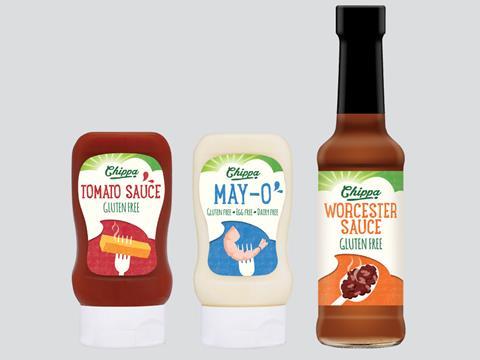 Launched: June 2015
Supplier: Tiger Tiger
In June ethnic food specialist Tiger Tiger rebranded its condiments into a free-from range under the name Chippa. The seven-strong gluten and dairy-free condiments range (rsps: £1.29-£1.59) includes May-O, Tomato Sauce, Brown Sauce, Salad Cream, Sweet Chilli, Worcestershire Sauce and BBQ Sauce.
Lactofree Grated Cheddar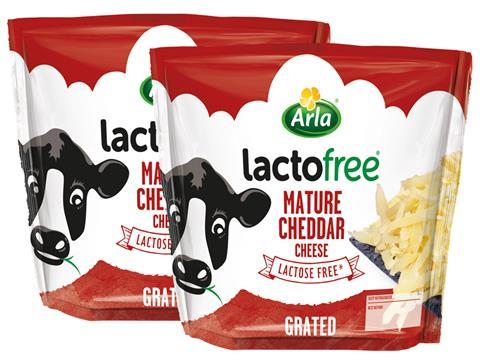 Launched: April 2015 
Supplier: Arla

Lactofree Grated Cheddar (rsp: £1.99) is billed as a convenient version of the brand's popular lactose-free Mature Cheddar, launched at the end of 2013. The grated variant was added in April along with a lactose-free Chocolate Dairy Drink, and the company promises further innovation this year. "The beauty of Lactofree is that it tastes, cooks and behaves in exactly the same way as standard dairy," claims the brand. The Lactofree cheese range is now worth £3.8m [Nielsen 52 w/e 3 January 2015].

Coconut Cuisine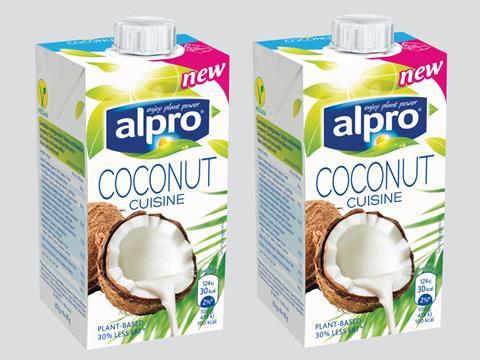 Launched: March 2015

Supplier: Alpro

This year Alpro brought out Coconut Cuisine - a fresh coconut-based dairy-free alternative to cream (rsp: £1.49/250ml) - along with Alpro Coconut Almond drink. The brand says its ambition is to "stretch the plant-based category by introducing a wider mix of ingredients and extending our presence into new usage occasions".

100% Dairy Free Chocolate Milk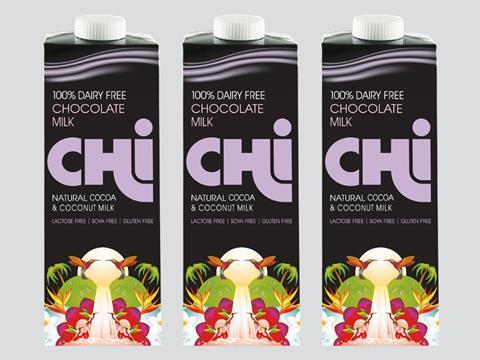 Launched: February 2015

Supplier: Chi Ventures

In February Chi launched a 1-litre version of this natural cocoa & coconut milk, which is suitable for vegans and is also lactose, dairy, soya and gluten-free. The product is priced at £1.79 for 330ml and £2.29 for the 1-litre version, and is targeted at adults and children looking for a healthier version of chocolate milk.

Almond Breeze Reduced Sugar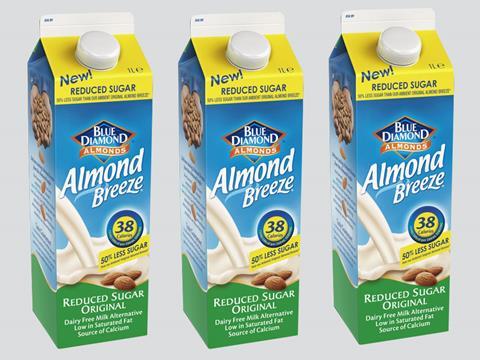 Launched: January 2015

Supplier: Blue Diamond

Californian almond specialist Blue Diamond expanded its dairy-free almond milk range earlier this year with a reduced-sugar version (rsp: £1.49), which sits alongside its existing Original and Unsweetened. Research by the company shows almond milk is increasingly being used at breakfast to make porridge and cereal, or for baking.
Free-from suppliers look to vertical integration
In June, Genius Foods was forced to recall 24 products labelled as 'gluten-free' because of fears they did in fact contain it. A similar recall took place in December after chilli bean pies containing gluten were mislabelled as gluten-free steak pies.

As the popularity of free-from food grows and the number of people diagnosed with allergies increases, the issue of contamination will be high on the agenda in this sector. So what lessons might there be from this latest recall?

"The future lies with the guys who own the raw materials and process it themselves," says Hamish Renton, MD of consultancy HRA. "These incidents tend to happen to companies that don't own the raw materials or factories. If you outsource parts of your production process, then there's a risk that the other party may not take these issues as seriously."

There's no suggestion such matters aren't at the top of the agenda for Genius. In fact, the company has been widely praised for the manner with which it dealt with the problem. "Genius takes issues of this nature very seriously," says a spokesman. "We're working with our internal teams and retail partners to prevent any risk to our customers and to prevent reoccurrence."

Meanwhile, Warburtons and Udi's have invested in their own free-from production, although they still buy in ingredients. Warburtons recently invested £5m in a dedicated gluten and wheat-free bakery for its Newburn Bakehouse range.

European oat company Raisio Group controls the seeds, planting, harvesting and packing of its oats all under one roof. There is also a 10km exclusion zone around the crops where there are no wheat-containing plants grown.

"As we have the total chain of production in our own hands, from farm to consumers, we can be sure of the pureness and quality of the products," says export manager, Kati Mansikkaviita.
Free from market analysed by Kantar Worldpanel
More shoppers are buying free-from and more often. Almost 60% of the population has bought from the category, but the average shopper purchases only about nine times a year on average, demonstrating the potential of the sector.
This year there are one million more consumers of free-from, with a marked increase in males over 25 and children. Historically, females have been free-from's core consumers but males and children have become more engaged with the category as free-from becomes more mainstream. Consumers say they buy due to perceived health benefits and because they view products as being more natural.
Strong growth and higher demand have led to a tidal wave of NPD in every category. Milk and Cheddar cheese have added the most in terms of actual growth within the dairy products sector, whereas in ambient bakery wrapped bread and rolls are the winners.
Lauren Szumski, Kantar Worldpanel