Energy drinks brands have enjoyed a sales surge as Brits have struggled with sleepless nights
The past year has, understandably, caused many people to lose sleep. The first lockdown in March 2020 sparked a sharp rise in anxiety-related sleeping problems, Southampton University's Centre for Population Change reported last summer. Mothers, key workers and people from minority ethnic backgrounds were the worst affected, it found.
This month, a study by Italy's University of L'Aquila warned of a "worldwide increase in electronic devices' daily usage". Prolonged exposure to backlit screens before bedtime has led to "negative consequences on sleep health" it added.
No wonder, then, that the UK's take-home sales of energy drinks are booming. Value has surged by 12.9% to £353.5m, driven by a 6.2% uptick in volumes [Kantar 52 w/e 21 March 2021]. That's an extra 14 million litres shifted in the past year as weary Brits sought a caffeine boost.
So, which brands have benefited most – and how? As restrictions ease, what does the coming year hold for the category?
One reason for growth is the market's dedicated fanbase. In total soft drinks over the past year, drink now formats "fell by 16%, but energy drinks, which is effectively a drink now category, saw category volumes grow by 0.4%" says AG Barr marketing director Adrian Troy. "It's partly because energy drinks have a very loyal following." In other words, fans of Red Bull and the like were not prepared to forgo their daily buzz. "Shoppers' need to feel alert and awake throughout the day did not go away," he adds.
"Red Bull and Monster have widened the value gap on the rest of the energy field"
A more significant explanation for energy's sale surge is the agility the biggest players have shown in response to the pandemic.
Market leader Red Bull has seen value sales surge by 17.9% to £451.6m, while number two brand Monster Energy is up 34.4% to £353m [Nielsen 52 w/e 1 May 2021]. Much of this is down to the greater focus they have given multipacks as the on-the-go market dried in lockdowns.
"The big two have widened the value gap on the rest of the energy field through strong growth this year," notes Nielsen senior analytics executive Tom Newman.
"Growth for both brands has predominantly been fostered through new listings. They've managed to grow their multipack sales, as well as bucking soft drinks trends to grow their single-serve portfolios."
For multipacks, it's been a case of the bigger the better, with Red Bull shifting growing volumes through packs of four, eight and 12 250ml cans.
"With the reduction of organic on-the-go sales during 2020 and early 2021, multipacks and larger formats have been crucial in bolstering the category," says a spokesman for the brand.
"We're continuing to see multipack options in growth across all channels, signalling commitment from shoppers to enjoy the brand on more occasions and on their own terms whether gaming, socialising, or simply relaxing at home."
"Sixty-eight per cent of the sector's value growth in 2020 came from sharing packs"
With shoppers visiting stores less often and stocking up on larger packs when they do, Monster has also been pushing four and eight-packs of its 500ml cans.
"Sixty-eight per cent of the energy sector's value growth in 2020 came from sharing packs, 41% of which was delivered by Monster," says Martin Attock, VP for commercial development at owner Coca-Cola Europacific Partners.
The supplier's other energy brand Relentless has also experienced "significant increase in demand for its multipack formats, which have increased in value by almost a third" he adds.
But that growth in multipacks wasn't quite enough to offset stalling on-the-go sales of singles. Relentless has seen value slip by 1.9% to £42.6m.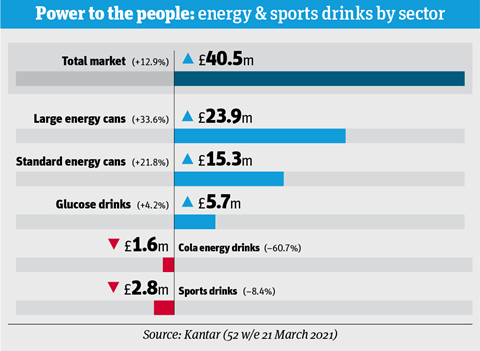 Lockdowns have driven a boom in take-home sales of energy drinks. They're up 12.9% in value to £353.5m on volumes up 6.2%.
Volume sales of energy drinks in large cans are up 28%, while standard cans are up 14.3%. That's extra 15.3 million litres in total.
Plus, the two sectors have added £39.2m between them. They're now worth £180.2m in total.
Energy drinks have been boosted by a switch to larger formats. Coca-Cola Europacific Partners has been pushing packs of four and eight 500ml cans of Monster Energy, for example, while Red Bull has grown volume sales via 250ml cans in four, eight and 12-packs.
Energy's success isn't reflected across the whole of the larger category. Brands more focused on the out-of-home and sports markets have suffered.
With gyms shut for most of the past year and teams sports off limits, sports drinks have suffered an 8.4% loss in value on volumes down 16.3%.
Lucozade Sport is one such brand to have been affected by restrictions, notes Kantar client executive Dilip Dhanjal. "But as restrictions ease and gyms start to reopen we expect demand to rise," he adds.
On-the-go stalls
The difference in fortunes between Monster and Relentless highlights a factor other than the brands' relative exposure to the impulse market. There's also the size of their portfolios.
Relentless offers seven drinks, while Monster boasts more than 20. They include espresso, juice and sports products, which have helped bolster the brand's sales of singles.
Like Relentless, Lucozade has been hit by troubles in the impulse market. Value sales of the brand's core Energy lineup are down 4.6% to £296m.
"The Covid-19 pandemic led directly to far fewer occasions for our Lucozade drinks, which play key roles in on-the-go lifestyles and team sport activities," says Alpesh Mistry, sales director at owner Suntory Beverage & Food.
"With a huge impulse skew to Lucozade's sales, these almost overnight changes to shopping habits inevitably brought challenges through lockdown."
New products
As life returns to normal, something of a revival of on-the-go shopping is on the cards. And Brits will discover a wider range of Lucozade Energy drinks awaiting them on their commute back to the office.
Earlier this year, the brand unveiled Citrus Chill, a lemon & lime flavour, followed by Raspberry Ripple. "New flavours are crucial for retailers looking to drive excitement and incremental shoppers to the category, with one in four new flavour shoppers being entirely new to the energy category," says Mistry.
Those Lucozade lines are just two recent additions to the energy category, which has been buzzing with innovation and reformulation.
There's also Carabao's Mixed Berry, added this March after 84% of drinkers expressed an interest in the flavour when asked what they'd like to see from the brand.
The following month, Grenade launched a trio of drinks, marking a new outlet for the sports nutrition brand. "While we're clear category leaders within the protein bar sector, the energy drinks category is a relatively new market for Grenade, and one that we see huge potential in," says MD Phil Greenhalgh.
AG Barr, which lacked an energy drink partner after PepsiCo bought Rockstar last year, launched Rubicon Raw Energy this February. The three-strong lineup is made with 20% fruit juice and contains natural caffeine from green coffee beans, B vitamins, ginseng and guarana.
That was followed last month by PepsiCo bottler Britvic unveiling a new pack design and formulation for Rockstar.
"The impactful new look includes our price-marked pack cans, which are essential for convenience retailers as they allow stores to offer value to their customers," said out-of-home commercial director Phil Sanders at the time of the rollout. "We have also seen more people doing their main shop at their local convenience store, so the take-home four-pack offer will allow shoppers to purchase Rockstar for drinking later too."
That Rockstar's new recipe features vitamin C is also significant. "One in five people have begun to take vitamins since the start of lockdown," according to Britvic at home commercial director Ben Parker. He points to the relaunched Purdey's Natural Energy range, which is fortified with vitamins C, B2, B3, B6 and B12.
"As a relatively new segment, functional wellness drinks have headroom to attract more shoppers," he adds.
Focus on convenience
Britvic's approach to Rockstar is not unique – particularly when it comes to its focus on price-marked packs. Indeed, convenience-only brand Boost believes they will help reignite the impulse market, particularly in light of the economic pressure many people are now under.
"They allow you to communicate great value to the consumer, without compromising on the excellent cash margins for retailers, for which Boost is well-known," says Boost marketing director Adrian Hipkiss.
"PMPs account for over 60% of total soft drink sales in independent and symbol convenience stores, and since the start of the pandemic, 43% of retailers have stated that they will now offer more PMPs in their stores."
"PMPs account for over 60% of total soft drink sales in independent and symbol c-stores"
CCEP is also focusing on convenience with Sales Supercharged from Monster Energy Co, a new retailer support initiative designed to help convenience store operators maximise energy drinks sales.
Its website and associated materials are designed to provide retailers with advice on the latest trends and segments leading the way, as well as tips on ranging, merchandising and in-store activation.
"Our teams are helping retailers find the right ranges by analysing market data and offering insight into changing shopper behaviours," says CCEP's Attock. "To take advantage, retailers must find the right balance between on-the-go and future consumption packs and display them in the right locations."
It's the sort of advice that might help suppliers and retailers sleep at night.
Will Covid drive a 'calming' drinks sales boom?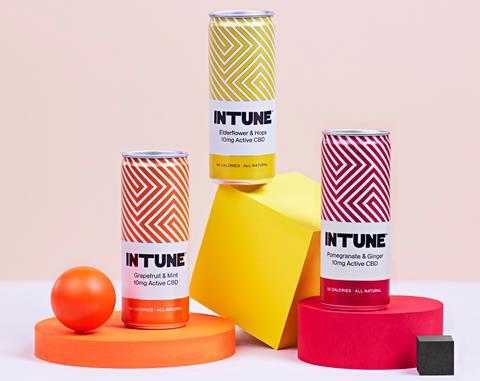 Anxiety's something no one's been short of over the past year. And that's been an opportunity for soft drinks makers to tout products with calming properties and ingredients such as matcha and CBD.
Brits are "struggling to sleep and yet we still need to be switched on" notes Mintel global drinks analyst Alex Beckett. "And young people are looking for products that support their emotional wellbeing."
No wonder PepsiCo launched Driftwell into the US in December. It's a functional beverage to promote relaxation. The non-carbonated, enhanced water drink was created in less than a year.
Brands wanting to follow PepsiCo's example in the UK will need to tread carefully with the claims their drinks make. Because medicinal claims are out. They would require products to be licensed as medicine – a costly and time-consuming process.
Which might explain why suppliers are instead simply making allusions to their drinks' properties.
Driftwell simply says it is "enhanced" with nootropic L-Theanine and refers to bad habits such as overuse of mobile phones and overworking as enemies of relaxation.
Calm Drinks makes no explicit claims about its CBD-infused products (other than they won't get you high), while rival CBD brand InTune suggests it assists with "being present and finding focus".
Shoppers' thirst is moving "towards natural functional drinks" says InTune founder Hannah Glasson. "Consumers are looking to feel balanced."
Such desire is driving demand for matcha drinks. "It's exotic, it's got purity credentials and it's about focusing the mind," says Mintel's Beckett.
Matcha contains caffeine and L-Theanine, which work synergistically to release energy, says OMGTea founder Katherine Swift. "People are more aware of the health benefits of matcha and are more in tune with their health. They're making more informed decisions."
Innovations in energy 2021