A new generation is helping to breathe fresh life into the roast dinner. But it's also challenging traditional cooking and formats
Who said the roast dinner was going out of fashion? Years of steady decline in the Sunday tradition have led us to believe it was a relic of a bygone era, perpetuated only by older generations steadfastly clinging to their roast tatties. When William Jackson sold Aunt Bessie's to Nomad Foods for £210m in June, general wisdom accepted it was a shrewd move. "Everything connected with Sunday lunch has had its day," said a senior industry source at the time. "People aren't eating Sunday lunch the way they used to. Probably the best days of that particular business and brand have been and gone."

That isn't strictly true. Yes, the number of Sunday roast occasions has declined by over 39 million over the past year [Kantar Worldpanel 52 w/e 22 April 2018]. But a rise in midweek occasions means an extra 51.4 million roasts were eaten. And contrary to popular belief, younger consumers are a key factor behind this revival.
Download the PDF version of this report
---

So how are suppliers and retailers looking to make the most of this? And what other trends are shaping the roast market?

Demographic data by Kantar paints an interesting picture of who's eating roasts. Almost all age groups have upped their consumption, apart from families with children under nine, once the core audience for a traditional Sunday dinner. This dwindling consumption could be a sign that the roast is in trouble, if it weren't for strong growth among an unexpected audience: the pre-family consumer. Millennials without children have eaten 10.7 million more roasts in the past year, a rise of 9.5%. Flatmates like the cast of Friends (pictured above) are now almost as likely to be tucking into a roast as families with kids aged 10 and over.

All this is down to changing perceptions of the roast, once thought of as old-fashioned and time-consuming. AHDB says its 2016 mini roast campaign, which aimed to reposition roasts as a convenient midweek meal, particularly appealed to consumers without children. "Mini roast occasions grew when the campaign launched and then declined until the start of this year, but have been growing recently," says Susie Stannard, senior consumer insight analyst at AHDB.
"The modern consumer no longer wants to spend hours preparing a Sunday meal"
The campaign did seem to tap current demands. Kantar data shows practicality was an influence in 49 million roast occasions over the past year, up 3.3%. "The modern consumer no longer wants to spend hours in the kitchen preparing a Sunday meal," says Andre Burger, VP for foods at Unilever UK & Ireland, owner of the Knorr brand.

So brands are scrabbling to make their offerings as easy as possible. Premier Foods says success of its Bisto, Oxo and Paxo brands is "driven by our most convenient options".

Aunt Bessie's is also pushing "simpler and quicker" options. Frozen products are particularly growing in popularity, says the brand's marketing director Hannah Haas. As shoppers look for something to shove in the oven rather than peeling potatoes or making their own batter, she reveals midweek consumption of frozen Yorkshire puddings is up 13%, while frozen potatoes are up 8%.
Earning back families
All this is great for the young, convenience-seeking consumer. But brands may have to work harder to earn back the age group in decline: young families. Aunt Bessie's is one taking on that challenge. In July, The Grocer revealed the brand's plans to launch a children's range called Little Bessie's. Although the company remains tight-lipped about the launch, it confirmed it is speaking to retailers about developing the range.

If Little Bessie's can mix the demand for convenience with healthy credentials, it may have found the winning formula. Health is now an influencing factor in 26.1 million roast occasions, up 1.1% on last year, and parents of young children are particularly sensitive to this demand.

The impact of this focus on health is clear in consumption habits. Lean proteins have taken centre stage in meats. Roast chicken dinners have jumped 14.1%, while turkey dinners increased by 11.1%. As shoppers look to match health with convenience, Bernard Matthews is seeing turkey shoppers "switching from whole birds to more convenient options and smaller cuts, including crowns".

By contrast, red meat options perceived as less healthy are floundering. The number of beef and lamb roasts have fallen by 7.8% and 13.8% respectively. Pork is doing better, with a 2.2% rise in occasions, bolstered by last autumn's launch of AHDB's three-year campaign positioning it as a healthy meat.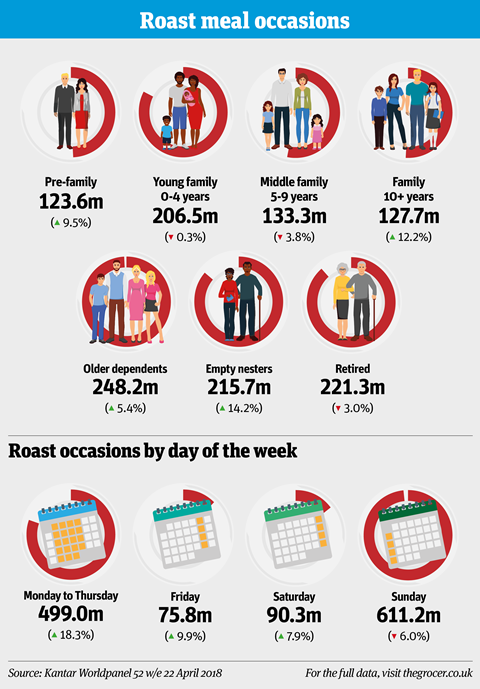 Find the full data at the bottom of this report

With all this focus on health and convenience, prepped vegetables are the obvious winner when it comes to accompaniments. Brits have used prepped veg in 62 million roasts over the past year, up from around 36 million in 2014. Many brands have innovated in this area to grab a slice of this growth.

Aunt Bessie's got the ball rolling among mainstream brands with the launch of its parsnip, carrot and sweet potato chips last year. Its veggie chip lineup expanded further in January to include crinkle-cut carrot chips with smoked paprika & rosemary, alongside sea salt-seasoned swede chips. The brand says this is successfully attracting younger consumers while "raising average price and tapping into important health missions".

Smaller brands are also getting in on the act - Irish frozen brand Strong Roots, for example, counts beetroot wedges and mixed root vegetable fries among its lineup.

With words like 'wedges' and 'fries', these are clearly designed to be potato replacements. So are these growing at the expense of the spud? "Veg is growing more than potatoes but we don't know if people are switching from potatoes to veg," says AHDB's Stannard. According to McCain category controller Naomi Tinkler, Brits are far from ditching roast potatoes. "Our recent research revealed that 86% of the public believe that the roast potato is the only indisputable item on a roast dinner plate."

One final trend that could draw back young families is flavour innovation. As consumers travel more frequently and further afield, they are turning to more exotic flavours. Although it's thought of as an iconically British dish, this also applies to the roast dinner (perhaps expected from a nation that eats twice as many Italian meals as roasts).
"It's hard to ignore the viral success of the nation's favourites in new formats"
Just a quick glance at the number of online recipes for Italian-style roast chicken speaks volumes. Consumers are also going beyond the standard buttered carrots and sprouts for their sides. Kantar data shows the number of occasions involving peppers has grown by 27% over the past four years as consumers roast them Mediterranean-style.

Even traditional favourites such as Yorkshire puddings are getting a twist (this was the year of Morrisons' Yorkshire pudding pizza, after all). "Whether it's Yorkshire pudding burritos or roast potato kebab sticks, it's hard to ignore the viral success of many of the nation's favourites in new and alternative formats, often paired with more exotic global flavours," says Haas of Aunt Bessie's.

A Yorkshire pudding burrito may never replace the traditional roast dinner. But these culinary twists on the classics (and the attention they've generated) show there remains a national love of the dish. Don't write off the roast just yet.
Innovations in Sunday roast 2018
Click pictures to expand