Last year's The Apprentice winner is one of many sweets startups making their mark. How are the disruptors changing the market?
Sugar confectionery needed a hero. Having suffered a blow to sales last year - amid a growing public backlash against sugar - the market certainly looked like it needed saving. Admittedly, few expected a saviour to come in the form of a five foot seven Hackney lad who built his empire on mid-market electronics. Yet here we are.

Yes, last year's finale of The Apprentice saw the aptly named Lord Sugar inject £250,000 into online startup Sweets in the City. The declining sweets market may have seemed an odd choice for a notoriously hard-hitting numbers man. But Sweets in the City founder Sarah Lynn was convinced there was big money to be made.
"People search for sweet gifts and nothing comes up. Nobody is nailing that market"
"The demand is there," she said. "People search for sweet gifts and sweet baskets and there's nothing coming up. Nobody is nailing that market."
This year's sales suggest it wasn't just hot air. The value of the sugary confectionery market rose 4.3% to £897m - growth that might tentatively be described as a comeback. Admittedly, much of this has been driven by average price rises of 3.7%, but a 0.7% rise in volumes is still an achievement for a category that has been so widely demonised.

Sweets in the City is one of the many startups hoping to hit that sweet spot of growth. With fledgling businesses offering everything from sweet-filled 'letterboxes' to cocktail-flavoured candies, these brands are ready to shake up the market by challenging the status quo.

So what role have these startups played in the growth of sugar confectionery? And how are the bigger brands adapting?

It all started with Candy Kittens. Although now too large to be described as a startup - the "gourmet" candy brand turned over £2.3m in 2018 - it was on pioneering ground when it launched in 2012.
Download the PDF version of this report
---
"When we started the business, we looked at confectionery as a whole and couldn't believe people were eating the same sweets that had been on the market for decades," says co-founder Ed Williams. "As people get older they become more interested in brands, fashion, ingredients and provenance in their food - it really didn't make sense to us that people we had graduated with were still eating sweets that were aimed at children."

Since then, Candy Kittens has gained listings for its premium sweet bags in Tesco, Sainsbury's, Waitrose and more recently Morrisons. It attributes much of that success to targeting an older market, a previously untapped area.

Williams says the public backlash against sugar has, ironically, only made the idea of grown-up candy even more appealing. "We've seen a huge rise in demand for premium, luxury sweets in the past year. If consumers today are going to treat themselves to sugar confectionery, they're increasingly willing to pay more to really indulge in sweets that are worth it."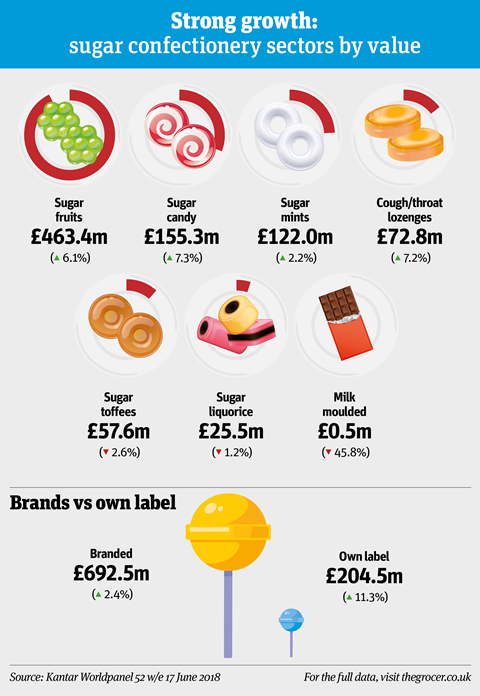 Find the full data at the bottom of this report
Premiumisation
So where Candy Kittens boldly went, other startups have bravely followed - albeit with their own twists. Sweets in the City is squarely targeting the sophisticated gifting market with its direct-to-consumer site, which works alongside listings in Harvey Nichols and Selfridges. "People are looking for a bit of sophistication in their sweets," says founder Lynn.

She believes online gifting is a particularly lucrative area. "Companies like Amazon, Notonthehighstreet and Etsy have driven a lot of shoppers to look online for a variety of gifts that are a bit different," says Lynn. "You'll always have customers who want to go to a bricks and mortar shop, but there is a growing number of people who want the convenience of online, as well as the bonus of being able to personalise a product that you can't get in shops. Sweets are yet to take advantage of that movement."

Lynn may be the only one to get Lord Sugar's investment, but the commitment from arguably Britain's most famous entrepreneur is a boost for the grown-up sweet market as a whole, And there are plenty more innovators where Lynn came from.
"Demand for gelatine-free and gluten-free sweets has grown over the past year"
Jealous Sweets, for one, is looking to capitalise on the plant-based boom with vegan-friendly treats. The brand is sponsoring London Fashion Week this year to boost brand awareness among its key customer demographic: women aged 25 and over. "Demand for gelatine-free and gluten-free sweets has definitely grown over the past year. The vegan movement in particular is driving a lot of change," says head of marketing Sophie McGregor.

Others are dabbling in alcoholic flavours. A quick search for 'prosecco sweets' in Amazon's confectionery department retrieves 100 different products. It's a trend that has been well explored by London-based startup Sugar Sin. Having launched its "modern confectionery store" in 2011 with gourmet cocktail and classic prosecco gummies, it has expanded its range of cocktail-inspired sweets twice already this year to keep up with demand. A Peach Bellini flavour launched exclusively into Superdrug in June, followed by a Strawberry Daiquiri in August. "The range has been a huge success with our customers and retailers," says co-founder Josefin Deckel. "We still see a big opportunity in expanding further into new flavours and packaging options."

Smaller brands are also upping the stakes in 'ethical' confectionery. Irish luxury confectioner Pandora Bell is just one of the smaller players touting an entirely palm oil-free range - on top of no plastic packaging and only free-range eggs. "We've found our shoppers are willing to pay a little more for products that are ethical," says founder Nicole Dunphy. In the post-Blue Planet II era, Dunphy states consumers are increasingly interested in brands that are "doing the right thing" across food and drink.
Doing the right thing could also be interpreted as using the right ingredients. This is where Nordic brand Wally and Whiz found its niche. Spotting the demand for so-called 'clean labelling', it launched its sweets without e-numbers in 2015. Since then, it has secured listings in the likes of Harvey Nichols and Lakeland with flavours such as Grapefruit with Ginger and Apple with Yuzu. The brand attributes much of its success over the past three years to its all-natural approach, claiming "most wine gums are filled with gelatine, a vast amount of e-numbers and artificial colours and flavours, which leaves a highly unnatural, synthetic and uninspiring taste". All this has enabled Wally and Whiz to command premium on its products, with an rsp of £7 per typical 140g box.

Startups aren't just doing things differently in terms of products. Many are taking a Hotel Chocolat approach to their business model by incorporating subscriptions. Having set up its subscription service in one afternoon back in July, Candy Kittens' Williams says the brand has seen hundreds of customers sign up for monthly treats. "We've never had to market or promote the service," says Williams. "It really reminded myself and the team of what we're able to do that the larger brands can't compete with."

Sweets in the City was quick to launch its subscription service Sweet Society in January this year, a month after winning Lord Sugar's backing. The service offers customers the choice of letterbox (£12.50) or city sharer (£25) options. "We're continually growing in sign-ups," says Lynn. "Part of the attraction to sweet subscriptions is that you can set it up once and not have to think about it again, it's a great little monthly treat either for yourself or to share with a group."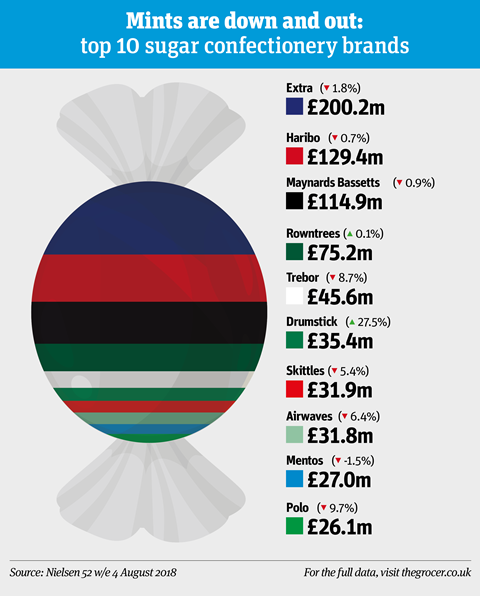 Find the full data at the bottom of this report
Innovation
But it would be wrong to suggest startups are hogging the cutting-edge innovation space, leaving the big boys in dull and boring territory. Many large corporations are starting to tap the same trends as their smaller counterparts.

Take the vegan boom, for example. Swizzels Matlow expanded its vegetarian and vegan-friendly range last year with Choos, designed to target "the huge number of people in the UK who are on the lookout for sweet treats free from animal products". And in September, Waitrose upped its plant-based credentials with the relaunch of its own-label confectionery range featuring two new vegan lines: Coconut Ice and Turkish Delight.

Not one to do things by halves, Waitrose has also taken into account sustainability in its latest range. The retailer states all of the 80 chocolates and sweets are free from black plastic packaging, as part of its commitment to eliminate the recycling-unfriendly substance from all its own-label SKUs by the end of next year. A further 30 festive products are set to join the range this month.
"PHE and government activities have motivated confectioners to innovate"
In terms of capturing the adult market, Maynards Bassetts jumped on the booze-flavoured bandwagon in February with new Wine Gum Mocktails, containing Strawberry Daiquiri, Pina Colada and Cuba Libre flavours. Keen to boost value sales, which this year dropped 0.9% on volumes down 1.7%, the brand also launched its first medium confectionery (160g) bags Soft Jellies Wild Safari with the aim of attracting young adults.
However, all this innovation has been somewhat overshadowed by the elephant in the sweet shop: sugar reduction. Understandably, this has been more of a pressing concern for the sweets giants. "It escapes no one that sugar has received a lot of attention in the last year," says Claire James, trade marketing manager at Haribo. "The PHE and government activities have motivated confectioners to innovate and offer consumers more choice. That's led to an increase in sugar-reduced products and a focus on formats - in particular smaller portion-controlled packs - all of which has contributed to category growth."
Innovation in gum: is sugar-free the key?
After a painful two years, culminating in a loss of over £15m in value sales [Nielsen 52 w/e 4 August 2018 and 52 w/e 9 September 2017], nobody could deny the chewing gum sector is in drastic need of innovation.
Mars Wrigley rose to the challenge in February with new Starburst Chewing Gum, designed to target 15 to 24-year-olds. "Our UK consumer research highlighted that the gum category has seen a 20% decline in penetration from the younger generation over the last 10 years," says trade and brand manager Lauren George. The brand believes the sugar-free treats will reinvigorate the sector, aiming to add £15m incremental growth to the category over the next three years and to increasing gum penetration by 3%.
Mars Wrigley also expanded its Extra gum range with the rollout of new Minis Handyboxes in June. The brand could use a boost, with Nielsen reporting Extra lost £3.7m (1.8%) in value this year on volumes down 7.3%. Add to that a £2.2m value loss for fellow Wrigley sub-brand Airwaves on volume sales down 11.4% and it's clear why the brand felt it needed to do something different.
Mars Wrigley isn't the only one pushing gum innovation. Iceland became the first major UK retailer to offer plastic-free chewing gum in August with its 100% biodegradable range Simply Gum. Derived from tree sap, the new SKUs were created after a survey commissioned by the retailer found 85% of 2,000 consumers had no idea that chewing gum contained plastic.
According to Mike Stevens, founder of sugar-free gum and mint brand Peppersmith, the growth in public interest about what goes into food is a critical factor driving down sales in gum. To get back in the game, the category could do with more NPD along the lines of Iceland's. "Consumers are scrutinising ingredients more than ever and gum is no different. The challenge and the opportunity for innovation in the gum category is to achieve the right balance of great taste, health and sustainability."
So many have rushed to bring out their own reduced sugar lines. Haribo's own reduced-sugar NPD Fruitilicious hit retail shelves in January, containing 30% less sugar than regular fruit gum sweets. Not to be left behind in the reduced sugar race, fellow category kingpin Perfetti Van Melle introduced new Fruittella Sachets in June. The 99-calorie, 28g bags were developed after last year's launch of the larger 30% reduced-sugar Fruittella bags (120g), which the brand says have amassed £1.8m in sales. That the new grab-and-go SKUs align with Public Health England's recommendations for children to consume a maximum of two 100-calorie snacks a day doesn't hurt either.
They're all at it. Tangerine Confectionery added real fruit juice to its Wham and Fruit Salad chews in 2016, while Mars rolled out new "candy-like" Starburst Chewing Gum in February to provide consumers with a new "sugar-free treat alternative that bridges the gap between gum and candy".
Their efforts translated into a 1% reduction in sugar per 100g across sweet confectionery (not including chocolate) according to PHE's one-year progress report published this summer. That may seem slow going, but PHE chief nutritionist Dr Alison Tedstone isn't disheartened.

"It is recognised that reformulated products take time to appear in stores and in shopping baskets and that there are limitations in the data used to make the assessment. A clearer indication of progress across the industry will be available in 2019." PHE also states it will continue to work with "all sectors of industry towards the overall ambition of a 20% reduction in sugar by 2020".

All this focus on sugar reduction is good for consumers and public health. But the numbers suggest it's not necessarily translating into growth for brands. According to Nielsen, four of the five top brands - including sugar-reducing Haribo - suffered a decline in sales.

So to win in the sweets market, perhaps the big boys need to take a look at the strategy of their smaller rivals. After all, it takes more than sugar to make your mark (unless you're talking Lord Sugar, that is).
Innovations in sugar confectionery 2018
Click on an image to expand