With more and more breakfasts eaten at work or even in transit, it's hardly surprising consumers are increasingly going against the grain. And as Brits buy less cereal, it is price rises keeping the category - and not just the brands - in value growth.

Considering the intensity of promotions in the market - Nielsen senior client manager Simon Kershaw points out that in three key areas: kids', functional and cluster cereals, around half by volume is sold on deal - the extent of volume decline is startling. Even mighty Kellogg's is struggling: it boasts 10 of the top 20 cereal brands, but half have lost volume sales year-on-year.

Like last year, Kellogg's middle ground has been hardest squeezed. Virtuous All-Bran and Fruit & Fibre are looking healthy unashamedly indulgent Krave has posted another year of double-digit growth and kid-focused Minimax, launched last October, is rapidly ascending the rankings, already in spot 33. But such favourites as Crunchy Nut and Frosties are in double-digit decline, as is Special K. Even Corn Flakes' marginal value growth masks crumbling volume sales.

Cereal Partners has also had a hard time of it, with three of its four top 20 brands in volume decline, although of these only Shredded Wheat has also suffered a drop in value sales. But Weetabix has once again bucked the downward trend, with value up 7.6% and volume growth of 0.2%. Weetabix has successfully benefited from fresh NPD, including golden syrup, strawberry and caramel & nut flavours of Crispy Minis, and a move away from plastic to an easy-tear paper wrapper in September.

As a traditional cereal maintaining growth, Weetabix is unusual. In general, the brands doing well are those embracing consumers' changing breakfast habits by making themselves easy to eat away from home. According to Kershaw, "porridge, granola and functional cereals are the segments leading growth" - and these are the areas where NPD has focused on single serves and portability.

Quaker, for instance, has climbed to number three partly on the back of a 51% increase in promotions- it accounted for 19% of all cereal deals in the year to 13 October [BrandView.co.uk] - but partly by continuing to invest in innovation. In February, it rolled out oat cluster-topped versions of its porridge pots, followed by a dried fruit-topped variant in August - and two new Oat So Simple sachets arrived in September.

Alpen has been similarly busy, introducing three flavours of porridge pots to complement the sachets it launched in October 2011. Muesli rival Dorset Cereals, meanwhile, launched single-serve pots in June - although this hasn't been enough to prevent a slight decline for the upmarket brand.
TOP LAUNCH 2012
Ready Brek Squeezers Weetabix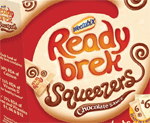 Farmers and lumberjacks may disagree, but Weetabix deserves credit for injecting some fun into what can be a fairly mundane product. By combining portions of porridge oats with squeezable sachets of brightly coloured sauce, Ready Brek Squeezers enable aspiring Picassos to decorate their porridge as they see fit. Weetabix says the range, which boasts chocolate and strawberry flavours, is designed to encourage kids to have fun - while eating a wholesome breakfast, of course.