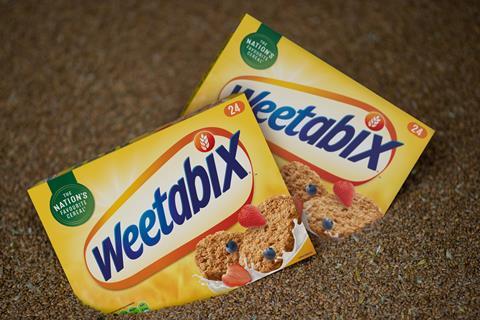 Weetabix has gone viral again – this time thanks to a new TikTok trend.
A legion of TikTok users have taken to sharing videos of themselves making and eating 'overnight Weetabix', an alternative serving of the cereal in which the 'bix' are crushed up and soaked in milk with various toppings added.
The "part-breakfast, part-dessert creations" are then refrigerated overnight, so that they set and are ready to eat in the morning.
Videos using the hashtag #overnightWeetabix have so far gained more than 20.5 million views, with recipes ranging from tiramisu to banoffee pie-inspired creations.
Weetabix head of brand Gareth Turner said Weetabix was "always encouraging people to eat their Weetabix in different ways, so we've been thrilled to see TikTok users creating such delicious and innovative recipes".
"With many getting involved, we'd encourage retailers to ensure they are well stocked with Weetabix," he added.
It isn't the first time Weetabix has made a splash on social media.
In February 2021, sales of the brand's original cereal were up 15% in Sainsbury's alone, said the brand, after a divisive post showing the cereal biscuits slathered in baked beans went viral.
Last month, it unveiled plans to plough £2m into marketing in 2022, in the hope of introducing its products to 600,000 new households this year.
The market-leading breakfast cereal brand held onto a significant chunk of the gains it made during lockdown last year, when at-home breakfast occasions increased. Sales of Weetabix fell just 1.4% to £151.4m in the 52 weeks to 11 September 2021 [NielsenIQ].