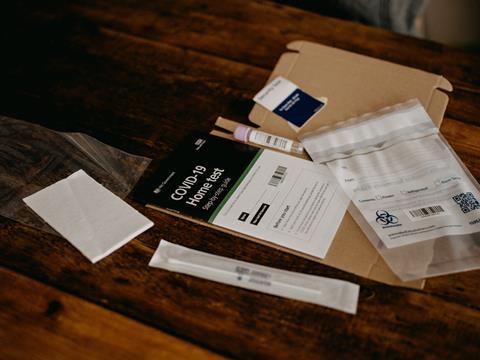 Businesses with 10 or more employees will be able to provide rapid Covid testing kits for employees to carry out at home from 6 April.
The move marks the next major push in the government's testing programme, which will issue free lateral flow tests offered until 30 June.
Businesses that are unable to offer workers on-site testing due to lack of space or because they operate across multiple sites will have until 12 April to register to be part of the expanded scheme.
Until now, only companies with 50 or more employees were eligible to provide workplace testing, with smaller organisations encouraged to access community testing sites.
"The BRC welcomes the proposal to extend the workplace testing programme to include home testing," said British Retail Consortium CEO Helen Dickinson. "This is something we have called for as the next step for smaller businesses and stores where the space for testing at work is limited. It is also supported by employees as a practical approach."
Tesco first called on government in February to provide home testing kits for employees after reporting take-up for work-based testing had been "relatively slow".
So far, 60,000 businesses across the UK have registered for regular work-based testing.
The Association of Convenience Stores has urged the government to offer home testing to all local shops, where headcount averages at seven employees and therefore falls short of the new requirements.
"The government's announcement does not provide the independent convenience store sector with a comprehensive and workable testing solution," said CEO James Lowman.
"We are concerned about access to testing for those who cannot facilitate workplace testing or access community testing sites, particularly for rural stores where these may be some distance away."