Details are being finalised, ranges are still being added to, and almost everyone is still trying to decide what to charge. But then again, it is only July. So what do we know about what the supermarkets have planned to win the big one this Christmas?
Aldi
---
Product count: 447 Increase on last year: 7% New Products: 172
---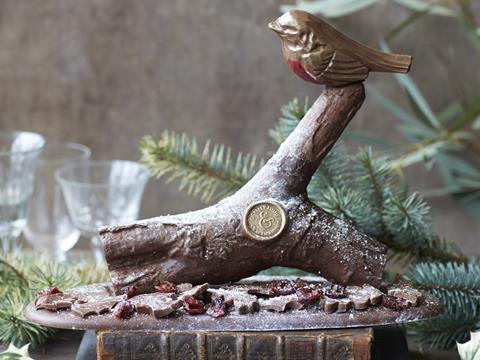 "No one is going to forget the person who walks into the party holding this," says Aldi of its monstrous jeroboam of prosecco, which it plans to sell at just £40 over the festive season.
As well as the three-litre jeroboam, Aldi's Monsigny champagne will be back (that all-important price point is yet to be determined) while it will also capitalise on the still-growing trend for gin by introducing a range of five premium gins.
However, this Christmas the discounter is mostly pushing the "all under one roof" theme to shake off the notion that shoppers can't get their entire Christmas shop in an Aldi.
So an intricately decorated and hand crafted soft-slice chocolate and honeycomb robin makes an impressive centrepiece for the table, and the free-range Specially Selected bronze turkey, which boasts 50% more meat than commercially grown birds, is the crowning glory of the all-British fresh meat range (although the sirloin of beef stuffed with porcini, shallots and white truffle looks mouthwateringly good).
The hamper range launched in 2016 will also be returning online, with a new non-alcoholic option. Although booze is not in short supply.
As for non-food, a light-up Stag's Head to replace a traditional wreath looks like a winner, while on the gifting side a range of wooden children's toys and stocking fillers for him and her (slippers, gloves) will be available.
Asda
---
Product count: 703 Increase on last year: 3% New Products: 422
---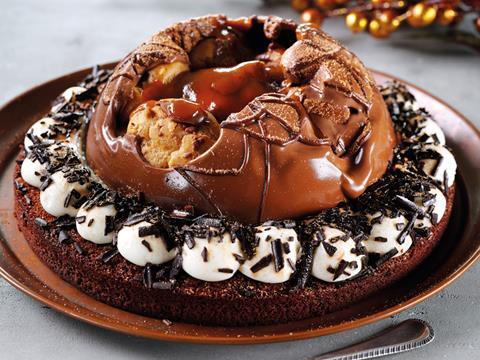 Asda has been keeping a close eye on Facebook trends in the run-up to Christmas. There's hardly a dessert in the range that doesn't require smashing with a spoon or microwaving instead of baking; or melting caramel sauce over a chocolate sponge cake with a chocolate dome to reveal a surprise pile of profiteroles. A high novelty factor then, but the quality looks high throughout.
The retailer has also taken inspiration from fantasy TV epic Game of Thrones with its medieval banquet-style range of charcuterie (including a mini Serrano ham), an impressive triple lamb crown with a port and mint jus decorated with rosemary sprigs, and selection of vintage British cheeses, which it describes as "affordable magic".
Asda is especially proud of its new Exquisite 'Rich and Intense' Scottish smoked salmon, which has been hung for 24 hours to allow for a denser, less-greasy texture.
Meanwhile, Asda has also put its faith in gin, and its variety of sloe gin-inspired products, which it tips as one of the hot trends of the season, include a mulled sloe gin kit and boozy chocolates.
There is a vast amount of seasonal non-food split into three distinct themes: Frosted, Maple and Dark Romance (think leopard print baubles, iridescent wine glasses and a gold stag ornament wearing a black feather boa).
The Co-op
---
Product count: 350 Increase on last year: 0% New Products: 112
---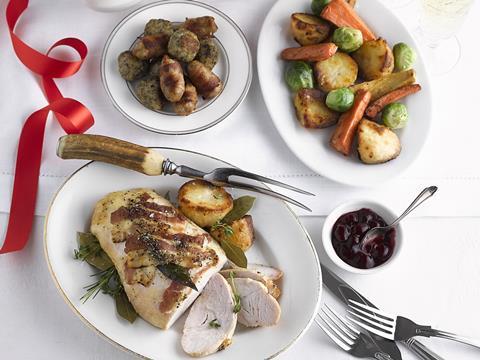 On-trend meat-free options including spicy bang bang battered cauliflower and beetroot & goats cheese rostis (both £4) will up the ante for any forgotten vegetarians coming over. Other veggie options include mac and cheese bites and free-from mozzarella sticks. At parties, gingerbread tortilla rolls (£1.50) and prosecco bubble snacks (£1), which fizz in the mouth, will get tongues wagging.
The Co-op is also proud of its seasonal food-to-go range and has launched a new, and frankly ingenious, snack pot of pigs in blankets with cranberry dip (£2), alongside a maple bourbon bacon relish and mature smoked cheddar sandwich (£3.35).
The Co-op has not forgotten the main event, though as a (predominantly) c-store chain it won't be offering whole turkeys. Instead it has launched an ultra-convenient ready-to-cook Christmas dinner for two box designed for the elderly or young couples who want to have a meal together before spending Christmas with their families. Including turkey, pigs in blankets, stuffing balls, gravy and cranberry sauce. All that's missing is the vegetables, on offer at £3 for 640g including carrots, parsnips, roast potatoes and Brussels sprouts.
Another theme this year is a cake under a smashable/meltable chocolate dome. The Co-op has a 750g chocolate orange cheesecake plus shell for £12.
Booths
---
Product count: 430 Increase on last year: 0% New Products: 100
---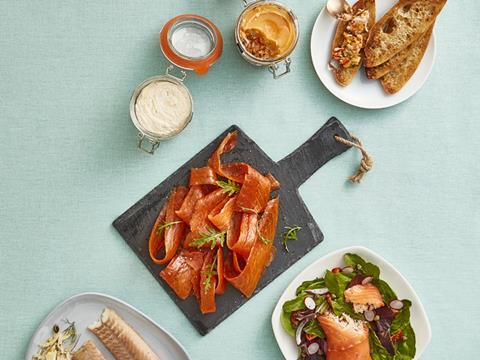 The smart Northern retailer has promised a "festive feast overflowing with northern soul" - and it delivers.
Yorkshire smokehouse Bleikers is on board to supply a trio of smoked salmon in gin & tonic, Bucks Fizz, and a deep pink-hued and gold lustred beetroot & orange variation, all priced at £10 each.
This year, Booths bravely expects more of its customers indulging in a "Great Northern Christmas" to switch to an alternative meat like its Apple-fed Cockerel Cushion, raised in Adlington, wrapped with British bacon and stuffed with sage & onion British pork sausagemeat, or a slow-cooked beef with carrots and onions in a red wine sauce.
It's also offering a £25 garnish selection of pigs in blankets and two stuffings (apple and cranberry and classic sage & onion).
For traditionalists, there is a specially raised free-range bronze turkey from Paul Kelly (Booths claims it is "internationally renowned for taste and succulence") priced at £79 for a plump 7kg bird.
For afters, the prosecco, raspberry and white chocolate terrine set with Cumbrian cream panna cotta is set to be a crowd-pleaser in a ready-to-serve dish for £8 (it tastes absolutely delicious).
For anyone looking for a substantial party snack, Booths has also launched an £8 sausage roll based on a Victorian recipe from the 1800s.
Lidl
---
Product count: 140+ Increase on last year: TBC New Products: 24+
---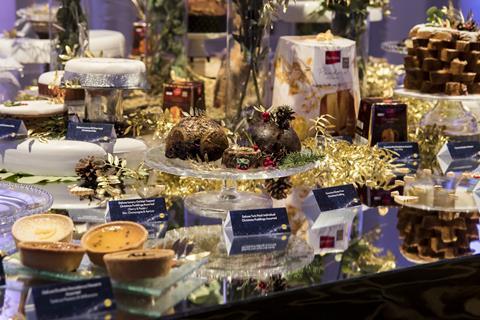 No two ways about it: Lidl's Deluxe range will be the star of the show this Christmas. Though its numbers are yet to be finalised, the discounter's festive offering is pitched heavily along the lines of "affordable luxury", with a slew of new additions that wouldn't look out of place, dripping with glaze, in a slow-motion M&S advert.
These include a pork rack with honey mustard butter and, cashing in on the burgeoning craft booze boom, a 1.5kg sloe gin gammon. It's also bringing back its popular mini Serrano ham for shoppers put off by the idea of blowing December's wages entirely on meat - although the UK's more voracious ham buyers will be pleased to know there's a 7kg leg available, which comes with its own neat carving stand.
There are gluten-free mince pies and Christmas pudding, for the wheat-averse, and a range of new sharing options including a positively beastly dipping camembert with bread.
Booze-wise, Lidl's pushing its recently added Ben Bracken whisky lines as the perfect accompaniment to a sizzling roast and a good old-fashioned after-dinner row with a seething, drunken relative. There isn't one product that really screams 'look at me', or that pushes the boundaries of taste enough to become the season's definitive purchase, but the range's scope and value are sure to make it a fierce competitor for the big four.
Sainsbury's
---
Product count: TBC Increase on last year: TBC New Products: TBC
---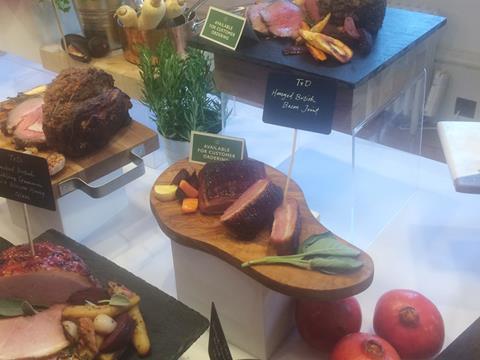 If the game-hung turkey has all the ingredients for a crowdpleasing centrepiece, the alternatives to turkey are arguably the standout dishes. The two-bird roast - combining duck and guinea fowl with a pork, brandied cherry and Bramley apple stuffing - looks set to be a bestseller, as does the truffle-infused cheese (which generated plenty of interest at the show, with many return visits). The Taste the Difference mini tarts - including flavours such as white chocolate & raspberry and chocolate & cherry - were also popular, indulgent but just small enough to be admissible.
Particular kudos should go to Sainsbury's for recognising that brunch is an increasingly popular meal event on or around the big day itself, with the launch of a specific 'brunch' category with Taste the Difference outdoor-bred British pork chipolatas, Taste the Difference Speyside whisky-smoked salmon, and a Taste the Difference hot smoked salmon and egg royale.
"As we become a nation of increasingly sophisticated entertainers, our focus on a variety of meal occasions like brunch, for example, becomes ever greater," says Judith Batchelar, director of brand at Sainsbury's. "With Christmas Day falling on a Monday this year, there is definitely a little more scope for some pre-Christmas entertaining as well as the quieter period before new year."
Waitrose
---
Product count: 900+ Increase on last year: TBC New Products: TBC
---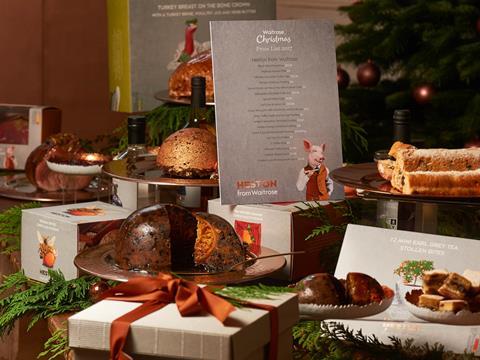 In a twist on the traditional turkey centrepiece, Waitrose's turkey crown with gingerbread stuffing is set to be a hero product this year. This crowdpleaser combines traditional gingerbread, cinnamon, ginger and nutmeg with apricot to create a "modern twist on a classic pork stuffing" and is topped with a sticky maple glaze. That sweet theme is continued with the Black Forest Venison Rack (£59.99/kg, racks are typically between 1.1kg-1.5kg, and serve six to eight.) Inspired by the black forest gateau, the venison is covered with a cocoa nib, chestnut and sourdough crumb and accompanied by a cherry sauce.
Party food is equally inventive, with a selection of mini croissants and Bloody Mary shots. The croissants come in four flavours - free-range egg, cheese, smoked bacon, and mushroom in a béchamel sauce - alongside spiced tomato juice and vodka shots. The range promises to be a party talking point - or an acceptable means of cramming more alcohol into Christmas Day with the relatives. Included is English wine, where Waitrose is offering a sparkling Leckford Brut, produced at its rapidly expanding vineyard in Hampshire.
Offering a premium range with a twist, Waitrose has taken the classics and added a point of difference that is enough to make them interesting, without making too hasty a departure from tradition.
Tesco
---
Product count: 700+ Increase on last year: TBC New Products: TBC
---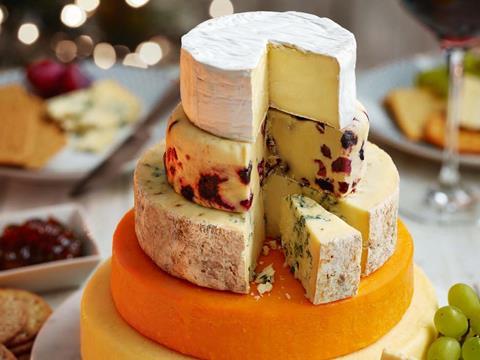 More smashable puddings are going on at Tesco this year, with a Gold Trifle Pinata (it breaks open to reveal gold stars) plus raspberry and prosecco white chocolate baubles that break open to reveal creamy mousse.
It's also bringing back its (apparently) immensely popular sprout-shaped truffles (and it has added carrot shaped versions). For the main event, a decadent Finest British Three Bird Roast tops the table at Tesco's baronial style Christmas dinner. The hand-butchered duck, filled with turkey meat, goose meat, and an outdoor-bred pork, with Bramley apple, blossom honey and sage stuffing is £30 and gluten-free, too.
The rising number of UK vegans haven't been forgotten by the UK's biggest supermarket. They can enjoy a pecan and peanut roast with maple roasted carrots and parsnips, drizzled with a rich mulled wine and cranberry sauce.
Similarly decadent, the retailer has resized its wedding Cheese Celebration Cake to feed a 30-person Christmas party for £1 a head with five popular cheeses including Cornish brie and Coastal Bite cheddar.
As for drinks, on-trend pre-mixed Espresso Martini and Negroni bottled cocktails are expected to fly off the shelves with partygoers, and an English sparkling wine from the Hush Heath estate will be on offer. Candy-cane crisps to go with it (£1) are just gimmicky enough to be a conversation starter.
Ocado
---
Product count: TBC Increase on last year: TBC New Products: TBC
---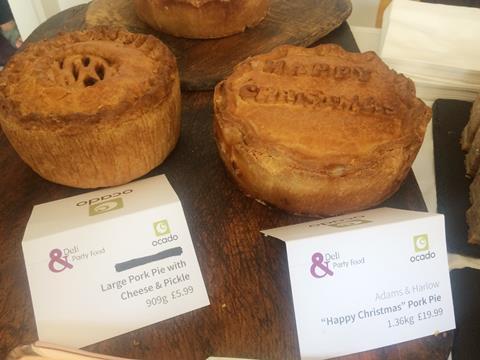 From frozen cocktails to Korean snacks and gin-infused cheese, Ocado's trade show certainly had plenty of variety.
Perhaps the most adventurous range came in the form of Jimini's insect snacks, including garlic & herb meal worms, paprika grasshoppers, and sweet onion crickets. (Although not all of the show's attendees were yet ready for the prospect of insect grub.) The chocolate houmous was also a point of interest, combining the flavour of cocoa with a subtle undertone of chickpea.
In terms of crowdpleasers, Snowdonia's boozy cheese range - mature cheddar with port & brandy and a mature cheddar laced with whisky - won over even the purists in the room.
Ocado also took pains to ensure everyone was catered for this Christmas with a new range of vegetarian and vegan centrepieces including a Tofurkey turkey roll, vegetarian nut roast and a Christmas Butternut Squash stuffed with luxurious vegan mince.
But tradition was not forgotten, with an impressive range of meat joints (cherry venison was a standout), premium pork pies and smoked salmon (albeit infused with beetroot or gin and tonic). A suitably premium feel ran through the show and this year's addition of Harvey Nichols hampers will certainly resonate with the high-end customer.
Morrisons
---
Product count: 700+ Increase on last year: TBC New Products: TBC
---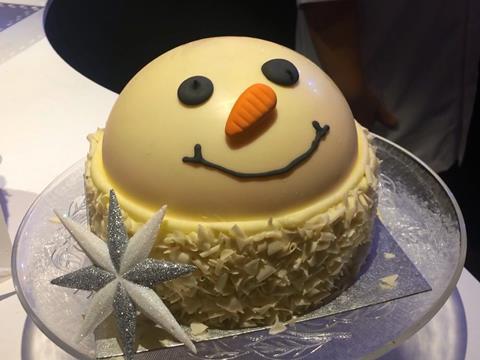 Home-made goodness and products made in store are the overarching theme for Morrisons this year, a familiar approach in recent years as it sticks to its Market Street roots.
Yet it's not adverse to being adventurous, like its The Best Pedro Ximénez sherry and pear Christmas pudding, the "hidden centre" of quince and pear sauce coupled with a bronze finish appealing to both the eyes and tastebuds.
Morrisons is pushing its award-winning The Best premium tier hard. Though it hasn't yet revealed prices, its The Best British 28-day matured beef topside joint is likely to be at the top end of the price spectrum.
The Best Stuffing Cracker - puff pastry shaped like a cracker and stuffed with spiced British pork, festive fruits and nuts - split opinion at the show. Not everyone could get to grips with the idea of stuffing in pastry. But the taste spoke for itself and, once baked, the presentation was - ahem - cracking.
Also of note were the steamed bun snowmen, which looked sugary but were actually filled with shredded duck and hoisin sauce. A filling and festive appetiser ideally suited to party food.
Perhaps the most enthused buyers were on the fish front, all of whom raved about the range on offer this year, including The Best trout with dill and orange, The Best prawn cocktail kit and The Best Cromer crab verrines.