Imagine a cross between a Sodastream machine and an at-home coffeemaker with the ability to pour a glass of Coke, Fanta or Sprite in your own kitchen at the touch of a button.
The reality of such a concept isn't as wacky as it sounds. The Coca-Cola Company bought a 10% stake in Green Mountain Coffee Roasters - which makes its own K-cup coffee pods - and which is developing the Keurig Cold 'at-home beverage system'. Clearly it's attempting to do a Nespresso.
The 10-year deal signed in February to develop Coke's drinks portfolio for use in the Keurig Cold will use coffee pod technology to produce freshly made cold drinks including carbonates, enhanced waters and sports drinks to 'premiumise and accelerate growth' in the cold beverage category.
It's not just Nespresso the pair may be looking to emulate: the fortunes of retro homemade carbonate stalwart Sodastream have been turned around. Global sales are up 38%, claims MD Fiona Hope, a performance she attributes to "the mega trends of personalisation, sugar-consciousness and an increasing concern for the environment, specifically plastic bottle waste. We have seen a renaissance of at-home carbonation and a return to championing kitchen-top appliances rather than hiding them away."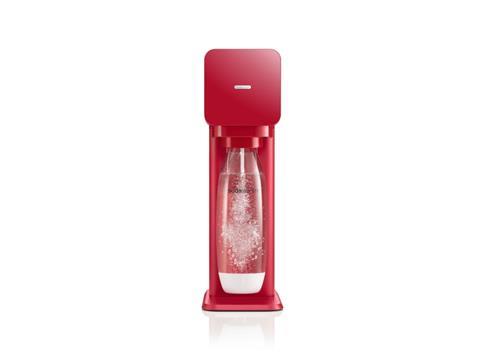 The launch of a stevia range with no artificial colours, flavours or preservatives in 2013 helped UK value sales to grow 30% and a host of further NPD from the brand is promised in 2014. In June Sodastream Free, a three-strong range of sparkling drinks sweetened using only fructose in lemonade, apple peach and passion mango flavours will launch in Asda, and in July Sodastream Play, a family-friendly minimalist drinks machine in red, blue, yellow or white - Sodastream's biggest launch since its Source machine in 2012 - will be unveiled.
The additions will be followed in October by a range of syrup flavours in partnership with juice brand Del Monte in Sodastream's patent-pending Soda Caps, single-serve recyclable capsules containing a concentrated 'blast' of tropical, Caribbean and orange flavoured syrup. "Consumers are constantly looking for great-tasting drinks that are better for them and offer more choice," says Hope. "They are becoming increasingly conscious of the ridiculousness of lugging pre-flavoured drinks around, so at-home drinks makers are an increasing area of growth."