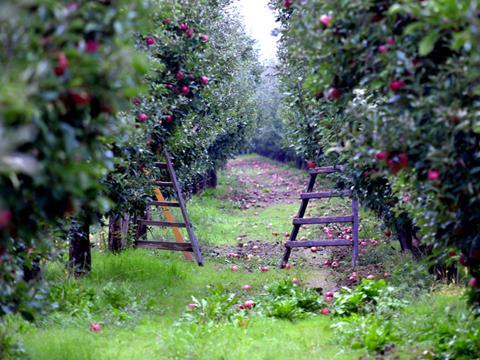 The price of Polish apples is up 85% year on year - and suppliers of fresh fruit are already feeling the sting. Companies that use concentrate will be hit, too, if central Europe experiences another hot summer this year.

Polish industrial apples are currently priced at about €1.50 per kilo, roughly 40% higher on average than the 2014/2015 season. Mintec's Liliana Minton says she expects Poland to produce 27% of the EU's total apple yield at 3.1 million tonnes in 2015/16, a year-on-year fall of 10% and lower than the six-year average of 3.2 million.

Last July and August were exceptionally hot and dry in Poland, leading to lower-than-average yields for the EU's chief exporter of the fruit. Harvested apples were smaller and less juicy than usual. A larger-than-average proportion of yield was necessary to meet demands for concentrate, meaning less fruit was left - and only a small portion suitable to be sold fresh.

This came as a shock to UK supermarkets that had taken a risk by tying themselves in to long contracts with suppliers the season before, when a block on fresh food imports to Russia, Poland's biggest customer for apples, meant a mountain of extra stock was up for grabs, according to fruit-based ingredient supplier David Berryman.

Prices of both fresh and concentrate will drop in 2016/17 if Poland enjoys a frost-free spring followed by a milder, wetter summer this year - but "weather-wise, it's too early to say" if orchards will successfully fill demand, says Minton. A year-on-year price rise of more than 100% can't be ruled out; price per kilo reached €2.50 in 2007/08. Suppliers shouldn't expect more farmers to move into apples to make up a possible shortfall - an orchard needs five to seven years to develop - which could mean existing suppliers will have to go further - with Chile and China among the countries likely to benefit.