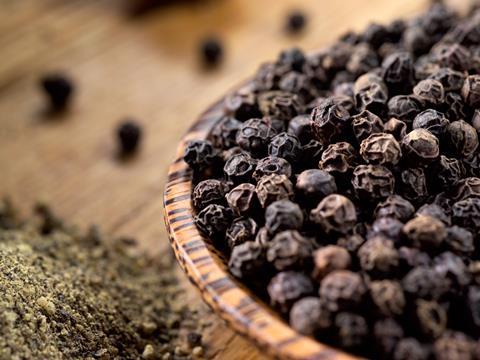 Food manufacturers are finally having to shell out less for black pepper, with prices down by almost a third since last November.

After reaching an all-time high in 2015, pepper prices have been falling since the end of last year. The current delivered price for Vietnamese pepper is $8.50/kg - a 30% drop since November 2015.

Strong demand and dwindling supplies meant pepper farmers were holding on to stocks in the hope prices would rise further. But when prices soared in early 2015, other farmers flocked into the market.

Rapid expansions in production areas for pepper have been reported in all the major producing countries, including Vietnam, Indonesia and Brazil. Some smaller producers, such as Cambodia, also increased areas substantially. This led to a surge in global supplies.

In Vietnam, the production area for pepper grew by double digits in 2016 from the previous season. In Indonesia, a large rise in planted area offset losses caused by El Niño in 2016.

For this year, global pepper production is forecast at about 460,000 tonnes, up 18% on 2016. In Vietnam, where crop is currently being harvested, pepper output is forecast in excess of 190,000 tonnes, up 12% year on year and 56% above production levels of 2015. India, Brazil and Indonesia are also expecting bumper crops in 2017.

As production increases, we may see a recovery in global stocks of pepper, which have been in steady decline since 2005 and are now down 65% from levels seen that year.

The bearish market has now turned to the buyers' favour, who are unwilling to commit to future contracts due to expectations that prices will fall further. While it might take some time, we could also see pepper prices falling at a retail level.