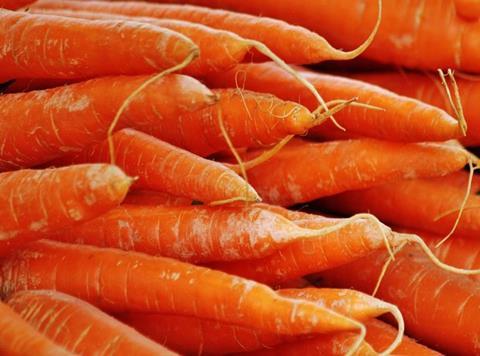 Falling production in Southern Europe has led to price increases on carrots, with rates on the wholesale market up by more than half on last year. Demand has risen in Spain after heavy rainfall damaged the country's carrot crop during harvest, which is having a knock-on effect on UK prices.
Meanwhile, issues with frost and cold weather hampered production of iceberg lettuce in Spain, with prices soaring above high levels seen this time last year.

The volume of pears harvested in the UK and EU fell last month as the stock in storage began to dry up, strengthening the fruit's market value, though prices remain flat year on year.

Increased acreage and high yields of peppers in the Netherlands forced a further decrease in prices.

A steady fall in demand for potatoes coupled with plentiful stocks dragged potato prices down on last year. The Easter period triggered a small rise.
prices

| Fruit & Veg | Price in GBP per tonne | m-o-m % | y-o-y % |
| --- | --- | --- | --- |
| Carrots (UK) | 423 | 20.70% | 53.60% |
| Iceburg lettuce (price per unit, UK) | 0.58 | 34.00% | 17.60% |
| Oranges (ES) | 706 | 0.60% | 1.20% |
| Bananas (UK) | 830 | -10.90% | 1.10% |
| Apples (UK) | 868 | -5.20% | 0.00% |
| Pears (UK) | 893 | 20.20% | -0.30% |
| Peppers (Capsicums, UK) | 1740 | -3.00% | -11.90% |
| Tomatoes (UK) | 1445 | 2.00% | -21.00% |
| Potatoes (UK) | 157 | 0.40% | -27.90% |