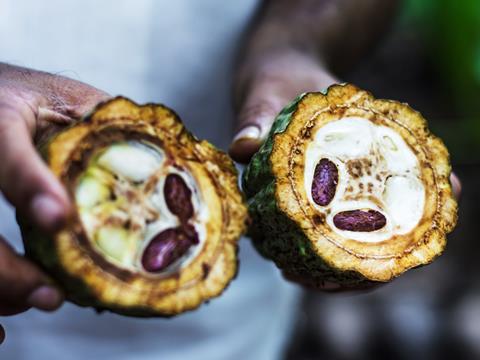 Chocolate lovers could be set for a shock after Easter, with cocoa prices surging again on the back of rising demand and tightening global stocks.

Cocoa prices have risen sharply since January, when the International Cocoa Organisation published its stock survey of European warehouses as of the end of September 2017, which showed a yearly decline in stocks of 51,000 tonnes.

This undermined its previous forecast of a large global surplus in 2016/17, prompting Rabobank to predict the New York cocoa market could rise from around $1,900 to $2,200/tonne by the end of Q1 2018. In reality, prices have surged even faster, says Rabobank senior commodity analyst Carlos Mera, with the New York market currently at $2,530 per tonne.

London cocoa futures are now ahead of this time last year at £1,794/tonne, compared with £1,696/tonne on 14 March 2017.

Cocoa prices have also been supported by concerns over the quality of crops in major producing countries Ivory Coast and Ghana, where farmers receive fixed prices from the government. "With the drop in global cocoa prices over the last two years, especially since mid-2016, those prices paid by the government have been declining," says Mera. "So farmers have lowered the use of fertilisers and general husbandry."

The threat of cocoa swollen shoot virus in Ivory Coast prompted the Conseil du Café et du Cacao to uproot 300,000 hectares of diseased orchards, according to the ICCO, which could cut the country's production capacity by 150,000 tonnes over the next three years.

As a result, global production of cocoa is expected to fall by 2.3% year on year in 2017/18, while demand is set to increase with grindings up 2%.

This could potentially push global cocoa stocks into a deficit this year, warns Mera, though it is "still too early to tell".