Durum wheat prices have continued to rise with heavy rain during the growing season and harvest of the world's largest producer, Canada, resulting in global production down 12% on the previous year.

Dry weather conditions earlier this year in Indonesia, the biggest global producer of palm kernel oil, have led to concerns about tightened supply. This, along with higher costs for alternatives such as coconut oil, has pushed up prices month on month.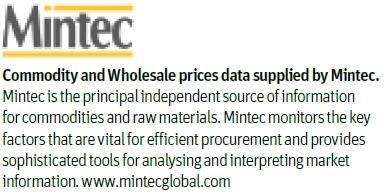 Brazilian arabica coffee prices are still up more than three quarters year on year after droughts in the country damaged crops and raised concerns over low supplies. New forecasts for rain in November, however, have led to a slight drop month on month.