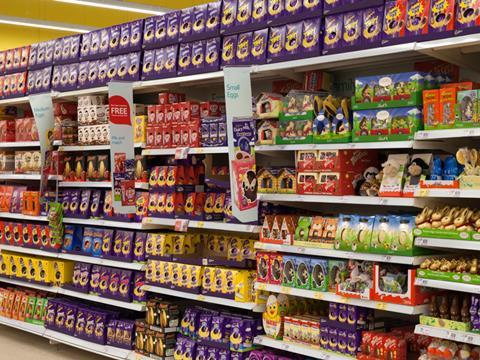 Brexit doesn't mean shoppers have to shell out more for Easter eggs this year, with seasonal chocolate cheaper in the mults than last year despite fears over rising commodity prices.

Average prices for Easter occasion chocolate are down 2% across 514 SKUs in the mults compared with the week running up to Easter 2016, the latest data shows [Brand View 21 March 2016 vs 10 April 2017].

A pack of five Cadbury Creme Eggs is now £1.48 on average, 17% cheaper than Easter 2016. A large 278g Cadbury Creme Egg is 6% cheaper at £3.78 on average. A large Cadbury Heroes Easter egg and a large Cadbury Twirl Easter egg are both 5% cheaper at £3.80 on average in the mults.

Easter eggs from brands owned by Mars - which last week admitted it had shrunk sharing bags to cope with rising costs - are also cheaper this year. A Galaxy Minstrels Chocolate Easter Egg 262g is down 5% to £3.80, while a Maltesers Teasers Large Egg 248g is 10% cheaper on average at £3.73. A Celebrations Large Egg 248g is down 6% at £3.75 on average.

There have also been price drops on Nestlé's seasonal chocolate - such as Smarties Little Chocolate Chick 21g - down 18% at 46p on average.

Not all Easter treats are cheaper than last year, though. A four-pack of 34g Cadbury Egg N Spoon Double Milk Chocolate Filled Eggs is up 3% on average at £1.90, while a 90g bag of Mini Eggs is up 9% at £1 on average and a 515g Cadbury Dairy Milk Giant Easter Egg is 8% more expensive at an average of £9.20.

Supermarkets have also hiked prices for a number of seasonal Lindt lines, including a 100g Lindt Gold Bunny - up 15% to £2.75 - and a 260g Lindt Gold Bunny Luxury Easter Egg - which is 10% more expensive at £10 on average in the mults.

Thorntons chocolate has also been subject to price rises, with a 151g Thorntons Hopalot white egg up 9% to £3.19 on average, while a 342g Thorntons Lemon Meringue White Chocolate Egg is up 19% to £9.50.

Chocolate manufacturers have faced big cost pressures over the past 18 months, with the cost of raw materials such as cocoa beans and sugar surging due to global supply shortages and the impact of the Brexit vote on the pound.

Mars last week said it had been forced to shrink some of its sharing bags of chocolate, while keeping prices the same, because it could no longer absorb "rising raw material and operational costs".

However, cocoa prices are beginning to ease on the back of an improved supply situation.

Prices for cocoa beans are currently down 23.16% year on year on the London ICE due to expectations the market will experience the largest cocoa bean surplus in six years in 2016/17, according to Mintec, with global production set to increase 15% year on year to 4.55 million tonnes.